Planning ahead is super important when you're cooking dinner for more than just yourself. When you're the only one eating, it's okay if it ends up sucking. You just throw it out and make something else. No one ever has to know you messed up. But when someone else is going to eat your food, you want it to be worthy. You don't want them to have to throw it out and make something else! That would not be okay. So it's crucial to figure out everything ahead of time. Whenever I know that I'm cooking a special dinner, I think about it throughout the entire day. I go over the ingredients in my head, the preparation, the amount of time needed for cooking, and how it will turn out in the end.
Creating something from scratch to eat yourself is great, but having someone else try it and like it is really awesome. It's reassuring; it helps you see that you're not fooling yourself into thinking your food is good. You know what I mean?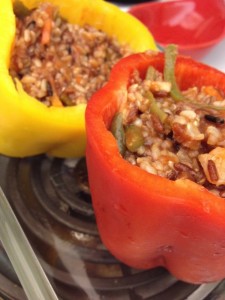 I had the idea to make stuffed peppers recently using a lot of ingredients I already had in my kitchen. All I lacked were the peppers, but the filling was made with whatever I had. This recipe is easily adaptable to whatever you have on hand. The best part about this was that I prepared the stuffing mixture the night before, so all I had to do when I got home from work was put the peppers into the oven and a half hour later dinner was ready. I was pretty happy with the outcome, especially since this was a complete original and I wasn't following any kind of recipe.
Oh, and by the way, my friend Shannon was the one who also got to try these peppers and she loved them, too. 🙂
Quinoa & Veggie Stuffed Peppers
1 cup blend of quinoa and brown rice (the brand Seeds of Change makes great rice mixes!)
1 cup frozen vegetables of your choice
1 tbsp extra virgin olive oil
1 4 oz. can of tomato sauce
Salt, pepper, oregano, garlic powder
1/4 cup breadcrumbs (whatever kind you like, mine were homemade from Challah bread)
Preheat the oven to 400 degrees. Cook the rice according to package instructions and set aside. In a medium sauce pan, heat the olive oil and garlic on a medium flame. Add the veggies. Cook until soft. Mix them in with the cooked rice. Add in the tomato sauce and spices and combine well. Cut the tops off of the bell peppers and remove the insides. Fill to the top with the rice and vegetable mixture. Sprinkle with bread crumbs and parmesan cheese. Bake for about 25-30 minutes.