Never miss a bite! Sign up here to receive new recipes and reviews straight to your inbox.
Quinoa-Crusted Eggplant and Heirloom Tomato Stacks are packed with a variety of flavors and textures. Stack 'em high or keep them on the smaller side, either way this is an appetizer that is sure to impress.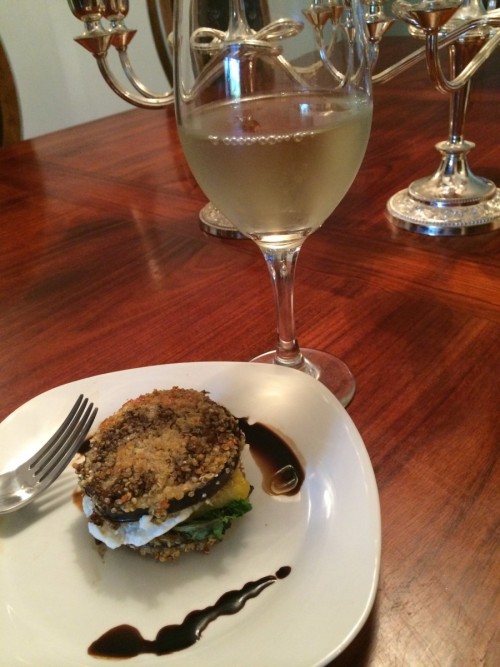 It's time for another Wine Pairing Weekend! This time my blogger friends and I are talking about the best wines for summer's delicious bounty of fresh fruits and vegetables. Let's be real here, summer brings us some pretty incredible ingredients to cook with — tomatoes, corn, and blueberries (Jersey represent!), mangos, peaches, zucchini, cherries, eggplant, avocado… There is an endless amount of produce available right at our fingertips this time of year.
I based today's Quinoa-Crusted Eggplant and Heirloom Tomato Stacks off of two things: a dish I had recently at SoLita, an Italian restaurant in Delray Beach, and a recipe for Crusted Quinoa Chicken shared by my good friend Taylor (Food Faith Fitness). Layers of two of my favorite seasonal veggies — eggplant and tomato — stacked with a nice schmear of goat cheese and sautéed kale and drizzled with a sweet acidic accompaniment of balsamic vinegar. But the best part about this dish? The eggplant is coated in QUINOA and baked to a crisp. And the tomatoes aren't just any tomatoes — they are heirlooms.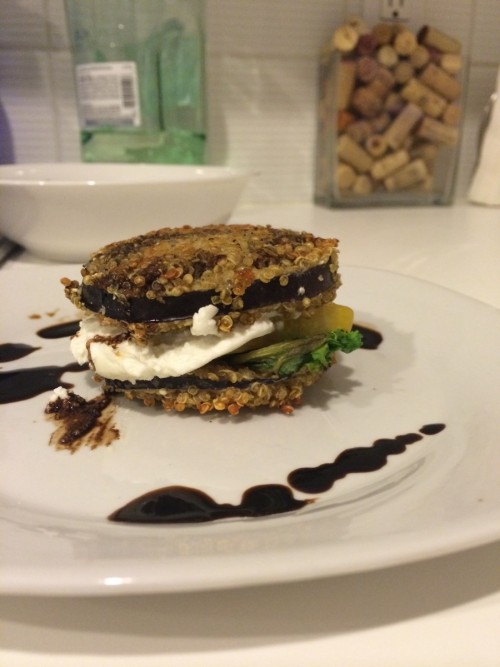 There is a lot going on texture-wise here. Quinoa-crusted eggplant, juicy tomatoes bursting with bright flavor, creamy goat cheese, and pieces of kale that crisp up a bit during the baking. The SoLita eggplant stack used mozzarella and shaved parmesan, but I like the pungency you get from the goat cheese. And well, it's goat cheese. Do I really need to explain myself further?
Pairing veggies with wine can be a daunting task. Believe me, I did a lot of Googling to try and find the perfect match. One of the stand-out tips I came across was to pair acidic vegetables like tomatoes with an acidic wine such as a Sangiovese. Then I remembered the wine I had while dining out a few weeks back — a 2010 Monrosso Sangiovese Blend Chianti. It's a wonderfully balanced and smooth red wine with notes of black cherries, pepper, and vanilla. Now why would this pair well with my Quinoa-Crusted Eggplant and Heirloom Tomato Stacks? I have no idea. But it worked and was delicious. Maybe my friend Martin over at ENOFYLZ Wine Blog can explain this one to me…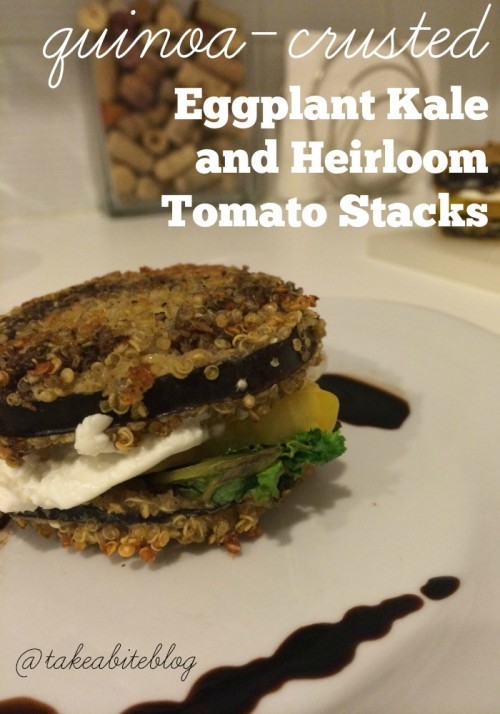 Quinoa-Crusted Eggplant and Heirloom Tomato Stacks #winePW
Author:
Quinoa-Crusted Eggplant and Heirloom Tomato Stacks are packed with a variety of flavors and textures. Stack 'em high or keep them on the smaller side, either way this is an appetizer that is sure to impress.
Ingredients
½ cup water
½ cup quinoa, divided
2 tsp Complete Seasoning (I use Badia)
½ tbsp. Gourmet Garden Chunky Garlic
Salt and pepper
1 large egg white
1 small eggplant, sliced into ½ inch rounds
1 medium-large heirloom tomato, sliced into ½ inch rounds and halved
4 oz. goat cheese
1 cup baby kale, sautéed or microwaved until semi-wilted
Balsamic vinegar
Instructions
Preheat oven to 400 degrees. Spray a glass baking dish and set aside. Have three wide bowls ready for coating the eggplant.
Add ¼ cup quinoa and water to a small saucepan and bring to a boil. Lower heat to simmer and cover, allowing to cook for 20-25 minutes or until quinoa has completely absorbed the water.
While the quinoa is cooking, add remaining ¼ cup into a food processor and pulse until it becomes a fine, powdery texture like flour. This will take time, so do not get discourage (at least 10 minutes, if not a little more).
Once your quinoa is done cooking, mix in seasoning and garlic.
Pour quinoa flour into one of the wide bowls, the cooked quinoa in another, and the egg white in the third.
Dredge a slice of eggplant in the quinoa flour, dip into egg white, and then place into the cooked quinoa mixture, making sure to gently pack the quinoa onto the eggplant. It will stick, but you need to help it along. Place eggplant in the prepared baking dish. Repeat with each slice of eggplant. (Note: You will need two per stack.)
Spray the coated eggplant slices with cooking spray and bake for 25 minutes.
Remove from oven and get ready to stack! Smear a layer of goat cheese on top of eggplant, followed by a piece of tomato, and a small amount of the kale. Do this with HALF of your eggplant slices. Leave the other half empty.
Change your oven to broil and place the eggplant back in for about 2 minutes. Remove and place one of the empty eggplant slices on top of each of the ones you stacked. Drizzle with balsamic vinegar right before serving.
Wine Pairing Weekend # 3 Bloggers: Be sure to check out what my fellow bloggers have come up with for the August Wine Pairing Weekend!
Pull That Cork shared "Wine for Summer's Bounty. Will Garnacha Do the Trick?"
Meal Diva paired "Summer Vegetable Red Sauce with Amarone"
Culinary Adventures with Camilla posted "Pan-Seared Padròns with DeRose Vineyards' Négrette"
Vino Travels — An Italian Wine Blog shared "Tomato, toe-mah-toe: Summer's bounty with Sicilian wine Donnafugata"
Grape Experiences paired "Cecchi Chianti Classico 2010 and Vegetable Lasagna"
Curious Cuisiniere shared "Chipotle Garden Salsa with Wild Hare Petite Sirah"
ENOFYLZ Wine Blog posted "Grilled Paiche with a White Greek Blend"
Take a Bite Out of Boca shared "Quinoa-Crusted Eggplant and Heirloom Tomato Stacks paired with Monrosso Chianti"
foodwineclick shared "Summers' Bounty or Attack of the Killer Turnips?"
Confessions of a Culinary Diva blogged about "Lobster Paella and Albarino"
Tasting Pour shared "Summertime and the Cooking is Easy"
Cooking Chat paired "Linguine with Pesto, Fresh Tomatoes and a Sauvignon Blanc"
Join the #winePW conversation: Follow the #winePW conversation on Twitter throughout the weekend and beyond. If you're reading this early enough, you can join us for a live Twitter chat on our theme "Wine for Summer's Bounty" on Saturday, August 9, from 11 a.m. to noon Eastern Time. Questions for the chat are posted here on the #winePW site. You can also visit our group Pinterest board to pin some great pairing ideas for later! Stay tuned for the September Wine Pairing Weekend, which will focus on "Regional Food and Wine Pairings" on Saturday, September 13.