I'm always looking for ways to use Quinoa. Its such a versatile ingredient and I love incorporating it into different recipes. I found one from Two Peas and Their Pod that sounded great: Greek Quinoa Salad. I love Greek-inspired dishes, and especially anything that uses feta cheese. I finally got around to trying my own version of this recipe. Instead of using greens as the base of the salad, quinoa is the star of this dish. If you haven't experimented with quinoa yet, you are truly missing out on an extreme power food. I kept this aspect of the recipe, as well as the feta cheese, cucumbers, grape tomatoes and and red onion. I also added some baby spinach leaves and carrots and left out the kalamata olives, one aspect of Greek fare that I do not like, at all. Olives just aren't my thing. There's one other traditionally Greek food that I don't like either and those are grape leaves. The have an overpowering taste of vinegar that just does not sit well with my taste buds. Ah, I'm getting off track. Back to food that I do like!
The original recipe calls for salad dressing made from a mixture of olive oil, red wine vinegar and oregano. I opted for the yummy tzatziki sauce that I had on hand. This is one of the many great finds Bubby has come across during one of her Costco trips. If you aren't familiar with it, tzatziki is a deliciously creamy mixture of greek yogurt, cucumber, celery and dill. It tastes great tossed in a salad, on various types of fish, or paired with crudités, pretzels, pita chips or whatever your preferred dipping snack may be.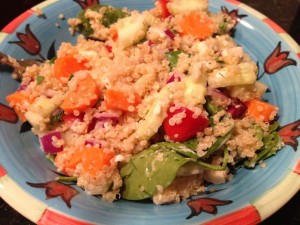 Greek Quinoa Salad with Tzatziki
1/4 of a medium cucumber, peeled and chopped
a handful baby spinach leaves
4-5 baby carrots, chopped
1 tbsp red onion, chopped
4-5 grape tomatoes, halved
To cook the quinoa, bring 1 cup of water to a boil on the stovetop. Pour in 1/2 cup quinoa and cover with a lid. Cook on low heat for about 10 minutes or until all of the liquid has been absorbed. The rule of thumb to follow when cooking quinoa is 1 cup of water for every 1/2 cup quinoa. 
In a small bowl, mix together the cucumber, spinach, carrots, red onion, grape tomatoes, garlic and feta. When 
the quinoa is done cooking, let it cool for a few minutes and then transfer into the bowl with all the veggies. Add the tzatziki and stir until well combined.