As much as I absolutely hate the cold, I spent last weekend visiting my parents in New Jersey. Yes, it was below 30 degrees. Yes, I saw snow for the first time in three years. Yes, I wore three layers everywhere I went. And yes, I wore snow boots, a scarf, gloves, and an earwarmer/headband. Oh my god. After four days of that, I was more than ready to come back to 80 degree Florida weather. Only to have a cold front a few days later. Ugh, I just can't win.

BUT I did get to spend time with my best friend since I was 6 years old, Jordan. I got to see my friend Sammi and finally meet her husband of over a year. I got to have a fun afternoon with some of my good girlfriends at a Stella and Dot trunk show. I got to travel over to Philly with my dad to take my sister back to Temple after the weekend was over and see where she's been living and learning. I ate at a delicious new Italian restaurant in Margate called Bocca, and my mom just so happened to know the owner, so we got to meet him and had an insane dessert brought out to the table. But the best part was on Friday night. Mom and I decided that instead of going out to eat for a late dinner (Rebecca wasn't getting in on the train from Temple until after 7), we'd cook up some good appetizers, pop open a bottle of wine, and cozy up on the couch to watch Russia put on one hell of a performance for the Olympics Opening Ceremony.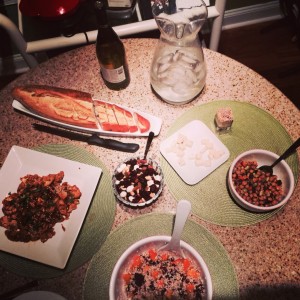 Mom and I turned to my Pinterest boards and picked a couple of things to make. I wanted to make some kind of quinoa salad and my mom loved the sound of the Quinoa Salad with Butternut Squash, Dried Cranberries and Pepitas from Two Peas and Their Pod. One of the best parts about being in this amazing food blogging community is drawing inspiration from other bloggers (or even trying out their recipes exactly). Maria always has such great recipes on her blog. This is one that I pinned so long ago and totally forgot about.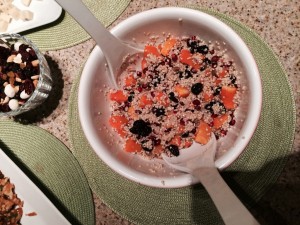 I made a couple of changes, swapping dried cherries for cranberries and adding in pomegranate arils for more crunch and texture. My version is a Quinoa Salad with Butternut Squash, Dried Cherries, Pomegranate and Pepitas. The bright citrus dressing really makes all of the flavors pop. I seriously loved every single component of this dish and would make it a million times over. I think next time I'd even add some goat or feta cheese. Because really, you can't go wrong with goat and feta cheese. Ever. You should definitely check out the Two Peas and Their Pod original, too!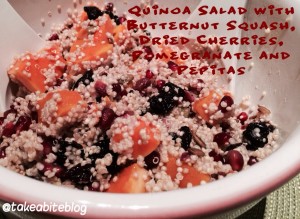 Quinoa Salad with Butternut Squash, Dried Cherries, Pomegranate and Pepitas
Adapted from Two Peas and Their Pod Quinoa Salad with Butternut Squash, Dried Cranberries and Pepitas

1 small butternut squash, peeled and seeded, chopped into small cubes
olive oil
salt and pepper
1 cup quinoa
2 cups water
1/2 cup dried cherries
1/2 cup pomegranate arils
1/2 cup pepitas
For the dressing:
juice of 2 oranges
1/8 cup olive oil
1 tbsp honey

Preheat the oven to 400 degrees. Toss butternut squash with olive oil and arrange on a baking sheet. Season with salt and pepper. Roast for 30 minutes or until squash is tender.

In a medium pot, add quinoa and water. Bring to a boil and then reduce to simmer. Cover and let cook for 20 minutes or until the water is fully absorbed. Allow quinoa to cool to room temperature.

Once your butternut squash is finished, allow it to cool to room temperature as well. Combine quinoa, butternut squash, cherries, pomegranates, and pepitas in a large bowl.
In a small bowl, whisk together orange juice, olive oil and honey. Pour lightly over the quinoa mixture and toss until everything is well combined.