Tried and True: Rapoport's Restaurant Group Menu Favorites
Although Rapoport's Restaurant Group is known for changing some dishes on the menu at each of its locations as the seasons turn, there are staple dishes that are never touched. These are the tried-and-true favorites that customers come back for again and again, some of which have even been on the menu since the restaurant's inception.
Max's Grille, Burt & Max's and Deck 84 certainly have their share of signature dishes that people have come to know and love. Even though Pagoda Kitchen has only been open for a short time, there are definitely some menu items that stick out, and I have a feeling they will become equally as popular as the other RRG location's MVPs.
Max's Grille Signature Menu Items
Of all the Rapoport's restaurants, Max's Grille has been around the longest. It's been at its Mizner Park location for over 30 years! There are a few dishes that have been around just as long (and they are even being featured during July's Bon Appetit Boca Restaurant Month).
These dishes include: Max's chopped salad with asiago cheese, green beans, cucumbers, tomatoes, celery, carrots, chickpeas, corn, red wine vinaigrette and the option to add chicken, salmon, shrimp or tuna; creamy tomato bisque with goat cheese, corn salsa and crostini; Max's radiatore pasta with fusilli, balsamic broth, chicken, broccoli, goat cheese, pine nuts and sun-dried tomatoes; bacon-wrapped meatloaf with hickory BBQ sauce, green beans & shallots and mashed yukon gold potatoes; Atlantic salmon with jasmine rice, vegetable stir-fry and maple ginger glaze; and what's probably the item that is most associated with Max's Grille: the homemade sun-dried tomato hummus with sesame-parmesan crackers.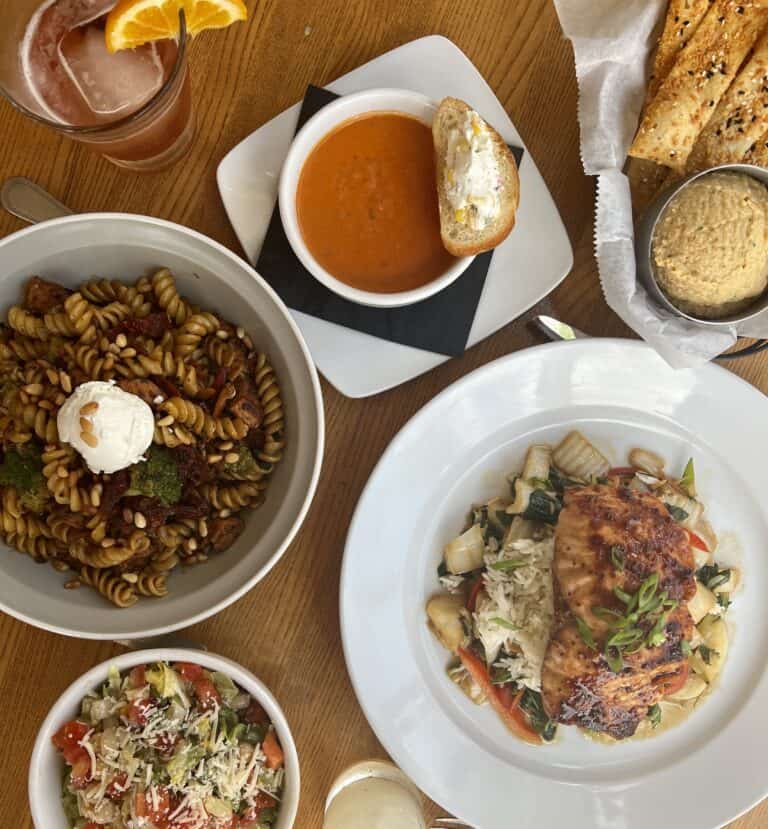 Photo provided by the sponsor.
That hummus is definitely high up on my list of favorites at Max's Grille. It's smooth and creamy, and rich with flavor. Unfortunately, those crackers are not gluten-free, so I always ask for carrots and celery, which is never an issue. Another favorite of mine is the zoodles and meatballs with quinoa-eggplant "meatballs", zoodles, Calabrian chilies, broccoli florets, vegan mozzarella, fresh basil and San Marzano tomato sauce. It may not be as old of a dish as the others, but it has been on the menu for a while now, proving it has earned a top spot.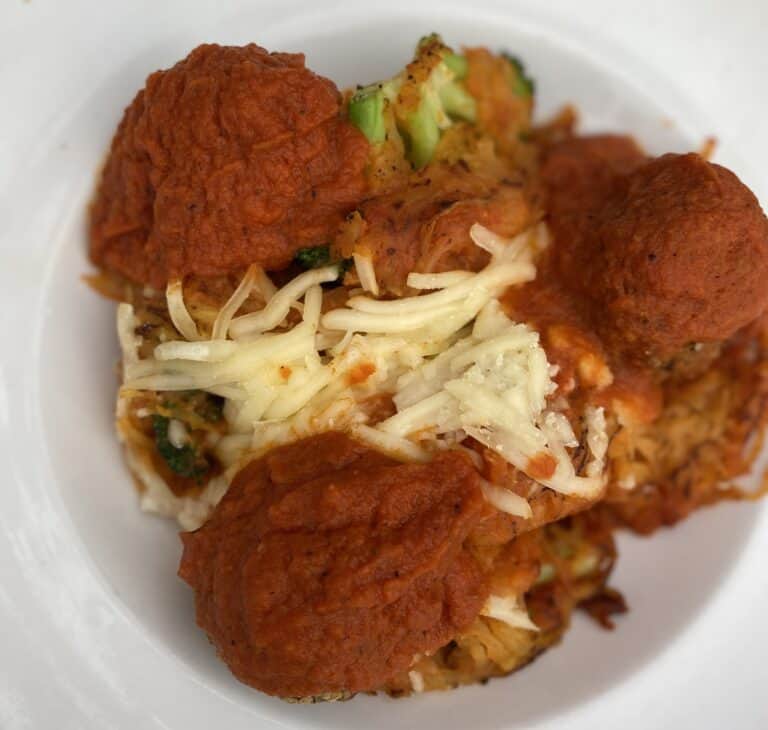 Burt & Max's Signature Menu Items
If there is one dish that is synonymous with Burt & Max's, it's the onion soup dumplings. These have been on the menu since the restaurant opened in 2013, and have been a fan favorite ever since. These soup dumplings are also filled with cave-aged gruyère cheese and served swimming in a sherry reduction. These obviously aren't Shaina friendly, but I have had them — years ago — and they are every bit as delicious as they sound.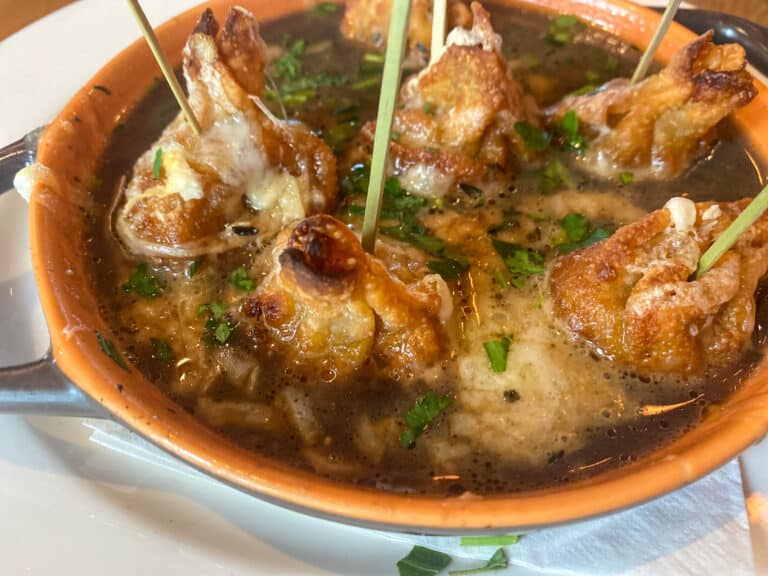 Burt & Max's is also known for its brick oven pizzas. There's a classic cheese pizza that you can add pepperoni, mushroom or eggplant to; Margherita made with house-pulled mozzarella; artisanal pepperoni; roasted mushroom with caramelized onion, gruyère, mozzarella and truffle oil; and the Buddha, named after Burt & Max's very-well-known general manager, made with tomato sauce, bacon, pepperoni, mozzarella and goat cheese. A newer pizza to hit the menu as of this season is grandma's pizza, with mozzarella, cherry tomatoes, roasted garlic and fresh basil.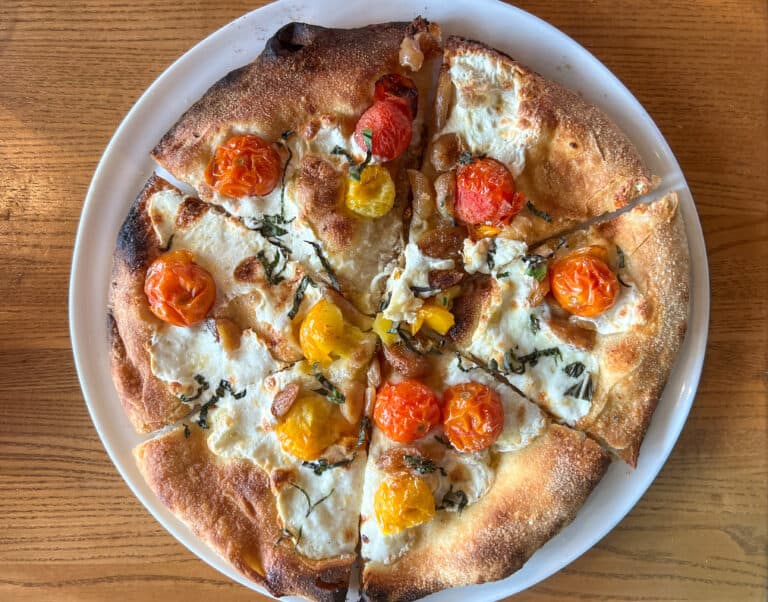 My favorite thing on the menu is the roasted beet salad. It has a ton of different flavors, textures and colors, and never disappoints. It has baby arugula, spinach, roasted red and golden beets, cherry tomatoes, toasted almonds, crumbled goat cheese, balsamic vinaigrette and balsamic gastrique — and you can add chicken, grilled shrimp or salmon, or the shrimp-salmon burger to it.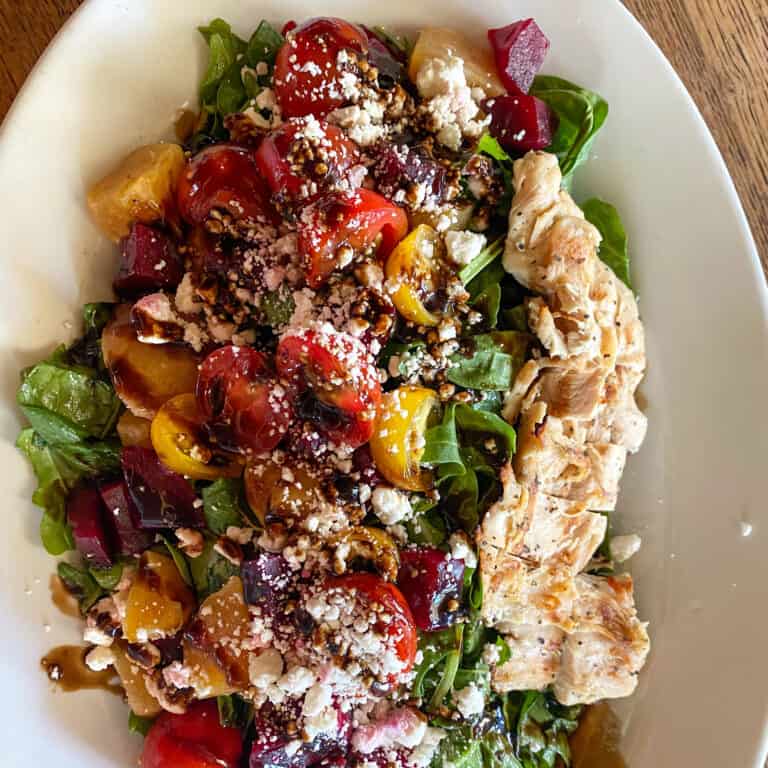 Deck 84 Signature Menu Items
Deck 84's relaxed, waterfront vibes call for fresh seafood and things you'd crave after a long day of boating or chillin' at the beach, like a big, juicy burger. The prime Deck burger has been a staple since the beginning, loaded with lettuce, tomato, a fried egg, applewood bacon, American cheese, crispy onion and asiago aioli.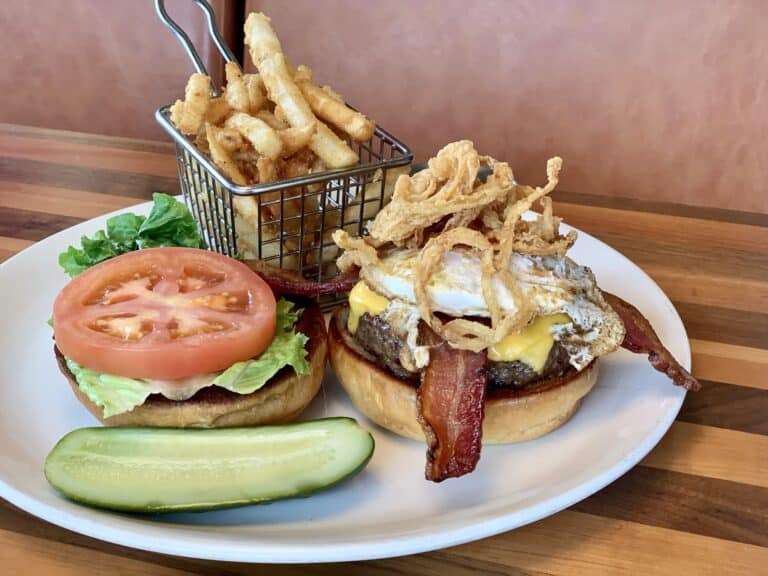 Deck 84's tacos are always a hit too. The baja shrimp and fish tacos are both served with cilantro-lime coleslaw, house-pickled jalapeño, crema and charred tomato salsa; and the barbacoa brisket tacos are made with slow-cooked Quincey meat and pasture-raised prime brisket and topped with adobo, street corn salsa, queso fresco, pickled onion, guacamole and micro cilantro.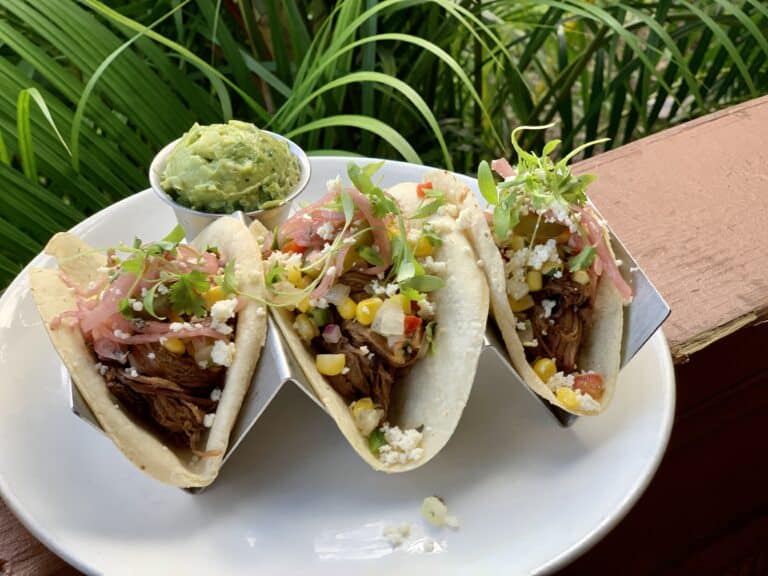 The smoked fish dip is another really popular item. It comes with house-pickled vegetables and an assortment of crackers (carrots and celery available upon request). Just a heads up — the fish dip is not gluten-free — there are bread crumbs used in the mixture. Another seafood favorite is the fish and chips that is made with beer-battered Atlantic cod, and served with french fries, creamy coleslaw and house-made tartar sauce.
My favorite? The Cobb salad. I'm not over-exaggerating when I tell you that Deck has the best Cobb salad I have ever had. It comes with romaine, cave-aged blue cheese (I sub for goat cheese), grilled chicken, tomato, egg, applewood bacon, avocado and red wine vinaigrette. I think it's the bacon that makes it so good. It's perfectly crisp and crunchy and adds an amazing textural element to the salad.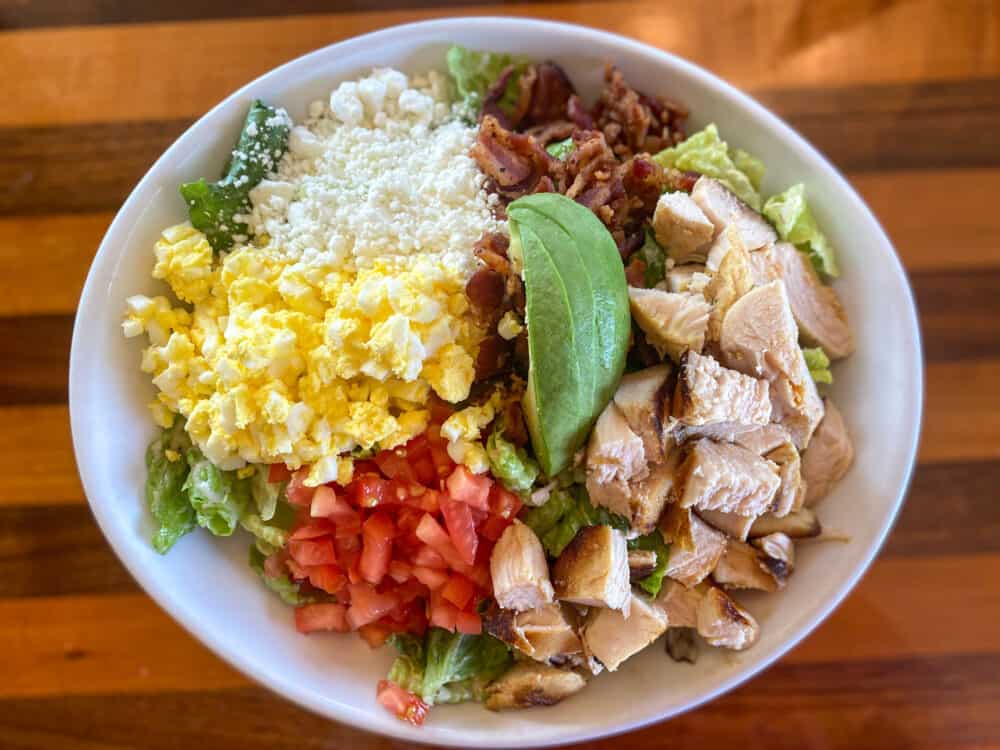 Pagoda Kitchen Signature Menu Items
The vertical rotisserie oven is the restaurant's focal point, with Peking duck, Chinese spare ribs and Char Shu chicken roasting at all hours of the day. If I had to guess, that Peking duck is sure to be a menu staple. You can get a half or full portion, both served with steamed pancakes, cucumber, shaved green onion and Pagoda's signature Peking sauce. The Wagyu beef potstickers have definitely made a name for themselves too.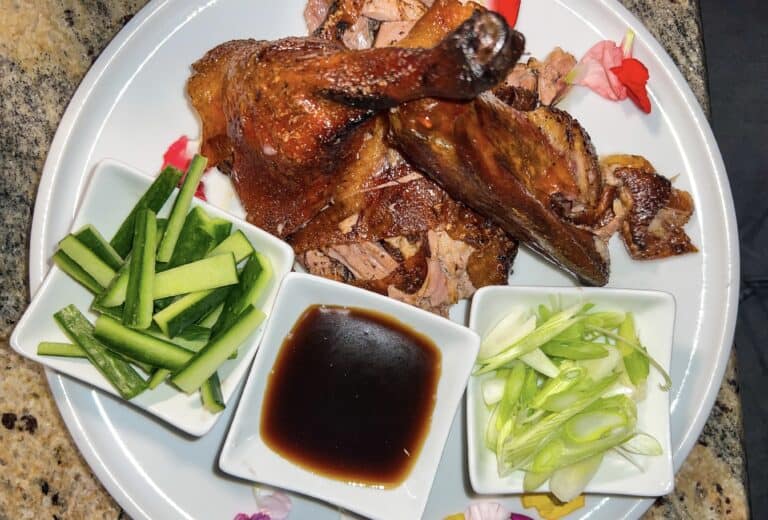 Personally, my favorites are the fried rice and stir-fried eggplant with bell peppers, onion and scallion, both of which are available on the gluten-friendly menu. I recently tried a lot of different items from the new gluten-friendly menu — read all about it here!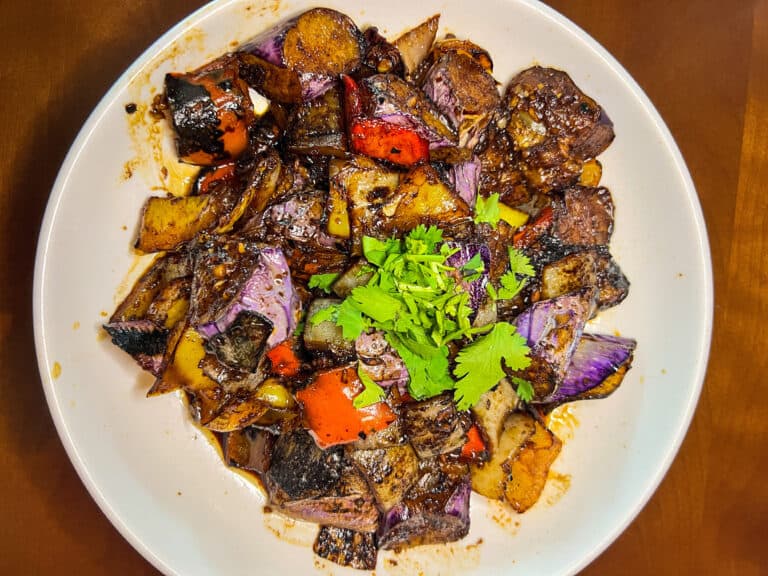 Make Your Reservations at Rapoport's Restaurant Group Locations Now
Max's Grille is located at 404 Plaza Real Mizner Park in Boca Raton. Online ordering is available and reservations can be made on Seven Rooms. The restaurant is open Monday through Thursday from 11:30am-9pm, Friday from 11:30am-10pm, Saturday from 11am-10pm, and Sunday from 11am-9pm.
Burt & Max's is located at 9089 West Atlantic Avenue in Delray Beach.  Online ordering is available and reservations can be made on Seven Rooms. The restaurant is open for lunch Monday through Friday from 11:30am-3pm and dinner Monday through Thursday from 4:30-9pm, Friday and Saturday from 4:30-10pm, and Sunday from 4:30-8pm.
Deck 84 is located at 840 East Atlantic Avenue in Delray Beach. Online ordering is available and reservations can be made on Seven Rooms. The restaurant is open Monday through Thursday from 12-9pm, Friday and Saturday from 12-10pm, and Sunday from 11:30am-9pm.
Pagoda Kitchen is located at 14917 Lyons Rd #100 in Delray Beach. Online ordering is available and reservations can be made on Seven Rooms. The restaurant is open Sunday through Thursday from 4:30-9pm and Friday and Saturday from 4:30-10pm.
Disclosure: This is a sponsored post by Rapoport's Restaurant Group. As always, all opinions are 100% my own.