Never miss a bite! Sign up here to receive new recipes and reviews straight to your inbox.
Disclosure: I was invited to dine as a guest of Rebel House. No monetary compensation has been received for this post. As always, all opinions are 100% my own.
When I'm asked what my favorite restaurant in Boca is, there is one restaurant that always comes to mind first — The Rebel House. The whimsical artwork and atmosphere, the forward-thinking menu of food and drink, and the playful vibe… There is nowhere like it, and nothing that can compare.
The Rebel House is part of the E&M Munchies restaurant group, that also owns Charm City Burger Company, El Jefe Luchador and E&M Culinary, Events and Creative. When it comes to out-of-the-box eats, this group knows its stuff. I've been coming to The Rebel House since it opened in 2012, and have always been a huge fan. The menu changes very frequently, but lucky me, I got a chance to preview the fall menu before it came out last month — and lucky YOU, it's still available to check out!
You can't visit The Rebel House without trying two things — one of their incredibly creative craft cocktails and the signature popcorn that changes flavor daily. And I don't mean boring flavors like white cheddar or BBQ. Things can get pretty crazy in that popcorn container… Chicken fajitas, cinnamon toast crunch, cheesesteak… You never know what you're going to get!
Ok, wait, there's one more thing to add to the list of must-tries. The cheese and charcuterie boards are out of this world. The Rebel House owners cure a lot of their own meats, including house-made duck prosciutto, and there's a super interesting selection of cheeses. House-made jams and spreads, roasted nuts, and pickled veggies round out the perfect start to your meal.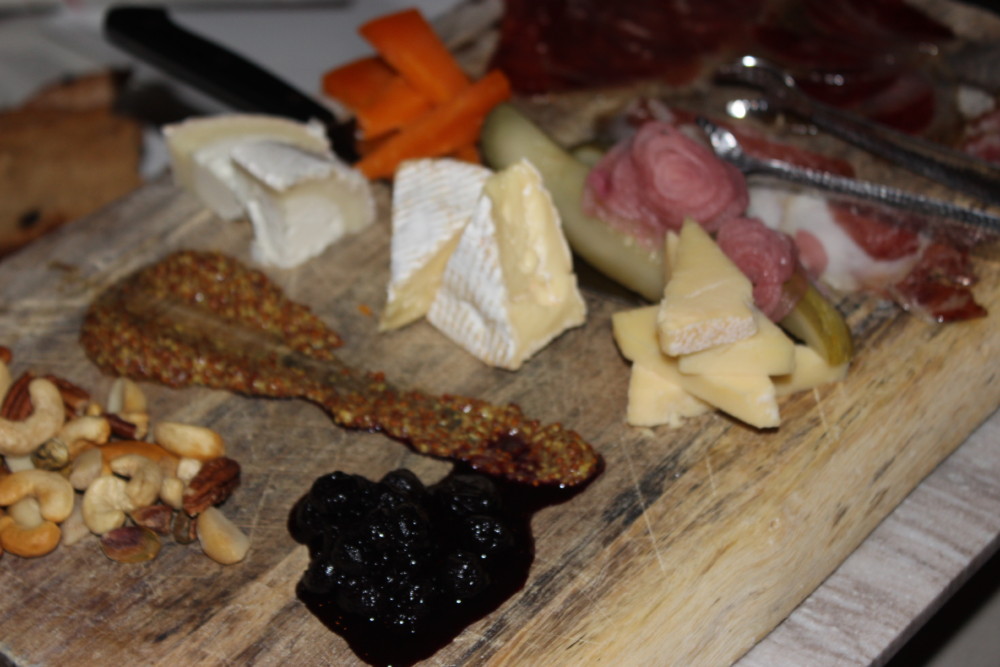 But be careful not to fill up on meat and cheese — there is plenty more on the menu you're going to want to save room for. Like the cauliflower hummus served with warm Naan bread. No actual cauliflower is used in the hummus; it's just adorned with pieces of the perfectly roasted veggie, grapes, toasted pine nuts, urfa pepper vinaigrette and dill. This is unlike any hummus I have ever tasted. It was rich, creamy, and smooth, and I have no problem at all eating it straight up with my fork, making sure to include a piece of every ingredient in every forkful.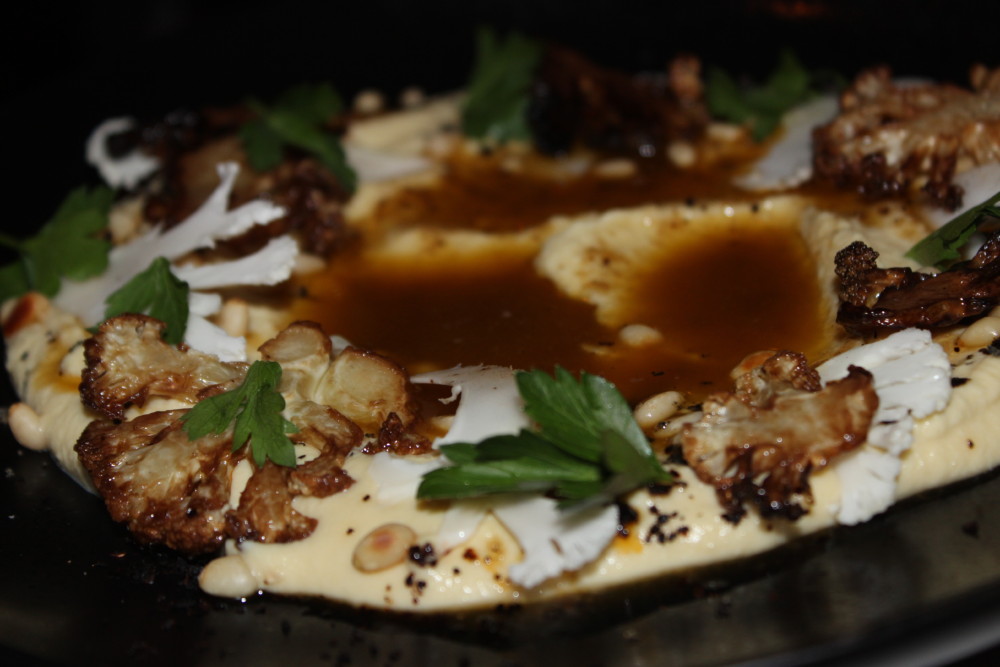 Hold on — cauliflower hummus at The Rebel House? Anyone who knew the restaurant when it opened five years ago remembers it was aaaaall about the pork belly, fried chicken and burgers. While the Rebel Burger is never going anywhere, The Rebel House has moved into a slightly different direction, featuring a lot of vegetarian-friendly and lighter menu options, while still keeping their signature swag. Make no mistake, The Rebel House has not lost any of its style. With Chef de Cuisine Danielle Herring and Chef Patrick Delay leading the kitchen, it only gets better and better with each and every menu change.
I wanted to dive into the entire plate of cauliflower hummus and lick it clean, but when I saw what was coming next, I held back… Enter The Rebel Salad — a gorgeous and colorful presentation of baby lettuces, red beets, Pink Lady apples, honey roasted kabocha squash and goat cheese, topped with pumpkin seed granola and tossed with a pomegranate balsamic vinaigrette. Not only is the plate completely full of all the best fall flavors, but each and every ingredient has been seriously thought through. For instance, Chef Danielle prefers to specifically use Pink Lady apples for this salad because of their sweet, tart flavor and their natural crunch. I could eat a salad like this every single day and never get bored. In fact, I could totally go for it right about now…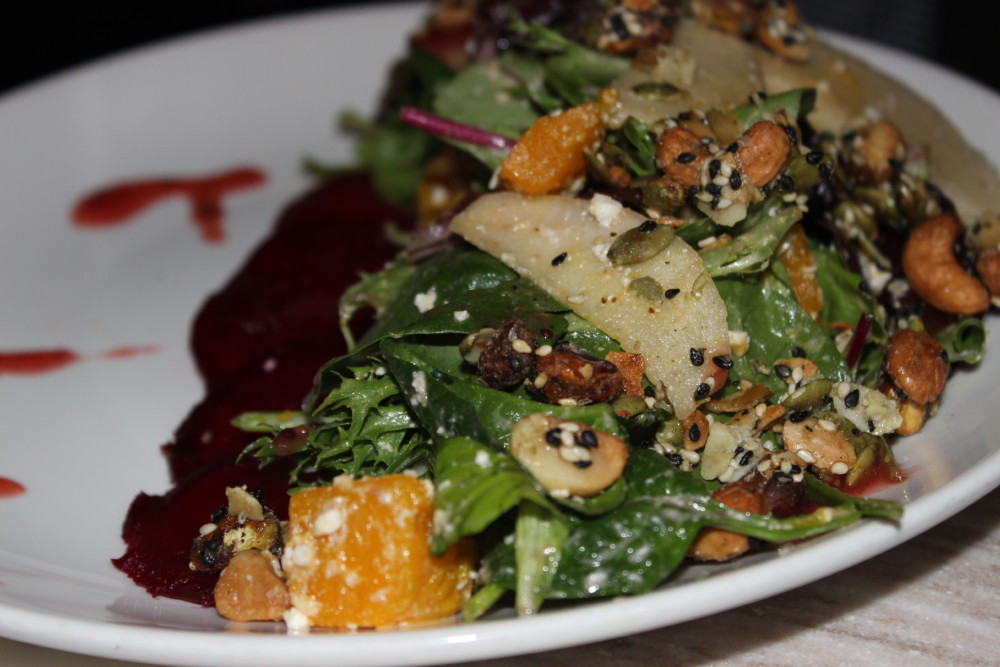 I take that back. What I could really go for right now is the dish we had next… Keeping with the vegetarian theme (it's like they created this menu just for me! The meat came later…), we were served a vegan curried cauliflower risotto. No rice, all cauliflower. The intense flavors of Indian cooking swirled throughout the bowl, without overwhelming the additional flavors of coconut milk, black lime, cilantro and spiced pickled grapes. Take my love of the first cauliflower dish and multiply that by like, ten thousand, and that's how much I adored this entree. I didn't think it could get any better, until Chef Patrick came out to tell us just why this risotto had such special meaning to him. It's a dish he's been working to perfect for 15 years — the dish that won him his scholarship to C.I.A. You can taste the love and passion that went into creating this plate of food, making it that much more amazing than it already is. I'm not exaggerating when I say this is one of the top three best dishes I have ever had since starting Take A Bite Out of Boca almost six years ago.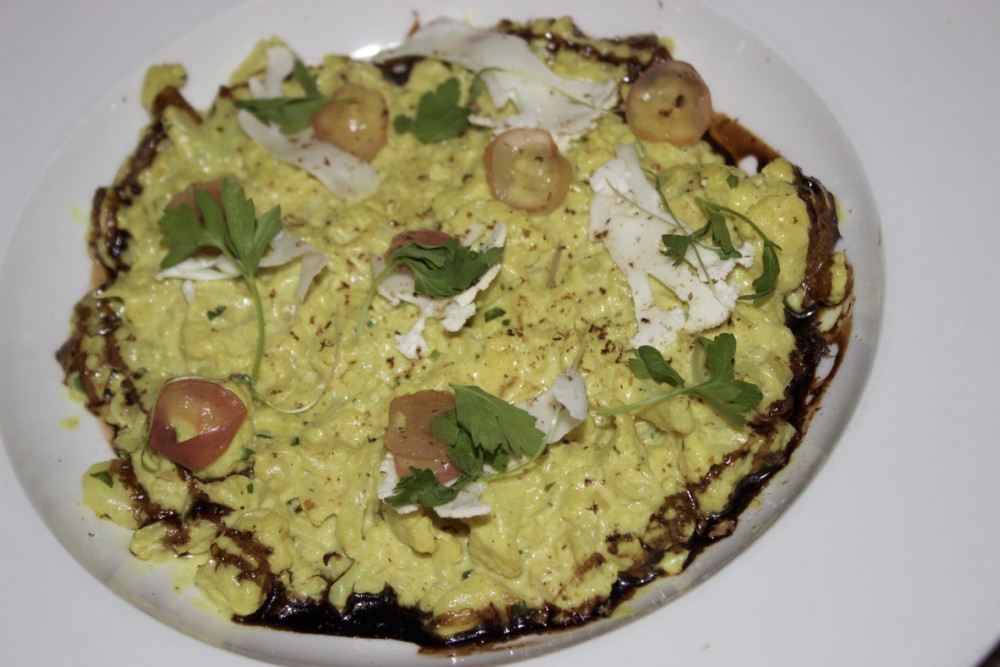 Like I mentioned earlier, The Rebel House is extremely well known for their out-of-the-box menu items. Case in point: Basque Fried Rice a la Plancha. Basically, this is fried fried rice. At first, I thought it was a potato latke! That's exactly what it looks like, but it's really a mound of fried rice that has literally been fried to form a cake-like texture and consistency (cake as in crab cake, or latke, or something along those lines). The fried, fried rice is topped with house-dried chorizo, papas bravas sauce, shishito peppers, piquillo pepper puree, saffron aioli, quail egg and matchstick potatoes. Of course mine was served sans chorizo, but I honestly can't imagine how much better that would have made it. It was INSANE. In a good way. I absolutely love shishito peppers, and the papas bravas sauce added such creaminess and depth of flavor. One thing's for sure, the menu offerings at The Rebel House are nothing like what you'll find at other local restaurants. So many places offer the same dishes — prepared the same way, the same ingredients, even plated the same — but not at The Rebel House, not ever.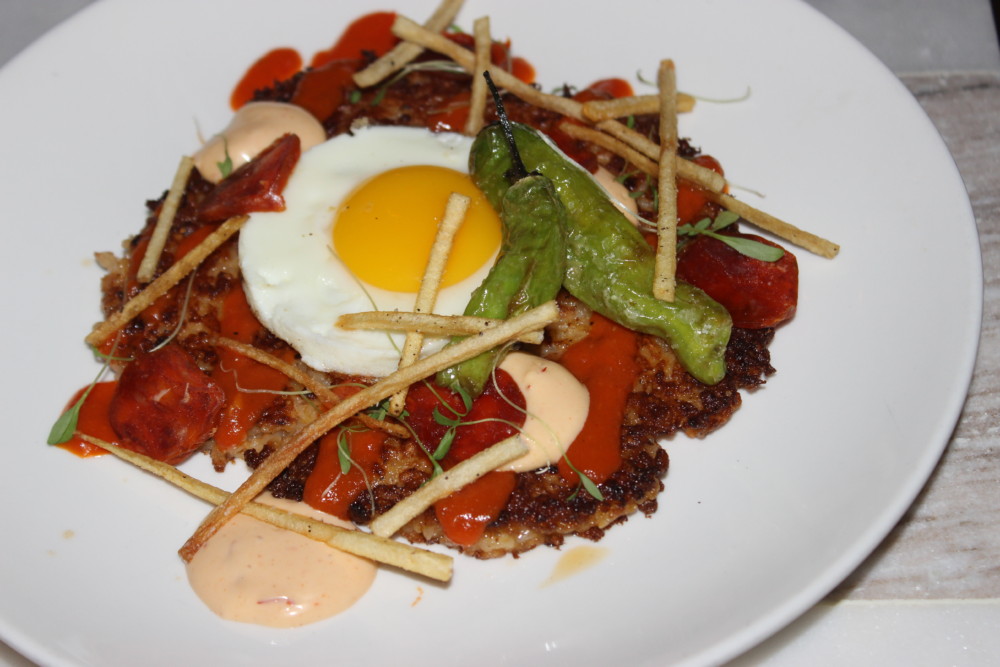 Now it was time for some seafood! Chef Danielle presented us with her take on shrimp scampi — cannelloni style! Cannelloni is a tube-like pasta typically served with a filling and smothered in sauce. This particular cannelloni was filled with shrimp scampi, and that smothering sauce? It was luscious and rich, super decadent and intense with flavor — roasted garlic puree, chardonnay butter, grana padana cheese and a preserved lemon gremolata. You'll never be able to eat regular ol' shrimp scampi ever again after this.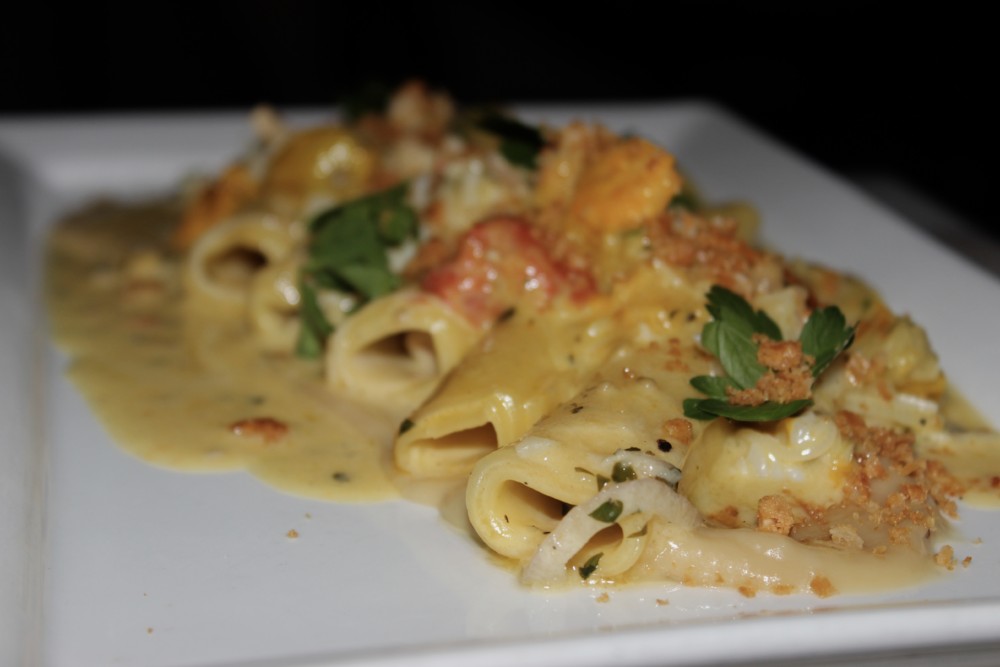 Burrata may be easy to find on just about every restaurant menu nowadays, but as promised, The Rebel House does theirs differently. Dubbed 'Brooklyn Burrata,' this dish comes with slices of plum, house-made duck prosciutto, buttermilk biscuit biscotti, sea grape honey and an opal basil vinaigrette. Again, no prosciutto for me, and again, I could care less. The burrata was super creamy and practically melted in my mouth. I loved the addition of plum — an oft forgotten fruit, although one of my favorites.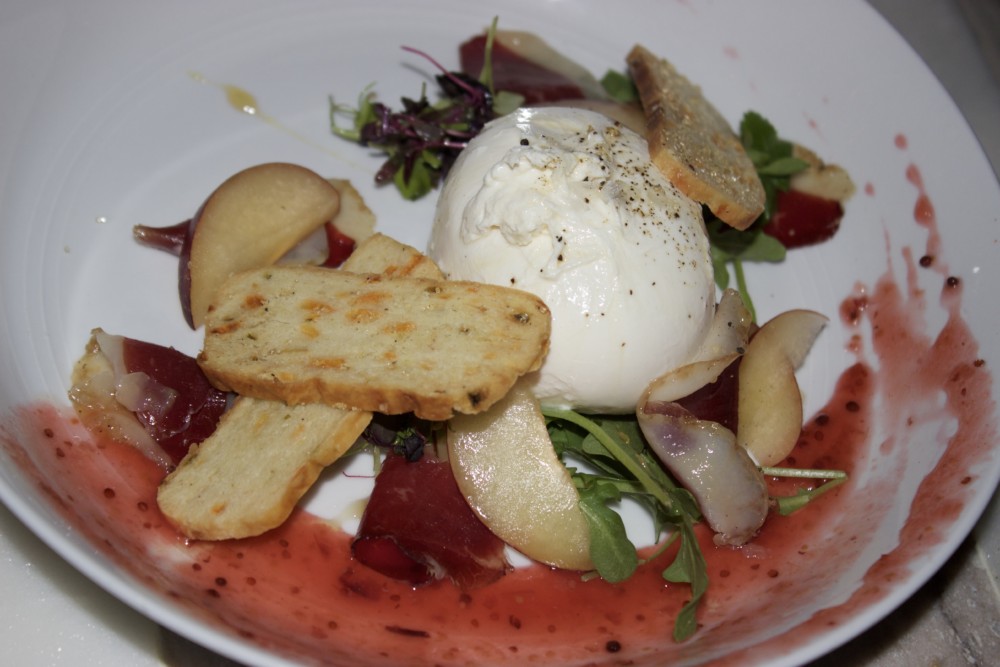 I told you there would be meat coming, and this was it. Our final entree was very Thanksgiving-esque — honey and spice-glazed duck breast with a kabocha squash and mushroom gratin topped with duck skin crumble, and sweet and sour cranberries. I was more than happy to receive the side of gratin (without the duck skin crumble) and seriously inhaled it in mere seconds. There is so much holiday happening in this dish. The earthy flavors of mushroom and squash really shone through, and the nutty topping added the perfect crunchy texture. I'm really tempted to ask for the recipe to use this season… It'd be perfect for Thanksgiving this week! The sweet and sour cranberries are a tasty alternative for that traditional cranberry sauce served for Thanksgiving too. Hm…my mind is wheeling with ideas!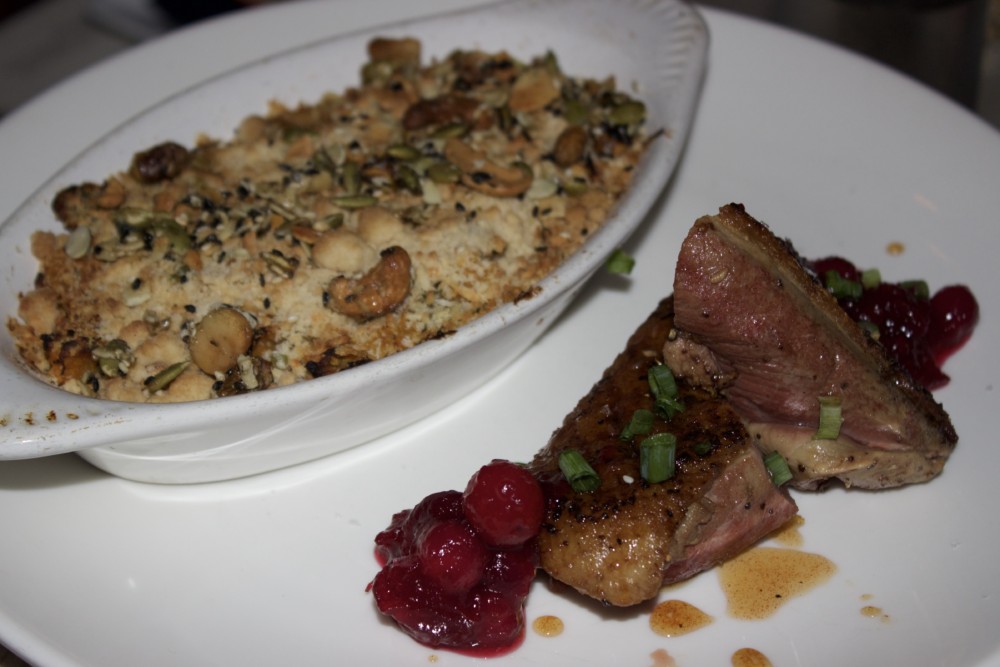 And then there was dessert. As I'm sure you could predict, this was no ordinary dessert. The Rebel House desserts are super over the top, like the 'New York, New York' with cheesecake ice cream, graham cracker sauce, lavender honey, berry compote and pizzelle, an Italian waffle cookie; or the 'Overdose' with Devil's Food Cake, salted caramel pots de creme, peanut butter mousse, cookie crumble and dark chocolate ice cream. But ours was even better than both of those combined… the Chocolate Chess Pie. Sounds simple right? Wrong. That "simple" chocolate chess pie is the definition of ooey gooey. It's pretty much the fudgiest chocolate brownie ever, in pie form, with a hazelnut shortbread crust, topped with salted caramel chow chow (also known as puppy chow) and a mountain of mocha ice cream. And caramel on the bottom. I can't even… The Rebel House sure knows how to end the night on a sweet note. This dessert breaks all the rules, just as any good Rebel should do. Way too rich, way too indulgent, but oooooh so good.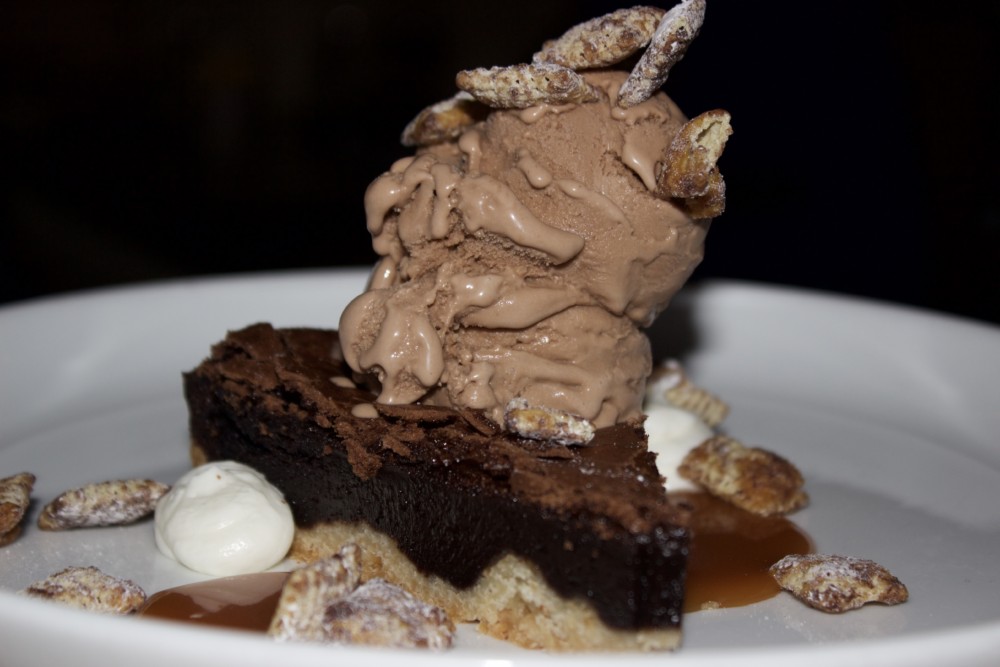 My advice? Go to The Rebel House tonight, because you never know when they're going to switch up the menu right from under your nose. You've gotta get these dishes while you still can!
The Rebel House is open from Monday through Wednesday from 5pm-12am, Thursday through Saturday from 5pm-2am and Sunday from 5-10pm. Brunch is served Friday, Saturday and Sunday from 11am to 3pm. The Rebel House is located at 297 East Palmetto Park Rd. in Boca Raton.