Boca gastro pub (and one of my absolute favorite places), The Rebel House, teamed up with Colorado-based New Belgium Brewing for a five-course pairing dinner for locals to enjoy. I was invited by the restaurant's owners to come as their guest for the night.
Chef/owner Michael Saperstein and sous chef Danielle Herring put together an awesome menu — not surprisingly, since the Rebel menu is always full of unique and creative offerings that you won't find in many other restaurants. Dave, the South Florida rep for New Belgium Brewing, showed off five of his best beers to go with each of the courses. There were probably about 15 people there — none of whom I knew, but by the end of the night I had mixed and mingled with everyone and really had a great time.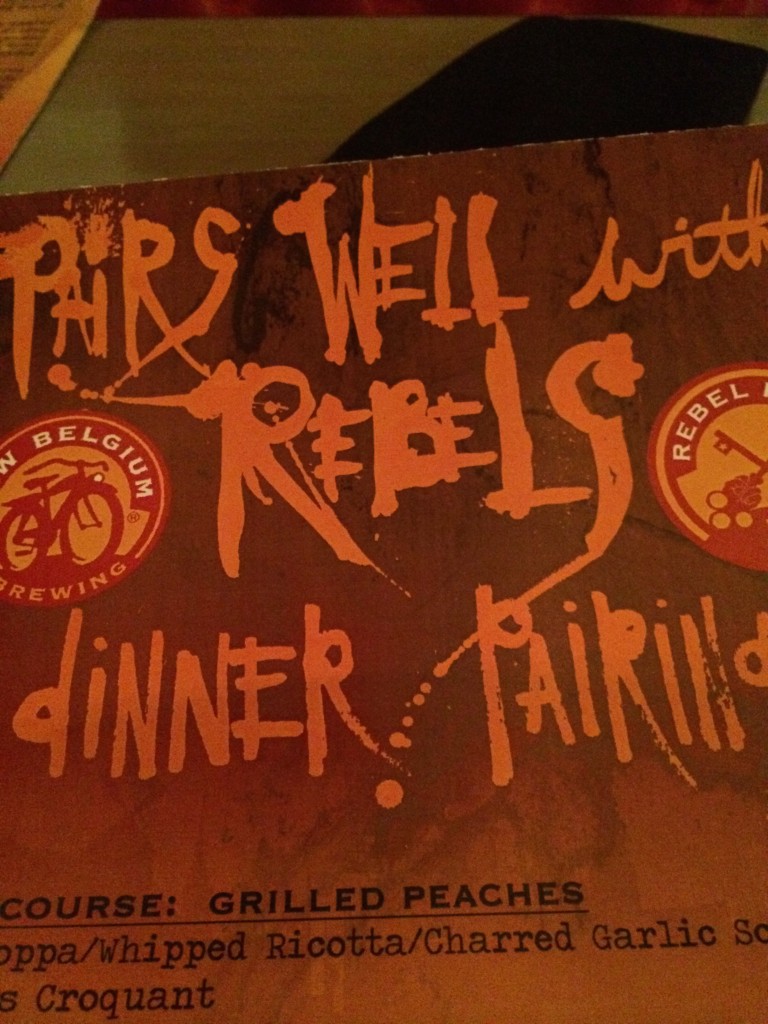 Now, I've been to my share of wine tastings and wine pairing dinners, but this was the first beer pairing dinner I'd ever been to, so I was pretty stoked. Recently, I've really started to like craft beers — the flavors can be so complex and sometimes pretty tasty. Though there are definitely ones I steer clear from (most IPAs, anything real hoppy, stouts, dark/thick beers), I'm usually down to at least try a taste of it all.
First up was Grilled Peaches with spicy coppa (my plate didn't have this thinly sliced meat), whipped ricotta, charred garlic scapes (a cross between garlic and onion that resembles a Brussels sprout), and crushed marcona almonds. My favorite component of the plate was the whipped ricotta. With a sprinkling of the crushed almonds on top, it was the perfect combination of crunchy and creamy. The pairing was an IPA called Rampant — it was okay, but not something I'd choose to drink.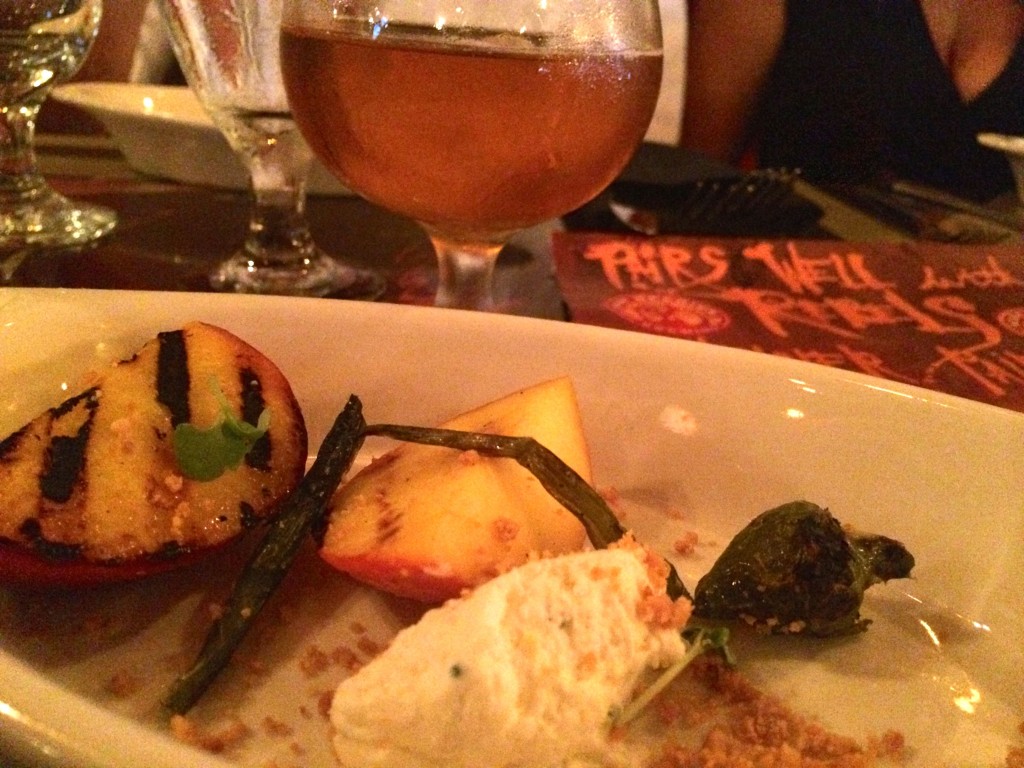 The next course was my absolute favorite of the night — Gooseberry Island Cod with yam crust, grapes, apple butter and a beerblanc sauce. So smooth and buttery soft, each bit of cod slid onto my fork far too easily. And the crispy yam crust! What a great idea. I'm hoping to see this on Rebel's menu very soon. I reeeaally liked the beer pairing for this dish — a sour beer, La Folie. Second course got two big thumbs up from me!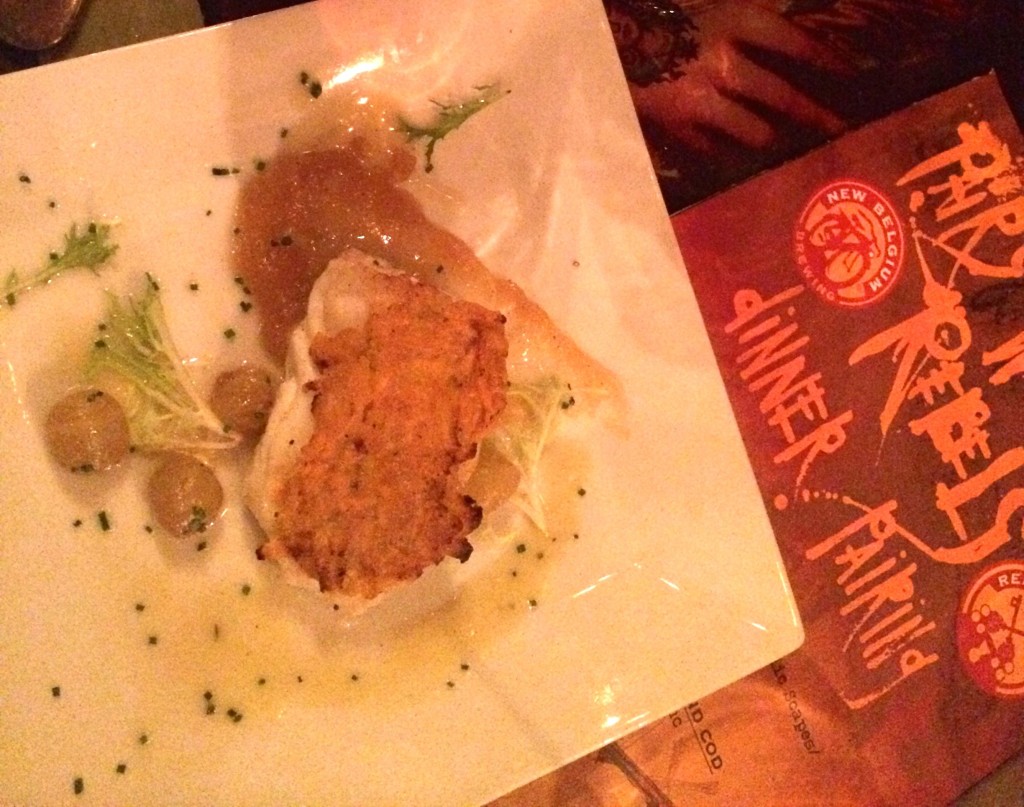 Course number three was Lambchetta with carrot griddle cakes in a fennel yogurt with spiced honey. Of course, my plate was just doubled up on the griddle cakes, which I was more than okay with, because they were SO delicious. They were the consistency of a thick hearty potato latke but much sweeter. Although I was totally loving on my carrot cake dish, I didn't love the beer pairing — Gruit. I smelled it first, as I did with all the beers we were served, and immediately was reminded of an extremely oaky chardonnay, only my most disliked wine ever. Then I tasted it…Yep, chardonnay through and through. I couldn't even take another sip.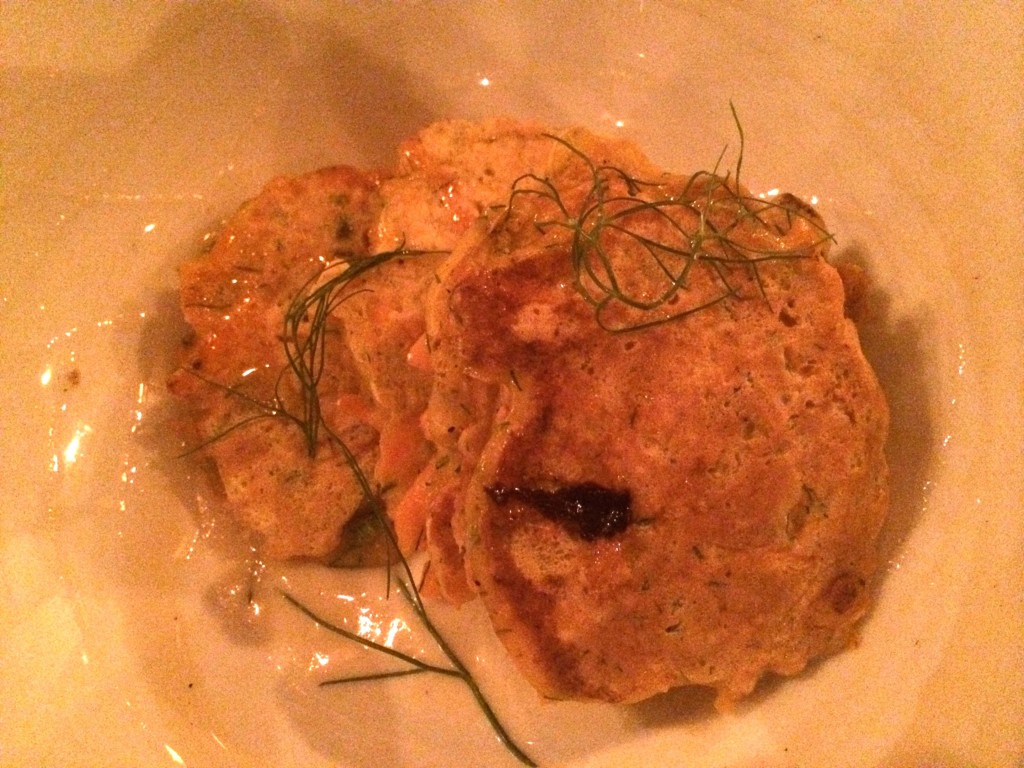 Hah, the beer rep was sitting next to me so I turned to him to make sure my taste buds weren't off. He agreed with me on the chardonnay-esque taste and smell… Ugh, my least favorite of the night for sure. But it's okay, because the La Folie and the next course's pairing completely made up for it.
The next course was the "Duck Duo" of duck and foie gras sausage, duck confit cigar, camembert potato panisse, and a smoked cherry jam. Instead of the duck, my dish came with a nice arugula salad with peaches. I did get the potatoes and cherry jam, thankfully. The potatoes were kind of like a croquette both in taste, texture, and presentation. And that cherry jam… It was a true campfire in your mouth — smoky and sweet and just absolute perfection. The best thing about this course was the pairing of the Transatlantique, which had notes of cherry. Sipping on that after having a bite of the cherry jam intensified the smoky campfire flavor, and made me wish I was outside sitting around the fire with s'mores…s'mores that include this cherry jam. Omg. Genius idea. #MustMake!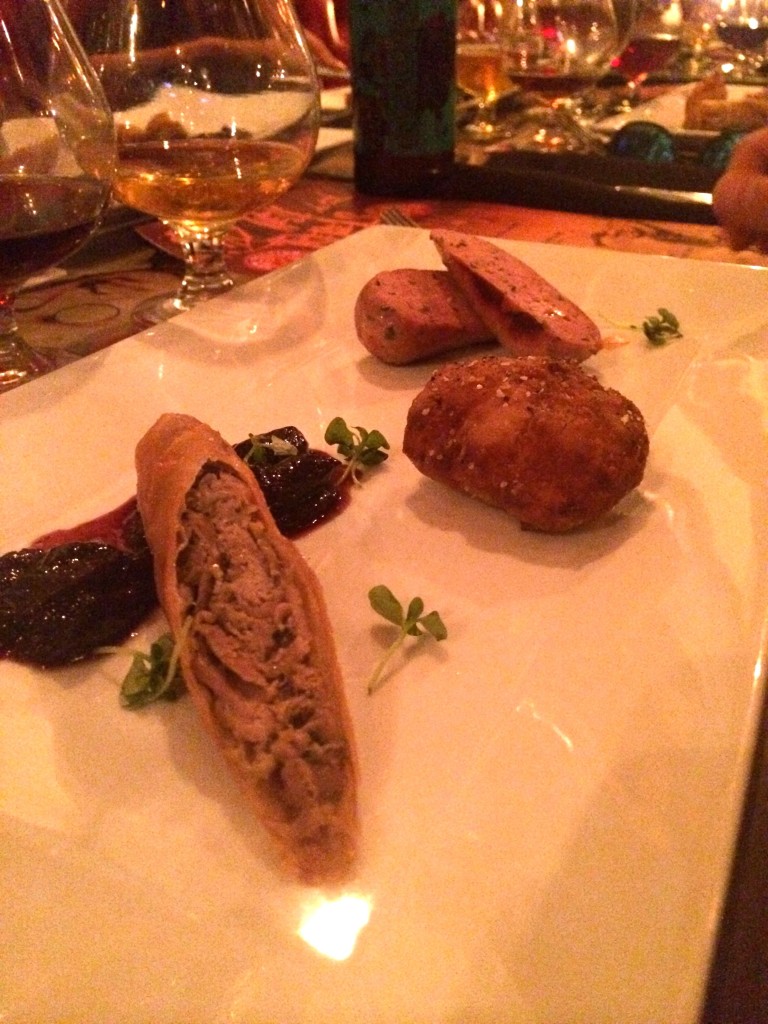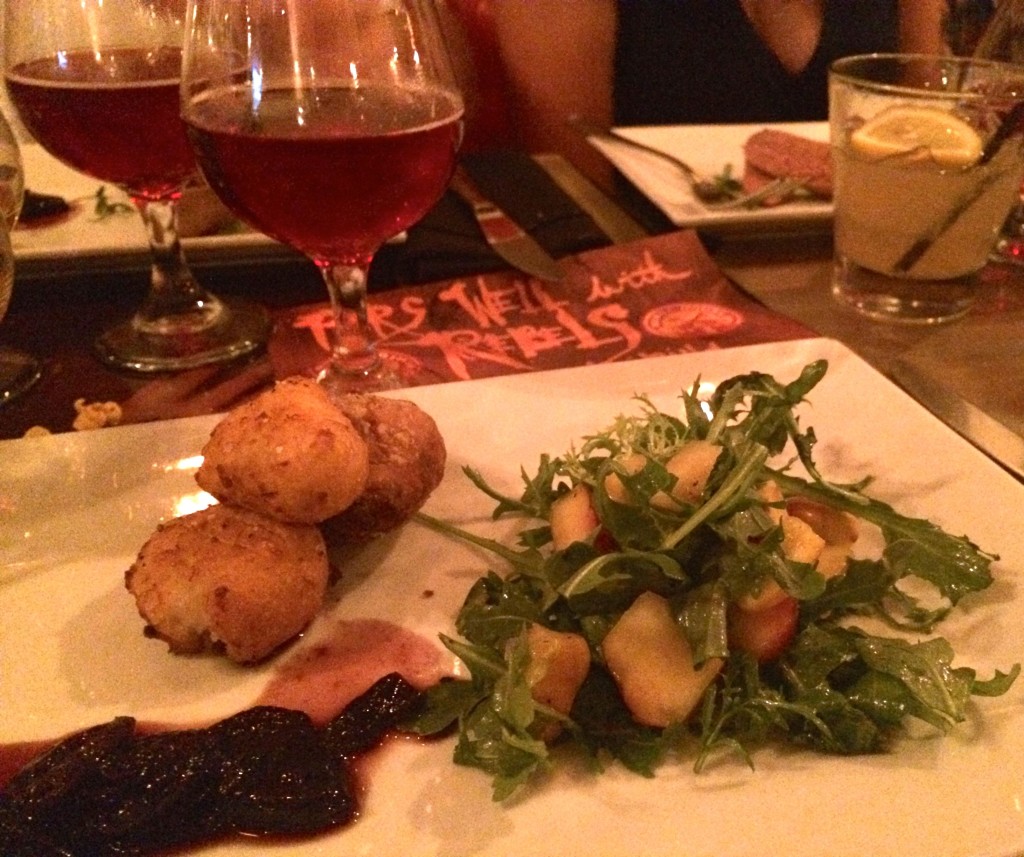 Dessert was a Green Tea Financier, which is a light, spongy cake make with almond flour, with malted milk foam, caramelized citrus, cilantro syrup and coriander. Definitely a different take on dessert and not something I would normally be apt to try, given that I don't particularly like citrus desserts. But the cake was fantastic, the caramelized orange slice was like biting into a citrusy chip, and the cilantro syrup was surprisingly sweeter than I expected it would be. Paired with this course was New Belgium's most popular beer, and the one that started it all — Fat Tire.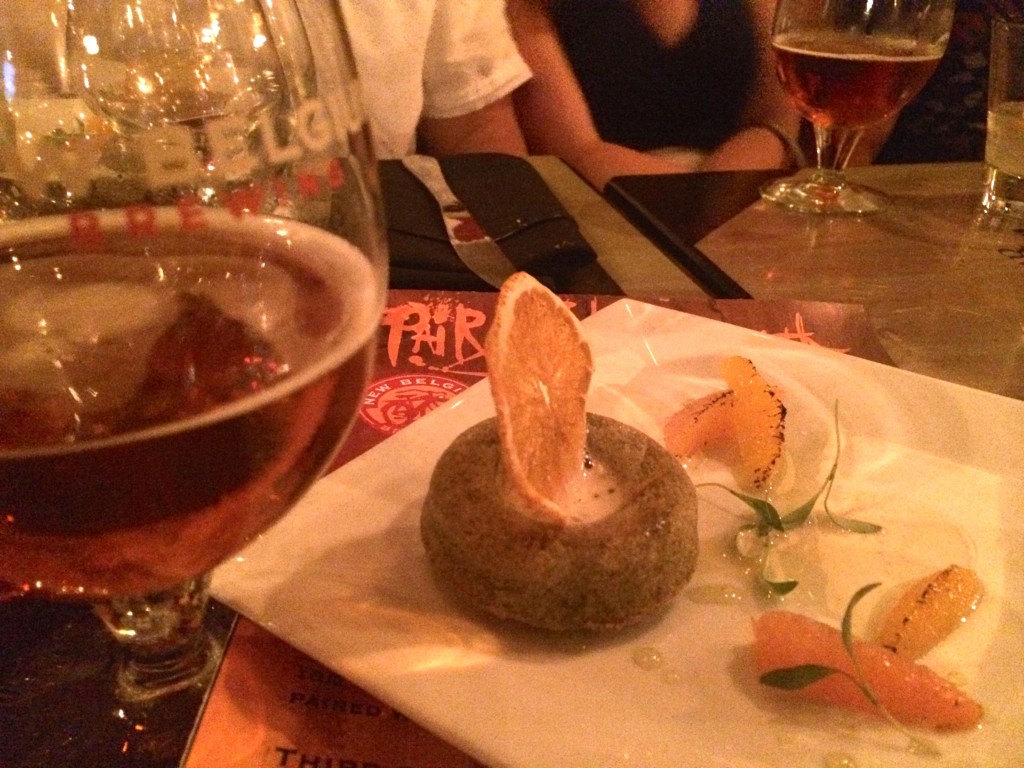 For my first beer dinner experience, this was a pretty good one. Although two of the beers did not suit my taste at all, the others did! It was cool to discover two new beers I had never heard of before and liked — La Folie and Transatlantique. I'll have to keep an eye out for these in stores!
Have you ever been to a beer pairing dinner before? What is your favorite kind of beer?