I've been to a few new restaurants (new to me, at least) over the past couple weeks. It's time to recap the experiences and give my readers some new Boca area places to try.
On Mother's Day, Bubby and I went to Brio for some good Italian food. I had heard this restaurant was really good and wanted to try it, so when Bub suggested we go, I was all for it. It took me forever to figure out what I wanted. I was trying to decide between two dishes: the grilled shrimp and orzo or the sweet potato and chicken risotto. Then the waiter came and told us the specials, which made it even harder! I eventually decided on the Mahi-Mahi special. Pan-seared over sautéed spinach and roasted potatoes – it was good, but not as good as I thought it would be be. I should have gone with my gut and ordered the first thing that jumped out at me: the grilled shrimp and orzo served with grilled asparagus, zucchini and  tomatoes in a lemon vinaigrette. That is definitely what I'll be getting next time I go. Bubby got the lobster and shrimp fettuccine tossed with mushrooms, green onions and a spicy lobster butter sauce; the pasta was homemade and you could really taste its freshness. I had a taste and it was delicious. We also split a really good salad that had field greens, gorgonzola cheese, pine nuts and Roma tomatoes tossed in a balsamic dressing. The best part of the meal? The bread they brought out: warm, fresh-out-of-the-oven Italian rolls and crispy flat bread seasoned to perfection. We sat outside, which was nice since it was an absolutely beautiful evening.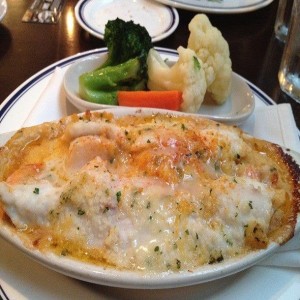 Another restaurant Bubby always talks about is City Fish Market. I finally had a chance to go with her and was very glad that I did. We got there during Happy Hour, so we sat at the bar and had a glass of wine and shared an appetizer: lump crab and shrimp cocktail. It was the perfect start to our meal; 2 huge pieces of shrimp and a few pieces of succulent crab meat with 2 dipping sauces. We moved over into the dining room for dinner where I was even more indecisive than I was at Brio. A menu that consists solely of amazing seafood dishes is a catch 22 for me — I love everything so I have no idea what I want to get! After much, much consideration, I finally decided on the stuffed flounder casserole with shrimp, crab, scallops and mushrooms (pictured). Needless to say, I was very satisfied with my decision. I really need to go back there soon though, because there are so many other dishes I want to try, especially the Hong Kong combo Chilean sea bass and Atlantic salmon. I highly recommend City Fish Market for anyone who loves a good seafood meal.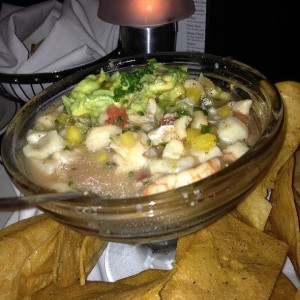 One of my friends and I were looking for a good Happy Hour to go to and came across Truluck's in Mizner Park. They've got a daily HH, with half-price cocktails and appetizers, and discounted bottles of wine. They had a pretty extensive list of cocktails, but I opted for a simple, light, summery drink, the Bellini. My friend loves tequila and all things spicy, so she got a drink called "The Spur," which has tequila, blood orange liqueur and fresh jalapeño. I tried a sip and my mouth was on fire. But hey, to each his own! We got a couple appetizers that were very good. The baja ceviche (pictured) was a citrus explosion of shrimp, crab and avocado which came with these really good, crunchy pita-like chips for dipping. We also got the warm goat cheese, topped with roasted red peppers and balsamic onions and nuts. This came with pieces of toasted bread. Although Truluck's is a pretty expensive place to go for dinner, their Happy Hour is actually a good deal. Our drinks and appetizers were all about $6 each. On Wednesdays, bottles of wine are half-off and on Sundays, Happy Hour lasts until closing at 9pm.