Grocery shopping takes skill. It's something you have to learn to master — scoping out the sales, clipping coupons, finding the best buy for your money. My dad has always been really good at that kind of stuff, and would encourage me to shop smart, especially when it comes to brand name vs. generic. Most grocery stores have their own store brand now, and the products are usually pretty comparable to the popular brand name of whatever the item is. But sometimes there are some brands we have to stay true to. Like peanut butter, for example. Some people are Jif-enthusiasts, while others prefer to go Skippy or gravitate toward Peter Pan. And then there are people like me, who prefer the all-natural stuff. I'm not talking about those all natural peanut butters that still pack the same amount of calories and fat as the regular kind. There are now peanut butter powders, like PB2, that you mix with water until you get a peanut butter consistency, or there is my favorite, Better'n Peanut Butter, with 100 calories and 2 grams of fat per serving (2 tablespoons). I've talked about this brand before and how much I love it. My older sister Jen introduced me to it and I've been hooked ever since. Despite the fact that most recipes tell you never to use all natural peanut butters when you bake, I'm a bit rebellious and always use this. I haven't seen any bad results in taste, texture, or presence, so I don't see the big deal. I will always choose Better'n Peanut Butter. What's your peanut butter of choice?
These Reese's Peanut Butter Chocolate Chip Cookies are to-die-for delicious. Loaded with creamy peanut butter flavor from the Better'n Peanut Butter and chopped up mini Reese's Peanut ButterCups, and filled with lots of chocolate chips, these babies will totally satisfy any cookie craving you're having. Especially if you like peanut butter. The center is chewy and really packs a lot of peanut butter flavor. I actually think that using natural peanut butter lends to the smooth texture you experience with that first bite. I say first bite because these Reese's Peanut Butter Chocolate Chip Cookies are so good you won't be able to resist stuffing the rest of the cookie into your mouth after your first bite. I am pretty proud of how these came out. They may just be my prettiest-looking cookies yet. I usually have a hard time with shape — my cookies tend to have a mind of their own. But these must have all decided they wanted to finally look like cookies and come out perfectly round. Yay for smart cookies! 😉
Reese's Peanut Butter Chocolate Chip Cookies
Adapted from AverieCook's Reese's Pieces Soft Peanut Butter Cookies
Makes 28 medium cookies
1 large egg
1 cup light brown sugar, packed
¾ cup your choice of creamy peanut butter (her recipe says not to use all natural, but I found Better'n Peanut Butter to work just fine)
½ cup unsalted butter, softened
1 tbsp vanilla extract
1 ¾ cup all-purpose flour
¾ tsp baking soda
1 cup mini Reese's Peanut Butter Cups, cut in half
1 cup semi-sweet chocolate chips
Preheat the oven to 350.

Combine the egg, light brown sugar, peanut butter, butter and vanilla extract in the bowl of a stand mixer. Mix until fluffy. Add the flour and baking soda and mix until just blended. Add in the Reese's Peanut Butter Cups and chocolate chips and continue to blend until incorporated.

Using a cookie scoop, place cookies onto a baking sheet lined with parchment paper or a Silpat. Bake for 9 minutes.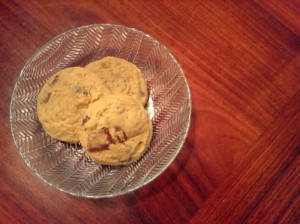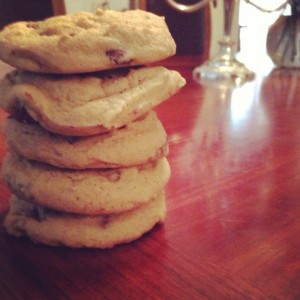 Disclaimer: Better'n Peanut Butter did not endorse this post nor was I compensated in any way. I simply love the product and wanted to share it with you! Opinions in my blog posts are always my own.