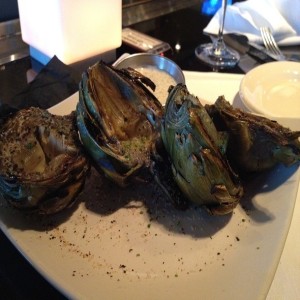 Even though I moved out, weekly dinner dates with my Bubby are still a ritual. Recently she took me to J. Alexander's, one of the spots she frequents with her group of friends and somewhere I surprisingly haven't been yet. Before we went, I checked out the restaurant's website to look at the menu, as I always do before going out to eat, and was completely smitten with what I saw. Although they don't have the actual menu posted on the site, there are pictures of some of their most popular dishes. Upon seeing a few of these photos, I was hooked and very excited to go there. Check out their site and you'll see what I mean. Click where it says "food" to see the pictures.
There was a 15-minute wait when we got there, so we parked ourselves at the bar and ordered a drink and appetizer. We both ordered a class of Clean Slate Riesling, which was recommended to me by my friend a while back. I hadn't gotten around to trying it yet, so when I saw they had it on their wine list, my decision was made. It's a very light, refreshingly sweet Riesling — my favorite. I'll definitely be picking up a bottle soon. One of the pictures that made my mouth water from the website was of the Fire Grilled Artichokes, which we ordered as an appetizer. The artichokes were grilled and seasoned to perfection and came with a really good rémoulade.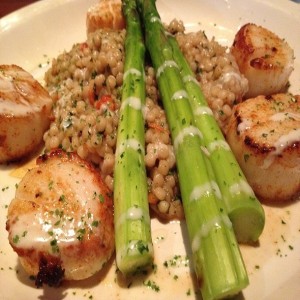 For dinner, I ordered one of the specials: jumbo sea scallops with Couscous and asparagus in a creamy lemon butter sauce. I asked them to go very, very lightly on the sauce and I was happy to see they actually listened to my request. This dinner was so delicious I would have licked my plate clean had I not been in a nice restaurant. I've never seen asparagus spears so big, and the equally large scallops were cooked just the way I like them: extremely tender. The Couscous was mixed with lots of finely chopped veggies and herbs and really was the highlight of the dish in my opinion. Bubby got what she always gets when she dines out at Alexander's: a nice, juicy piece of prime rib with a baked potato and all the fixings. We both really enjoyed our dinners, and especially liked the appetizer. The service was good and the atmosphere was really lively. It was busy when we got there and hadn't slowed down at all when we left an hour or so later. Not only was every seat at the bar taken but the dining area was pretty full, as well. I would definitely recommend J. Alexander's for those of you looking to dine in the Boca Raton area.