NOTE: This restaurant has since closed.
New restaurants always call my name. I should say they usually call Bubby's name first and then, as long as she has had a good experience, they call mine. It's a good sign when a restaurant gets the "Bubby seal of approval." 
Two new restaurants opened recently on Military Trail, outside of the Wyndham Hotel. Red, the steakhouse, has gotten rave reviews but it's pretty pricey. The Italian place, Rosso, is more up my alley. When Bub and I sat down, our waitress remembered her from when she was there with her group of friends a week or so ago. She even remembered what they ordered. I can't help but wonder if I should be impressed she remembered a specific group of customers out of many, or sad because it doesn't really look like the restaurant is getting too much business and maybe she just hasn't had enough customers to lose track of them. The hostess did say Monday nights are pretty slow and that they do much better over the weekend, but in an area where there are a million different places to eat, just doing well on the weekend is not good enough. I'm pullin' for them though — the food was delicious!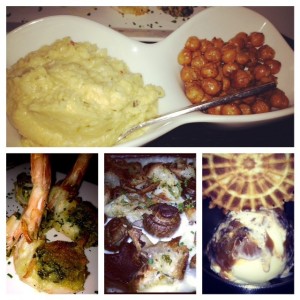 First of all, instead of just bringing bread to the table, the waitress also brought homemade hummus and fried chickpeas. Oh — My — God. The fried chickpeas were SO good. Crispy, salty, and plenty addicting. Such a perfect little snack to put out. I was perfectly content with these chickpeas to start, but Bub wanted to get the appetizer she ordered last time: roasted shrimp with basil, lemon and olive oil, topped with bread crumbs. A+ on taste and presentation. For dinner, I got the mushroom cannelloni with ricotta, spinach, and oregano in a pecorino cream. WOW. This dish was freaking delicious. You've got to be quite the mushroom fan to like this dish though because it was absolutely packed with lots of yummy roasted mushrooms. The ricotta and spinach mixture was perfectly rich and creamy. This plate had so much depth and flavor to it that each new bite was different than the last. I liked it just as much when I had my leftovers for lunch the next day. Despite being full from dinner, we couldn't leave without having the homemade gelato — chocolate, peanut butter and caramel swirled together to make one hell of a dessert. As soon as the waitress suggested this, I was sold. As soon as I tasted it, I was in love. 
I hope this post entices Boca locals to go out and try Rosso. It has a good, family-friendly menu; there are a wide variety of appetizers, pizza, pasta, and other main entrees to choose from. The wine list was pretty extensive too. Happy Hour is from 3-7 Monday through Friday and there are special pizza deals on Thursday nights. I would certainly go back. Those chickpeas were just too good to only have once…