Are you sick of Brussels sprouts recipes yet? I hope not, because I have another one for you. I have been seing sprouts allllllll over the blogosphere and in every food magazine out right now. I guess Brussels are a popular holiday dish? Or everyone is finally realizing how freaking delicious they are. Brussels have quickly become my favorite green. They have even surpassed SPINACH! Spinach has been my favorite since I was a little kid and my dad would arm wrestle me every night after dinner, as long as I finished my plateful of those leafy greens. I always won — spinach makes you strong, duh! Popeye taught us that.

….or maybe my dad just let me win so I'd keep eating spinach.

Whatever. I loved it then, and I still love it now; but Brussels sprouts have stolen my heart!

Last month's issue of Food Network's insert had 50 recipes for veggie side dishes. They had quite a few showcasing my beloved Brussels, so you know I had to try one! This is a really colorful dish with a pop of color from pomegranate arils and lots of bright, citrusy flavors. I'd make this for a holiday dinner or even on any old weekday when I'm craving a big bowl of Brussels sprouts. Which is exactly what I did. I doctored up the recipe a bit, adding a few other things to make it more of a meal instead of a side.

Thanks for the inspiration, Food Network, you never fail me!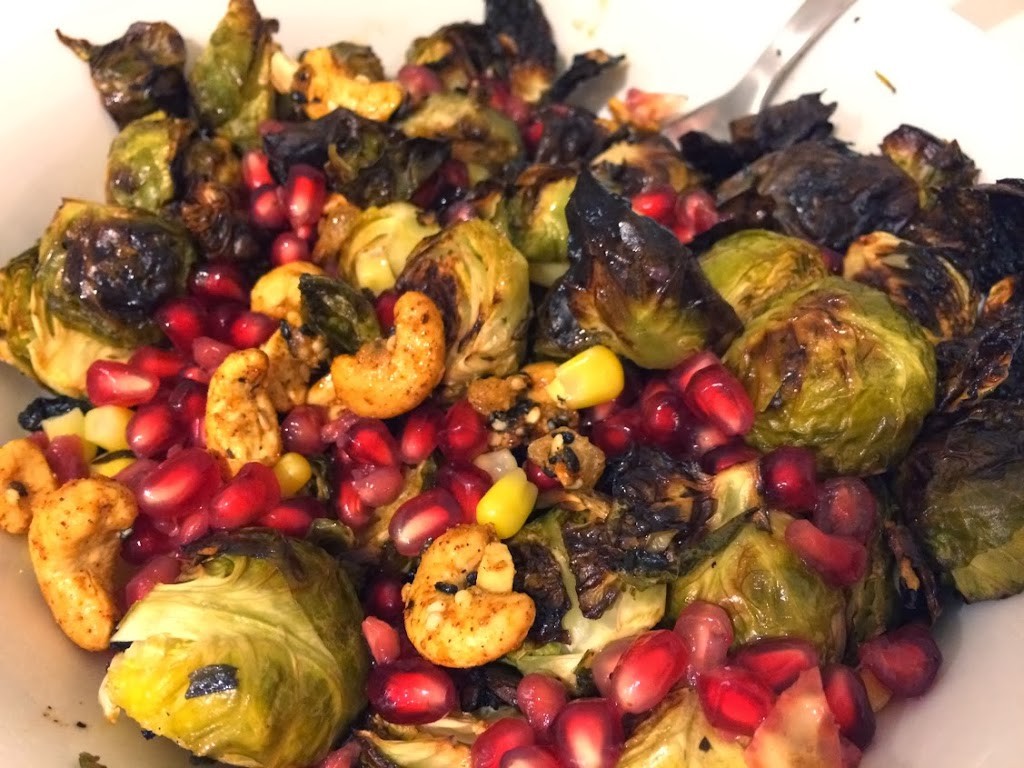 Roasted Brussels Sprouts with Pomegranates
Inspired by Food Network Magazine

1 lb Brussels sprouts, halved
3-4 garlic cloves, minced
2 tbsp olive oil
2 tbsp lemon juice
1/2 cup frozen corn
1/2 cup pomegranate arils
Handul of Sahale Snacks Sing Buri Cashews with pineapple, peanuts, lemongrass and mild Chinese chili

Preheat the oven to 425 degrees. Toss the Brussels sprouts with garlic, olive oil and lemon juice.

Microwave the frozen corn for about 30 seconds, then add the corn and pomegranates to the Brussels mix. Season with salt and pepper.

Arrange on a baking sheet lined with parchment paper or a silicone baking mat. Bake for 20 minutes. Place into a bowl and top with the cashew mix.