Happy November!

Today I'm sharing one of the easiest recipes ever. Roasted Chickpeas! I can't even justify calling this an actual "recipe" because it's so simple and easily adaptable to whatever you want it to be.

A quick tasty snack? Toss the chickpeas in some olive oil, salt, pepper and mix and match different spices….garlic powder, chipotle powder, onion powder, red pepper flakes, cumin, the list goes on and on. Have a sweet tooth? Sprinkle with cinnamon and sugar. You can eat them by themselves, put them in a salad,mix with cooked spinach or kale, or even toss with pasta or rice. These roasted chickpeas give great texture and an added crunch to whatever they are being paired with. You could even leave them totally plain; just coat with a little bit of olive oil and you're good to go!
No matter how you decide to dress them up, they are going to be good. And I promise you, they will go fast, so make sure you stock up on some serious cans of chickpeas if you're planning to make these. I'm not going to give you any measurements, because it is all up to you! Leave comments with all your favorite spice combinations. I'd love to hear your ideas!
Fun fact about chickpeas that my dad told me. In Yiddish, they are called 'Nahit.'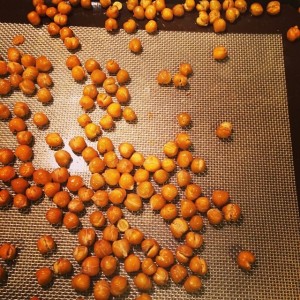 Roasted Chickpeas
Chickpeas
Olive oil
Your choice of herbs, spices, seasonings
Preheat the oven to 400 degrees. Drain and rinse your chickpeas. Toss with olive oil and whatever else you'd like. Arrange on a baking mat or baking sheet lined with parchment paper. For one can of chickpeas, I baked for 30 minutes and they came out perfectly crispy. If you are using more than one can, you may have to leave them in the oven a little longer. They should be a little browned, but not dark.

Posted with Blogsy