Never miss a bite! Sign up here to receive new recipes and reviews straight to your inbox.
Enjoy these Roasted Eggplant and Piquillo Pepper Toasts as an appetizer, snack, or make it a meal and pair alongside a nice salad. However you choose to eat it, you'll want to keep going back for more!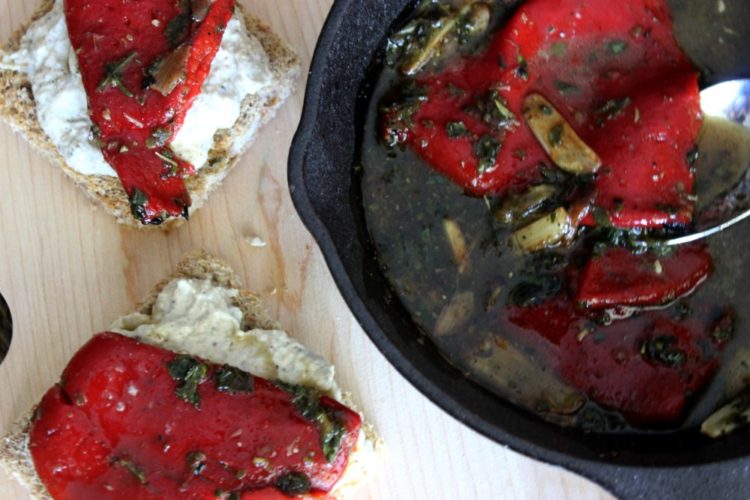 My first foray into the world of tapas (the term for a variety of appetizers in Spanish cuisine) was during a work trip to Las Vegas. For those of you who don't know, when I first moved to Florida I worked as a customer service rep for a small, family-owned promotional product business here in Boca (you guys know my super-freaking-awesome business clothes — that's where they come from). In the short time that I worked with them, I was fortunate enough to get the opportunity to travel to a few trade shows all over the country. Much to my delight, I had a boss who appreciated good food and wine just as much as I do, and he didn't hesitate to show me all the best places to eat during our trips.
I fell in love with Vegas — not for the glitz, glamour, and gambling — but for the fact that it introduced me to Chef Jose Andres and his incredible Spanish tapas style of cooking. My experience at his restaurant, Jaleo, was unlike any dining experience I had ever had at that point in my life. My blog was just starting out and media dinners and events weren't entirely on my radar yet. It was about 4 years ago, but I remember that meal as if it were yesterday. The atmosphere was boisterous, the smell in the air was mesmerizing, and the food was bright, bold, and cheerful. With so many textures and flavors, I could have sat at that table all weekend, completely satisfied.
We ate plenty — toasted bread topped with manchego cheese and tomatoes, gazpacho, salmon tartare, octopus, patatas bravas (I actually found Jose Andres signature recipe for this and recreated it here), and sautéed mushrooms… But one dish that still stands out was a piquillo pepper stuffed with goat cheese. I just checked on Jaleo's website to see what the dish was called — Piquillo Rellenos con Setas, stuffed piquillo peppers with caña de cabra goat cheese and seasonal mushrooms. Reading that makes me hungry!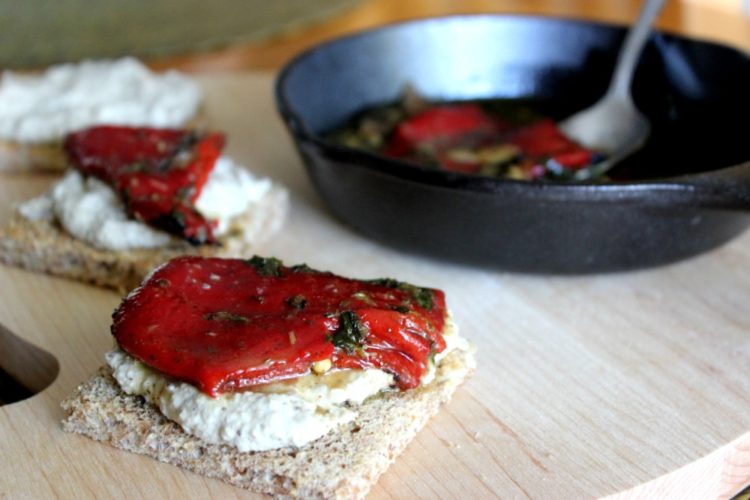 When I found out #SundaySupper was doing a tapas theme for this week's post hosted by Caroline's Cooking, I knew I had to make something that includes piquillo peppers and goat cheese. Flipping through a recent issue of Food and Wine Magazine, I came across a recipe for Marinated Piquillo Pepper and Whipped Eggplant Toasts by Jose Garces. After a few tweaks to make it my own, my Roasted Eggplant and Piquillo Pepper Toasts were born!
I'm super excited to share this recipe for Roasted Eggplant and Piquillo Pepper Toasts with you guys today, not only because it is seriously one of the best appetizers I have ever made, but because today's Sunday Supper is extra special. Right now I am in Orlando for the Food Wine Conference, and tonight, a group of us will be getting together for a LIVE SUNDAY SUPPER! We'll still be holding our scheduled Twitter Chat at 7pm EST for anyone who wants to join in on the fun, but instead of all of us being on our couches at home Tweeting to one another, we'll be together at Tapa Toro (HUGE shout out to them for hosting all of us this evening). Of course, we'll be Tweeting too!
Tapa Toro combines contemporary Spanish cuisine with a vibrant, energetic atmosphere – bringing a fresh dining experience to the I-Drive 360 area in Orlando, FL. Their unique paella pit, vibrant tapas menu, and extensive selection of imported wines will guide you through a culinary journey of Spanish flavors and culture in the heart of Central Florida. Show them some love and follow on Facebook, Twitter, and Instagram.
I won't make you wait any longer for these Roasted Eggplant and Piquillo Pepper Toasts. Here you go — plus even more great recipes for tapas-inspired dishes from my Sunday Supper friends!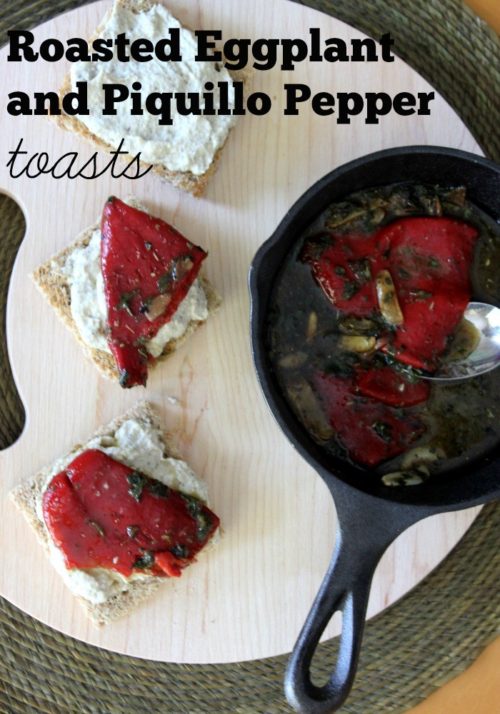 Roasted Eggplant and Piquillo Pepper Toasts
Author:
Enjoy these Roasted Eggplant and Piquillo Pepper Toasts as an appetizer, snack, or make it a meal and pair alongside a nice salad.
Ingredients
1 medium eggplant, sliced into 1-inch thick rounds
olive oil
salt and pepper
3-4 garlic cloves, thinly sliced
1/2 cup extra virgin olive oil
1/3 cup champagne vinegar
1/4 cup honey
1 tbsp minced fresh rosemary
1 tbsp minced fresh parsley
1 tbsp minced fresh oregano
(1) 12 oz. jar grilled piquillo peppers, drained
4 oz. goat cheese
2 oz. pecorino romano cheese
Your choice of bread, toasted (I used a 7-grain sprouted bread)
Instructions
Preheat the oven to 425 degrees.
Arrange the eggplant slices directly on a non-stick baking sheet.
Drizzle with olive oil, and season with salt and pepper.
Bake for 20-25 minutes or until eggplant is fork-tender.
While the eggplant is roasting, heat oil in a saucepan over medium heat.
Add the sliced garlic and cook until it starts to sizzle and brown.
Remove from heat and add the champagne vinegar, honey, rosemary, parsley, and oregano.
Whisk until well-combined. Season with salt and pepper.
Add the piquillo peppers to the pan, making sure to cover them with the vinaigrette.
In a food processor, combine the roasted eggplant, goat cheese, and pecorino and blend until smooth. Season with salt and pepper.
Smear a spoonful of the eggplant spread over your toasted bread and top with the marinated peppers. Serve immediately.
Notes
Adapted from Jose Garces' Marinated Piquillo Pepper and Whipped Eggplant Toasts in the May 2016 issue of Food & Wine Magazine
Para Empezar, Las Tapas (Appetizers/tapas) –
Postres (Desserts) –
Bebidas (Drinks) –
Plus Alcachofas al Ajillo – Garlicky Artichokes – and Spanish Tapas Recipes from Sunday Supper Movement
Join the #SundaySupper conversation on twitter on Sunday! We tweet throughout the day and share recipes from all over the world. Our weekly chat starts at 7:00 pm ET. Follow the #SundaySupper hashtag and remember to include it in your tweets to join in the chat. To get more great Sunday Supper Recipes, visit our website or check out our Pinterest board.
Would you like to join the Sunday Supper Movement? It's easy. You can sign up by clicking here: Sunday Supper Movement.