Never miss a bite! Sign up here to receive new recipes and reviews straight to your inbox.
Gourmet Garden Spices and Herbs bring so much life to this Roasted Eggplant and Tomato Lasagna, you won't even miss the meat!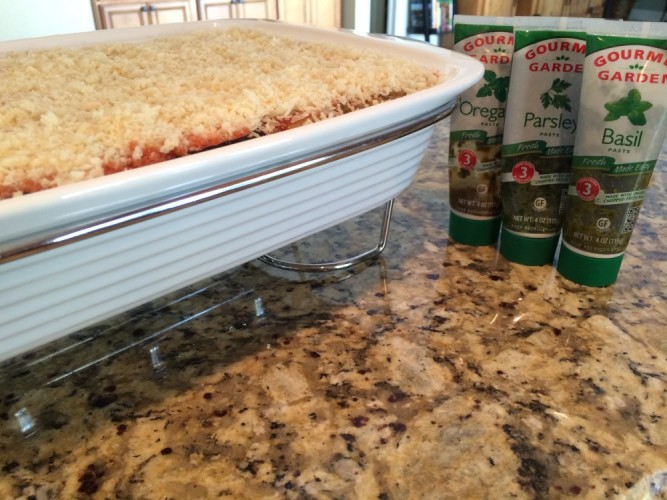 I hate when food doesn't photograph well. I go into little-kid-throwing-a-tantrum mode and get all upset and whiney. It's super annoying to watch, let alone actually live it. I know I'm being childish, but I just want my pictures to look good! My fellow food bloggers can attest to this. You guys know what it's like when you work so hard at a dish only to look through your lens (or, in my case, on my iPhone screen) and see nothing but a big blob on a plate. Unfortunately, this is the case with a lot of specific foods and we really can't help it — especially when it comes to lasagna.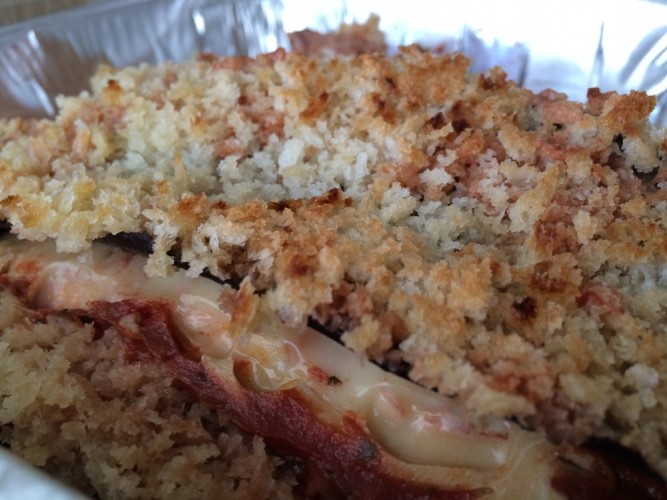 I don't know how to make it look pretty. If you do, please share your tips.
Regardless of looks, lasagna is freaking delicious. And this Roasted Eggplant and Tomato Lasagna was definitely no exception to that rule. A combination of creamy ricotta, shredded mozzarella and grated parm is mixed with a super simple tomato sauce made of nothing more than pureed tomatoes, garlic powder and Gourmet Garden Oregano, Basil, and Parsley — and salt and pepper (but who really counts those as ingredients?). I served this to a house full of 10 of my good friends who helped me celebrate my new living situation. I think I told you guys I recently moved? I'm living with one of my best friends — actually one of the only people I've known the entire 3 1/2 years I've lived in Florida. I decided to throw myself a little Housewarming Party and although it was potluck-style, I still did a hell of a lot of cooking and preparation for the night.
My main dish was this Roasted Eggplant and Tomato Lasagna and it was definitely a hit. I saw plates filled with seconds and thirds, and just about everyone brought home a little piece in their goodie bag (a.k.a tupperware filled to the brim with leftover food).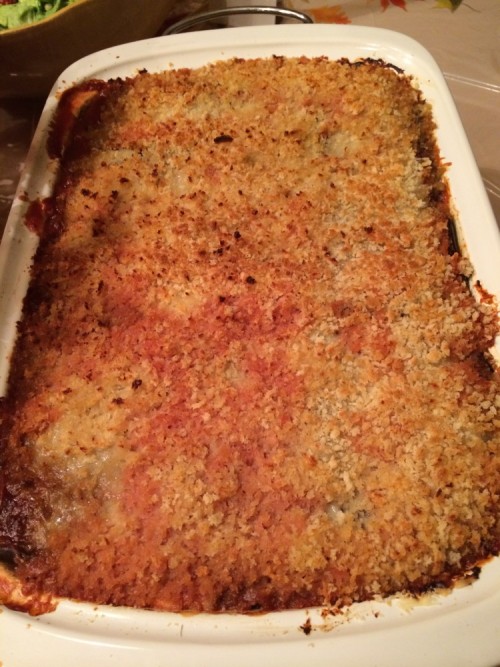 Remember when you were a kid, every birthday party ended with a party favor — usually a bag full of knick-knacks or candy? Adult party favors consist of ziplock bags and tupperware containers full of food. Or alcohol. Either one works.
I would serve Roasted Eggplant and Tomato Lasagna again and again and again, and I bet everyone who came would gobble it all up just like they did at the party. We are just about into the holiday season — and lasagnas and casseroles are just the kind of dish you need to make for a dinner party. I love all of the flavors in this lasagna, and you will too. Roasting tomatoes really brings out their sweetness, and using my favorite Gourmet Garden products was such an easy way to make a sauce without resorting to the jarred stuff with a zillion ingredients I can't pronounce. I used plain old pureed tomatoes, added all my spices, and that's that. Nothing fancy or complicated — but oh so delicious!
Meat-eaters might be jealous of this vegetarian option at your next holiday dinner, so make sure you've made enough!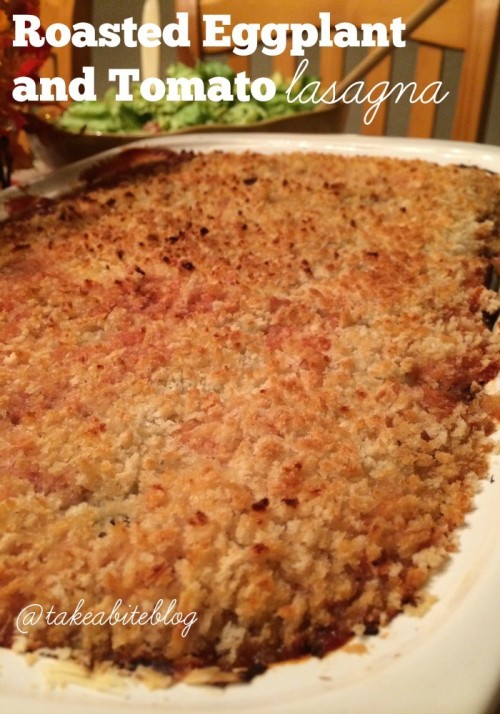 Roasted Eggplant and Tomato Lasagna
Author:
Gourmet Garden Spices and Herbs bring so much life to this Roasted Eggplant and Tomato Lasagna, you won't even miss the meat!
Ingredients
2 medium eggplants, sliced into 1/2-inch rounds
3-4 large beefsteak tomatoes, sliced thin
olive oil
salt and pepper
2 17.64 oz containers of Pomi tomato sauce
2 tbsp Gourmet Garden basil
2 tbsp Gourmet Garden oregano
2 tbsp Gourmet Garden parsley
1 tbsp garlic powder
1 32 oz. container fat free ricotta cheese
4 cups part skim shredded mozzarella cheese
1-2 cups grated parmesan cheese
1-2 cups Panko breadcrumbs
Instructions
Preheat the oven to 400 degrees.
Place sliced eggplant in a ziplock bag and pour in a little olive oil, salt and pepper. Massage the eggplant in the bag until it's mostly coated. Arrange on 2 baking sheets lined with parchment paper. Roast for 20 minutes.
Arrange the tomato slices on another baking sheet lined with parchment paper and sprinkle with olive oil, salt and pepper.
If you have room in the oven, put in the tomatoes and roast for about 15 minutes or until you see that the tomatoes have started to release their juices.
To make the sauce, combine the tomato sauce, Gourmet Garden basil, oregano, and parsley, and garlic powder in a medium bowl and mix well. Season with salt and pepper to taste. Add more garlic powder if needed.
Spray a large casserole dish with cooking spray and ladle a thin layer of the sauce on the bottom of the dish.
Arrange the eggplant slices, followed by another layer of sauce and then a layer of tomato slices.
Spread the ricotta cheese over the tomatoes, followed by the mozzarella.
Continue the pattern as so: sauce, eggplant, sauce, tomato, ricotta, mozzarella, sauce, eggplant, sauce, tomato.
Sprinkle the parmesan cheese over the tomato until completely covered. Top with Panko breadcrumbs.
Bake for 30 minutes.
Turn the oven to broil and cook under the broiler for 2-3 minutes or until the top has started to brown.
Disclaimer: This is a sponsored post by Gourmet Garden. As always, all opinions are 100% my own.