If you had to pick one vegetable that totally grossed you out as a kid but now makes your head spin because you love it so much?
Did you pick Brussels sprouts?
I thought so.
So did I.
My dad hates them. So as a kid, especially a kid who looked to her father for absolutely everything, I assumed that I wouldn't like them either, so I refused to eat them. I wouldn't even try. But they weren't ever around for me to try anyway, so it wasn't an issue. I don't even remember when I first tried them, orwhat made me want to… Honestly. I wish I did because I want to give a huge hug and kiss to the person, TV show, magazine, celebrity, whatever/whoever that convinced me that Brussels sprouts might just be tasty and I should give them a shot. They changed my world forever.
I obviously love these little green gems. I know a lot of people say they are bitter, but that's just because you aren't cooking them correctly. The best way to get rid of all that bitterness is to roast them. They get all crispy and charred and take on a completely different flavor. My go-to is coating them in a little olive oil, tossing them with garlic and sprinkling parmesan cheese on top and roasting in the oven, but I wanted to try something a little different. Fig-infused balsamic. Dried mission figs. Edamame. Toasted pine nuts. Warm cooked farro. Italian Pecorino Romano cheese. A whole mix of deliciousness in one bowl. If you aren't familiar with farro, it's a wheat berry. If barley and cous cous hit it off and had a baby together, it would be called farro. Yep, that's a pretty good way of describing it. It isn't soft, it has a slight bite to it like barley, but it looks like cous cous. Whatever. It's delicious. That's all you need to know.

And so was this dish. Go make it and fall in love with Brussels sprouts.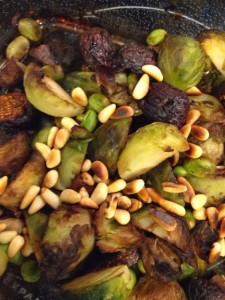 Roasted Fig Brussels Sprouts with Farro, Edamame and Toasted Pine Nuts
(Serves 1)
5-6 large frozen Brussels sprouts, thawed and quartered
5-6 dried mission figlets (baby figs, if you will), halved
1/4 cup frozen edamame, unshelled
1 tbsp fig-infused balsamic vinegar
1 tsp olive oil
1 tbsp pine nuts, toasted
1/2 cup farro, cooked
1/4 cup shredded Italian Pecorino Romano cheese
Preheat your oven to 425 degrees.
Arrange the Brussels sprouts, figs and edamame in a shallow glass baking dish. Pour in balsamic vinegar and olive oil and toss until completely coated. Bake for 15-20 minutes, stirring halfway through.
Put cooked farro in a bowl with the toasted pine nuts and top with the roasted Brussels sprout mixture. Sprinkle generously with cheese.
To toast the pine nuts, heat in a small sauce pan on high heat for about 8-10 minutes or until browned.
To cook the farro, follow the directions on whatever package you have. I used a microwavable pouch from Target's newest brand, Simply Balanced.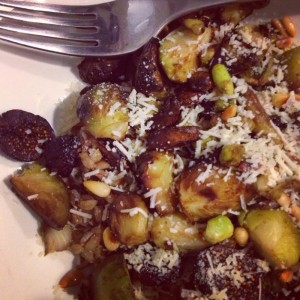 Posted with Blogsy