One of the things I've learned at work is how to roast garlic. Actually, I've also learned that I really, really, really like garlic. If there is one thing about roasted garlic that I like most, it's the smell. There is nothing like the scent of roasted garlic filling your entire kitchen. It's heavenly. I just had to take this skill home with me and try it out myself. But what to make…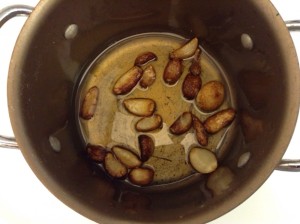 Eggplant was on sale the other day so I snatched one up and started to dream of different things I could use it for. I feel like I'm one of the only people who absolutely loves eggplant. What's your take on it? I guess it just needs to be prepared correctly. My Bubby slices them into rounds, coats them in Panko and bakes them. It's so simple, but so good. Using eggplant in place of pasta in a lasagna is another great way to use it. Did you know that eggplant is actually a fruit? I had no idea. As I was writing this post, I started to question myself about how to categorize it, so I googled it. Interestingly enough, it is not a vegetable despite the fact that most people assume it is. You learn something new everyday.
So I took my new FRUIT and my new knowledge of how to roast garlic and put it together to make one outstanding Roasted Garlic and Eggplant Hummus. I paired it with pita chips and some baby carrots and celery, a nice glass of white wine and I was all set for a night in with the season finale of Grey's Anatomy.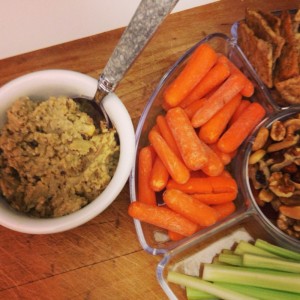 Roasted Garlic and Eggplant Hummus
1 eggplant
cooking spray
olive oil
10 garlic cloves
1 15 oz. can garbanzo beans
lemon juice
kosher salt
black pepper

Preheat oven to 400 degrees. Slice eggplant however you'd like (it is going to be pureed). Spray with cooking spray and bake for about 15 minutes or until eggplant is soft.

While your eggplant is roasting, heat olive oil in a small saucepan over high heat. Add garlic cloves to the oil. Make sure there is enough olive oil in the pot that the garlic is completely covered. Let cook for 10 minutes or until they are a tan color. Remove from heat and they will continue to cook and turn a little more brown.

Peel the skin from the cooked eggplant and puree in a food processor. Add roasted garlic and 1 tablespoon of the roasted garlic oil and continue to puree. Add chickpeas and lemon juice and puree until mixture is well combined. Add salt and pepper as desired.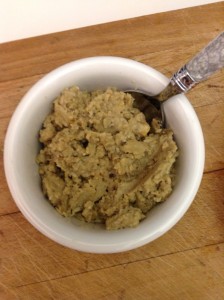 Posted with Blogsy