Never miss a bite! Sign up here to receive new recipes and reviews straight to your inbox.
Tastemaker's at Mizner Park is getting ready to host the ultimate one-night tasting event on Wednesday, September 17th from 6-9:30 p.m. "Rock, Roll & Stroll" features a fabulous night of food, wine, craft beer, cocktails, and live rock music. This is one progressive food and drink tasting event you definitely don't want to miss.
I was invited to preview the event along with other foodies and media in the area (ah, the life of a food blogger is so hard sometimes…). The night started off at Ruth's Chris Steakhouse. I didn't think I would be eating here since it is a steakhouse, but they actually presented us with a delicious seafood appetizer of mini seared ahi tuna with a mustard and beer sauce. The sauce was a bit on the spicy side, but surprisingly paired pretty well with the tuna. For our first cocktail of the night, we were served a Raspberry Rosemary Cosmo made with raspberry vodka, cointreau, lime and cranberry juices, and muddled raspberries, garnished with a sprig of rosemary. The smell of rosemary totally took over that drink, which I totally didn't mind at all.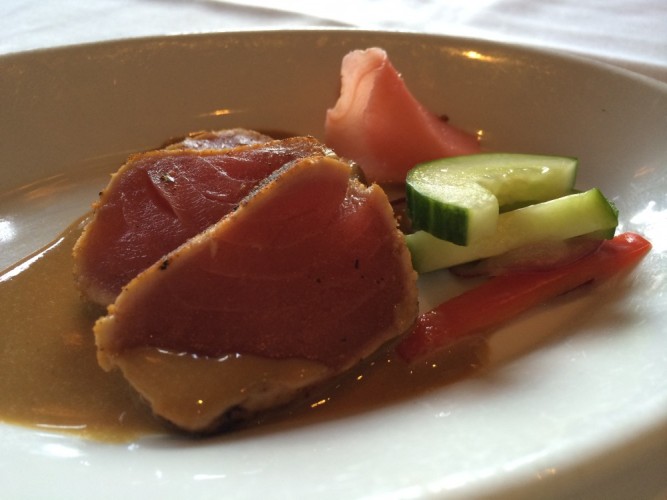 Our next stop was Villagio where we were greeted promptly with bruschetta and flatbread as any good Italian place will do. I'm a big fan of their flatbread — it has just the right amount of crunch without getting crumbs all over the place when you take a bite. They served us eggplant rollatini — a rich blend of creamy, melted cheese and marinara enveloped within braised eggplant — and their Acai-tini, a blend of acai vodka with cointreau, sour mix and a touch of blue curaçao. The drink tasted better than it looked (after the previous cocktail, I was expecting something pretty again!)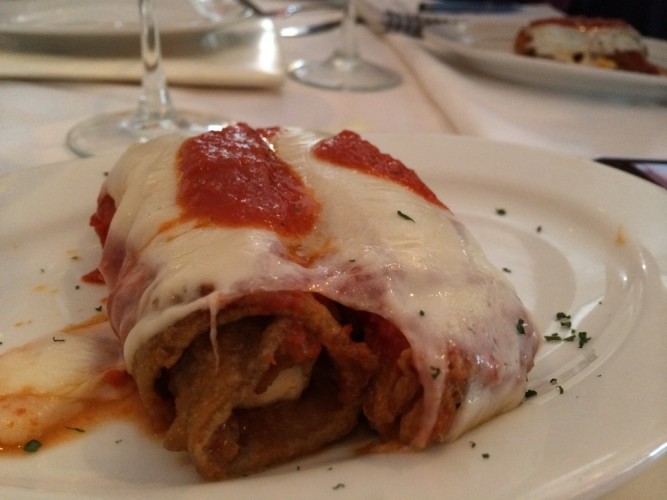 About 15 steps away is Rack's Downtown Eatery & Tavern, our next stop on the list. I may have died and gone to heaven just simply looking at what we were about to eat. Oh. My. God. We approached our table and we were met with the most GORGEOUS plate of sushi I have ever seen. The A+A Roll is made with hamachi, jalapeño, spicy tuna, cilantro, and avocado, topped with lots of crispy crunchy shallots and garnished with shaved beets. I could have stayed there eating sushi for the rest of the night and been a happy camper. It was easily my favorite bite of the night! Oh and I can't forget to mention the Boca Lemonade — a refreshing mix of vodka and Tyku lemonade — a yummy twist on your typical lemonade drink.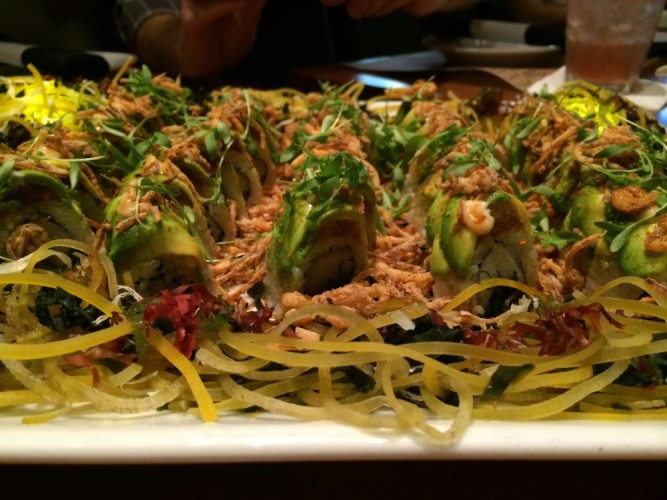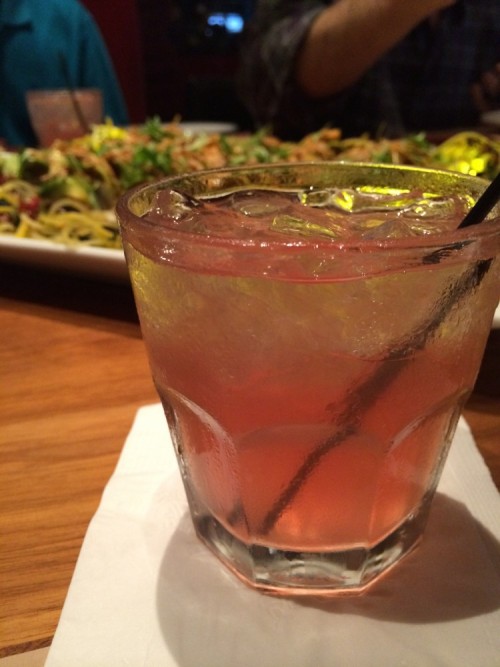 We made our way to Max's Grille next, one of my childhood favorites. Max's is one of Boca's most consistent restaurants, always putting out great food and great service. We were served crispy duck spring rolls alongside a cold soba noodle salad with spicy vegetables and pickled cucumbers. Obviously I did not eat the spring roll, but I inhaled the soba noodle salad. It had such a great mix of flavors. The cocktail of choice was a Strawberry Saketini made with vanilla vodka, Tyku sake, and fresh strawberries. Using fresh fruit in a cocktail really changes the flavor profile — sweet but never overpowering or fake.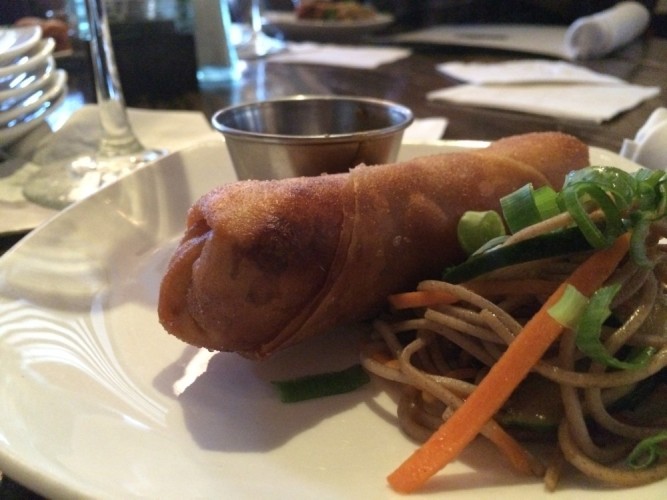 After Max's, it was time for some Mexican! Uncle Julio's put out a nice spread for us complete with classic margaritas, chips, and their Pineapple Bacon Guacamole with crumbled queso fresco (mine, of course, sans bacon.) I always like fruity additions to guacamole. I've used mango and peach before, but never pineapple, so this was something new and pretty tasty.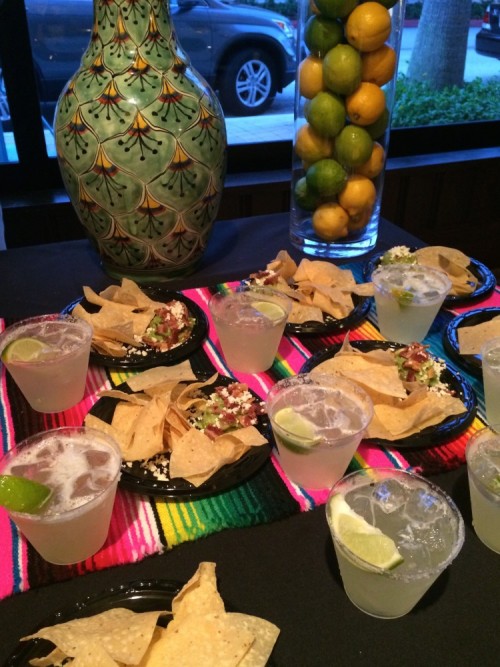 Dubliner and Kapow! Noodle Bar are right next to each other with a shared outdoor area in between, which is where we sat to enjoy both of the restaurants' samples. We had Shepherd's Pie from the Dubliner, a traditional Irish favorite, and Guinness mac and cheese. While I didn't have the Shepherd's Pie, I did try the mac and cheese and for someone who absolutely hates Guinness, WOW that was good. You don't taste beer. You just taste ooey gooey cheesy deliciousness. To drink, they served the Black Velvet, a combination of Guinness and cider. Eh, I love cider but not enough to drink it with Guinness.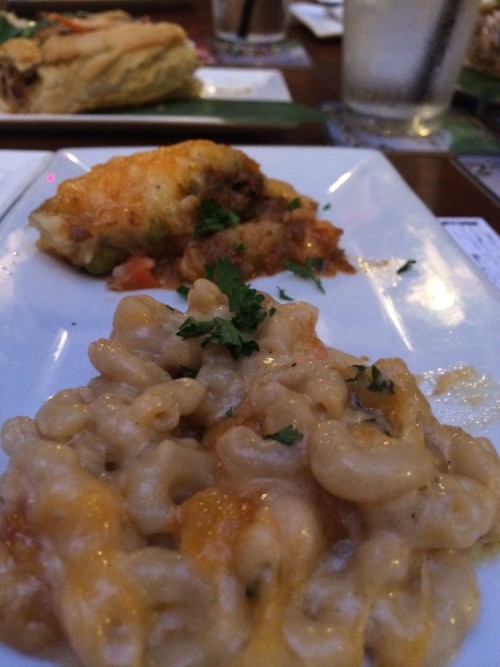 Kapow brought out Vietnamese Bahn Mi with slow-cooked pulled pork and a spicy aioli with cilantro, pickled carrots, daikon and jalapeño. During our active Tweeting throughout the night, one of my fellow foodie friends made a point to tweet them asking to make sure there was a vegetarian version — they pulled through and had it ready and waiting for me when we arrived. They served their Spicy Lover Cocktail, a mixture of tequila, cucumber, lime, tabasco green sauce, cilantro and organic agave nectar. The cocktail was refreshing and a perfect balance between sweet and spicy.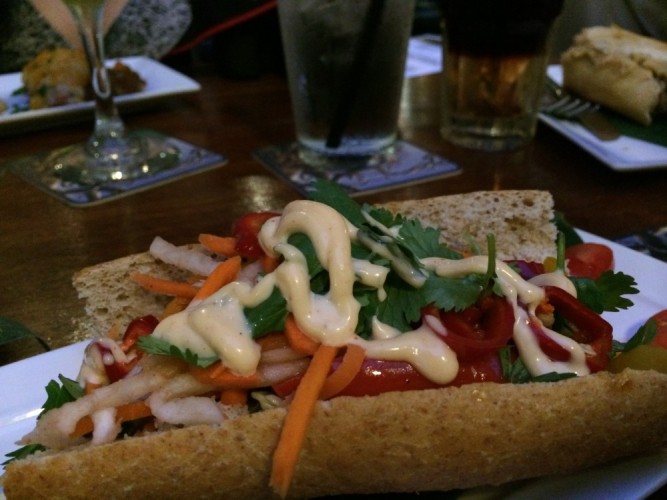 Are you full yet? By this point, I think we were all loosening belt buckles and unbuttoning pants. This is why I choose to wear low flowy dresses to any and all food tasting events.
We stopped in Truluck's next, where stone crab is totally their thing whenever in season. Presented before us were piles and piles of stone crab claws just waiting for us to tear into. Though we were all starting to get pretty full, who can say no to stone crab?! They poured a very nice prosecco for us, however, on the night of the event they will be serving Lagaria Pinot Grigio.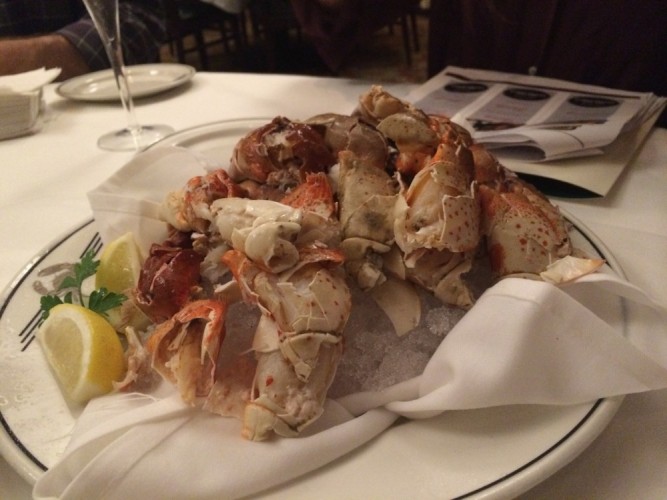 We walked over to Tanzy, the super trendy restaurant inside the iPic movie theatre. I had one absolutely incredible meal here before for my birthday a few years ago and still to this day gush about their red velvet bread pudding. But unfortunately, we were not getting dessert here (actually that was probably a good thing). Instead we had cedar-plank salmon on a bed of red pepper, lima bean, couscous and cucumber fennel salad. The flavors in this salad complemented each other really well, and the cook on the salmon was just right. Using a cedar plank imparts a really unique flavor that you can't get from any other cooking technique. Their cocktail of choice was the Prickly Pear Sour Sop Margarita made with cactus fruit, Florida Guanabana, lime, and tequila. This is 100% my kind of drink — a little bit sweet and a little bit sour.
Oh my god, I'm bursting at the seams right about now. We still have TWO stops left!
We finally got a break from all the sweet cocktails when Yard House welcomed us with a Lost Coast Tangerine wheat beer, a very light beer that happens to be one that I like very much. They served us their Ahi tuna poke bowl with crispy won-ton crackers. A house favorite, the poke bowl has marinated raw Ahi tuna, avocado, carrots, daikon radish, and macadamia nuts — something not always seen in the traditional poke.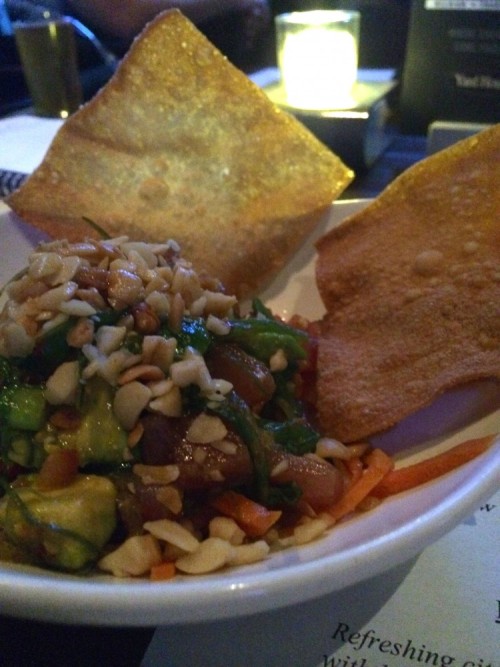 We finally reach our last stop, and I was actually pretty happy they served something I couldn't eat. Even if I could, I don't think I would have been able to stuff any more food into my body. We ended the night at Jazziz Nightlife with beef carpaccio served with a horseradish aioli, black truffle and homemade potato chips alongside a Blood Orange Cilantro Margarita.
There is SO much good food and drink to discover as you Rock, Roll & Stroll through Mizner Park on September 17th. On the night of the event, anywhere you see an official Tastemakers stop sign, make your way inside and show them your VIP ticket book. This serves as your ticket for Tastemakers at Mizner Park, but it's also a booklet full of exclusive dining offers at the participating restaurants good until October 31st.
Rock to the beat of the Shindig Band playing at the amphitheater and the gazebo, Roll to each of the participating restaurants for great food and drink pairings, and Stroll over to the amphitheater for craft beer samplings from SweetWater Brewery, New Belgium Brewery, Harpoon Brewery, and Florida Beer Company from Gold Coast Beverage Distributors. It's a night to remember (make sure you drink responsibly!)
I want you to be able to enjoy this incredible night of eating and drinking (and all of these awesome deals for the next two months), so I'm giving away TWO FREE TICKETS to the event! All of you South Florida locals better jump on this opportunity! If you're free on Wednesday, September 17th from 6-9:30 p.m. and live nearby, you have no excuse not to enter to win. Use the rafflecopter widget below to enter!
Disclaimer: I was invited as a guest to the Tastemakers of Mizner Park preview event and provided with two free VIP ticket books (a $60 value) to the event. This giveaway is open to Florida locals only or those who may be visiting the area during the time of the event. The giveaway will be open until next Friday, September 12th. The winner will be notified via e-mail and will have 24 hours to respond.