Never miss a bite! Sign up here to receive new recipes and reviews straight to your inbox.
Disclosure: I was invited to dine as a guest of the restaurant. No monetary compensation was received for this post. As always, all opinions are 100% my own.
Gourmet burger bar and gastropub, ROK:BRGR, has officially opened in Downtown Delray Beach — and the local foodies couldn't be more ecstatic about it. ROK:BRGR is part of the famed JEY Restaurant Group, who also owns TacoCraft, Public House, PizzaCraft and The Apothecary. While it's extremely well known for its 18 varieties of burgers, the Sunday Brunch is just as famous — and lucky for me, I got to experience it on one of the most beautiful Sunday afternoons ever.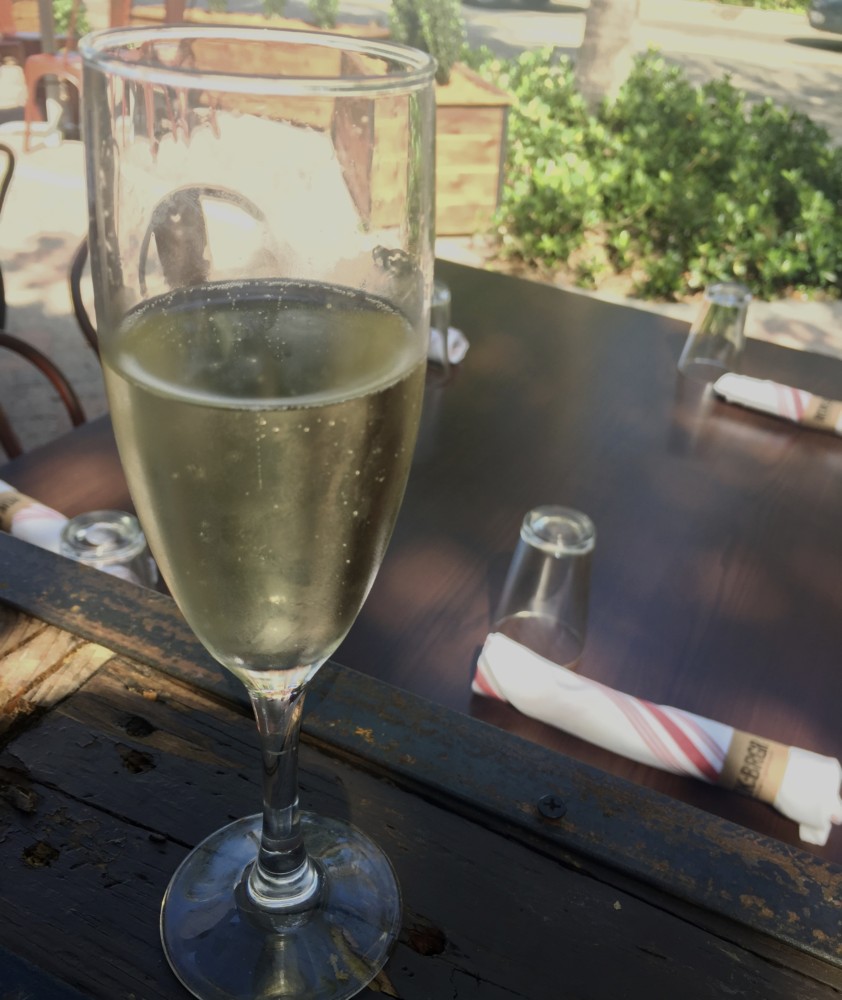 First order of business: the drinks. ROK:BRGR offers $5 bottomless mimosas for the ladies during brunch. YES, only $5 for all the OJ and bubbles you can handle. But sorry guys, it's gonna set you back $15. #WomenRule. Since orange juice isn't really my favorite thing, I nixed the bottomless mimosas and went with a glass of Prosecco to kick off my Sunday Funday. The crisp, refreshing drink was perfectly complemented by quite possibly the best bite I've ever had at brunch. And I'm not exaggerating.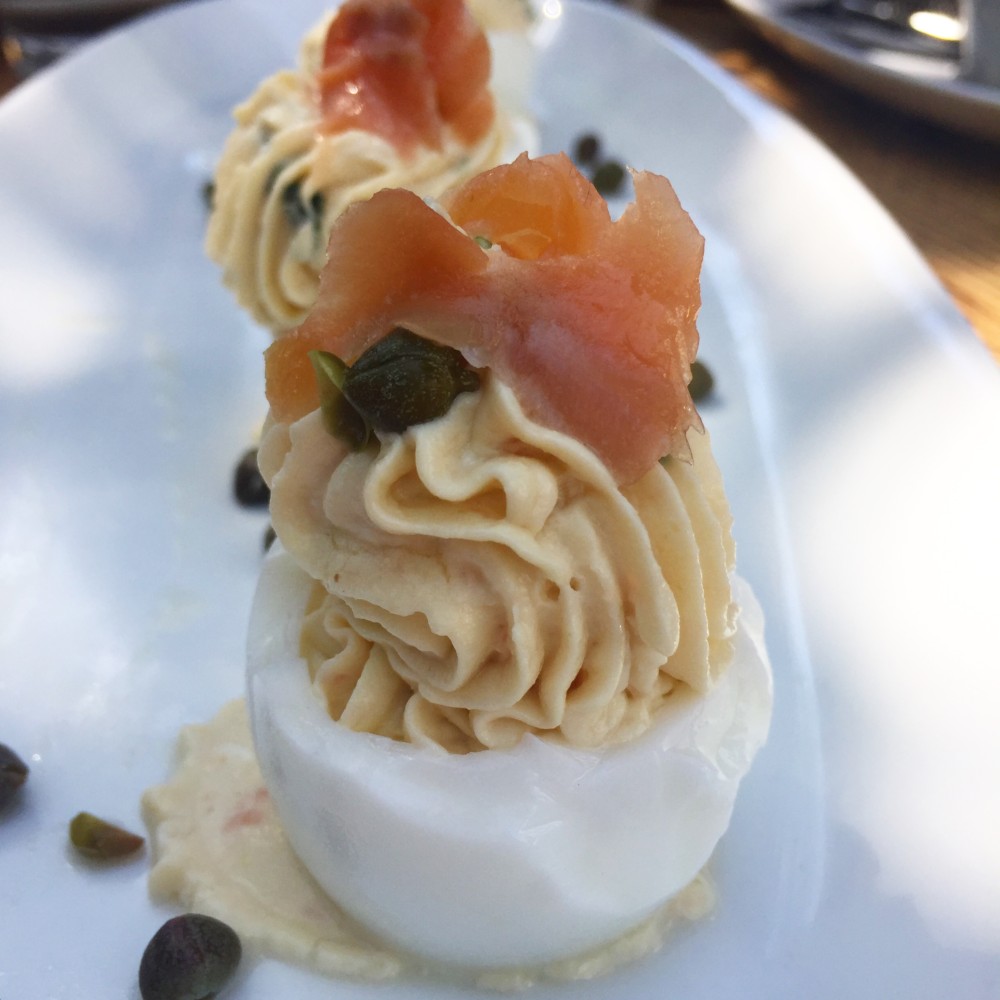 Smoked salmon deviled eggs, made with local eggs and topped with red onions and capers. Jill and I shared the order of four, and I was this close to ordering another plate just for myself. Note to self: no sharing next time. Deviled eggs are pretty much my favorite appetizer, and smoked salmon is basically mandatory for two Jewish girls at brunch. I had my eyes on this dish since the first time I ever looked at ROK:BRGR's menu. I had high hopes, and they met every single one of my expectations. The filling was like velvet, so smooth and creamy with an intense but not overwhelming taste of smoked salmon, and the capers added just the right amount of salt. I'd go back on a Sunday just for these babies.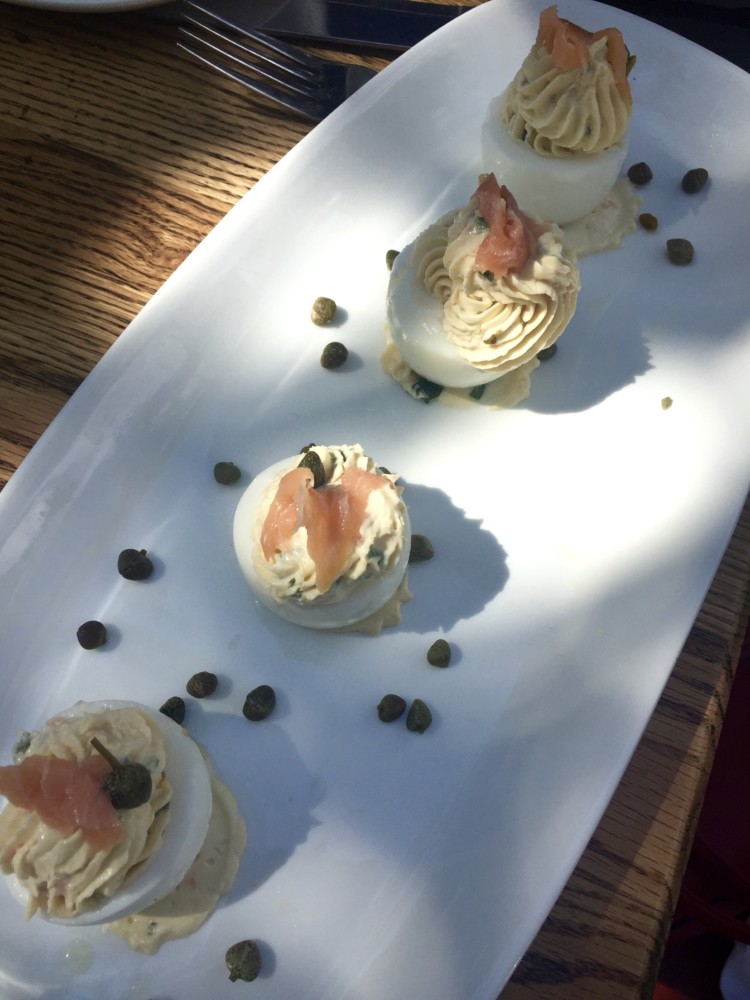 Another favorite? The tuna poke tacos. These are offered on the regular menu too and aren't necessarily something you'd think of getting for brunch — but they are delicious. Three perfectly crispy mini taco shells are filled with #1 Ahi tuna, ponzu, seaweed, avocado, sesame and spicy mayo. These bold Asian flavors really made a lasting impression. This is definitely something I'd belly up to the bar for during happy hour along with a glass of white wine.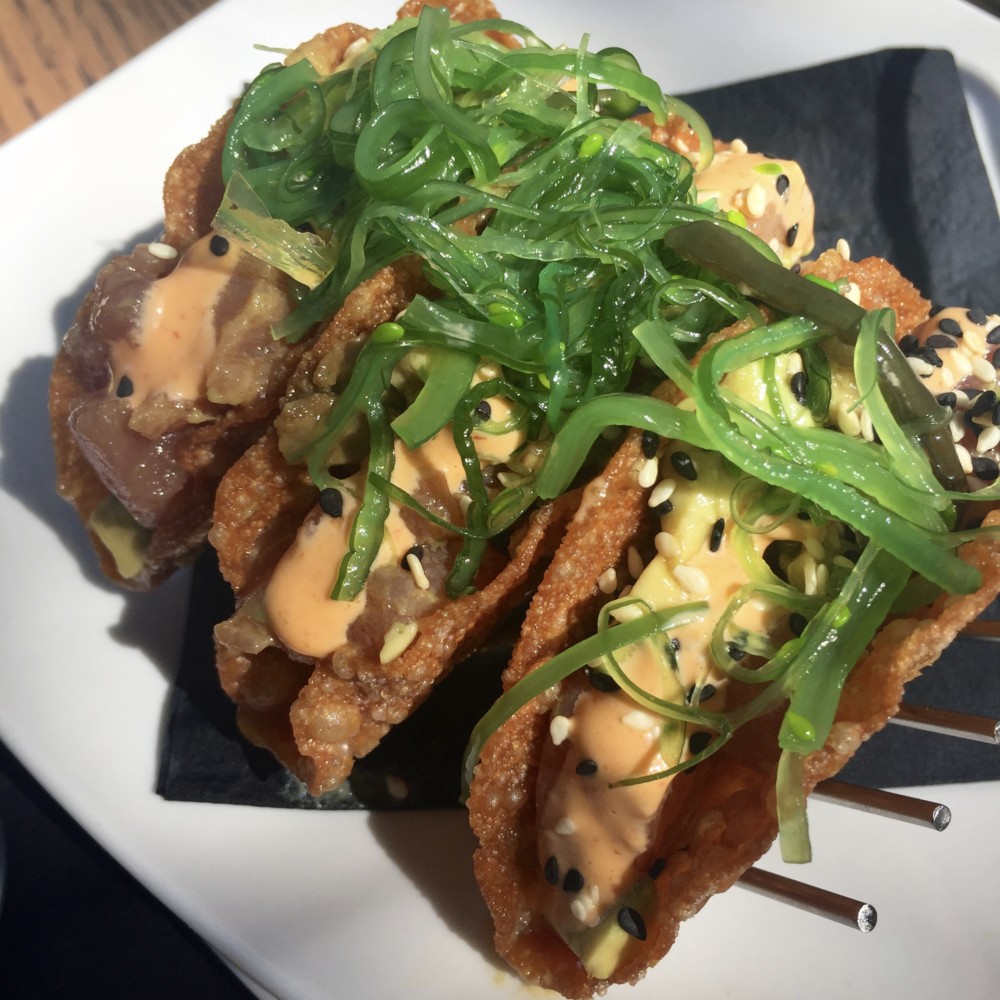 We couldn't resist ordering a brunch staple — biscuits and honey butter. I have to refrain from having too much starch in one sitting because of my GSID, but man… The smell of those biscuits when the basket hit the table was just too intense to resist. I had to have one. The butter was not only laced with honey, but also cinnamon, which enhanced the flavor exponentially. I happily slathered that butter all over the biscuit and enjoyed it thoroughly, but it pained me to know I couldn't go back for seconds.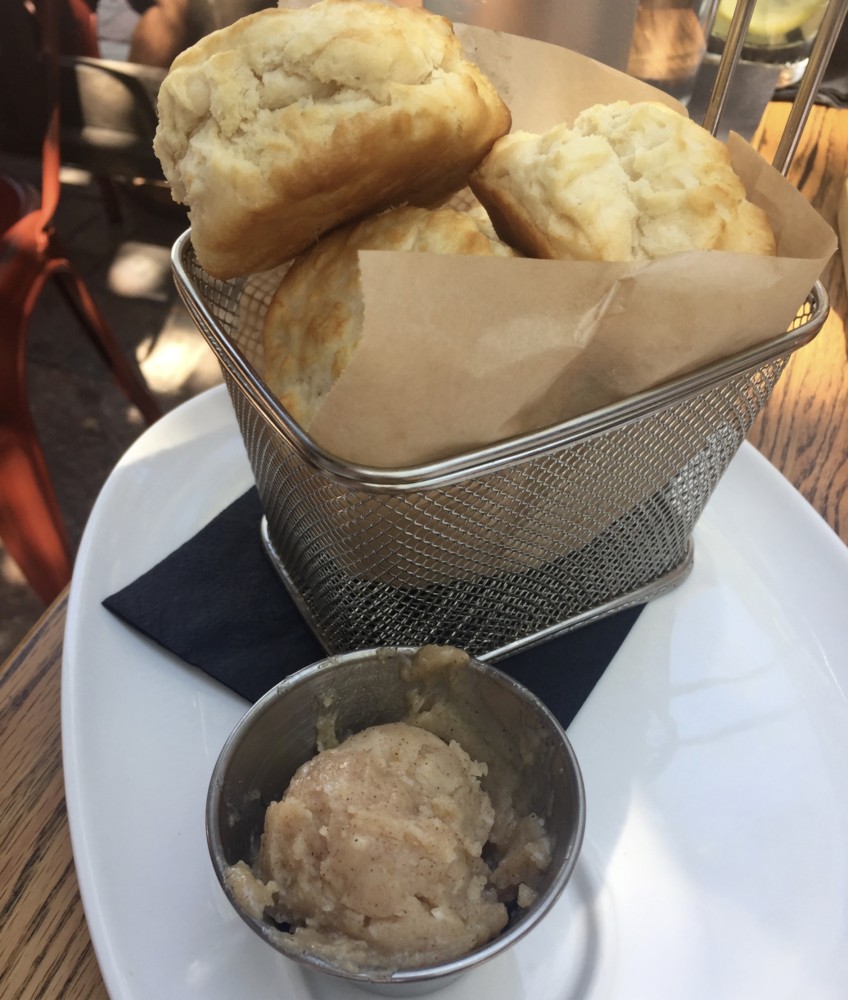 If you're a sweets person when it comes to brunch, you can't leave without trying ROK:BRGR's French toast lollipops. These things are epic. I didn't have one, but Jill, and a couple of our other friends who just happened to be there at the time, all raved. They are really sweet, which isn't my style for brunch, but there are plenty of you out there who would go to town on these things and never look back. The French toast is made with brioche, the second-best type of bread to use for French toast IMO — challah is #1! But these looked super thick and fluffy, which is a very important factor in this breakfast favorite. The individual sticks of toast are coated in cinnamon and served in shot-sized glasses filled with a maple cream. It's basically like having dessert for breakfast. They're a guest-favorite and everyone loves 'em.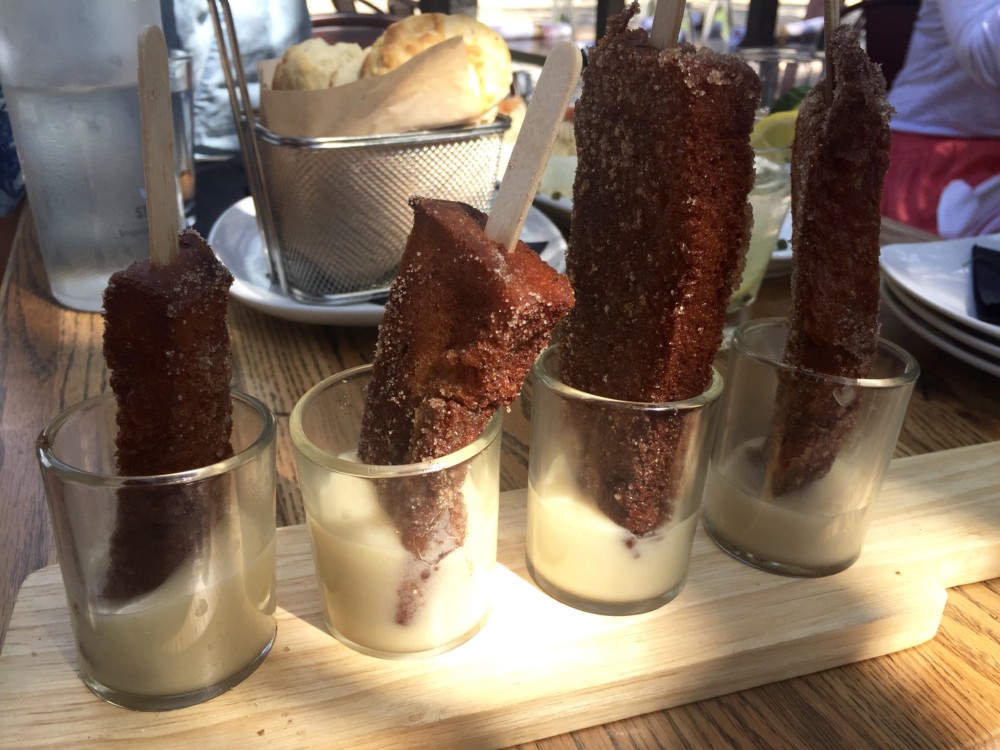 The brunch entrees at ROK:BRGR are no joke. You'll find things like the hangover sandwich with an over easy farm egg, smoked pepper bacon, American cheese, heirloom tomato, avocado and sriracha aioli on artisan multigrain bread; shrimp and cheesy grits with Florida shrimp, smoked pepper bacon and jalapeño cheddar South Carolina stone ground grits; and chicken and waffles with southern fried chicken tenders, mini waffles,  candied bacon and bourbon maple syrup. Jill got these, and after practically inhaling them, proclaimed they are the best chicken and waffles she's had — and she's had 'em at plenty of places.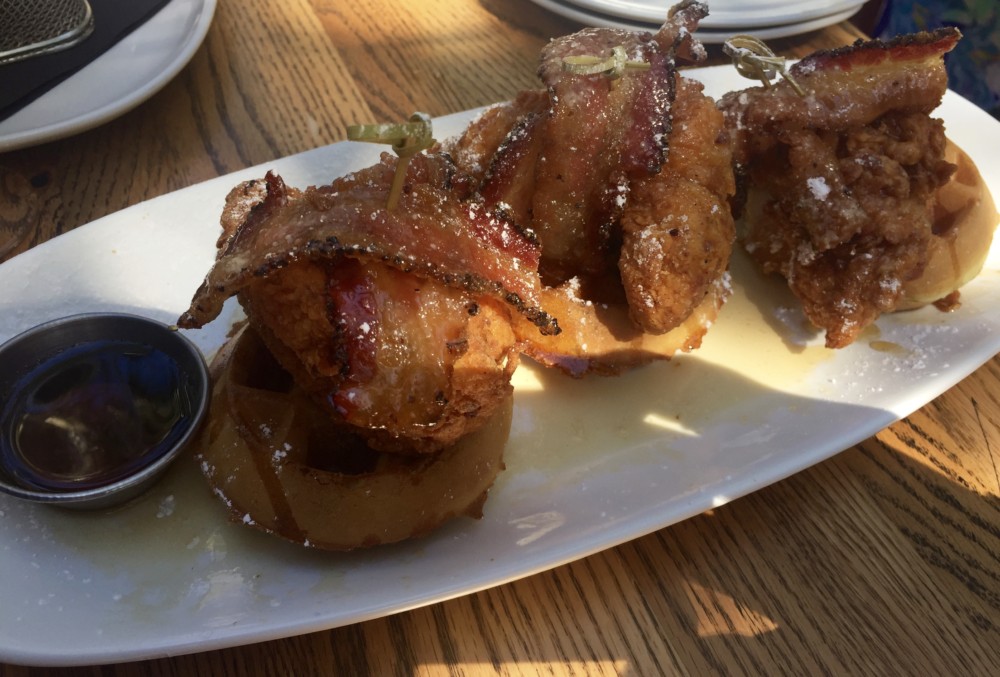 There weren't too many choices for me since I don't eat meat. I was pretty much limited to the kale and quinoa salad, bagel and lox, French toast or the Chef's pancakes of the day. I didn't want a salad, already had my filling of smoked salmon, and don't eat sweets for breakfast (plus, my starch quota was just about up). Ironically, it was the kale and potato hash that sounded the most appealing — even though it had chicken sausage. Kale, caramelized onions, peppers, and small-diced potatoes are topped with one huge fried farm egg. Potatoes are one particular starch that I don't have much trouble with, so I was good to go! I wasn't able to get it without the chicken sausage, since the mixture was already made. Instead of being a whiny P.I.T.A, I sucked it up and just picked out the pieces to give to Jill. All of the ingredients in the dish were cooked perfectly — crispy potatoes, perfectly tender onions, peppers and kale, and even though I don't like the yolk of an egg, the whites were cooked well. It's kind of funny I got a dish where I didn't care for two major components, but hey — I wanted to try something out of my comfort zone. It's not something I'd order again, but for those who do eat meat and like the entire egg, I'd bet money you'll love it.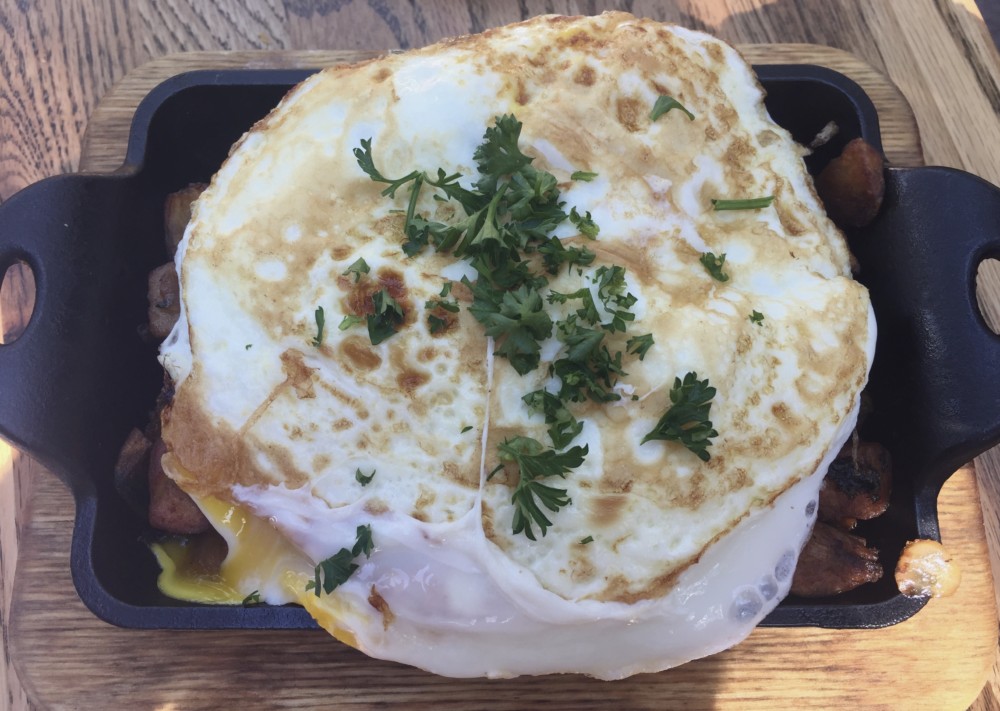 I'm eager to head back again soon for dinner — there's an Ahi tuna burger with my name on it (I just won't eat the bun). And truffle-parmesan fries. With truffle aioli. Okay, who's ready for a trip to ROK:BRGR?!
ROK:BRGR is located at 4 E Atlantic Ave. in Delray Beach. Other locations include Downtown Fort Lauderdale, Hallandale Beach and South Miami.