Never miss a bite! Sign up here to receive new recipes and reviews straight to your inbox.
Disclosure: I was invited to dine as a guest of the restaurant. No monetary compensation has been received for this post. As always, all opinions are 100% my own.
Salt7 may be best known for it's crazy Sunday brunch and late-night party vibe, but with new Corporate Executive Chef Paul Niedermann now on board, things are about to get much tastier.
You may know Chef Paul from season 9 of Gordon Ramsey's popular competition cooking show, Hell's Kitchen, when he took home the win, but now those winning cooking skills are revamping the menu over at Downtown Delray Beach hotspot, Salt7. Salt7 is not your typical restaurant, although it does boast a very fresh, modern take on food and practices a "freezer-less" concept. But it's more well known for its nightlife than as a place to go for a quiet, sit down dinner. There's a live DJ Wednesday through Saturday, and Sunday brunch is one big party that you'd never know was taking place during the afternoon. Salt7 has been featured on Bravo's Million Dollar Listing and The Real Housewives of New Jersey, so it's only fitting that for them to welcome in someone whose also been on reality TV.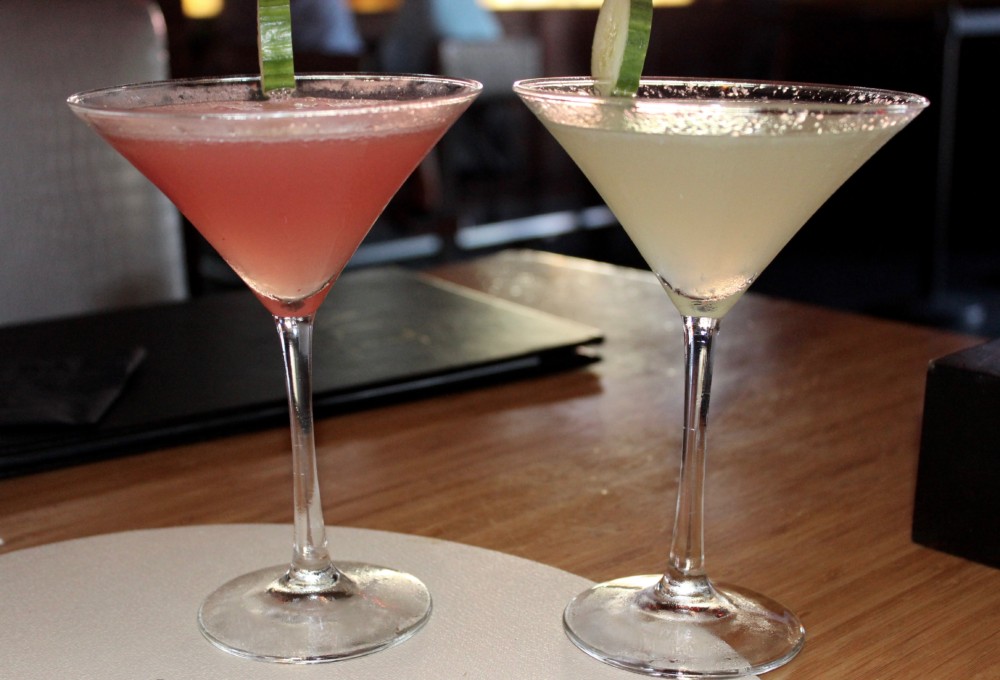 Where does the name Salt7 come from? It's derived from the blend of 7 exotic sea salts that are used to season their prime steaks and other menu items, which is kind of an interesting piece of information. Those salts come from all over the world and include Hawaiian black lava salt, Hiwa Kai; red Hawaiian sea salt, Alaea; Mediterranean sea salt, Cypress Flake; French sea salt, Sel Gris; Indian black salt, Kala Namak; Australian pink salt, Murray River; and Bolivian Rose from the Andes Mountains. While Chef Paul will of course keep all of Salt's tradition intact, a new menu is planned to roll out soon inspired by his love of gourmet cuisine and his experiences working in New York, Miami and Los Angeles.
Jill and I went early on a Saturday night, way before the club vibes got going, and kicked things off with one of Salt7's signature martinis before being treated to an incredibly delicious dinner from Chef Paul and his team. First up was one of his new dishes, shrimp fra diavolo with parmesan and toasted pine nuts, served over spaghetti. The shrimp was super flavorful and cooked nicely. The dish looked beautiful with big, bright basil leaves garnishing the top and lots of bright color. There were pieces of shaved parmesan perfectly melted over shrimp, tomatoes and onions, and the crunchy pine nuts added great textural contrast.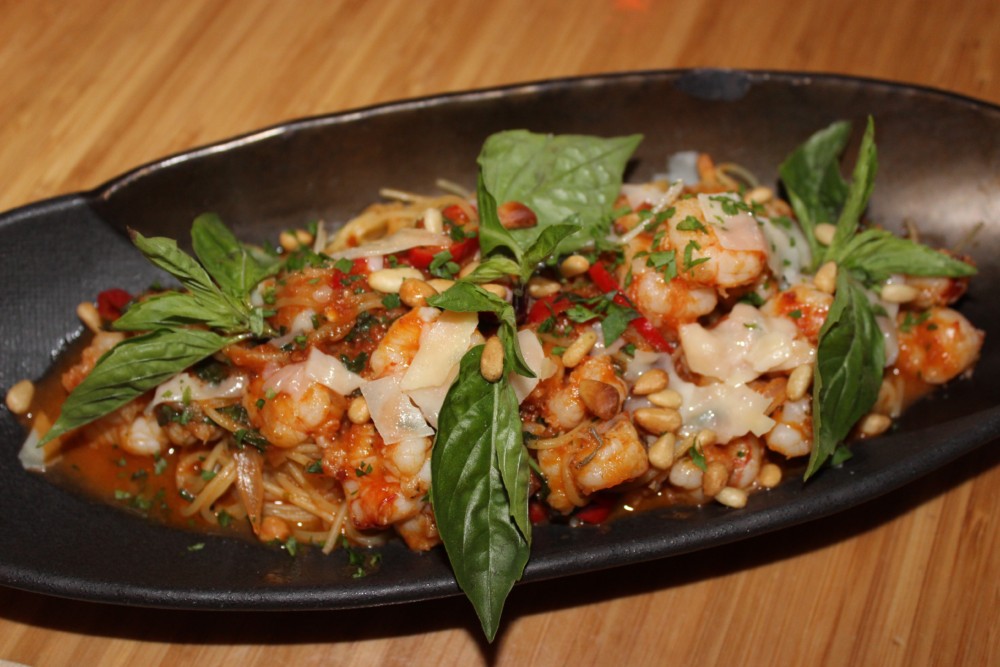 Next, Chef Paul brought out his new lobster corndogs. The seafood sausage is made in house, using lobster and shrimp, and served with a seriously addicting yuzu mustard vinaigrette. I cut through the corndog part to try the sausage and it tasted very good, but I wasn't into the texture. That sauce though? More, please! It'd be great on fish or as a salad dressing — or just on a spoon. Whatever you're into.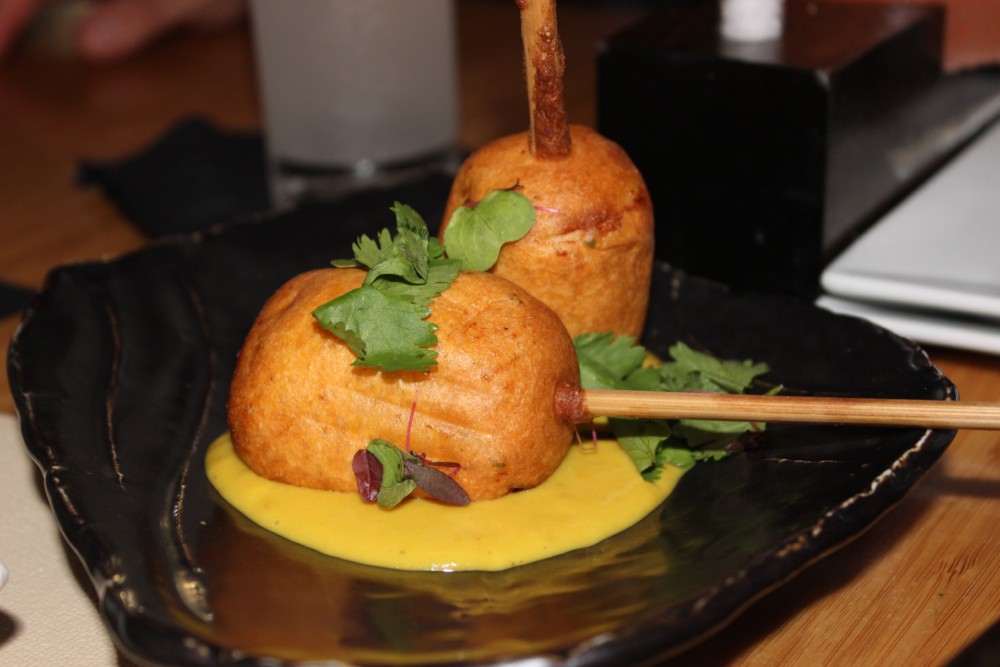 We were able to choose whatever we wanted for our entrees — Jill went for steak, I went for seafood (obviously) — and we couldn't say no to an order of truffle fries and roasted Brussels sprouts. One thing about the side dishes at Salt7 — they are not for the faint of heart. These portions are huge and can easily be shared between two to four people. I couldn't get enough of the Brussels sprouts in all their garlicky goodness and smokey charred exterior. They weren't super crisp like they are when you fry 'em, but instead held their shape and their bite very nicely. This is my preferred preparation of sprouts, and I was pretty impressed at how much I liked these.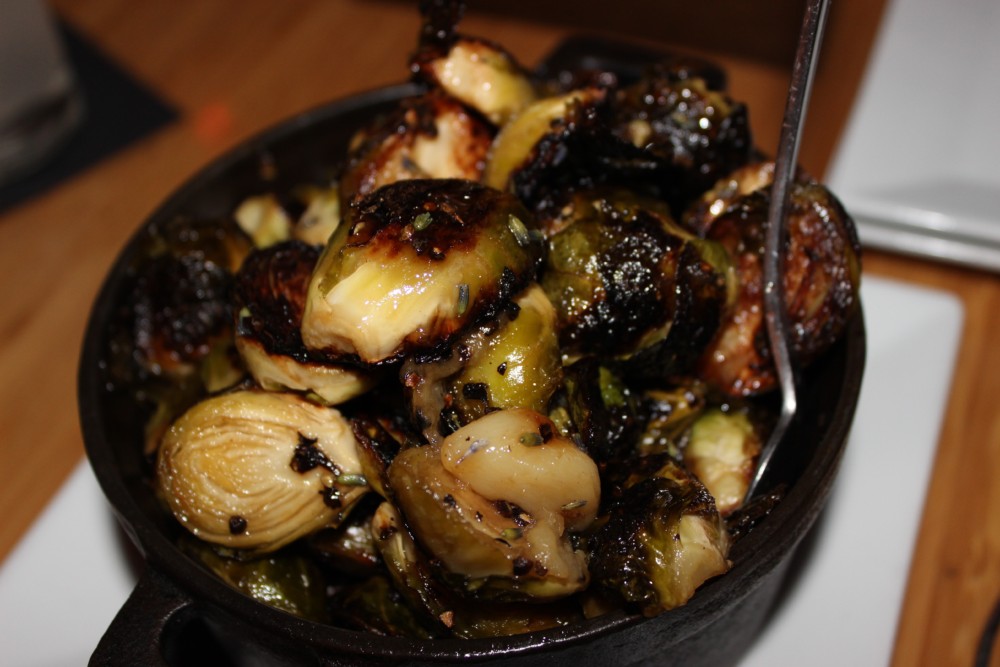 The truffled pomme frits, as named on the menu, come with little truffle pearls on top and lots of parmesan cheese sprinkled all over. These are definitely up there on my list of favorite fries! The requirements for that list? Crisp on the outside, soft on the inside, and tasty enough to not need a sauce! Salt7 made the grade! Chef Paul, no matter what you change on the menu, I'm begging you — don't get rid of these Brussels and fries!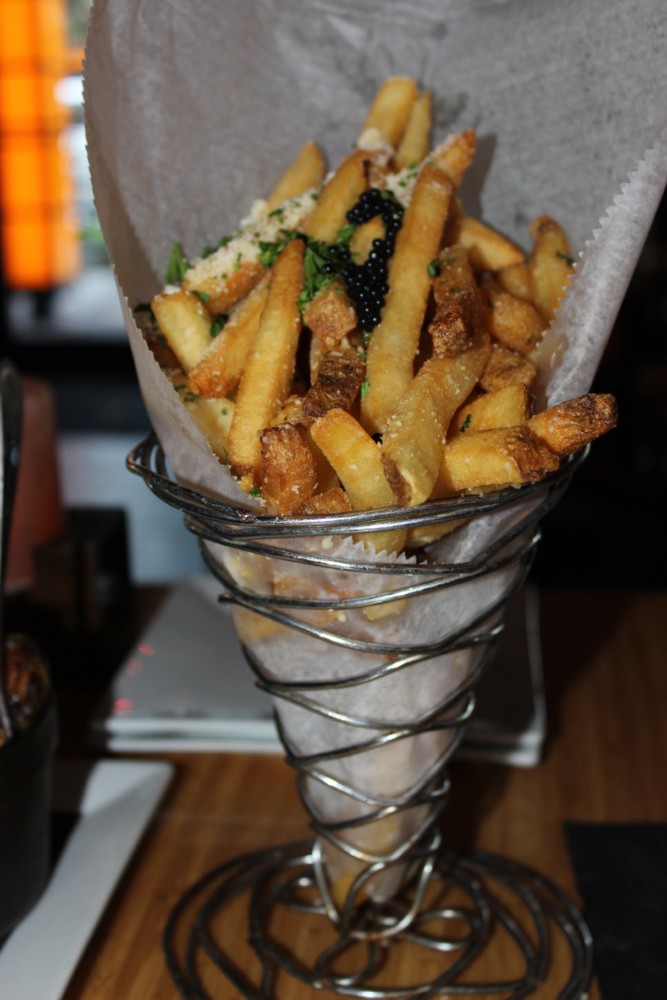 When it comes to steaks, Chef Paul and the team at Salt7 know a thing or two. According to Jill, her filet mignon was the best steak she's had in quite some time. Guests can choose from a variety of "arm candy" to top their steaks, including black truffle butter, bacon and blue cheese butter, cast iron dry rub or cocoa chili rub. You can even add a Maine lobster tail at market price.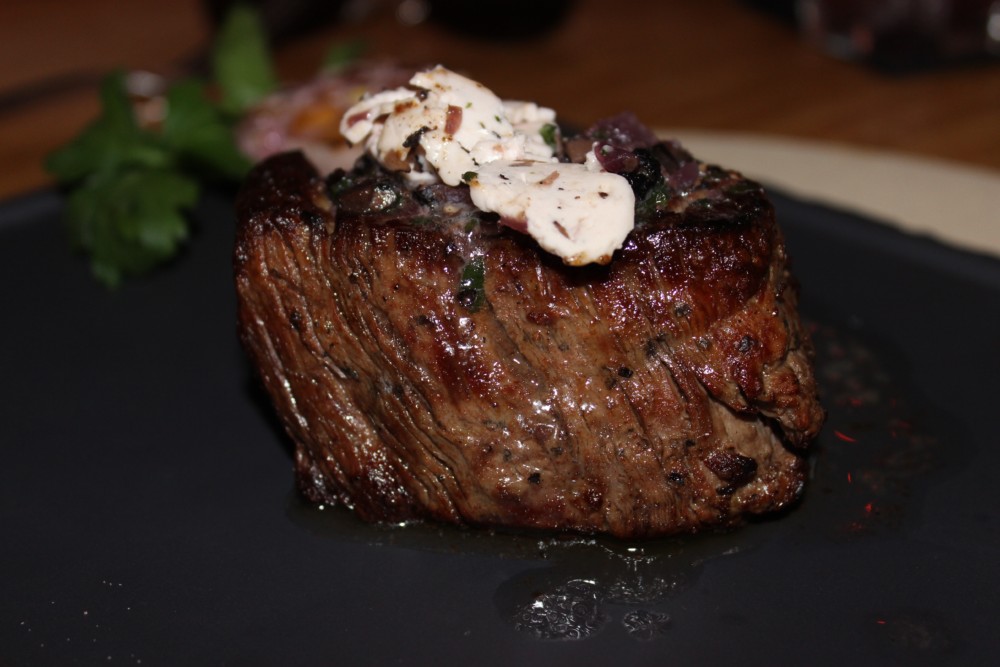 I chose the Chef's special, yellowtail snapper, served with grilled baby bok choy and a velvety-smooth buttery, caper-y cream sauce that was just insane. I always forget how much I love bok choy. It's usually found in Asian dishes, but there was nothing Asian about this. The fish was cooked perfectly, light and flakey as it should be. But it was the sauce that stole the show — thick and creamy with bold in-your-face flavor. It completely elevated the dish to a totally new level. Sauces are everything.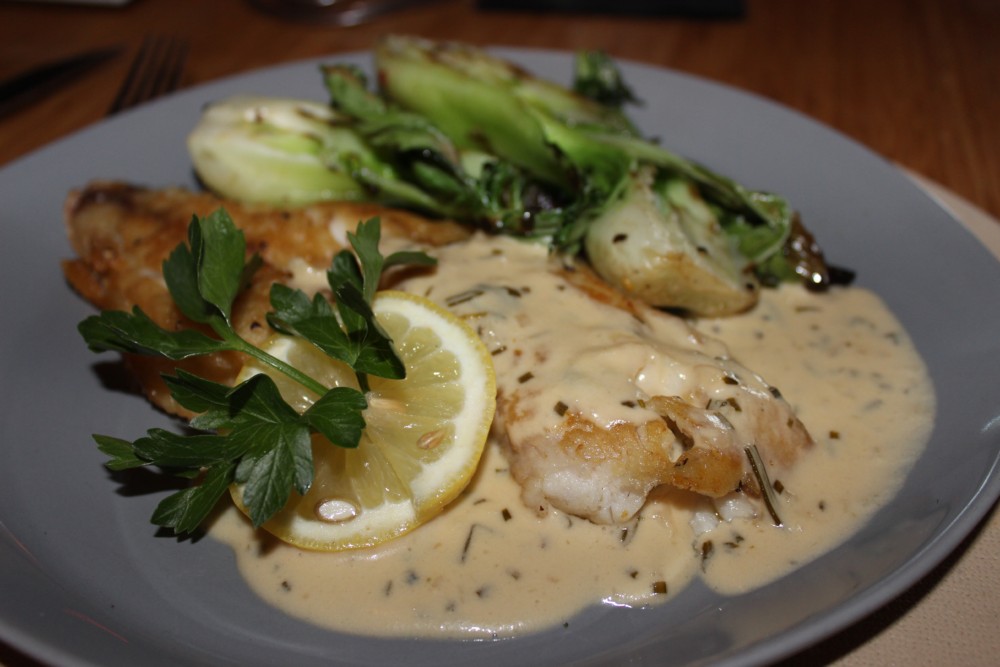 Chef Paul even makes his own desserts, and I'm not talking your typical chocolate cake and ice cream. His creations are unique, beautifully presented, and all made from scratch. On this particular night, he made us an orange creamsicle crème brûlée, topped with candied orange, fresh berries and housemade whipped cream. The flavor really did remind me of those orange creamsicle candies I used to eat all the time as a kid, and the texture was insanely smooth and creamy. When a chef can cook both savory and sweet equally as delicious, that's saying something. No wonder he won Hell's Kitchen!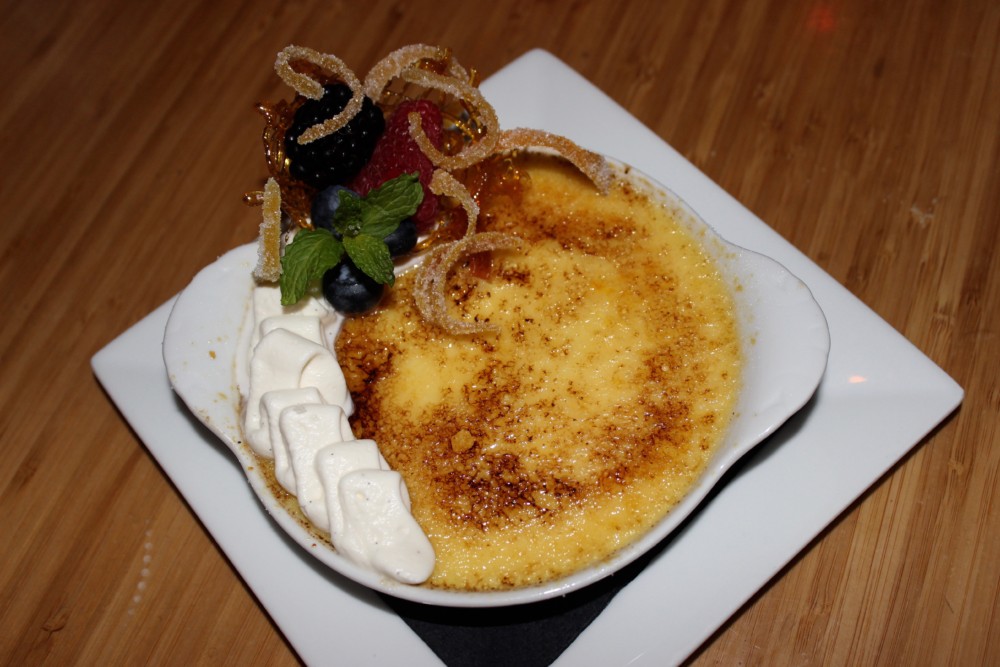 Salt7 is open on Monday and Tuesday from 3-11pm, Wednesday through Saturday from 3pm-2am, and Sunday from 11am to 5pm. Happy hour is daily from 3-7pm and features a special menu and discounted drinks. Salt7 is located 32 SE 2nd Ave. in Delray Beach.