Never miss a bite! Sign up here to receive new recipes and reviews straight to your inbox.
Disclosure: I was invited to dine as a guest of the restaurant. No monetary compensation has been received for this post. As always, all opinions are 100% my own.
When you think of places in Boca to go for breakfast, or simply to grab a latte on-the-go, Saquella Cafe is usually one of the first to come to mind. However, as I've told you all before in a previous post, there is much, much more to this quaint restaurant in Royal Palm Place. Saquella is re-branding itself to put the focus on more than its breakfast and coffee — it's a Scratch Kitchen & Bake Shop, where the freshly baked breads and desserts are surely a mainstay, and the scratch-made food for breakfast, lunch and dinner that will have you raving to all of your friends.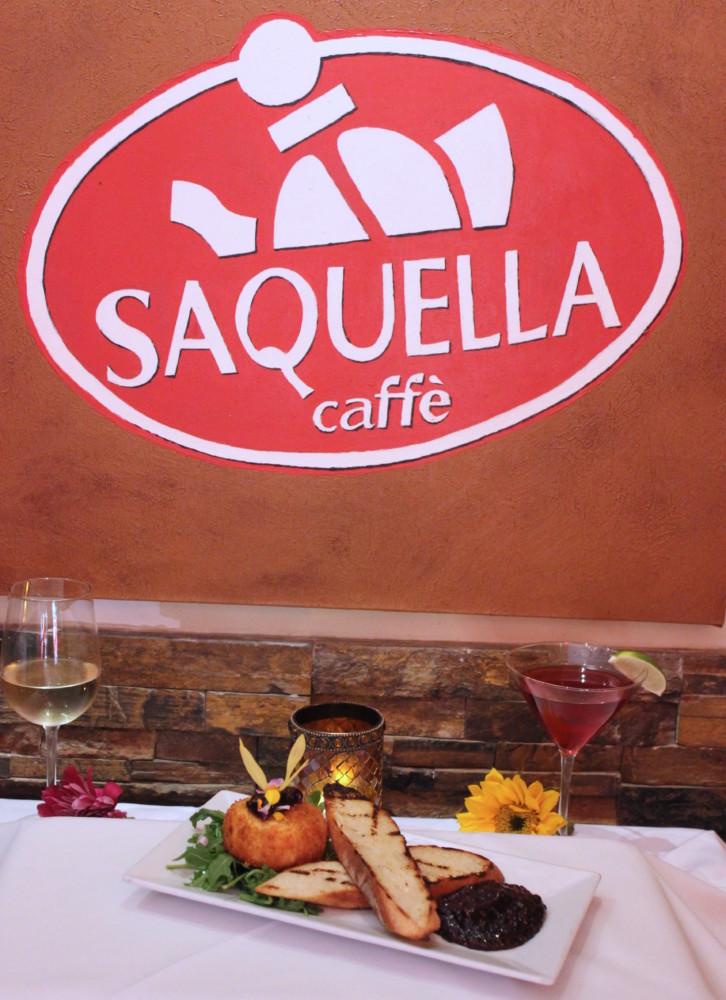 If you don't fall in love with Saquella for its food (which would just be silly), you're certainly going to fall in love with Israeli-born owner, Avi. He has a larger-than-life personality and is frequently in the restaurant to greet guests and make everyone feel welcome. Because of Avi's roots, the menu is very Mediterranean-inspired, but Executive Chef Dave Fogel makes sure everything is still approachable even if you aren't familiar with things like falafel and tahini. If these things are new to you, prepare to be wowed. I've dined at Saquella before, for everything from breakfast to dessert, to just stopping by for an almond milk cappuccino. I thoroughly enjoyed everything I tried during my last visit for dinner, and was excited to be invited back for more.
My two favorite things on the menu at Saquella are the goat cheese croquettes and the Mediterranean platter, which is great for sharing — but I like to hoard it all for myself. It's perfect for vegetarians, or anyone who really just loves their veggies. The platter is filled with all my favorite roasted vegetables — zucchini, squash, eggplant, red peppers, tomatoes and cauliflower — alongside gluten-free falafel made with quinoa, grilled pita bread, hummus and tahini. One thing you need to ask for on the side is the lavender dipping sauce. It's mind-blowingly delicious. This is Saquella's twist on a traditional Italian antipasto sharing plate, but a zillion times better.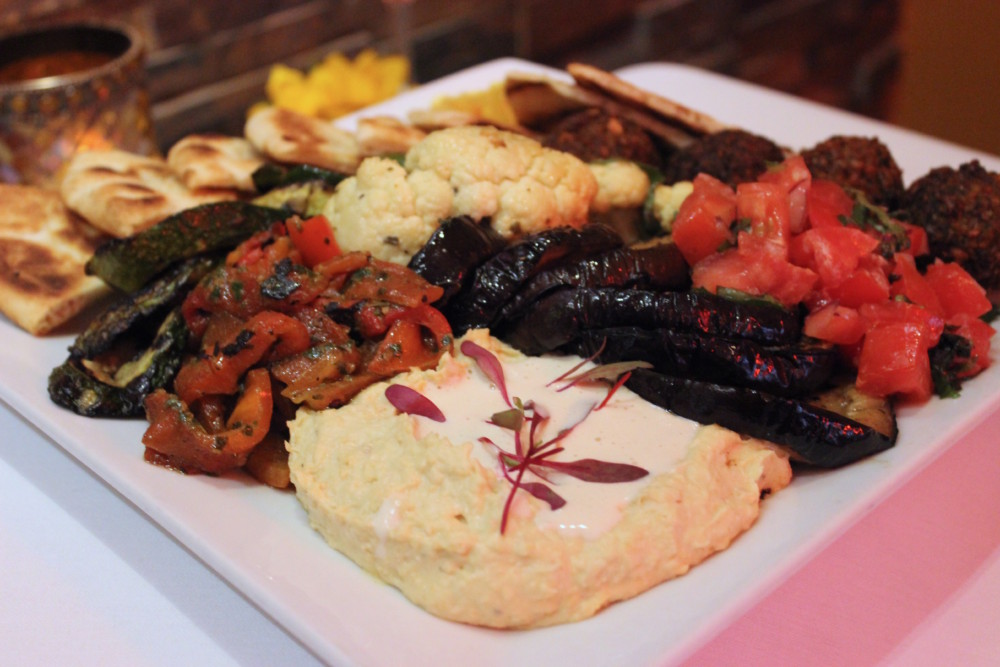 Back to that goat cheese croquette, another great sharing plate. The creamy, tangy goat cheese has a perfectly crispy exterior and is topped with the most delicious homemade fig jam and drizzled with honey and served with crostini. You'll want to smear the goat cheese all over the crostini — unless you're like me, and can't have too much bread. I watched everyone else very politely using their knife to spread the combination of goat cheese and jam on their crispy pieces of bread, while I dove right in with my fork. Fork-to-mouth is the new farm-to-table. I have no shame, especially when it comes to goat cheese.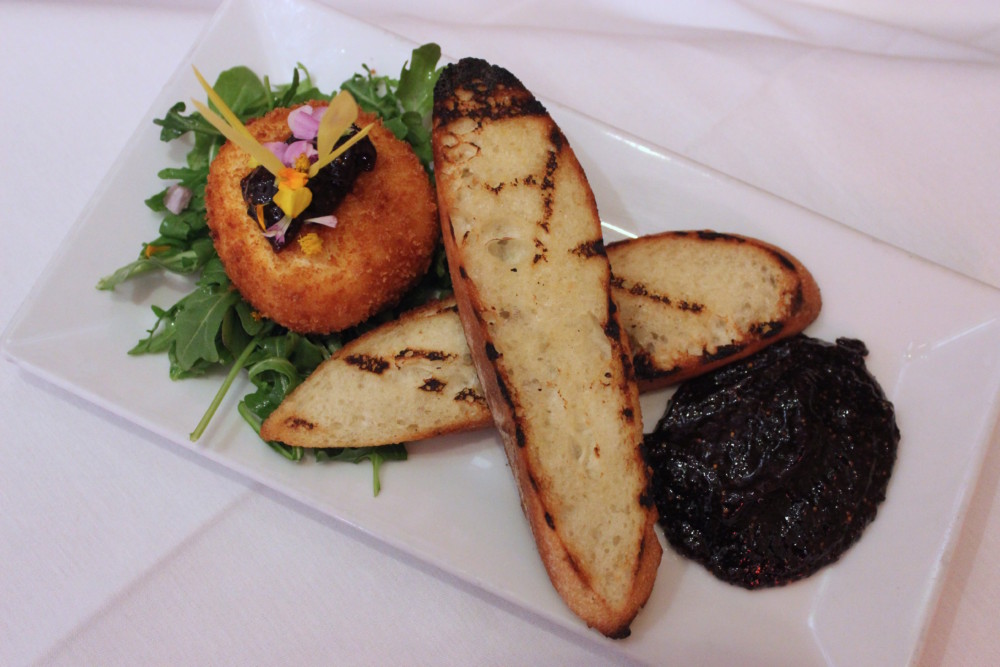 As I mentioned, breakfast is something people love about Saquella, and it's about time they added something new to the menu for its regulars to indulge in. We had a chance to taste the newest dish — Shakshuka. This hearty one-pot meal is popular in the Mediterranean. Cooked in a skillet, it's made up of tomatoes, fresh mozzarella and a poached egg. I was excited to try something I'd never had before. It was different than I had imagined — I was expecting the texture and density of a lasagna, but it's more like a stew. While I'm not a huge fan of poached eggs, I did love the pairing of that gooey mozzarella with the sweet and hearty tomato-base.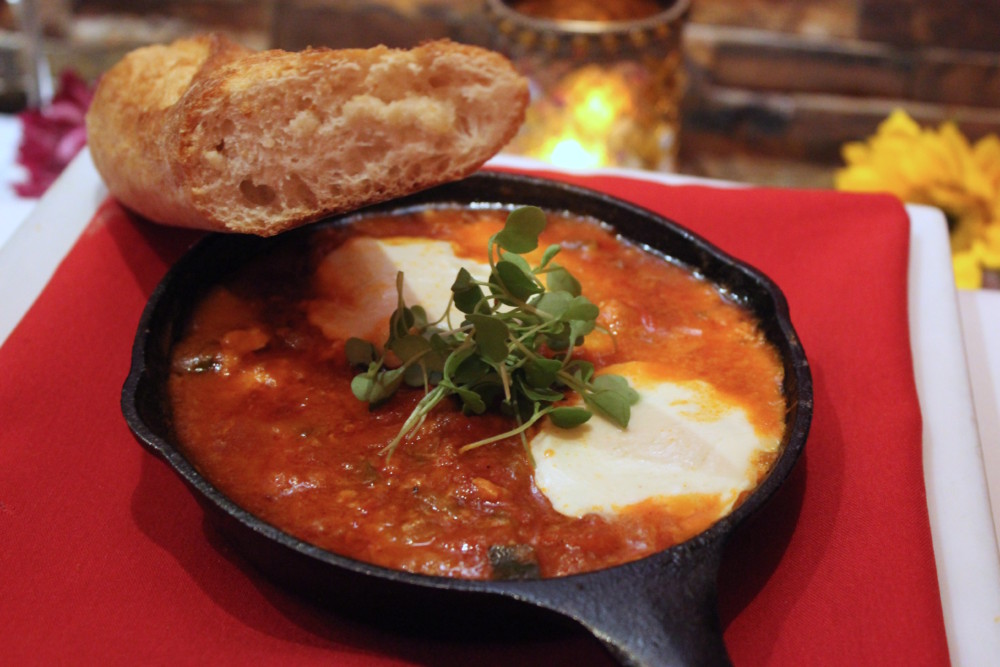 Now for our entrees! It was hard not to stuff myself on those two appetizers that I love, but I needed to be ready for the three seafood dishes I had coming my way. First up was the quinoa-crusted salmon, which is an off-the-menu item that frequent guests know they still can always order. I had this preparation of the salmon during the last media dinner, but this time the dish was different as a whole. The salmon was cooked perfectly, and I loved the texture of the crunchy quinoa coating its outside. Underneath the fish was a velvety smooth roasted beet and goat cheese puree that seriously melted my heart and still makes my mouth water every time I think about it. The salmon was topped with a mix of sliced fennel and radish, providing a bright finish to balance it all out.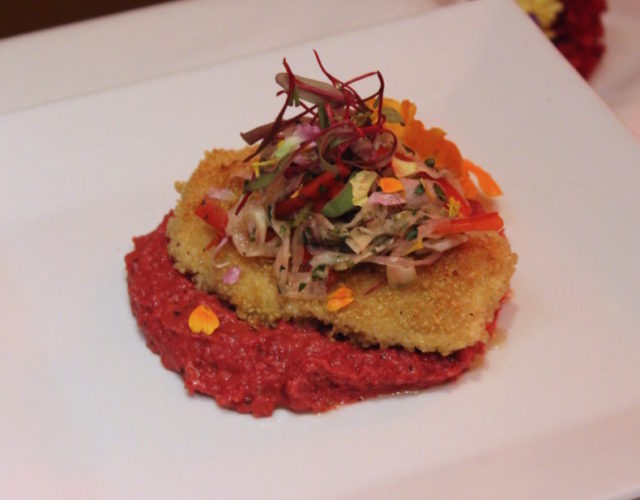 Up next was the sunflower seed-crusted chicken — mahi mahi for me. Another perfectly cooked piece of fish with a crispy outer later. While it was super similar in preparation to the salmon, the flavor was very different, and I actually enjoyed it more than I did the salmon (and I really did love the salmon!). It was served with a super creamy and flavorful celery root puree, avocado and corn salad and micro arugula.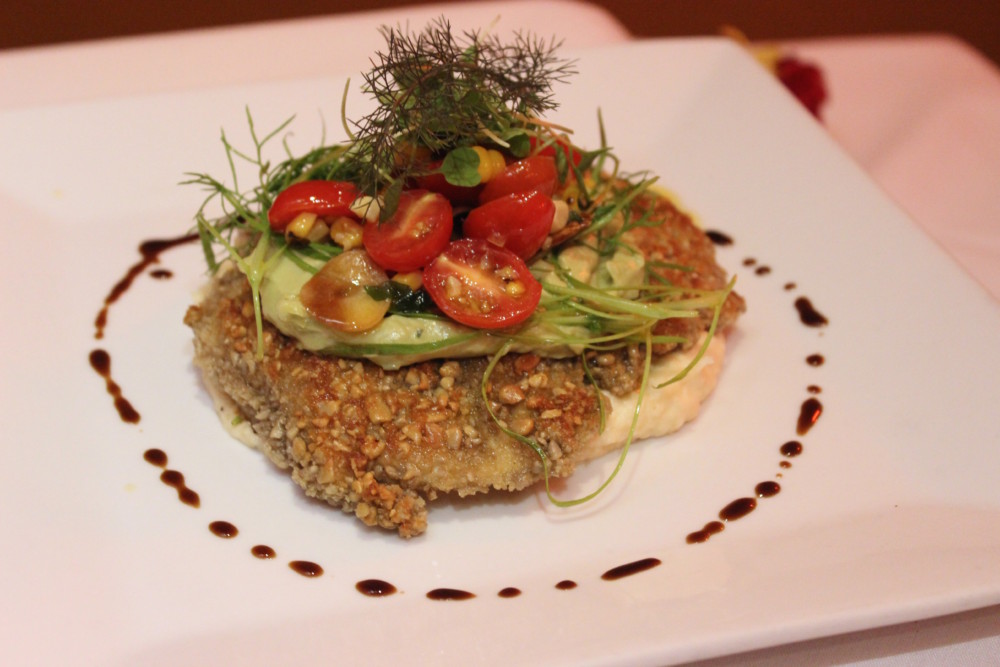 The final entree was a 6-hour short rib and asparagus risotto — mine sans short rib and with extra asparagus. The risotto is made with asiago cheese rather than the traditional parmesan, which adds some serious oomph flavor-wise. I'm a huge fan of asiago and could detect the cheese in there right away. The asparagus still had that snap-factor, but was cooked just enough so it wasn't bitter. The risotto was cooked to my personal preference — thick and dense — and while I could only indulge in a couple bites, it was definitely a winner.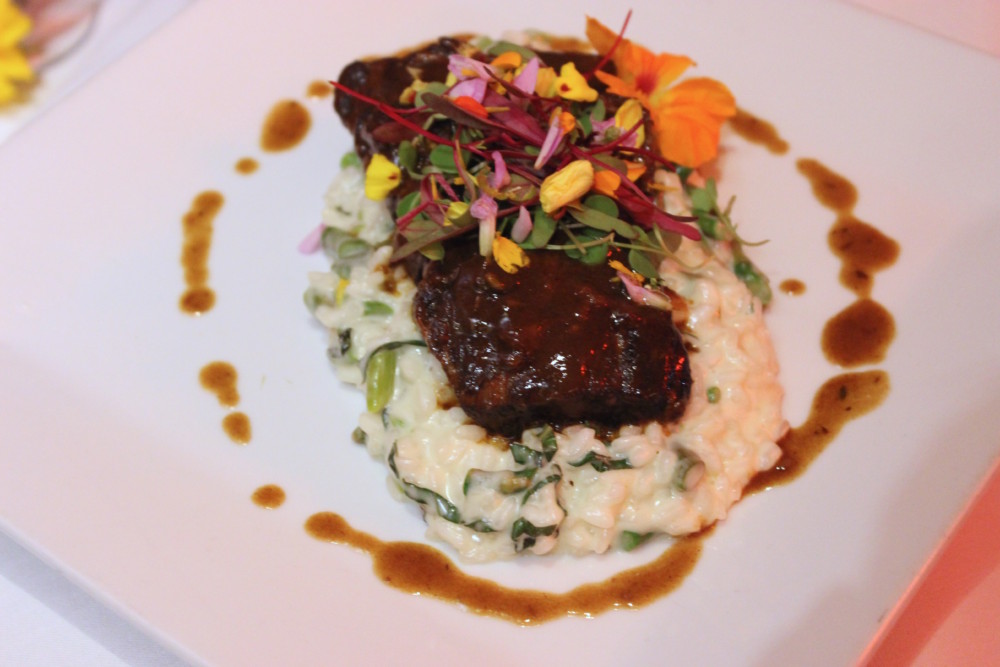 Saquella prides itself on the quality of its baked goods and desserts, which are all made in-house. The peach cobbler french toast was topped with a bourbon salted-caramel sauce and candied walnuts. This dish literally stared me in the face, just begging me to try a bite — and so I gave in. One bite was enough, though, for me to be able to take in all its deliciousness. That caramel would be incredible over ice cream, or even just eaten with a spoon…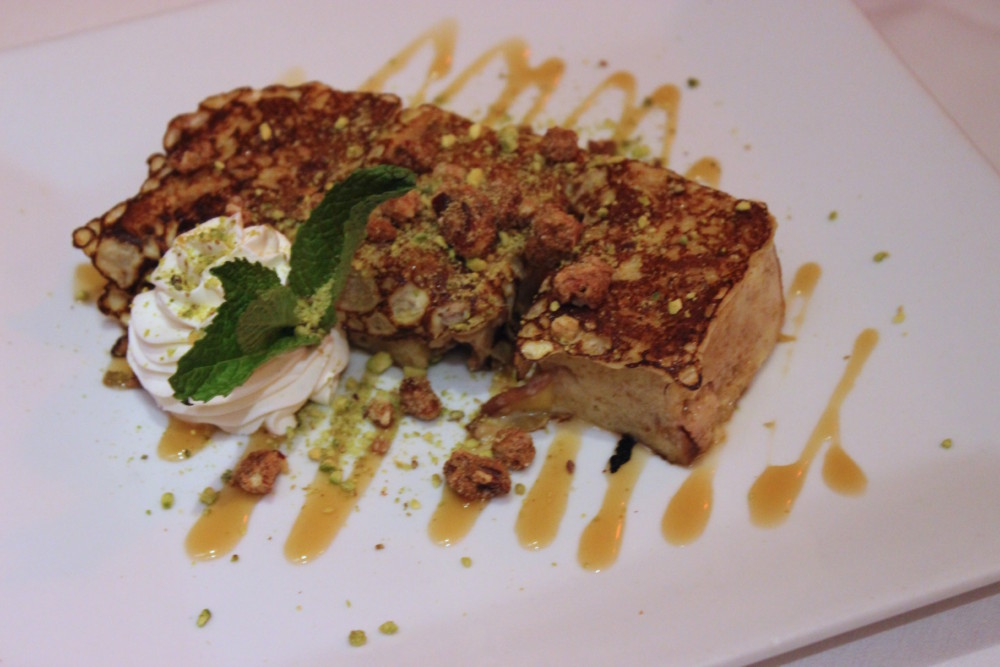 Avi brought a little piece of Israel to our dessert in the form of halva — something I tried during my trip to Israel eight years ago and absolutely loved. It's basically candy made from sesame tahini; however, at Saquella, it's shredded into pieces and served in a bowl along with a nest of Kadaif, a Middle Eastern cheese pastry that is soaked in a sugary syrup, vanilla gelato (from local company, Gelato Petrini) and topped with a Silan sauce. As if this wasn't enough on the 'Medi Delight' dessert sampler, there were also small tastings of their decadent chocolate mousse, moist and delicious carrot cake and the seven-layer cookie, filled with all kinds of goodies.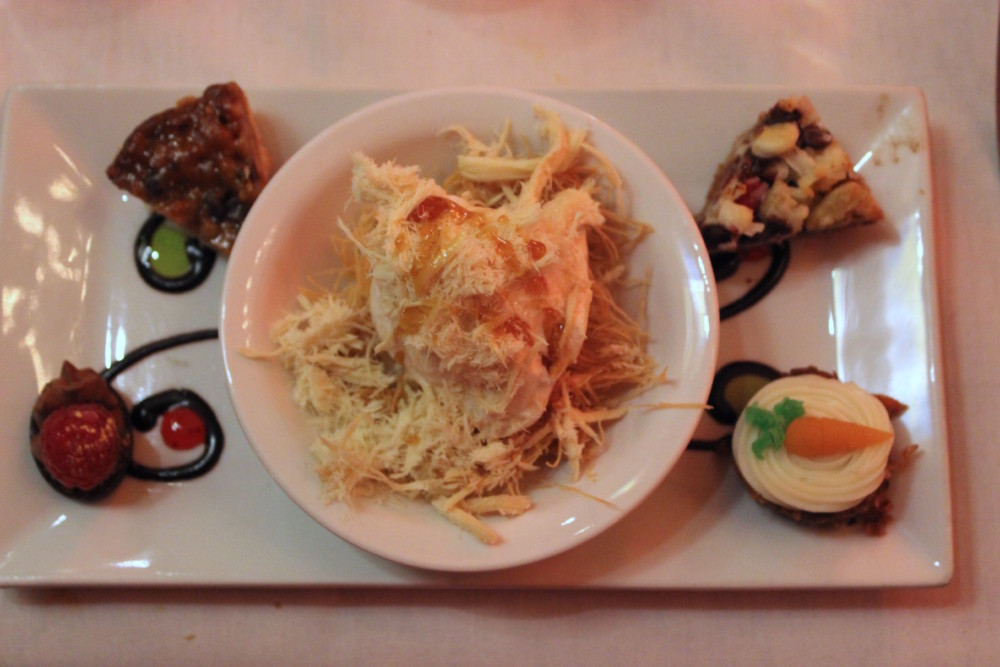 Did you think we were finished? Yeah, okay. Avi couldn't let us leave without a taste of espresso — with booze! The x-rated adffogato pairs Marula cream liqueur with gelato and espresso in this classic Italian dessert. This is definitely a treat for coffee lovers and was a delicious way to end an incredible evening of food.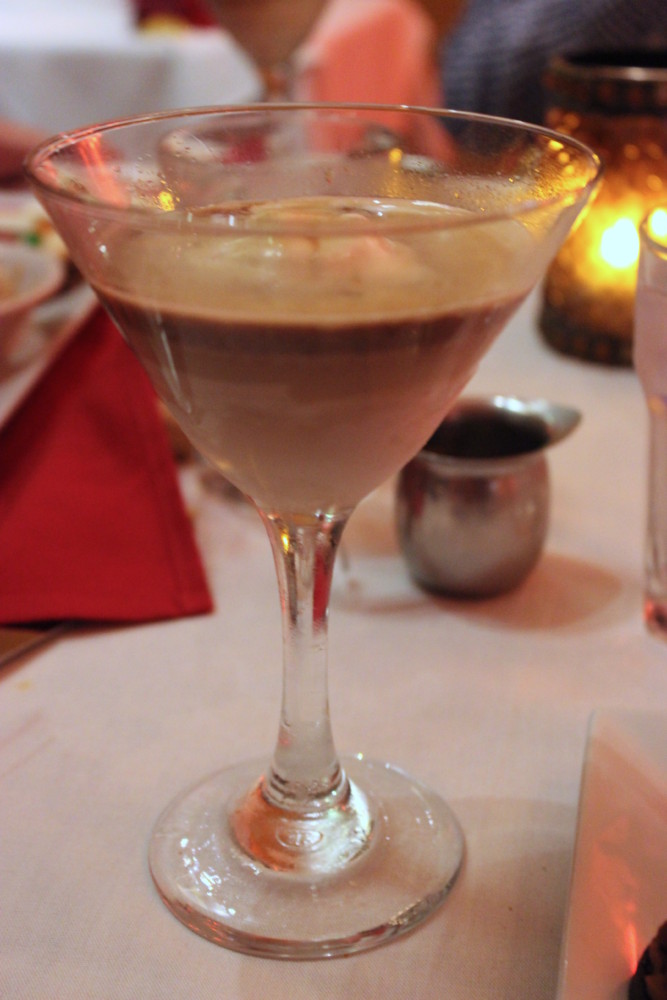 And so I leave you with one final thought… Sure, Saquella should be one of your top choices for coffee and breakfast, but the next time you're racking your brain for somewhere new to grab dinner with friends or family, think Saquella.