Never miss a bite! Sign up here to receive new recipes and reviews straight to your inbox.
Savor Our City Culinary Tours is bringing its historical food tours up to Palm Beach Gardens so even more South Florida foodies can join in on the fun. The inaugural tour was on Wednesday, July 30th and will continue to take place on the last Wednesday of every month.
Denise is on a roll with her culinary tours! I was pumped to be able to go on the first ever tour at PGA Commons, a quaint outdoor shopping and restaurant area very similar to Mizner Park, located in Palm Beach Gardens. This is the perfect spot to host a walking tour — there are so many different kinds of restaurants to try and we even got to check out a gorgeous art gallery too! Savor PGA should be described as more of both a food AND wine tour, because we were lucky enough to receive pairings at EACH restaurant!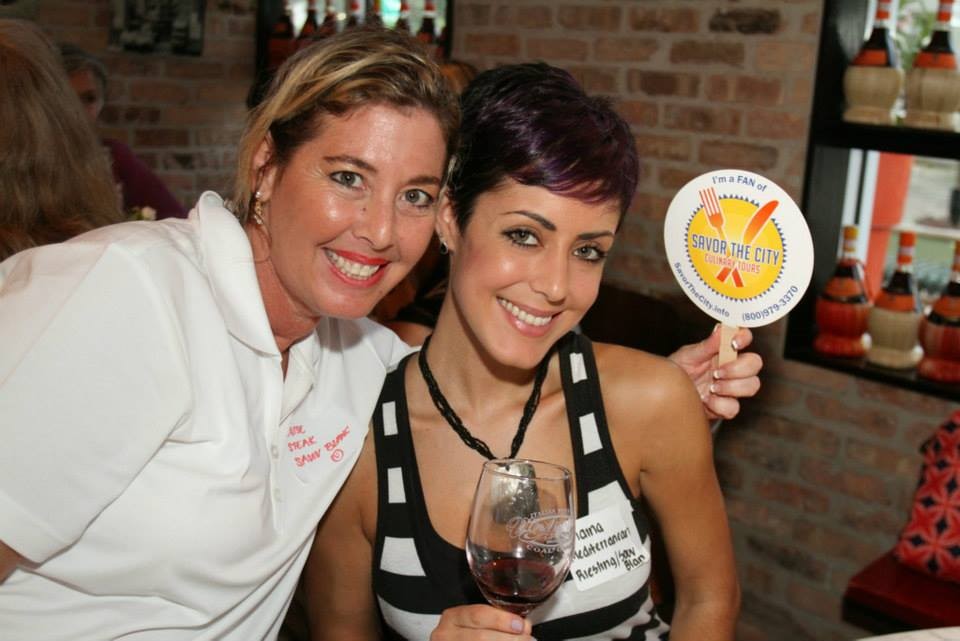 This tour was the biggest group Denise has had thus far, which was super exciting. Despite the stormy weather, 26 people joined together under the outside awning at Vic & Angelo's where we all met up to get acquainted with one another before spending the next three hours together eating, drinking, learning fun facts about the area, and forming new friendships.
Once our name tags were handed out and the skies started to open, we headed inside to be seated for our first taste of the tour. I had just experienced Vic & Angelo's in Delray Beach for the first time and loved it so I was happy to be back here to try something new. They served us our choice of a Chardonnay or Cabernet Sauvignon (I went with red — I like to drink red wine when I eat Italian food) and of course had a plate of their signature garlic bread on the table for us to start with. That bread…so garlicky and topped with a generous sprinkling of parmesan cheese, fresh out of the oven and crisped to perfection — I'm not sure I've ever had garlic bread quite like theirs before.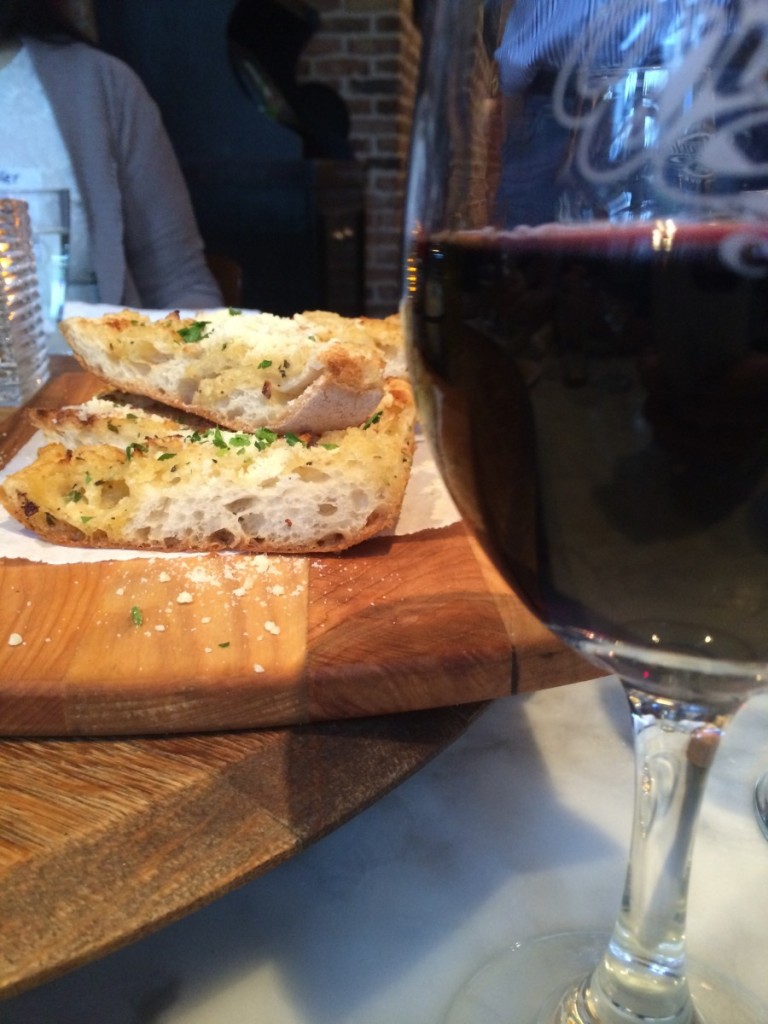 After a quick introduction from Denise, our plates of food arrived — the four cheese pear tortellini in a truffle cream sauce and their specialty meatball — "John's Mom's Meatball" with San Marzano tomatoes, whipped ricotta, peppers and basil. Instead of the meatballs, I was given an a few slices of crostini topped with bruschetta. I think I got the better deal there 😉 The bruschetta was light and fresh, the perfect compliment to the heavier cream sauce soaking up those yummy little pear-stuffed tortellinis. That was pretty decadent; who knew pears, cheese, and truffle could be such a yummy combination?!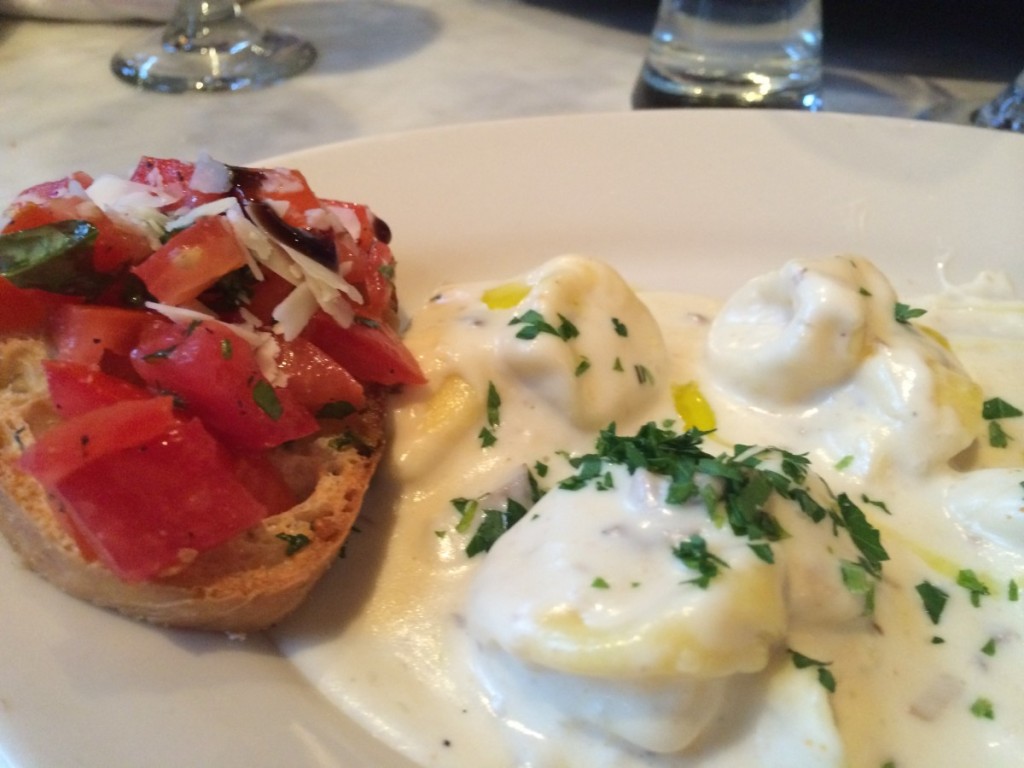 After we had our Italian fill, we strolled a few doors down to Onessimo Fine Art, a gallery full of unique sculptures and paintings that would make your eyes pop out of your head. Seriously, this artwork was incredible. We sipped on wine and munched on cheese and crackers while we listened to the gallery owner talk a little bit about some of the artists who's work is in the shop. One artist uses the eye as the main focus in all of his work and I was totally and completely smitten. One day I hope to be able to afford a piece of artwork like these…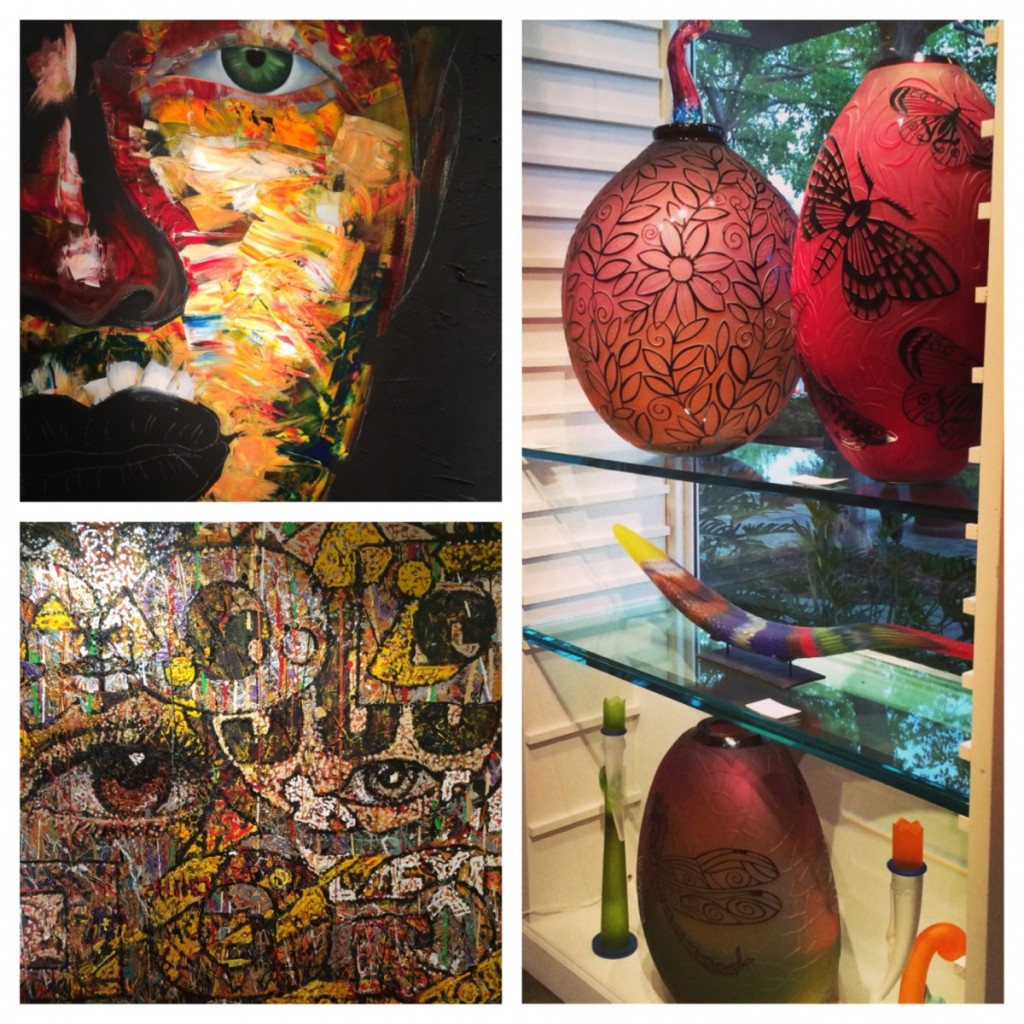 We headed over to Spoto's Oyster Bar next, where we were immediately greeted with a glass of chardonnay to go with the oyster shooters we would soon be served. I've had oysters on the half shell, but never in a shooter the way this was prepared. I LOVED it! You slurp it up just like you would a shot. It was one of the yummiest (and quickest) bites of the night! The oyster is layered with horseradish, cocktail sauce, and tabasco so there is definitely some heat to it, but it's such a small bite that it really doesn't hit you too hard. The second tasting was the BBQ-Bacon Wrapped Shrimp with mango corn salsa. Of course my shrimp came sans bacon, which also meant I didn't get the smokey BBQ flavoring either so that was kind of a bummer. Just a plain piece of shrimp. BUT the saving grace was the salsa. Mango! You know how I love my mango.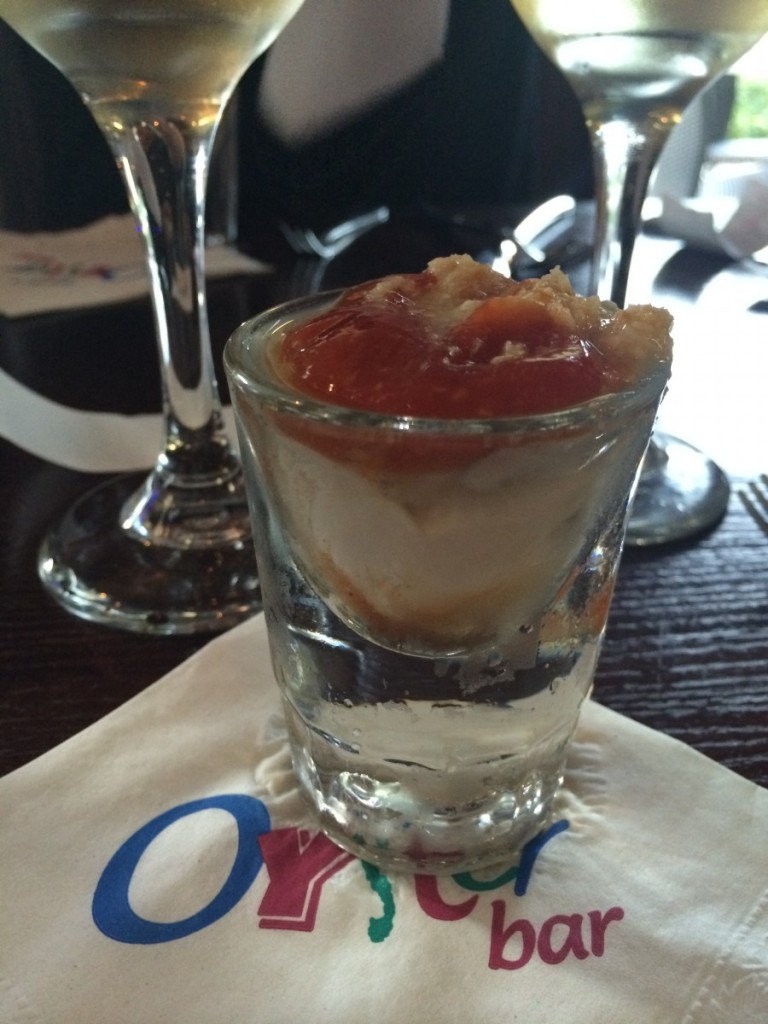 We had been lucky up to this point not getting stuck in the rain, but umbrellas were needed as we walked to our next destination, Prosecco Cafe. The waitress brought around glasses of red wine to pair with the Braised Short Rib Sliders and roasted fingerling potatoes (my favorite!). I really enjoyed my vegetarian option — a Caprese Slider! This was such a great idea and I happily gobbled it all up. As a parting gift, we were given a piece of their homemade chocolate rugelach. Mmm, so good…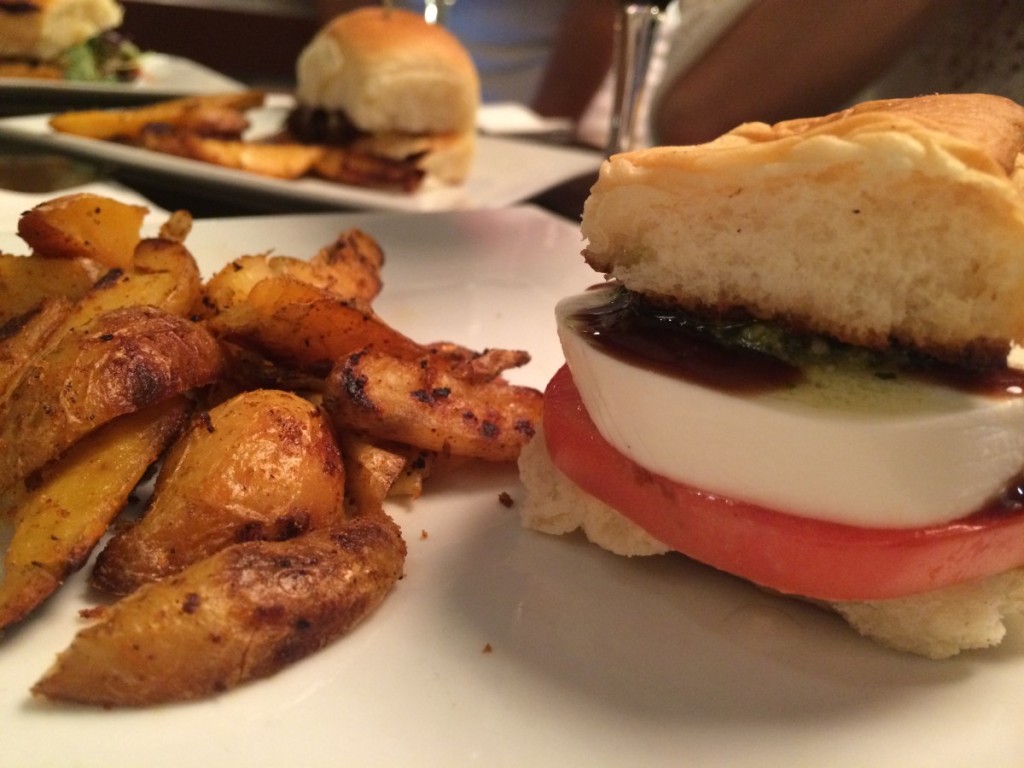 The rain stopped so we took a few group shots outside before making our way to our next stop. We all needed a little time to digest the food anyway!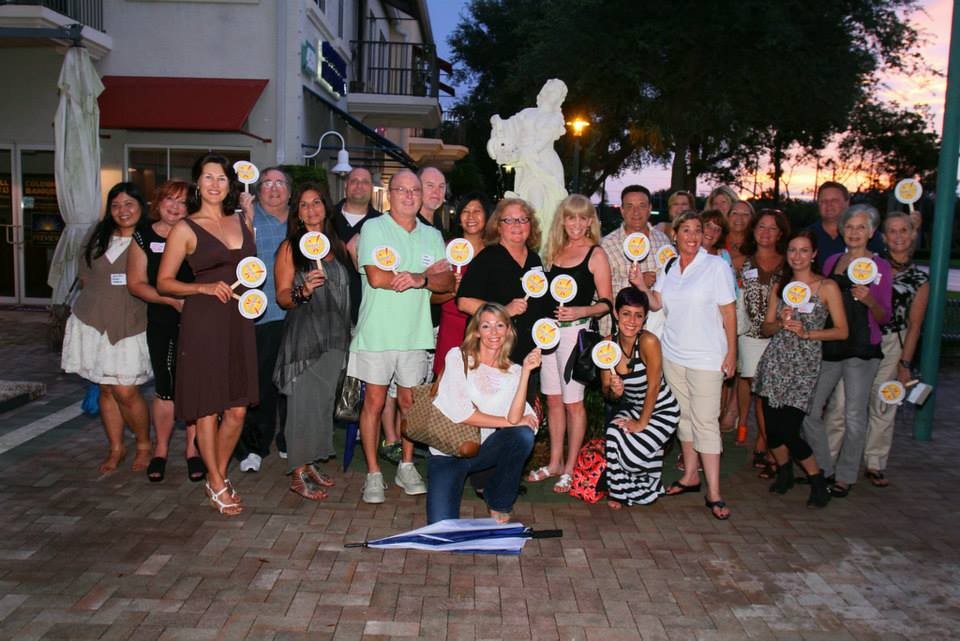 Time for some Asian cuisine at Kabuki! This dimly lit restaurant is a little reminiscent of a night club with an upscale vibe. We were served their spicy edamame and the Krab Lava Drop with eel sauce. Both had tons of flavor. I would definitely like to go back there and try some of their Thai dishes.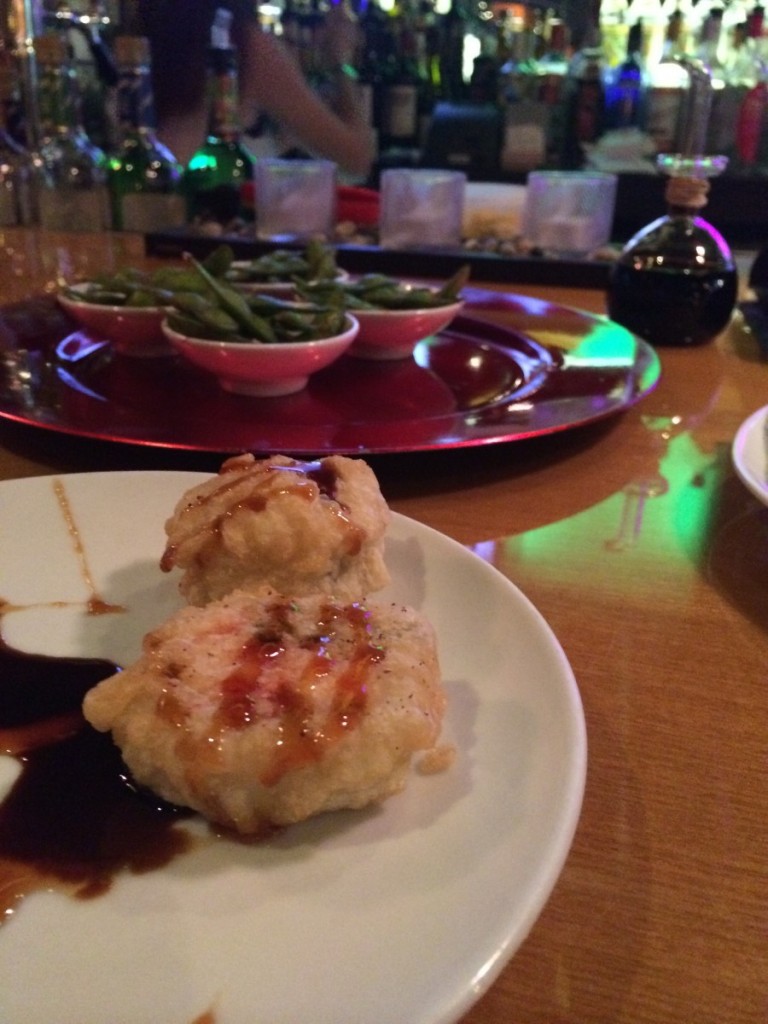 Of course, no tour is complete without dessert! The last stop was at Menchie's, a self-serve frozen yogurt shop with so many different flavors and toppings you can't help but indulge! I think I tried just about every single flavor before deciding what I wanted. To tell you the truth, I don't even remember what froyo flavors I ended up getting because there were so many I taste-tested. I did, however, load up on the toppings…Oreo crumbles, Heath Bar, Cheesecake Bites, and those little chocolates coated in rainbow nonpareils. Sweet tooth much?!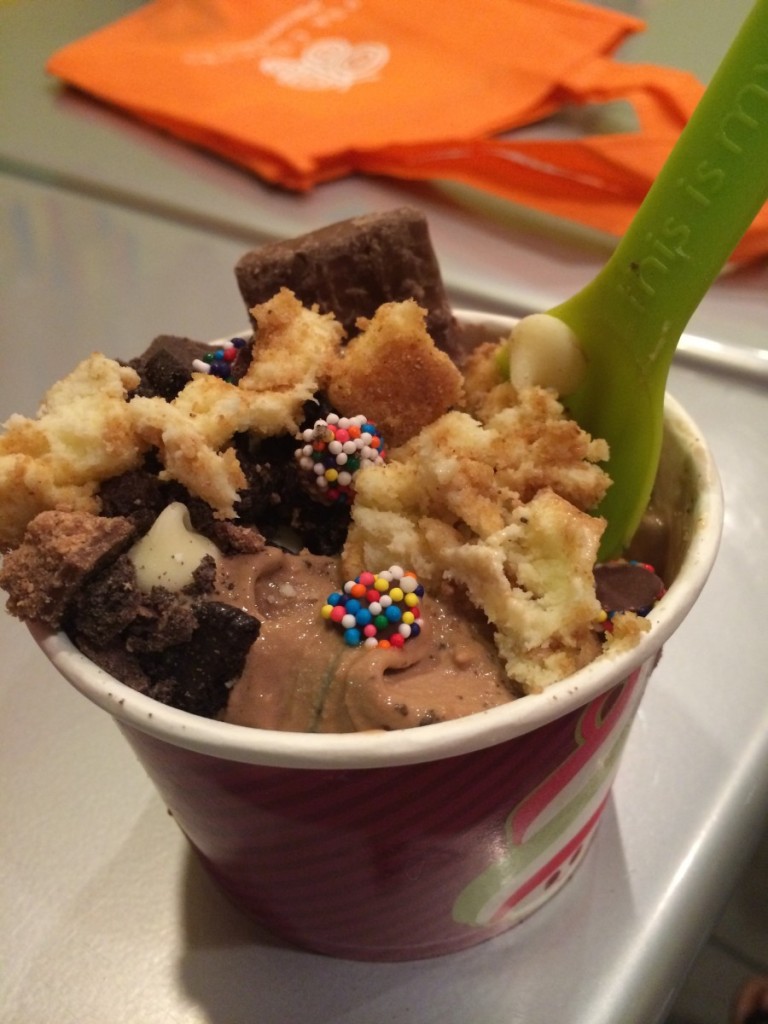 It was another successful tour and everyone really had a great time. I love that Savor Our City is expanding to other areas in South Florida. Next up: Boca!