You all know how much I love going on food tours. What could be more fun than exploring a city and all that its culinary culture has to offer? You remember the Taste Atlantic Ave tour I went on last month with Savor the City Culinary Tours, right? Well, last week Savor the City Culinary Tours debuted its first Pineapple Grove Tour and of course I was there, ready to take in every last bite! The Pineapple Grove Tour focuses on the area of Downtown Delray beyond the Ave. Those "off-the-beaten-path" kinds of places that take a local's knowledge to know about — which is why this tour is so great; it's introducing people to restaurants they may not have known existed. On the third Thursday of every month, my fellow food-loving friend Denise Righetti leads her Pineapple Grove Tour, in conjunction with Artist's Alley (a time when local artists open their studios and galleries to the public), to give her guests a little taste of all that the Grove has to offer. We started out with fine Italian cuisine at Casa di Pepe — the first restaurant for Chef Pepe. He served us a delicious Chardonnay (weird that I actually liked it, because I never like Chardonnay) alongside a family-style serving of his famous Penne a la Vodka with house-made vodka sauce made fresh every single day. He makes his pasta from scratch too! I tend to find penne a la vodka a boring dish — I'll never order it if I go out to dinner at an Italian restaurant; however, after tasting Chef Pepe's sauce, my mind has completely changed. This is so not boring! There was so much flavor in that sauce, I couldn't get enough! It took all of my will power not to scoop out another portion of pasta from the plate in the center of our table, but I knew I had to save room for the other stops on the tour…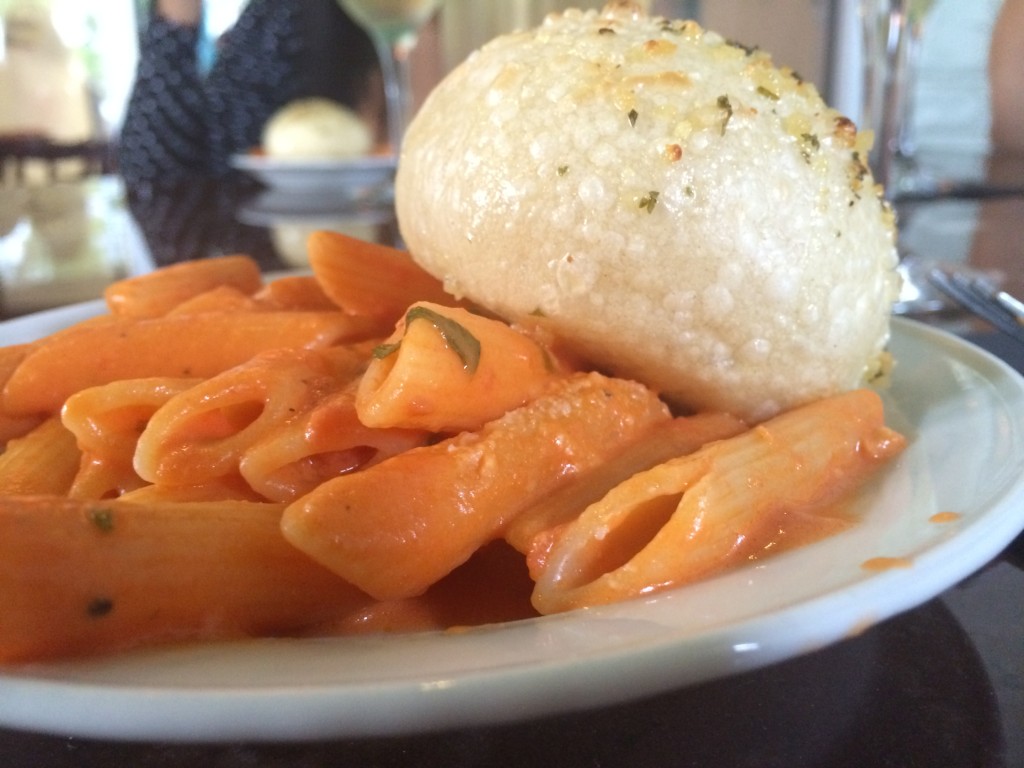 After everyone had their fill of pasta and garlic bread, we headed a little further down the street to Papa's Tapas, a family-owned Spanish tapas restaurant that prides itself on serving the real deal when it comes to Spanish cuisine. It truly is a family restaurant, with each and every member of the family having some kind of vested interest in the business. They presented us with a glass of their sangria, red or white depending on our preference, and a gorgeous platter of Chicken Paella. I am a huge paella fan — although I prefer the seafood variety — but that amazing combination of aromatic spices in the rice is enough for me. I didn't even mind that it was chicken, I just pushed it off to the side. If you haven't been to Papa's Tapas, you have got to check it out. The walls are covered in eclectic artwork made by local artists and it is really a warm, inviting atmosphere.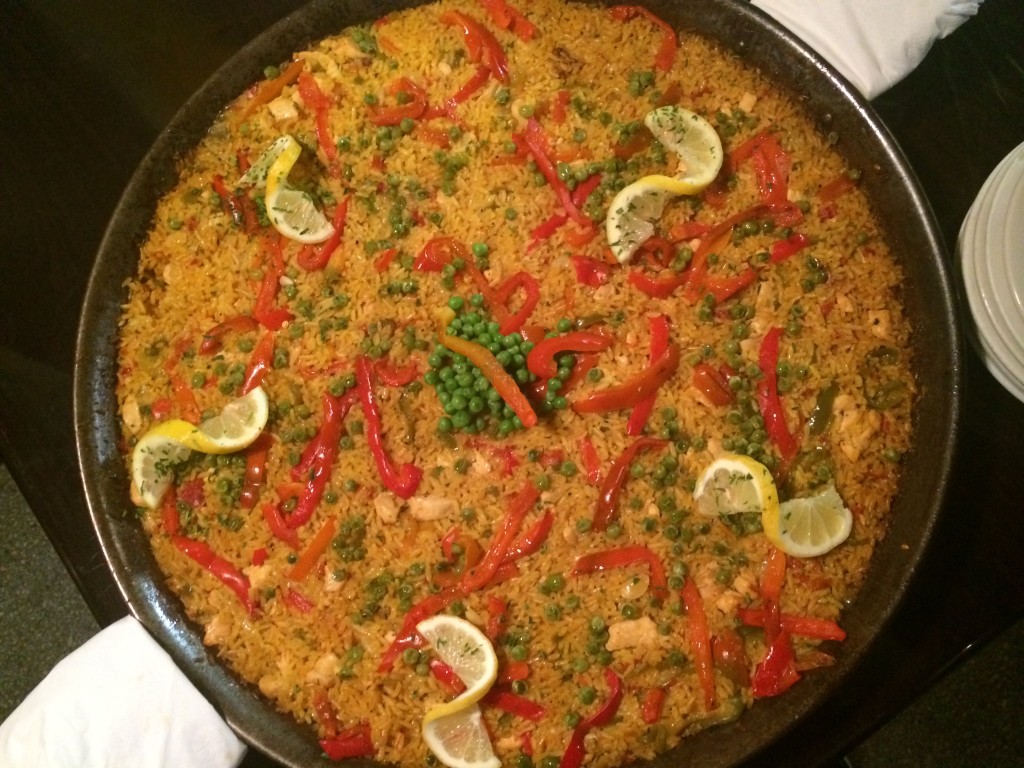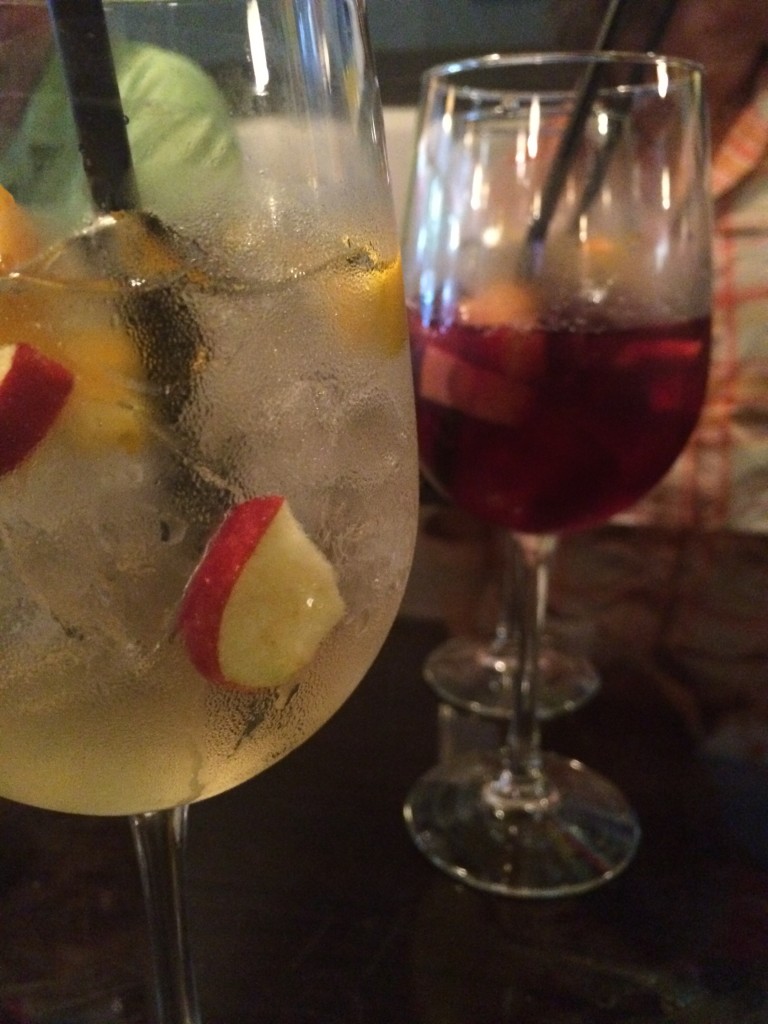 Next up was The Olive Taste of Delray — olive oils and balsamic vinegars galore! The owner of the shop, Lori, also demonstrated a few homemade dishes and a drink too! She showed us how to make a cocktail using their blackberry ginger balsamic vinegar, mint, lime juice and club soda. Add a little rum and you've got one tasty mojito! But even better than that was the amazing mango salsa and homemade hummus with basil olive oil — oh my God! I could not keep my hands away from those two dishes. There were tortilla and pita chips to sample the dips and you know I was all over that! They had a great variety of oils and balsamics to try. One of my favorites was the Garlic Mushroom Olive Oil and the Bordeaux Cherry Balsamic. I didn't purchase anything while I was there, but I think a trip back is in order…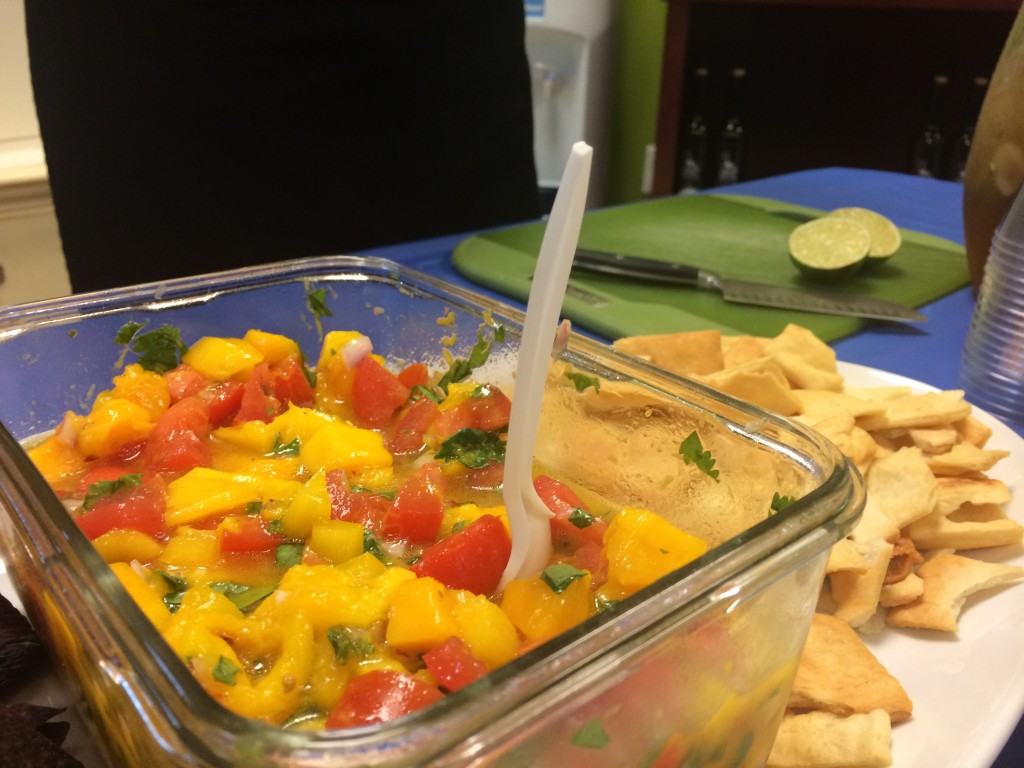 After The Olive Taste, we took a walk way back into the woodworks to visit Artists Alley — a strip of studios and galleries owned by local artists. Once a month they open up shop to locals so they can come in and check out their work. It was really cool to get to know these creative minds, and we even stumbled across a fashion designer's studio, Amanda Perna of House of Perna. Amanda does incredible work and I was absolutely in love with her patterns and prints and her incredible use of color. She used to work for Calvin Klein in NYC! Next up was SoLita where we were served another glass of wine along with their Eggplant Stack and Arugula Salad. Although a lot of restaurants have this kind of dish on their menu, I have to say this was one of the best I've ever had. The eggplant was cooked perfectly with just the right amount of breaded coating, and it paired so perfectly with the bitter arugula, fresh mozzarella and juicy tomatoes. I had to go back for seconds — don't judge.
We ended the night at one of the coolest place in town (in my own humble opinion), N2 Wine Bar. It's a self-serve wine bar much like the one I experienced during my trip to New Orleans. You are given a swipe card, on which you can either put a certain dollar amount or just have the bartender hold your credit card, then you can try as many different wines as you'd like, at either a 1 oz., 2 oz., or 4 oz. pour. It's a great way to try very expensive wines for a really reasonable price. The owner, Ron, served us the perfect wine accompaniments — cheese and crackers — and was super friendly and helpful throughout our visit. I love the concept of this place, and hope to go back soon. If only it were closer to home… The evening was packed with good friends and even better wine, as well as fun facts about Delray's Pineapple Grove and how it came to be. Going on one of the Savor the City Culinary Tours is a great experience for tourists and even locals who want to try something a little different on their night out. You can choose to go on this once a month Pineapple Grove Tour, or check out Taste Atlantic Ave every Saturday morning from 11-2pm and the occasional Friday night from 5-8pm. Savor the City Culinary Tours offers private tours are available too! To find out tour dates and purchase tickets, visit Savor the City. Hope to see you soon on one of the Savor the City Culinary Tours. Cheers!