Never miss a bite! Sign up here to receive new recipes and reviews straight to your inbox.
Savor Our City Culinary Tours came back to Boca again, and this time I got to visit restaurants that I had never been to before! That's a first for me — on every other tour, the majority of the restaurants were ones that I had eaten at before, but nope, not this time, and I was super excited about it.
This particular Savor Downtown Boca tour took us through Royal Palm Place again, which is where we were on the very first Boca tour. When I tell you this plaza has a ton of restaurants, I'm not kidding. Even after two tours, we still haven't gotten to all of them! Royal Palm Place is full of hidden gems. It's awesome that Denise has been able to find them and get them on her tours. Our first stop of the night was at Estia Greek Taverna and Bar where we were immediately served a shot of Ouzo upon arrival. If you know anything about Ouzo, it's a licorice-flavored Greek liquor that is very similar to Sambuca. It's also absolutely disgusting. At least in my mind. I really dislike anything at all that tastes like licorice. So, uh, I stuck to water. Despite my not liking their preferred drink pairing, I was in love with the food! I'm no stranger to Greek cuisine — it's one of my favorite types of food. We were served spanakopita — spinach and feta wrapped in phyllo, a classic Greek dish and always tasty — and gyros. My Pescatarian-friendly gyro was made with salmon instead of lamb. The tzaztiki was incredibly spicy — lots of garlic — but all of the components of the wrap were delicious together. I really love the idea of a salmon gyro!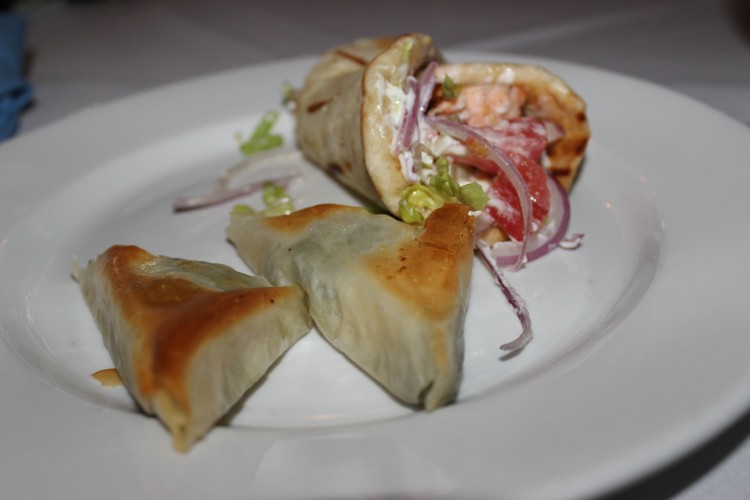 Afterward, we walked to Casimir French Bistro, a restaurant that I have been wanting to try for ages! And now that I've had a taste, I cannot wait to go back again. We had great service from the staff despite being there right as dinner hour approached, and the food they served was SO good — even the basket of freshly baked bread was irresistible! Everyone was served a French classic — Beef Bourguignon — while I and a few other non-meat eaters on the tour were given a gorgeous dish of crab crusted Mahi Mahi over a bed of roasted red pepper risotto, a red wine gastrique and saffron beurre blanc. My mouth is watering just typing that. It was amazing. I'm not sure I even stopped to breathe between bites. Like I said — I neeeeeed to go back soon.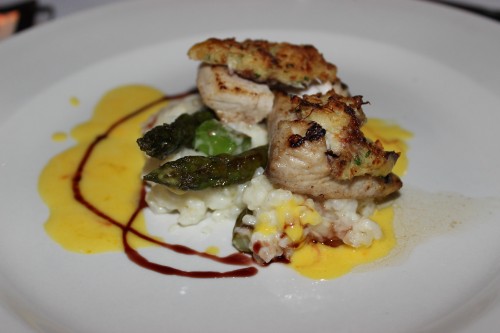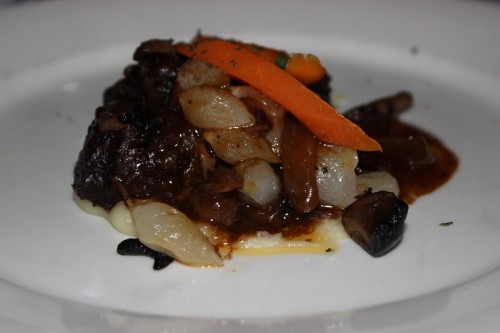 Our next stop was at 4th Generation Organic Market & Cafe. I'm ashamed to say that I have walked by this place so many times and just never went inside. But now that I have, I can safely say that I know I'll be going back again and again and again. They have a juice and smoothie bar and I just have to try some of them! There's also a prepared-foods counter with all kinds of organic foods — savory and sweet — and that's where we had our "tasting." We were able to sample anything we wanted. I literally could have devoured every single thing there. Vegetables and grains and salads and raw desserts and ahhh…it was all delicious. I tried some of the roasted root veggies, a chickpea curry, sunflower hummus (which I need to go back and buy!) and a fig-date bar. I definitely could have eaten way more, but there were still three restaurants left!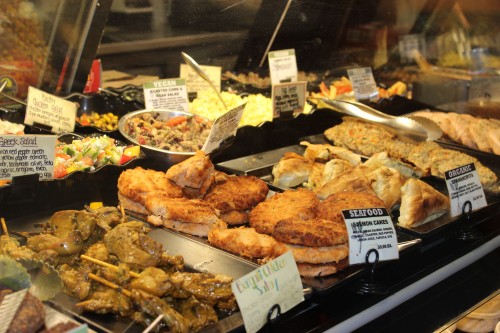 I was VERY glad I saved my appetite because the next few stops were filled with more totally worth-every-calorie kinds of bites.
Next was a brand new restaurant, Patio Tapas and Beer. It's located where Slice of Provence used to be — RIP to a great French-style pizza place! — and wasn't even open to the public yet (they are now). They opened especially for us that evening to introduce us to their Spanish tapas concept. The chef has actually worked with my food idol, Jose Andres, so he totally knows his stuff when it comes to Spanish cooking and tapas-style plates! We were served their red sangria and two tapas. The first was a super creative take on sweet potatoes. It was a crispy sweet potato chip topped with a yogurt foam and passion fruit glaze. I wasn't sure what to expect in that first bite, but ended up being pleasantly surprised — a little bit sweet, a little bit tart, and a whole lotta YUM! We also had Pisto Manchego, which is a traditional dish of stewed vegetables topped with a quail egg. The veggies were cooked to perfection — soft without being mushy and super flavorful without overshadowing one another. There was a mix of eggplant, red and yellow peppers, tomatoes and what I'm pretty sure was squash. I didn't eat the tiny little quail egg, but it did look pretty sitting on top of all the colorful vegetables.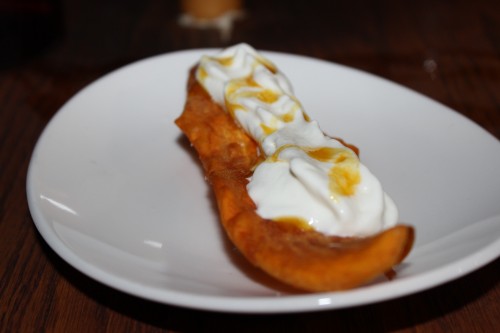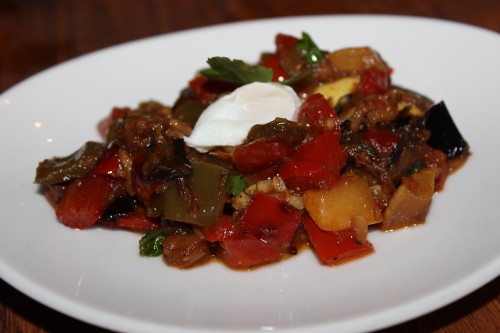 The next place we went was my favorite of the night — The Olive Tree. This place is definitely hidden. There isn't even a sign! It's an adorable little place with the most beautiful outdoor dining area. The Olive Tree is Mediterranean cuisine and you're going to flip when I tell you what they served us… OCTOPUS!!! Obviously this had to be my favorite place if they served my favorite food! Their octopus was unlike any other I've tasted — sweet and smokey as if it were barbecued. We asked the chef to tell us how it was made, but he wouldn't give away his secret! You'd think I would have been satisfied with just the octopus alone, but wait, there's more! Freshly baked pita right outta the oven, the smoothest and creamiest hummus ever, and the best-tasting baba ghanoush in the history of baba ghanoushes. Maybe I'm being dramatic, but as you can see, I obviously really fell in love with this place.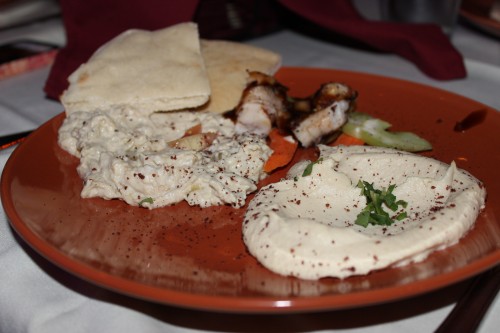 The last stop of the night was at True — the one restaurant on this tour that I have been to, but of course did not mind going back! We were served their super delicious crab cake paired with a crisp Sauvignon Blanc. As you know from the review I wrote about True, their crab cake is unbeatable. All crab meat, no filler, and a tasty little honey mustard sauce for dipping. As if the night couldn't get any better, we also got to have dessert at True. Remember the Pumpkin Cheesecake I couldn't stop raving about in my review?! Yep, that's what we had!! Ohhh it was just as yummy as I remembered. That streusel topping, the incredible crust, and the rich creamy cheesecake filling — this was the perfect way to end the night.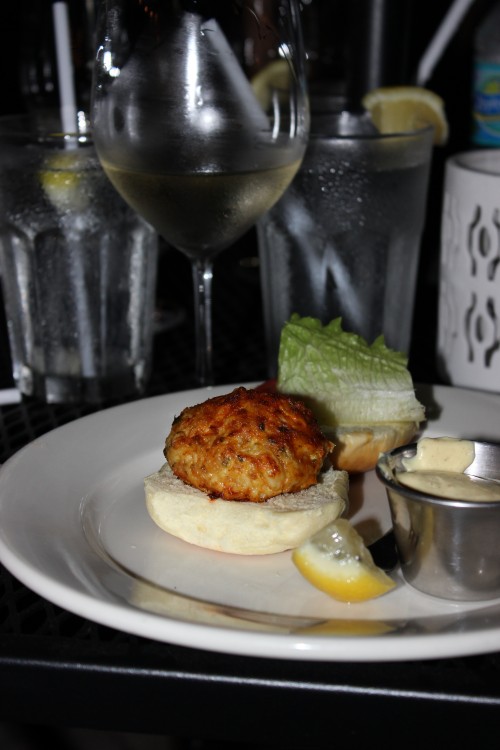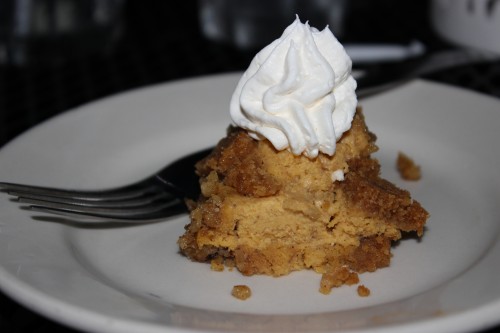 This Savor Downtown Boca tour was a real winner. The restaurants were very generous with their portions and it was a great variety of food. Oftentimes the restaurants serve such similar items that it can sometimes feel the same from one place to the next. Every stop we made was something different and exciting. Sadly, this was the last of the Boca tours currently scheduled — but hopefully they will resume again soon!
Interested in going on one of the Savor Our City Culinary Tours? Visit the website for more dates and times and to register for a spot!