Never miss a bite! Sign up here to receive new recipes and reviews straight to your inbox.
Denise has finally brought Savor Our City Culinary Tours to Boca! I have been waiting for this ever since she started her tour business in Delray. Boca has such a vibrant restaurant scene that I knew it wouldn't be long before the owners and chefs would want to get on board.
For those of you who may not be familiar with this incredibly tasty tour, Savor Our City was founded by my good friend Denise Righetti. She leads groups through a series of stops at restaurants and specialty shops and introduces everyone to delicious flavors, beautiful scenery, and fun historical facts about the area. Currently, the tours are held every Saturday afternoon in Delray Beach along Atlantic Ave and the third Thursday of every Month in Pineapple Grove. There are occasional evening tours, as well.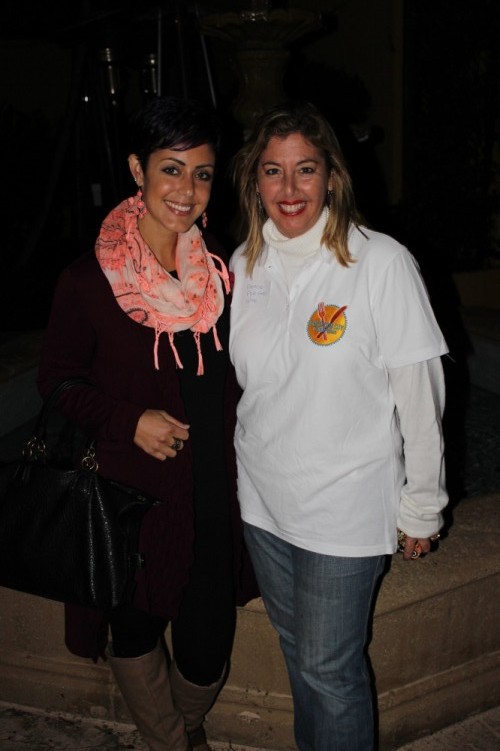 Savor Downtown Boca is the newest of the bunch and the inaugural tour took us through Royal Palm Place — just a little farther south from Mizner Park on Federal Highway. Royal Palm Place has so many restaurants, with new ones popping up almost every month. Although I've been to quite a few in the plaza, there are still many more I've yet to explore. We all got "A Taste of Royal Palm Place" and I would put money on it that each and every guest will be back for more very soon!
Our first stop of the night was at one of my absolute favorite Italian restaurants — Ristorante Sapori. Chef Marco is the sweetest man ever and always aims to please. Remember my review of the restaurant and my crazy craving for linguine and clams? He came to my rescue that night and we still laugh about it whenever we see each other. Chef served us homemade fettuccine, which he prepared right in front of us with his pasta maker, and promptly served alongside his delicious flavored butters and freshly baked bread. I've never had fettuccine Alfredo quite like this before — it was light and airy, not weighed down with heavy cream like most Alfredo dishes. And that fresh pasta made all the difference! Many of us would have been content sitting there all night eating plate after plate of Chef Marco's pasta, but alas…we had more tasting to do!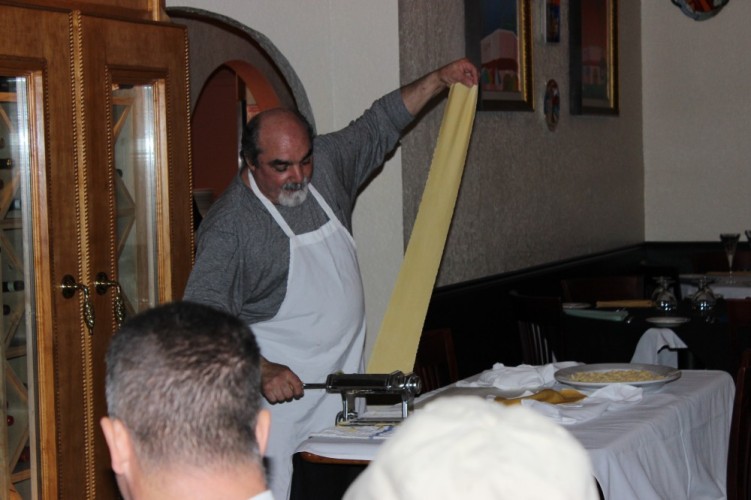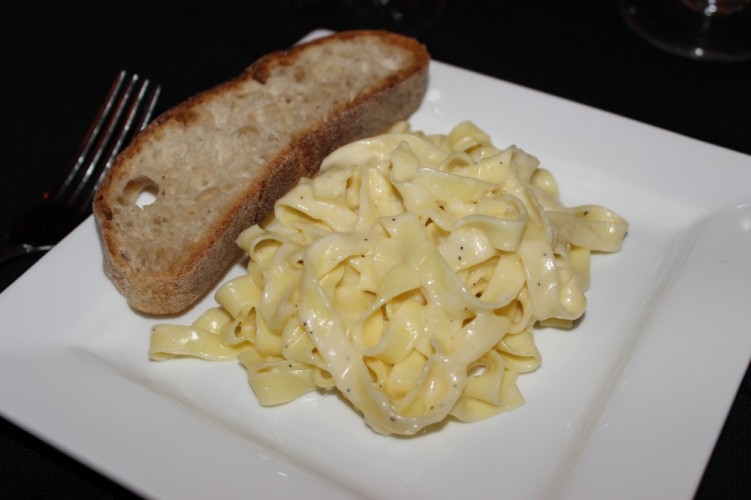 Another one of my favorites was up next — Twenty Twenty Grill. This cozy little restaurant seats 20 inside and 20 outside, hence the name. Chef Ron and his wife Rhonda are amazing and you can see in their expressions just how much they love serving our community their delicious food. The menu at Twenty Twenty Grill changes frequently depending on what ingredients are in season. Right now, it is rich with fall-inspired dishes. They served us one of their most popular appetizers, Duo of Duck Tacos with an orange margarita gastrique and roasted tomato pico de gallo. Of course, mine came without the duck and an extra helping of the roasted tomato instead. Although everyone around me was raving about the cook on the duck, I was absolutely loving my roasted tomatoes and the crispy wonton between each layer.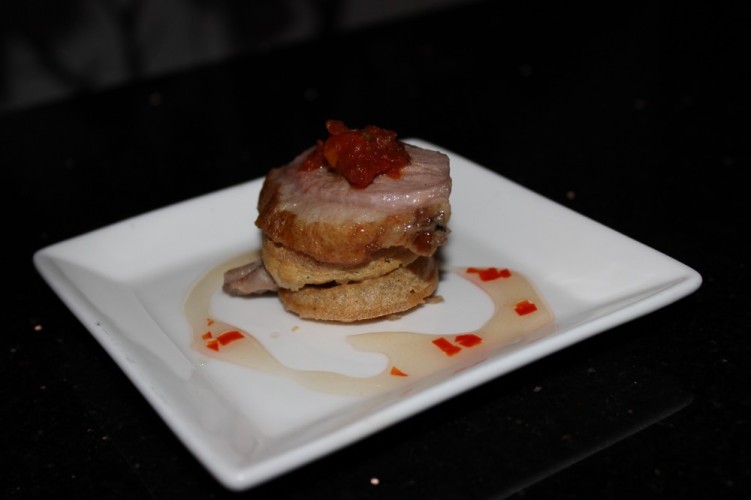 We made a pit stop at Cote France Cafe, a French bakery known for its pastries. Yes, we were having dessert mid-tour! We were served a beautiful assortment of various desserts ranging from chocolate ganache and lemon tarts to tiramasu and cream puffs. Although I prefer my sweets at the end of my meal, you'll never find me saying no to a little chocolate!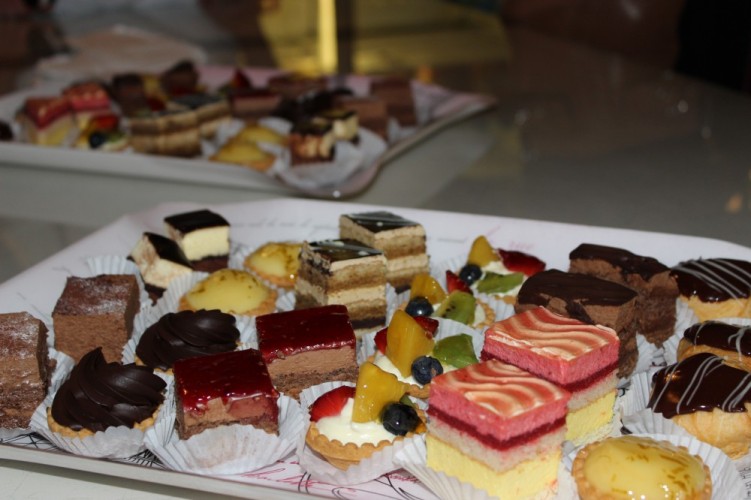 I have passed by Cote France many times before, but this was my first time giving it a try. I made sure to get a good look at all their various offerings. The quiche looked especially delicious — I might have to sneak back there for brunch sometime. Oh and the macarons — beautiful!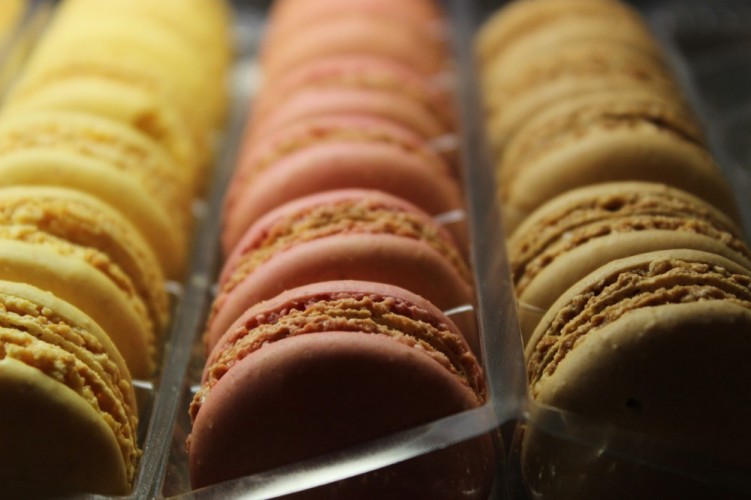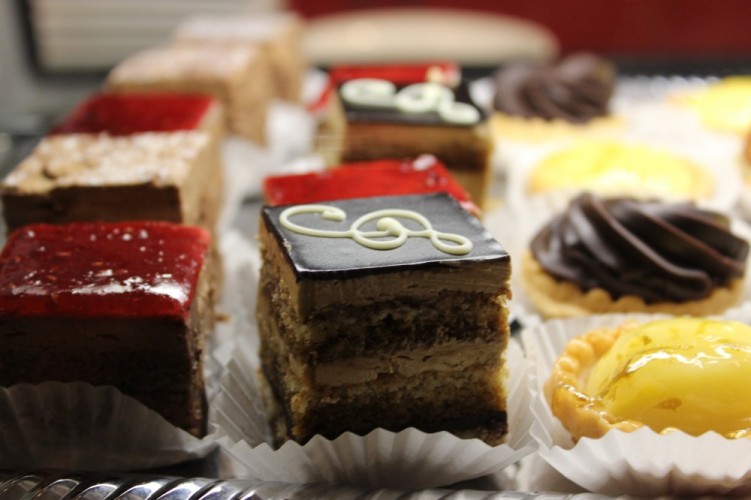 It was time for a little Asian flare! We crossed the street to Lemongrass and were seated outside. It was a pretty chilly night in Boca, so the heat lamps were on and kept us nice and toasty. To keep us warm, they served us piping hot sake in little tea cups. I'm not a fan, so I passed on this and instead focused my eyes (and stomach) on the Ahi Tuna Pizza that was placed down in front of me. A baked tortilla chip is piled high with ahi tuna, red onion, cilantro, masago, and slices of avocado with a generous drizzle of spicy mayo. I'd choose this Asian-style nacho over a Mexican one any day! #Sorrynotsorry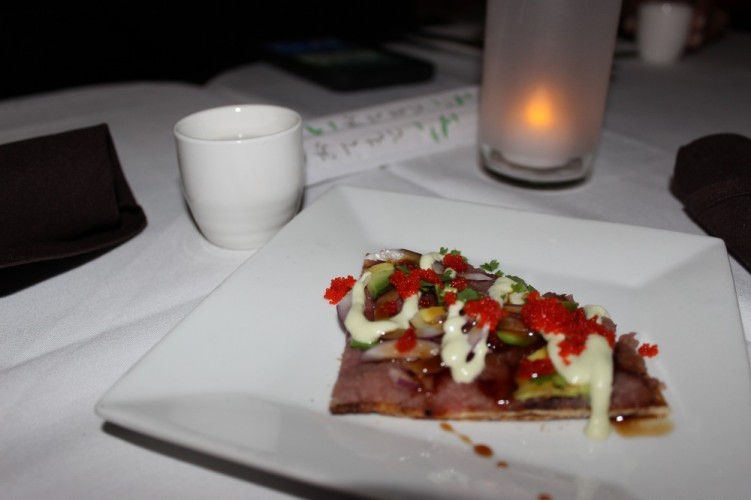 In an effort to digest, we took a nice little stroll through the quarter passing by various art galleries and other shops along the way. Our next stop, Saquella Cafe, is one of my Bubby's favorite places. I've been a few times and always enjoy myself. They served us a duo of appetizers and a sweet treat for dessert — pesto crostini and goat cheese popper crostini, along with a pumpkin gelato affogato (basically an ice cream soda but with coffee or cappuccino). Caffeine was just what we all needed at this point — we still had three places to go! The two crostini bites were SO tasty. I love homemade pesto and combining it with tomato and fresh mozzarella with a balsamic drizzle is just heaven in my mouth. And don't even get me started on the goat cheese. That creamy, tangy cheese covered in a crispy, crunchy coating… Oops, there goes a little drool….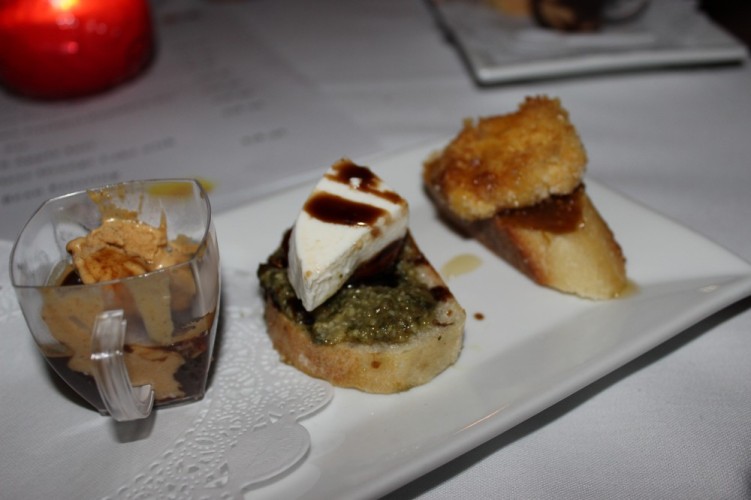 Biergarten was up next — one of my favorite spots for a good Happy Hour beer and one of the best German style pretzels in South Florida! The pretzel is the size of my head (maybe bigger) and comes with housemade mustards and their sweet cream cheese dip to drench it in — because how else do you eat a pretzel if not slathered in something?! We were also brought out a flight of "biers" and an assortment of their various brats, to which I politely refused. That's okay, I was perfectly fine eating my way through a ginormous pretzel.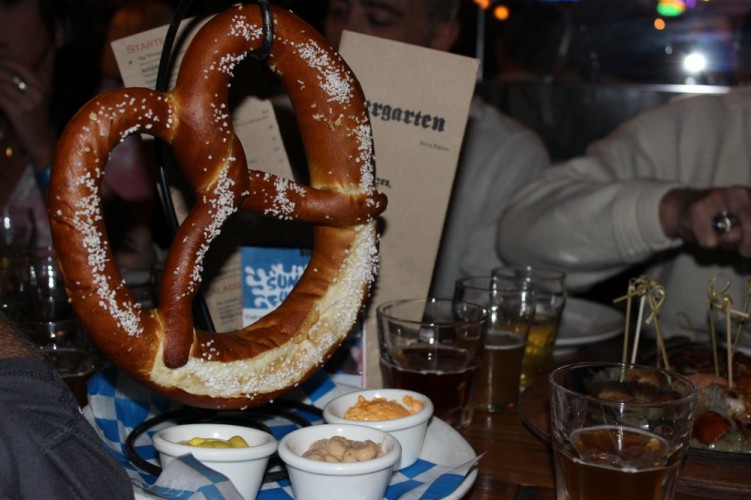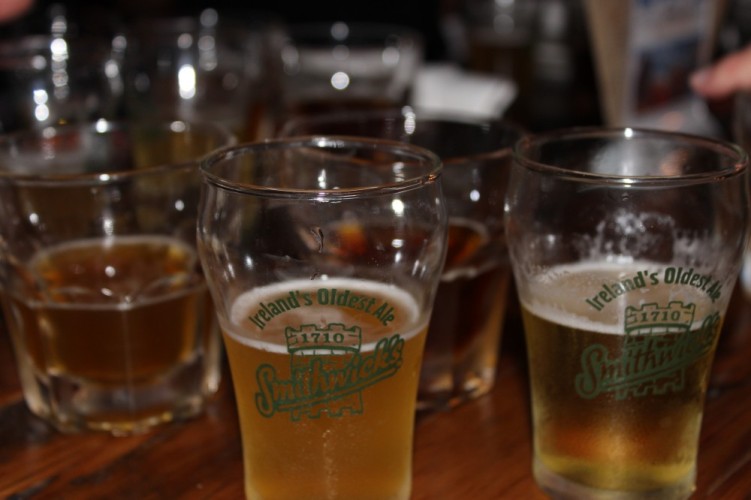 We headed over to Yakitori Sake House next and were met with crispy baby bok choy and Yakitori (Japenese BBQ) skewers of chicken and shiitake mushrooms. I prefer bok choy steamed or sautéed — that allows you to really taste the flavor and feel the texture as you chew. Frying made it a little too oily for my taste, but it seemed to be well received by the other guests. The mushroom skewers, on the other hand, were cooked perfectly. I loved the smokiness from the Japanese BBQ and their meaty texture was really brought to life.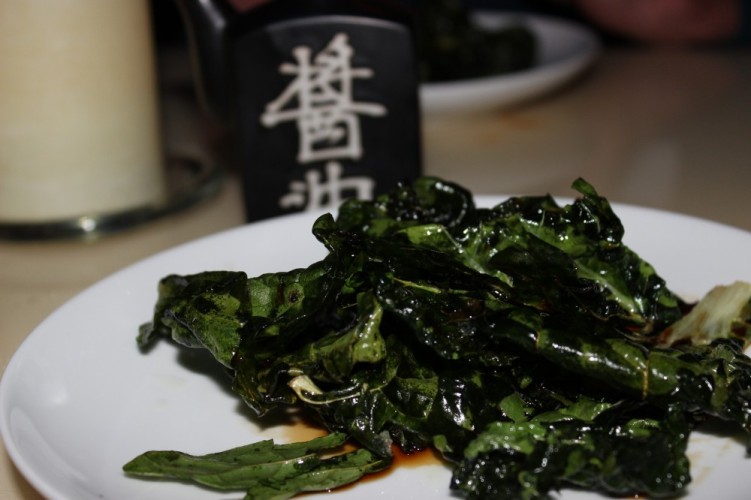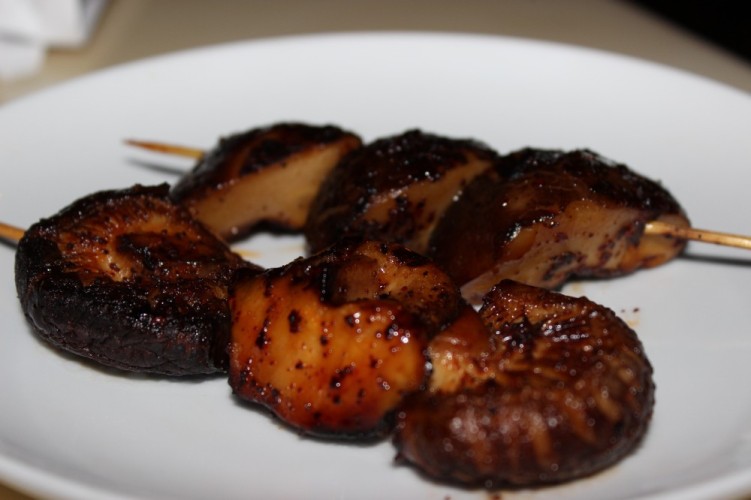 Our last stop of the night was at Truly You LLC, one of Royal Palm Place's newest tenants. The shop owners specialize in body scrubs, candles, soaps, and other customized products. They do facials too — in fact, they were offering to give mini facials to anyone interested. I practically leapt out of my seat! I may have missed the coffee and spread of popular Miami guava pastries, but it was so worth it to lie there and relax. I was ready for bed by the end of that!
This tour in particular was one of the most seamless I've ever experienced. Each restaurant was ready for us the moment we walked through the door, the chefs or restaurant managers all came out to greet us and explain what was being served, and the group (17 of us!) was super fun. That's the best part about Denise's tours — by the end of the night, you've got a whole slew of new friends.
The next Savor Downtown Boca tour will be held on Wednesday, December 17th from 5:30-9pm and will cover restaurants along Palmetto Park Road, Mizner Plaza and Mizner Park. I'm looking forward to this one! If you are interested in registering, please visit the Savor Our City website.