Delray Beach is so rich with culture and cuisine, it's about time someone starting showing it off! My good friend Denise has introduced a new concept to the area, Savor The City Culinary Tours. Denise is famed around town for putting together great pairing events with her company "Denise's Foodie Events," so she is a natural choice for leading these tours. Her first tour "Taste Atlantic Ave" takes you up and down the avenue, where you get to sample food and drinks from four restaurants and visit two gourmet specialty shops. Aside from the food, you also get to hear stories and fun facts about Delray Beach and its history from Denise. She interviewed local families and historians to find out some really cool info to share with her tour guests.
A group of ten of us joined Denise this past weekend. Among our group was Shanna from Boca Locals who puts together the ABZs Networking Crawls, and Stevie, a former chef and fellow local food blogger at Fork Notes. Gotta love when foodies unite for fun food-centered events!
The day started off at The Office, where we were served a bit of an indulgent sampling of their menu items: their Prime CEO Burger with sweet onion and tomato confit, bleu cheese crumble, gruyere, arugula and bacon, truffle fries and a beer. Yes, this was at 11:00 in the morning. Breakfast of Champions!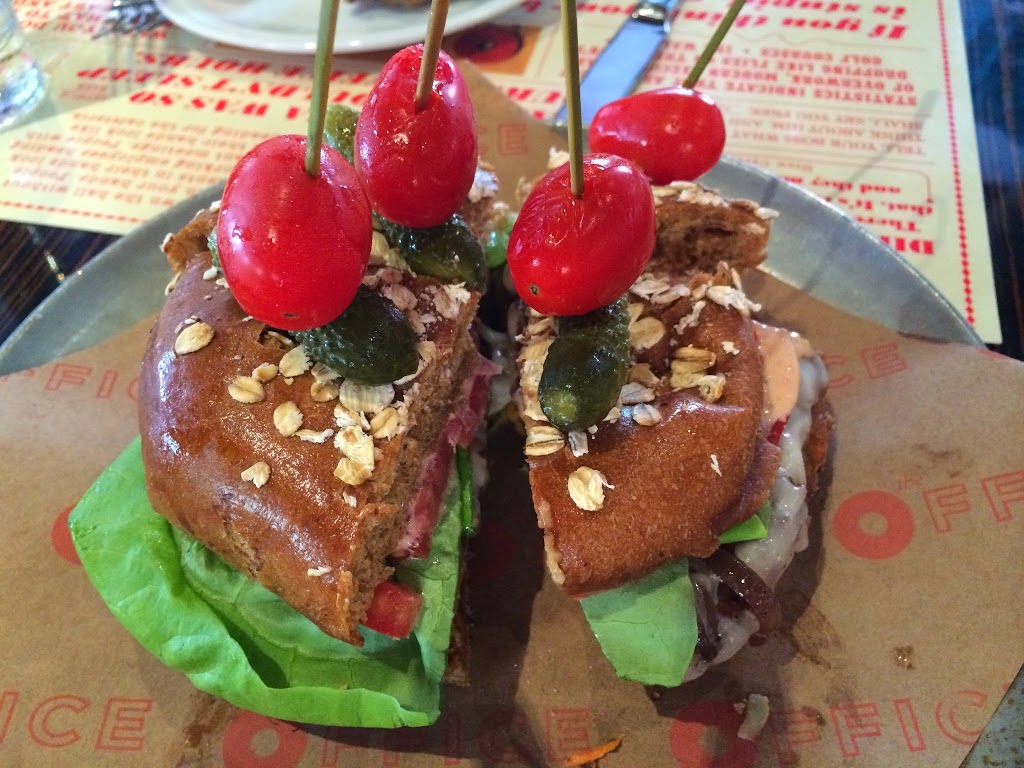 There was another vegetarian on the tour, so they did bring out their veggie burger made with quinoa and lentils and topped with caramelized onions. Sometimes veggie burgers can be a bit mealy, but these had a really nice texture with a bit of a crunch. The caramelized onions were the star, though, as they often are. Stevie said she liked the veggie burger better than the beef one. Hm…maybe us vegetarians are onto something… The beer paired with our burgers was a Harpoon UFO White from Boston. It was light and fruity, just the way I like my beer! And we can't forget the truffle fries. Pretty sure there is nothing more delicious than crispy fries topped with parmesan and truffle oil.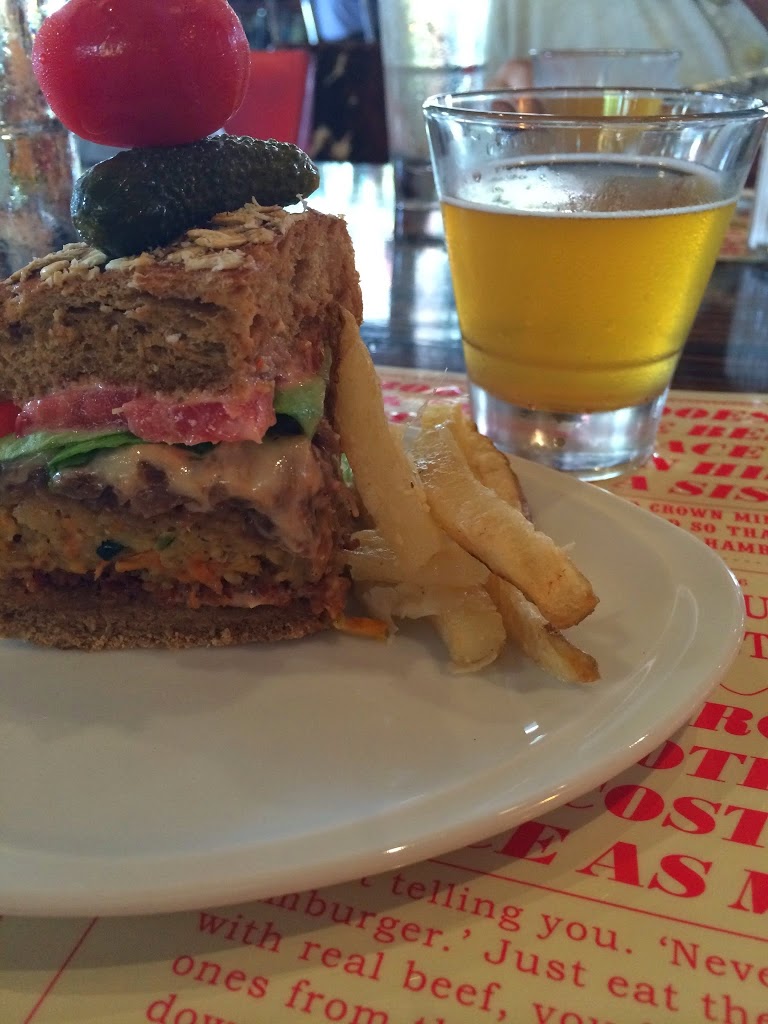 Next up was Taverna Opa, one of the newest restaurants to hit Atlantic Ave. This Greek restaurant is known for their hummus — you get to make it at the table! The waiter brought out a whole bunch of wooden mortars and pestles for us to grind up our hummus.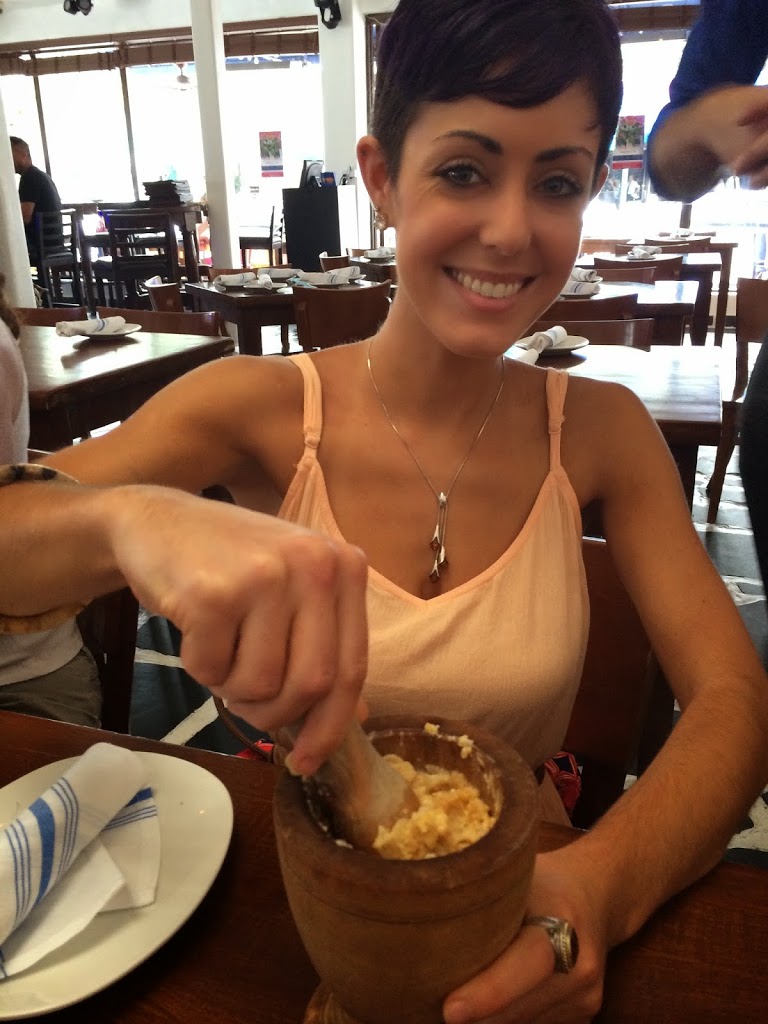 The pita bread was warm and fluffy — cooked to perfection. Then came a beautiful platter of chicken souvlaki with their signature lemon potatoes for us to share. To round it all out, we were each given a glass of Pinot Grigio which of course paired perfectly with the food. I could live off hummus and pita, and it's even better when you've made it yourself.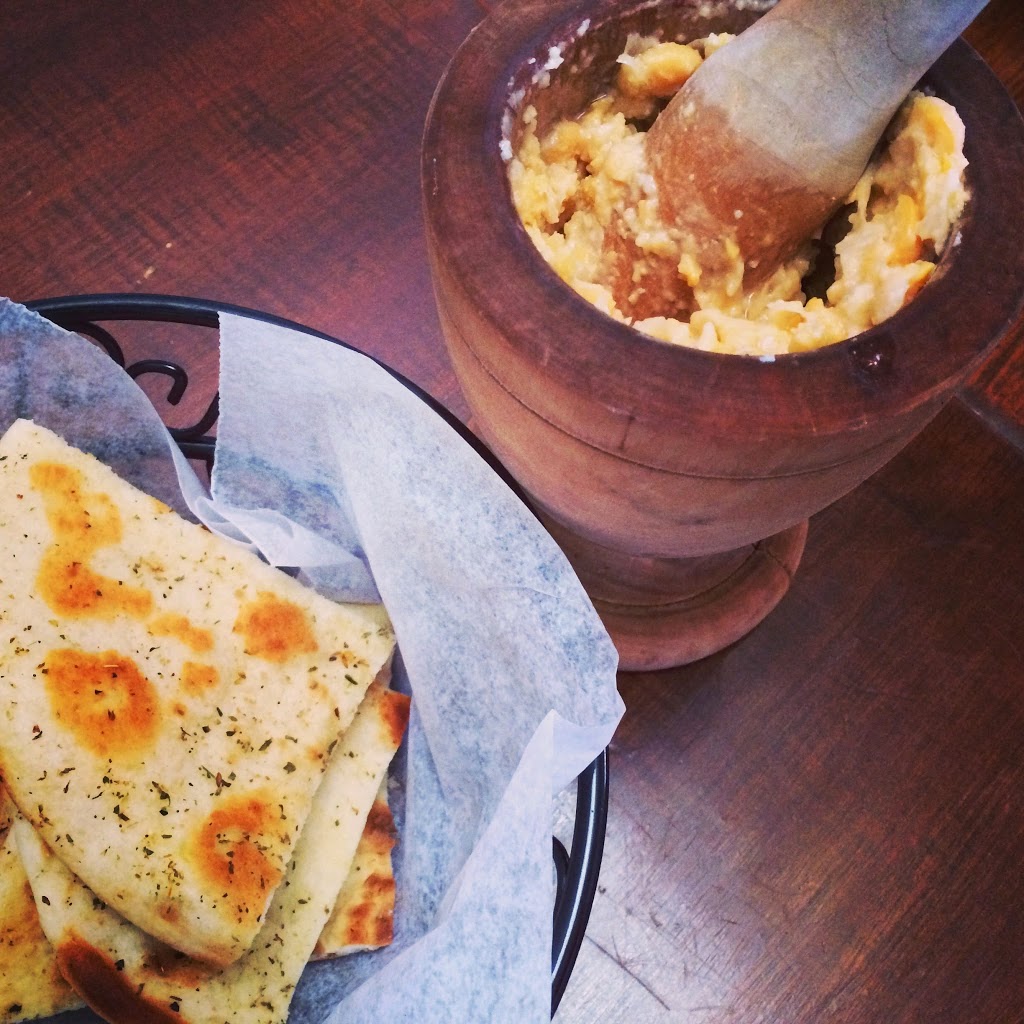 We walked a bit further down the ave and visited The Ancient Olive, a gourmet shop filled with extra virgin olive oils, balsamic vinegars, gourmet spreads, mustards, and jams. We were able to taste anything we wanted, and that is exactly what I did. I pretty much tasted the entire wall of balsamics — mango, dark chocolate, espresso, black cherry, fig, blackberry ginger, cinnamon pear and lots more. My favorite was the coconut. It was too good, I had to buy it. We did get a 10% discount on anything we wanted, so it was a great buy!
The next place we went was Big Al's Steaks, Delray Beach's answer to the Philly Cheesesteak. The owners are originally from Philly and have emulated Geno's right here in our little town. My dad would love this place and I cannot wait to bring him there during his next visit. The vegetarians were served a "cheesesteak" with mushrooms, onions, peppers, and provolone while the rest got the real deal — an authentic Philly Cheesesteak. We also could choose from two fountain drinks, Birch Beer or Cherry Soda. I am not one to drink soda, but that cherry flavor was so good. I only took a few sips, but those few sips were totally worth it.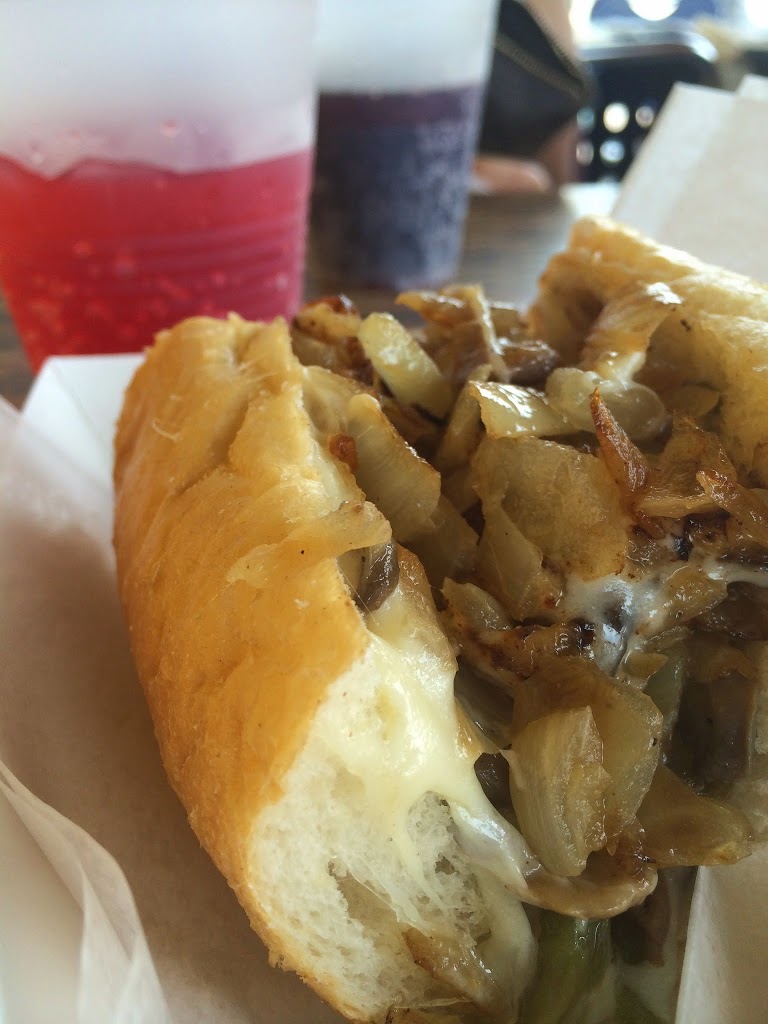 A long walk took us over to Tryst where they served us a beautiful salad of arugula, watermelon, Marcona almonds and grilled ricotta salata. It was a nice change-up from the other heavier dishes we'd been served. Stevie, Shana and I agreed that the salad needed more watermelon and little less cheese. The ricotta salata was very salty, and by this time in the tour we were really craving that sweet, refreshing flavor of the watermelon.
We finished off the tour with samplings of ice cream at Sloane's. The deal is that you can get two mini scoops of whatever flavors you want, but I opted out and instead just asked for a taste of a few different flavors: Mud Pie (coffee ice cream, fudge and graham cracker crumbles), Gingersnap, and Carrot Cake. I also sampled a tiny bite of Chocolate Coconut Delight fudge. Denise said she will always end the tour with something sweet, and Sloane's is the place to go for that!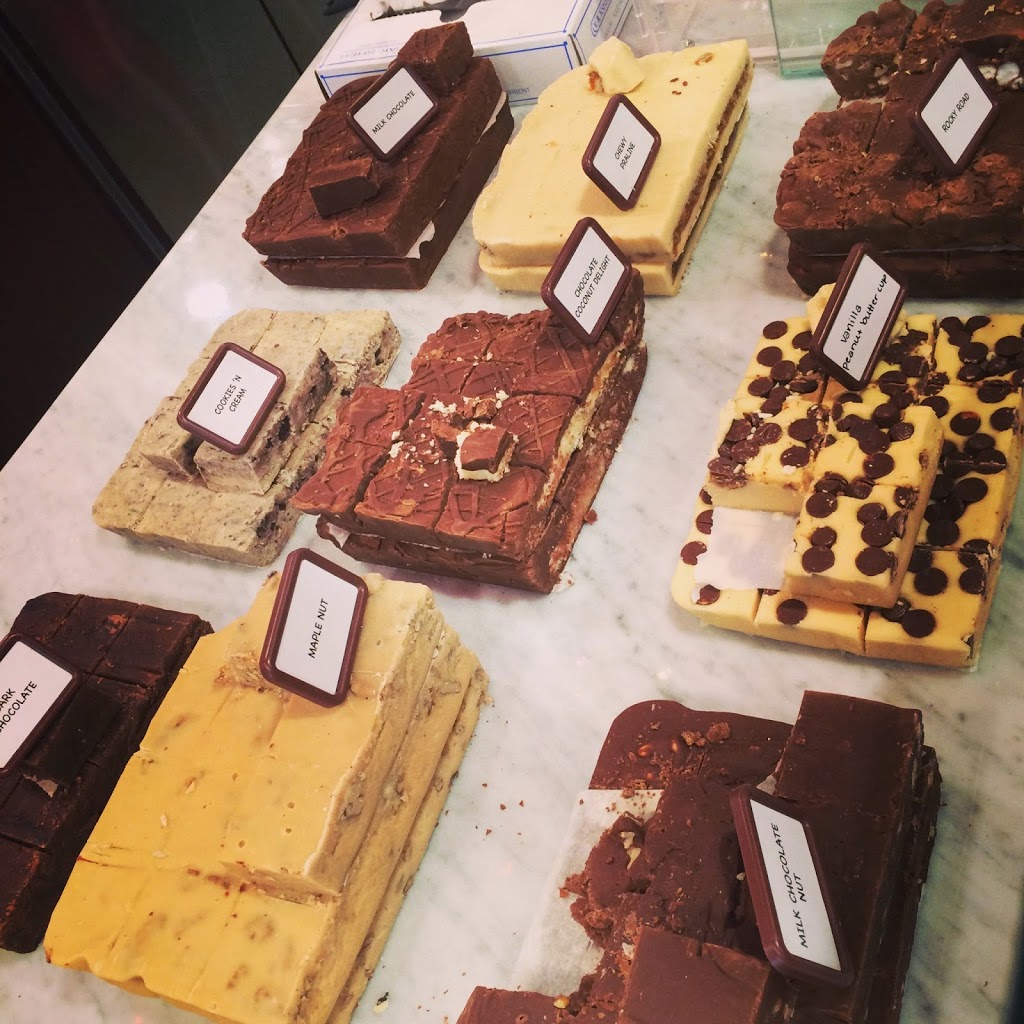 It was the perfect way to spend a Saturday afternoon, and I would highly recommend the tour to locals and visitors. As long as you enjoy food, meeting new people, and learning fun facts along the way, there's no way you wouldn't have a good time.