I just had one of the coolest dining experiences during my time as a blogger. My roommates and I had a night to remember at The Sundy House, Delray Beach's beautiful boutique hotel and restaurant popular for brunches, weddings and other affairs. The location is breathtaking. You don't even feel like you're in Delray. Instead, you're transported into an open area with gorgeous foliage, fresh water pools, and the chance to enjoy a meal you will not soon forget.
I had my champagne and wine picked and poured by one of South Florida's most well-known wine sommeliers, Stephanie Miskew, and my food prepared by Top Chef Texas finalist, Michelle Bernstein-trained and now executive chef of Sundy House, Lindsay Autry. These two womenpartnered for a dinner series called "Savor the Summer," with three separate-themed food and wine pairing dinners held at the Sundy House. The first was in June and focused on "The Fabulous Flavors of Summer." This month's was a "Taste of the South" and next month's will be "Top Chef & Top Wines." I met Stephanie earlier this year at Flavors of Boca where we were both chosen to be culinary judges for the event. We hit it off and had a great time hanging out that night, and have stayed in touch since then. Stephanie writes the blog, The Glamorous Gourmet. When I heard about this event, I knew I had to go and support her…and it was the perfect excuse to check out the Sundy House, a restaurant I have been dying to try. When I couldn't make it to the first dinner, I made sure to reserve my spot early for July's, and you can bet I will be there for the August dinner as well!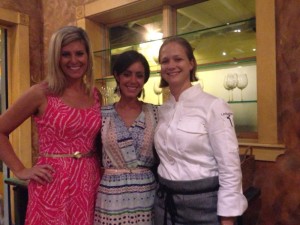 The evening started with a cocktail hour in one of the many private rooms Sundy House offers to itsguests. There were probably around 40 people there for the event. Champagne was served as three different appetizers were passed around, all reflecting the Southern theme. The first was a combination of two things I would never in a million years think to put together, but it was surprisingly very good – and so simple! Pickled watermelon topped with crushed peanuts. Who woulda thunk? Next we had crispy okra with pimento cheese, a true Southern staple. This one-bite appetizer was served on a small wooden spoon. I like that a lot too. I've never had okra before…I'm not sure if I really could detect the true okra taste because of the crispy breading, but whatever it was,it was delicious! Next up was a mini version of fried chicken and biscuits. It doesn't get moreSouthern than this. The pieces of chicken were bite-size, so I didn't let the fried part bother me too much. I let myself thoroughly enjoy everything.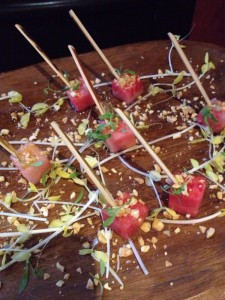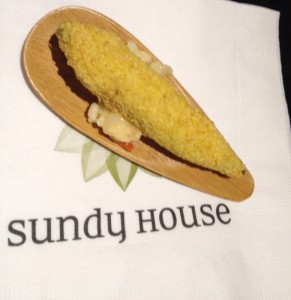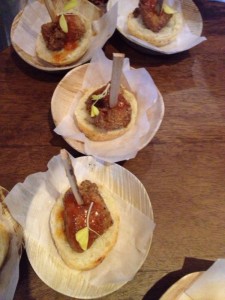 After about an hour or so, we were moved into another room for our sit down four-course dinner. Of course, first things first: biscuits and corn bread were put out on the table for us to munch on while Stephanie welcomed everyone and introduced Lindsay, who then told us a little bit more about the food we couldn't wait to stuff our faces with, uhh… I mean, eat very properly and enjoy. All of the wines were from the South of France, and Stephanie explained them all very descriptively before each pour.

First course was pickled shrimp with a green tomato slaw with avocado and pickled watermelon. More pickled things. I didn't think I liked anything pickled, but apparently that is totally not the case. Next up was my favorite of the night: grilled cobia with dirty rice, black eyed peas, and tomatoes. The original dish also had country sausage, but Lindsay knew about my no-beef/pork preference and made sure my dish was sans sausage. She also did me a solid and made me a special dish for the third course, which was originally country-fried steak and pork tenderloin. Instead she grilled me a beautiful piece of salmon. That was so awesome of her! This course also came with sautéed collard greens and the most delicious grits I've ever tasted. Dessert was presented by the Sundy House's pastry chef, Sarah Sipe. It was a peach crostada with corn meal crust, sweet tea and whipped crème fraiche. I loved it. Peaches are so juicy and ripe right now, so using them in desserts is the perfect idea.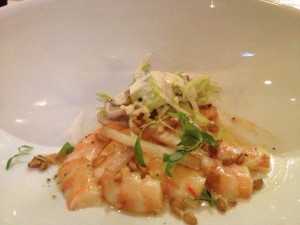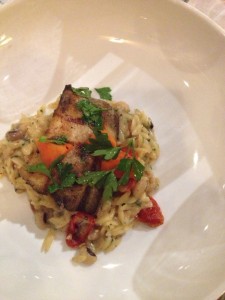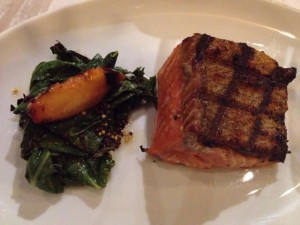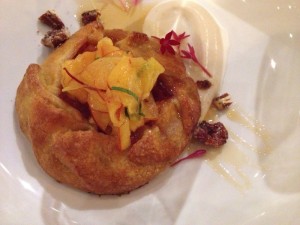 My roommates and I were seriously impressed. Having never been there before, I was over the moon that I could experience all of this during my first visit. Meeting and talking with the executive chef, having her personally prepare our meals, having wines specially paired with each course, enjoying one of the pastry chef's finest dessert creations, all while having a really fun night out with my friends.

Posted with Blogsy