Never miss a bite! Sign up here to receive new recipes and reviews straight to your inbox.
Disclosure: This is a sponsored post by Rapoport's Restaurant Group. As always, all opinions are 100% my own. 
Seasonal Menu Changes at Burt & Max's and Max's Grille
Each season, the Executive Chefs of Rapoport's Restaurant Group's establishments make a few changes to the menus, keeping the most popular staple items, but switching up other dishes so there is always something new and exciting to offer guests.
Burt & Max's and Max's Grille have launched their new brunch, lunch and dinner menus, with Deck 84 following suit within the next couple of weeks. Oh, and don't forget the newest menu of all, Pagoda Kitchen opening in West Delray in November!
Burt & Max's New Menu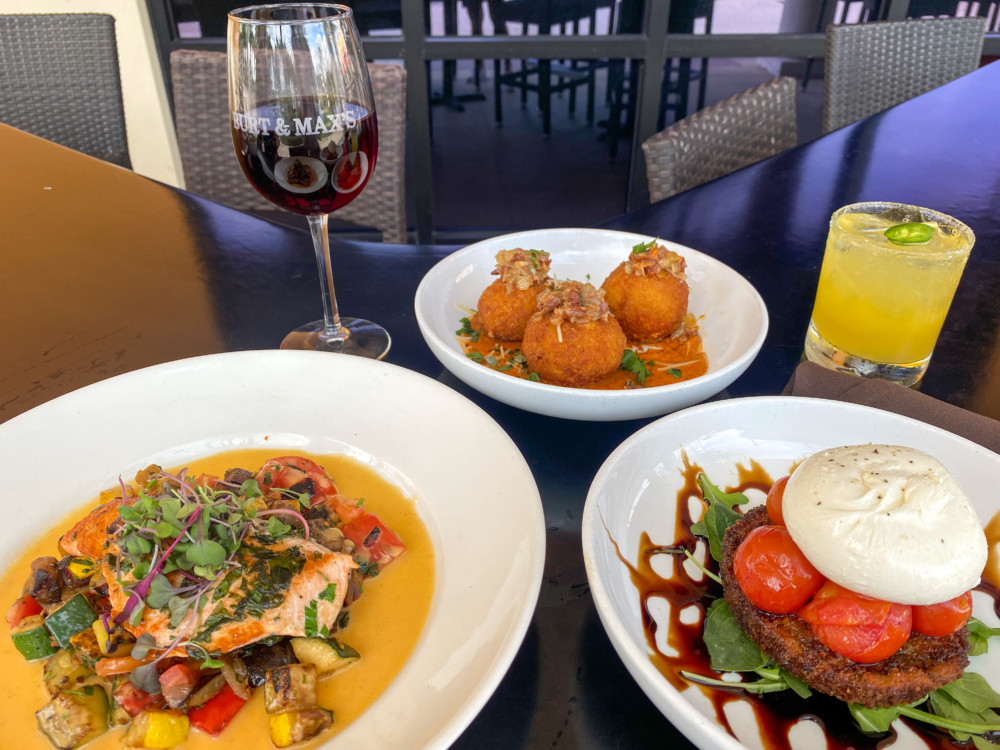 Burt & Max's, located in the Delray Marketplace, is West Delray's go-to spot for contemporary American fare. The restaurant is well known for its brick oven, churning out delicious wood-fired pizzas, and its most popular appetizer — the French onion soup dumplings, a staple menu item since the opening! While those dumplings and the pizzas will never leave the menu, a few other dishes have been replaced with new items that are sure to whet your appetite!
New appetizers include a crispy eggplant and burrata dish with cherry tomatoes and a balsamic glaze, and crispy mac and cheese bites. There are three to an order, so it's great for sharing — but I'm also all for you keeping all of them for yourself. Although I wasn't able to try them, they smelled absolutely incredible and looked just as good. The mac and cheese balls are made with asiago cheese, in a parma rosa sauce and topped with bacon jam. Check out this video on Instagram to see them in action!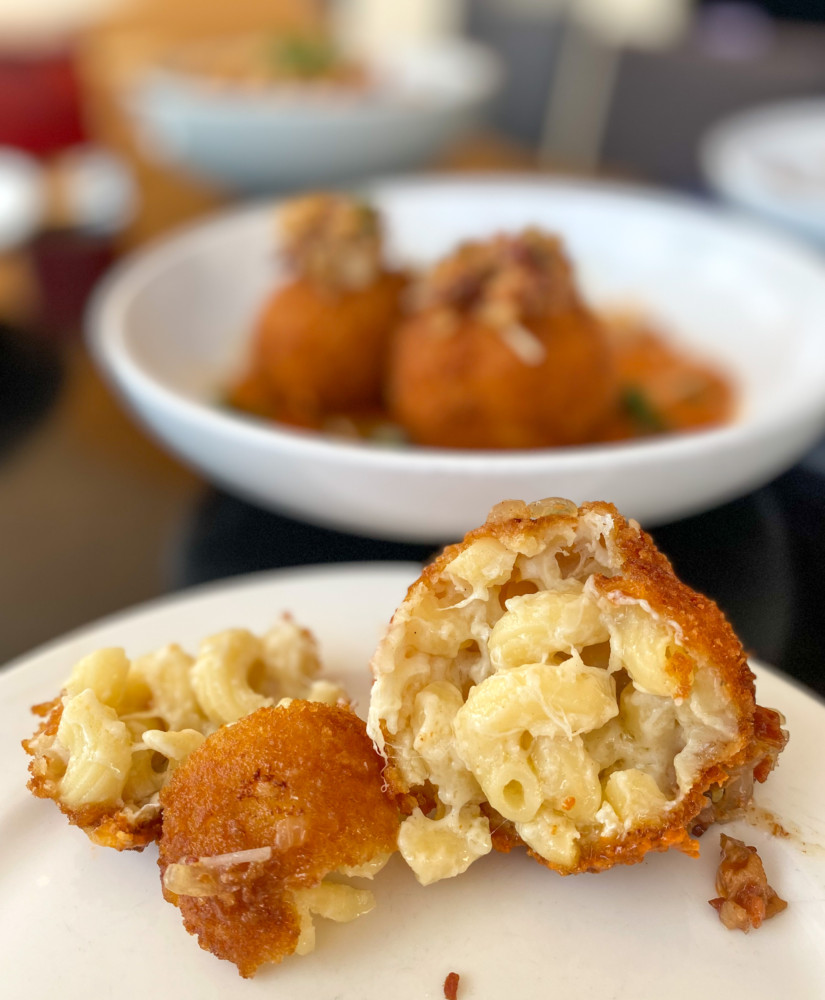 There is a new preparation for the roasted salmon entrée, now sitting atop a pile of roasted vegetable ratatouille and swimming in a smooth charred tomato beurre blanc sauce. Additional main plates include a chicken cacciatore with braised chicken thighs, bell peppers and cheese polenta, stuffed chicken breast with aged gruyere cheese and sage, and served with roasted sweet potatoes and mushrooms in a dijon cream sauce with fresh chives, seared diver scallops over butternut squash risotto with crispy leeks, pot roasted with yukon gold potatoes, carrots, bell peppers and oregano, and shrimp fra diavolo with cavatappi pasta, parma rosa, asiago and fresh scallion.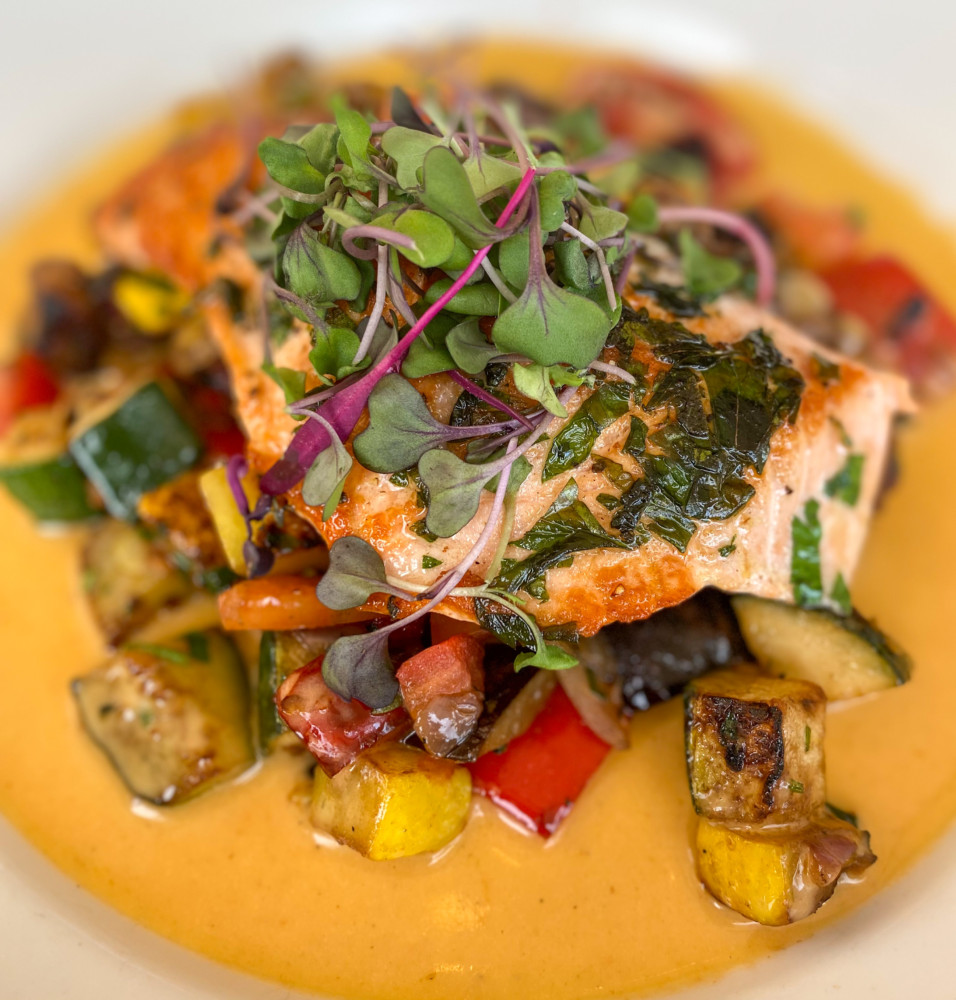 The cocktail menu has seen some changes as well, now offering a variety of skinny margaritas, a blackberry lemonade made with Bulleit bourbon, and a sweet and spicy creation called the 'Sweet Heat' made with Don Julio Reposado tequila, Grand Marnier, pineapple, mango, lime and jalapeño.
Max's Grille New Menu
Max's Grille has been a staple in Downtown Boca Raton for over 30 years. I find it to be one of the most consistent restaurants in the area, for both food and service. There's tons of outdoor seating and a private room inside available for small parties. It's definitely one of my top favorite spots in Boca!
New appetizers include the Margherita pizzette, a crispy house-made crust topped with san marzano tomato sauce, house-made mozzarella and fresh torn basil, and the crispy chicken bites, which consists of chicken thighs that have been marinated in coconut milk and twice-fried, tossed in a peanut glaze and topped with chopped peanuts and scallions. This is a dish I wish I could try because it smelled SO good. I brought it home for Roger, and he gave it a solid two thumbs up.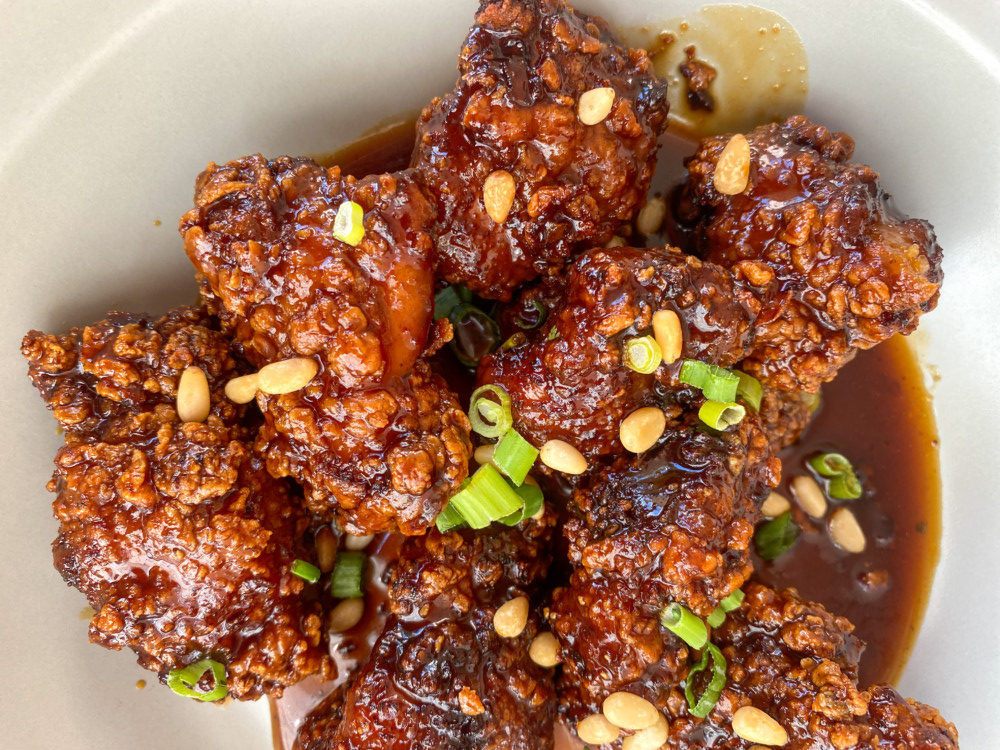 There is a new shrimp salad with harissa-marinated shrimp, chopped cucumber and tomato, red onion, torn mint and basil and puffed quinoa, tossed in a lemon-oregano vinaigrette, and a new vegetarian handheld option, a quinoa and eggplant burger topped with shiitake "bacon," arugula, beefsteak tomato and voodoo sauce, served on a seeded oat kaiser roll.
New entrées include shrimp-crusted mahi mahi with baby broccolini, jasmine rice, pickled pepper beurre blanc and pineapple salsa; grilled Duroc pork chop with bourbon apple butter, roasted potatoes, garlicky broccolini and a mustard jus, roasted half chicken with a root vegetable hash, celery root puree and bordelaise jus; herb-marinated and grilled bronzino with crispy yukon golden potatoes, braised greens, calabrian chili and a pesto vinaigrette; soy-braised and glazed short rib with celery root puree, sesame crusted squash, shiitake mushrooms and green onion; and roasted wild mushroom-braised chicken with spinach and asparagus barley risotto.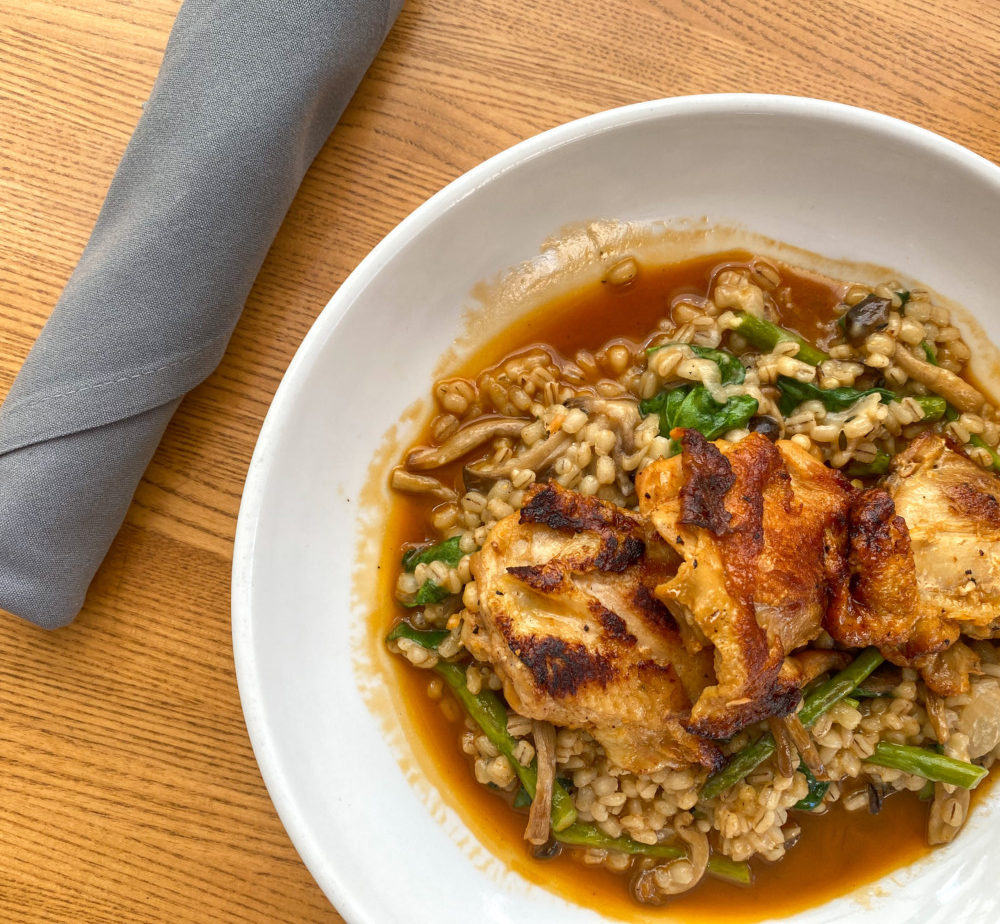 Shrimp and grits and a pork belly hash have been added to the brunch menu, along with a new breakfast burger and chicken gyro.
A few new cocktails have also been added, most notably the Pisco Sour, which pays homage to the Boca Raton Museum of Art's current exhibition, Machu Picchu & The Golden Ages of Peru, open now through March 6th. (Side note: Max's Grille guests can get $3 off their museum ticket price when they use the code MAXSVIP.) This traditional Peruvian cocktail is made with Alto de Carmen pisco, lime, simple syrup and bitters.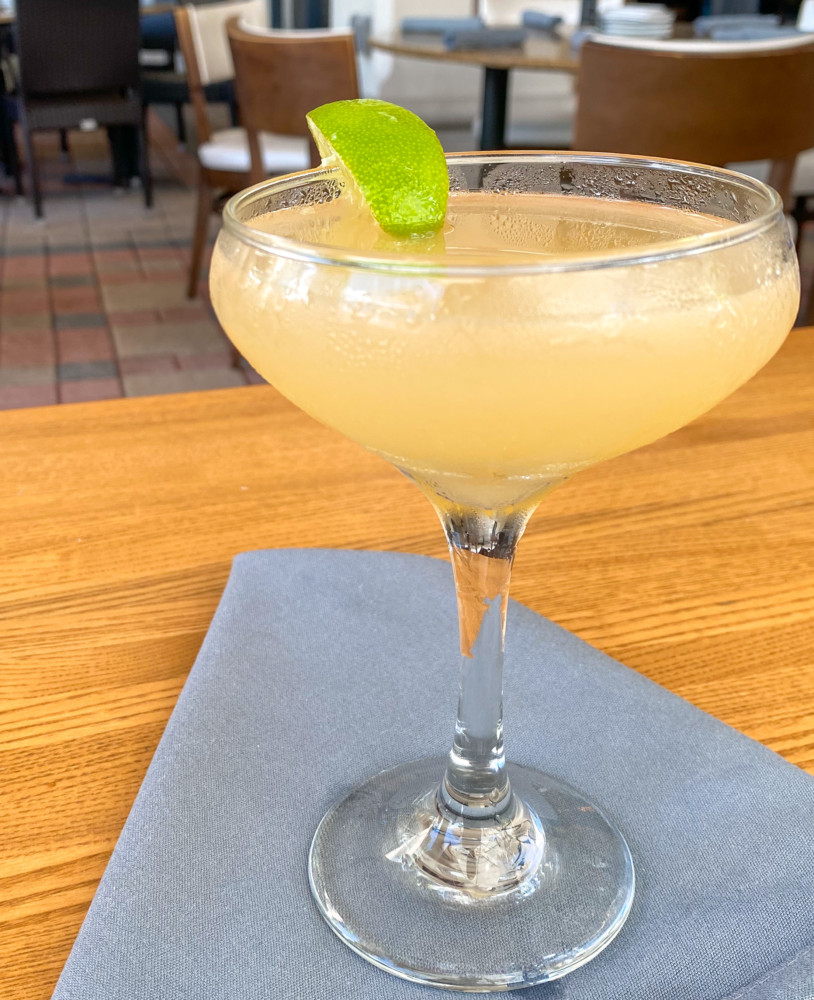 Make Your Reservations Now at Burt & Max's and Max's Grille
Burt & Max's is located at 9089 West Atlantic Avenue in Delray Beach.  Online ordering is available and reservations can be made on Open Table or by calling 561-638-6380. The restaurant is open for lunch Monday through Friday from 11:30am-3pm and dinner Monday through Thursday from 4:30-9pm, Friday and Saturday from 4:30-10pm, and Sunday from 4:30-8pm. Brunch is served Saturday from 11:30am-3pm and Sunday from 11am-3pm.
Max's Grille is located at 404 Plaza Real Mizner Park in Boca Raton. Online ordering is available and reservations can be made on Open Table or by calling 561-368-0080. The restaurant is open for lunch Monday through Friday from 11:30am-3pm, and dinner Sunday through Thursday from 5-9pm and Friday and Saturday from 5-10pm. Brunch is served Saturday from 11:30am-3pm and Sunday from 11am-3pm.