Sometimes I wonder what life would be like if I didn't have a day job, and could literally spend every moment in my kitchen cooking and coming up with menu ideas and putting together dinners and get-togethers. Then I remember that my day job actually does include those things. I've always found myself to be really good at planning. I like the organization of it all, the structure and control I have over how things happen and the feeling of satisfaction wheneverything works out favorably. Of course there are always times whenthings fall through, and I feel defeated and annoyed and irritable and want to give up. But the positive results totally outweigh the negative, so it's aaaallllll good.
When it comes time for me to cook dinner for others, it's never just a quick "oh I'll whip up something easy" and then be done with it. That is only acceptable if I'm making dinner for myself. For others, it requires a meal — a main dish with an appetizer or a couple of side dishes. It takes careful, thoughtful planning, and consideration of the palates of those I'm cooking for. I love when people are open to anything; it makes things so much easier when I don't have to worry about who likes what. Anyway, I sound crazy right now, don't I? Like, heelloooo…it's just dinner. But no, it's never just dinner when you're dining with a food blogger.
And so that's where this Sesame Ginger Mahi-Mahi dish comes in. Gingery, garlicky, full of sweet and salty flavor from soy sauce and sesame oil and a bit of spicy heat from a Thai Chili sauce. It'd be great on any variety of fish. I love pairing fish with Asian flavors and think it is one of the best combinations ever. I served it with roasted garlic & balsamic Brussels sprouts and wild rice with quinoa and sautéed mushrooms.
4 mahi-mahi filets
2 tbsp canola oil
5-6 garlic cloves, minced
1/2 cup soy sauce
1 bottle Thai Kitchen Thai Chili and Ginger Sauce
1/4 cup sesame oil
3 tbsp Gourmet Garden ginger
garlic powder
salt
pepper
sesame seeds
Preheat the oven to 375 degrees. Heat oil in a small sauce pan on medium and add garlic. Cook until fragrant. Pour in the soy sauce and stir for about a minute. Add the chili and ginger sauce, sesame oil and garlic and stir for another 30 seconds. Reduce heat to a simmer and let sit for about 20 minutes or until the sauce starts to thicken.
Meanwhile, season your mahi-mahi with the garlic powder, salt and pepper and bake in the oven for 10 minutes. Take the fish out of the oven and pour the sauce over top. Sprinkle on the sesame seeds. Bake for another 5-10 minutes depending on how thick your fish is.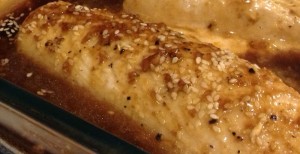 Posted with Blogsy