Yesterday's Quinoa Salad with Butternut Squash, Dried Cherries, Pomegranate and Pepitas was not all Mom and I made for our night of watching Olympics Opening Ceremony, which, as I said, was utterly fantastic. The Russians really know how to put on a beautiful show. I thought it was so cool how they told the history of the country in a very exciting and glamorous way. Something like that could easily take boring route, but nope. I'm not even watching the Olympic games (I'm much more interested in the summer games) but I always make sure to see the opening ceremony.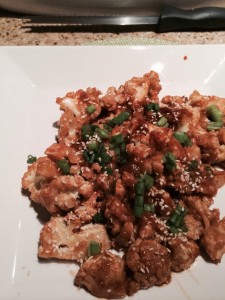 Anyway, back to the food. During our Pinterest perusing, we also came across these Sesame Glazed Cauliflower "Wings" from Cupcakes and Kale Chips. Brianne is another Jersey Girl whom I always look to for good recipes. She was totally responsible for my Thanksgiving contribution this year (Butternut Squash Gratin with Sage Pesto) and now she's once again responsible for a dish that I promise will get made by myself and my mother a zillion more times. The sauce alone was sooooo freaking delicious. It'd be amazing as a marinade for fish or chicken, and definitely would be an awesome sauce for, well, anything that you would want to slather in something slammed with tons of Asian-inspired flavor. Again, thanks to another blogger for the great inspiration. I did not change one thing about Brianne's recipe, however, I found my cauliflower to be a little on the soft side. I wish they had been a little more crispy. But it doesn't matter because they were still amazing. My mom, sister and I devoured the entire plate and probably could have eaten more. So since mine weren't too crispy, I'm not calling them wings… Just simply "Sesame Glazed Cauliflower."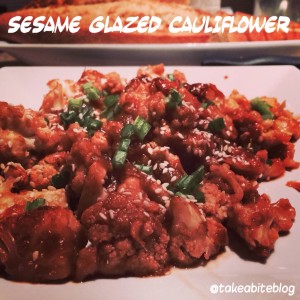 Sesame Glazed Cauliflower
from Cupcakes and Kale Chips
1 large cauliflower head, chopped into florets
1/2 cup all-purpose flour
1/2 cup skim milk
1 tsp garlic powder
For the sauce:
1/2 cup soy sauce
1/2 cup honey
1/2 tsp grated fresh ginger
1 tbsp sesame oil
1/4 cup rice vinegar
1 scallion, sliced
Sesame seeds
Preheat the oven to 450 degrees. Spray a baking sheet with cooking spray and set aside.
In a bowl, whisk together the flour, milk and garlic powder. Add the cauliflower florets and toss until well combined. Arrange in a baking dish in a single layer. Bake for 25 minutes.
While the cauliflower florets are baking, whisk together all of the ingredients for the sauce in a bowl. Remove the cauliflower from the oven and pour the sauce over top. Toss until the cauliflower is covered in sauce. Place back into the oven and bake for another 10 minutes.

Posted with Blogsy