Never miss a bite! Sign up here to receive new recipes and reviews straight to your inbox.
Disclosure: This post has been sponsored and compensated for by Cavit Wines. As always, all opinions are 100% my own.
Celebrate National Pinot Grigio Day this Friday, May 26th, with your favorite piece of flakey white fish, seasoned with lemon and Old Bay. It's a simple preparation bursting with citrus flavor that pairs perfectly with the crisp and refreshing Cavit Pinot Grigio.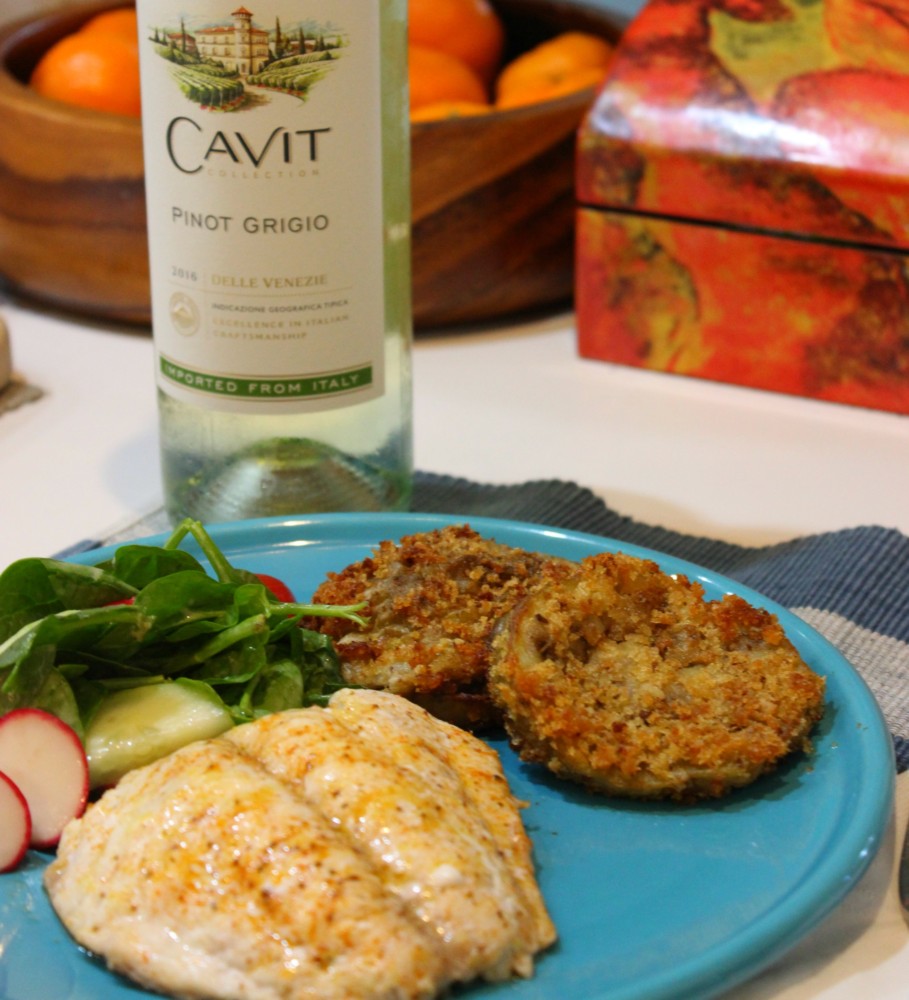 Who's as excited as I am for tomorrow's holiday?! Cavit Collection, hailing from Northern Italy, first introduced its Pinot Grigio to the United States in 1977, and as a national push to increase awareness of the variety, decided to introduce National Pinot Grigio Day on the Friday before Memorial Day. Pinot Grigio is ideal for the warm summer months, which makes this particular weekend the perfect time to sit back, relax, and enjoy a glass — especially if it's paired with Simple Lemon Old Bay Baked Fish. I used Yellowtail Snapper, but feel free to use your preferred flakey, white fish for the recipe. According to Cavit's website, Pinot Grigio also pairs nicely with sole. It has heavy notes of citrus and green apple, so keep this in mind when choosing your flavor profile.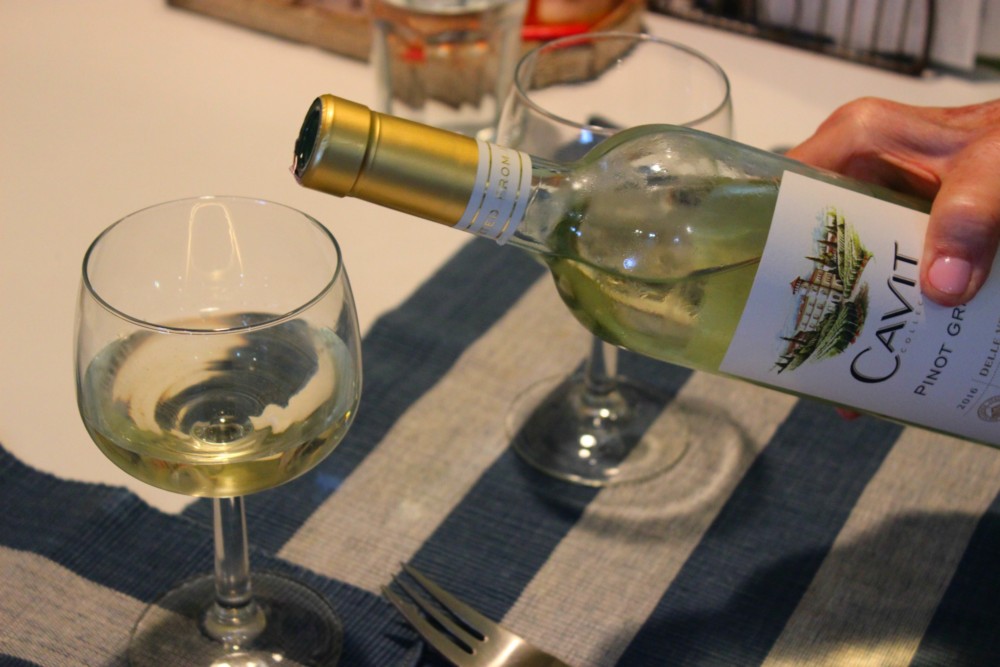 Who are you going to celebrate National Pinot Grigio Day with? I obviously had to do a little pre-holiday celebrating in order to get this recipe up and running for you in time, so I invited my Bubby along for the ride. When Bub and I cook dinner together, we like to keep things simple. Fish and veggies are always on the menu, and a good bottle of white wine is a must.
There's really nothing better than preparing and enjoying a nice meal with your loved ones. Bubby and I paired our yellowtail with a simple spinach salad and her famous baked eggplant. I'd love to hear what you'll pair yours with! The Pinot Grigio complemented our dinner so well. My favorite part was the Old Bay seasoning because it reminded me of one of my favorite spots in Atlantic City — Back Bay Ale House. Their Old Bay shrimp and Old Bay french fries are insanely delicious and literally make my mouth water whenever I think about them. Combining the Old Bay with fresh lemon juice and zest gave the fish a beautiful depth of flavor that brought me back to those summer nights spent on the bay.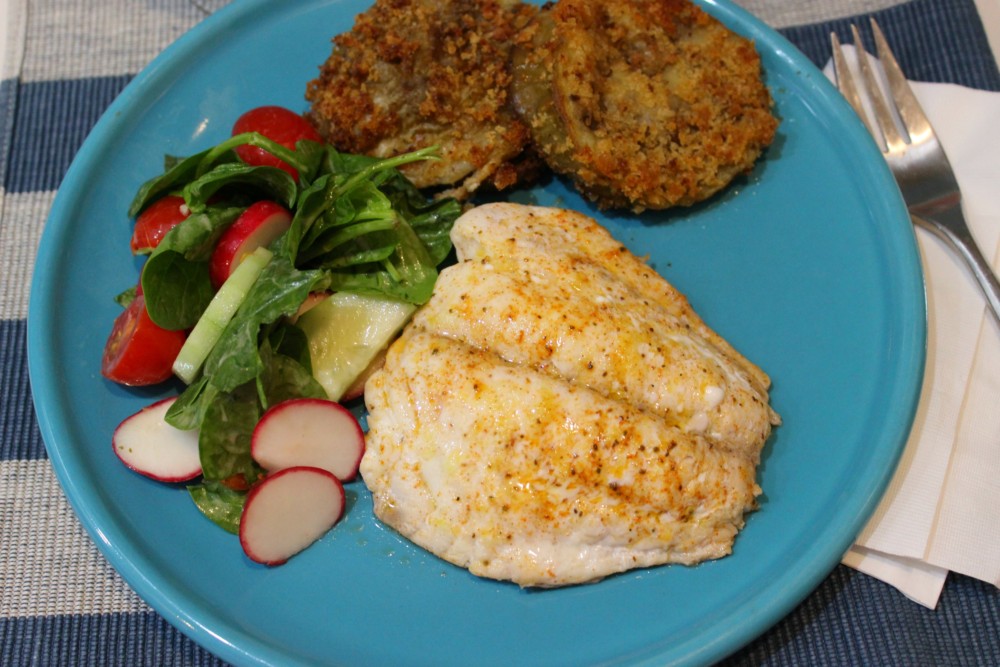 With summer on our heels, this Simple Lemon Old Bay Baked Fish is bound to make its way onto your weeknight meal rotation — and don't forget the bottle of Cavit Pinot Grigio!
For more recipe inspiration and information on all of Cavit wines, follow them Facebook, Instagram, and Pinterest.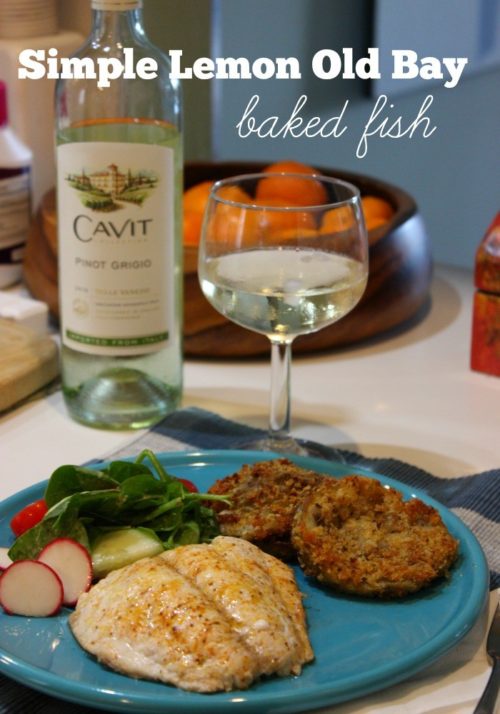 Simple Lemon Old Bay Baked Fish
Author:
A simple preparation of baked fish bursting with flavors of lemon and Old Bay that pairs perfectly with a glass of crisp and refreshing Cavit Pinot Grigio.
Ingredients
2 filets of your preferred flakey, white fish (I used yellowtail snapper)
1 fresh lemon (you will use both its juice and zest)
Old Bay seasoning
Olive oil
Instructions
Combine the lemon juice and zest in a large zip-lock bag and insert the 2 pieces of fish.
Marinate for one hour.
Preheat the oven to 400 degrees. Line a baking sheet with tin foil and set aside.
Season the top of fish with desired amount of Old Bay.
Brush the top with a thin layer olive oil.
Bake for approximately 12 minutes, or until the fish flakes apart with a fork.