Never miss a bite! Sign up here to receive new recipes and reviews straight to your inbox.
Disclosure: This is a sponsored post, and contains affiliate links. Shopping through these links helps support my small business. All product information has been supplied by the manufacturers. As always, all opinions are 100% my own.
What I'm Loving Right Now: Skincare and Beauty Products
One of the influencer perks I get the most excited about is when the opportunity arises to test out products, especially in the skincare and beauty category. Want to know more about the skincare and beauty products I've been using lately? Check out my top picks for everything from creams and face masks to makeup and perfumes.
My Skin History
After fighting an intense battle with eczema and contact dermatitis a couple years ago — and winning said battle, might I add — I have been extremely diligent about the products I use and the ingredients in them.
Long story short, I figured out that the main cause of my skin condition stemmed from an allergic reaction to a specific chemical. I'm still not exactly sure what chemical it is, but it's something that is present in both gel and powder nail polish. I came to this conclusion after experiencing a horrible breakout on my fingers, neck, and face three times in a row, where the only connecting dot was getting my nails done. It's been over a year since I've had my nails done, and I haven't had a breakout since. HALLELUJAH! I strictly use Colorstreet now on my fingers, and it's been a total game changer! (PS: Click that link and use SLAYLIKESHAINA for $5 off your first purchase!)
Anyway — it was at this point that I realized that what goes on your body is just as important as what goes in your body, and my obsession with skincare products began. If you could see my bathroom cabinet and drawers, you'd understand what I mean. I have a million different things and tons of sample sizes that I like to use when traveling.
As I try each and every one, I definitely come to find my favorites. Here are the skincare and beauty products I'm currently obsessing over:
Skincare: Body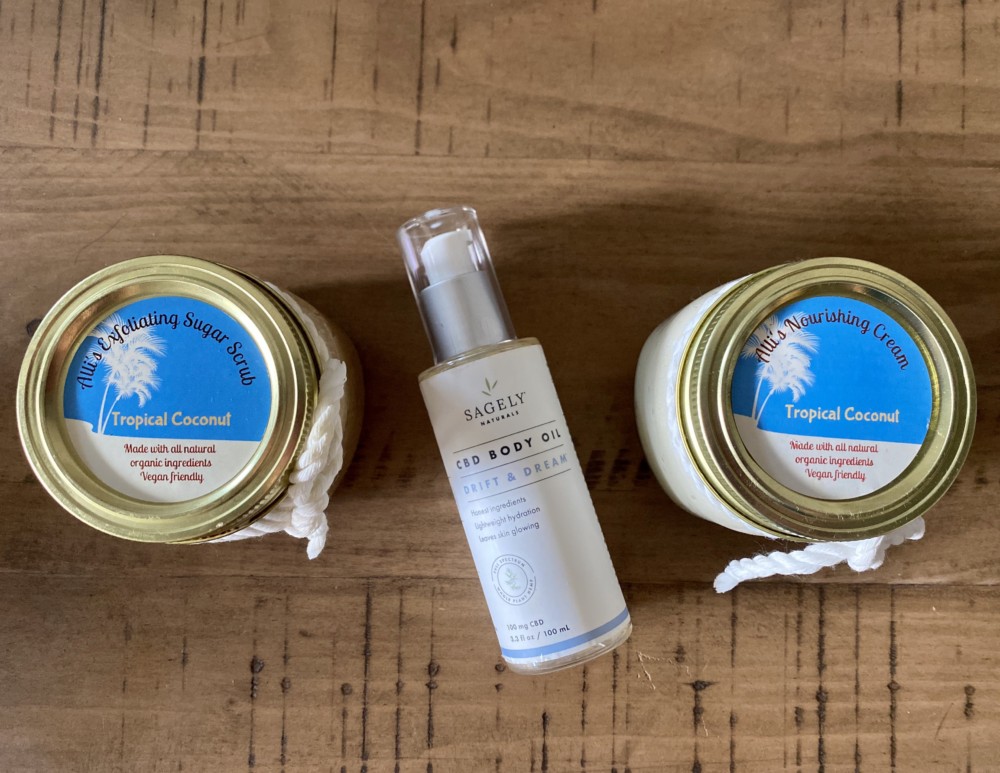 Alli's Rejuvenating Skin Tropical Coconut Nourishing Cream and Tropical Coconut Exfoliating Sugar Scrub: This is a local Palm Beach County business —  I love to support local whenever I can! The cream is so rich and luscious, and the scrub helps to tone down areas that are red, blotchy and prone to breakouts. Both products smell deliciously tropical and I love how my skin feels after I use them post-shower. All of Alli's products are 100% natural, organic, and vegan. Support this local, women-owned business and use the code TAKEABITE to save 15% and get free shipping on all orders over $35.
Sagely Naturals Drift & Dream Body Oil: This CBD oil is really lightweight. It doesn't leave my skin feeling greasy or oily at all — and it dries very quickly. It's made with lavender and geranium to help promote calmness and relaxation. It's free of all artificial colors and dyes, parabens, synthetic fragrances, and sulfates.
Skincare: Face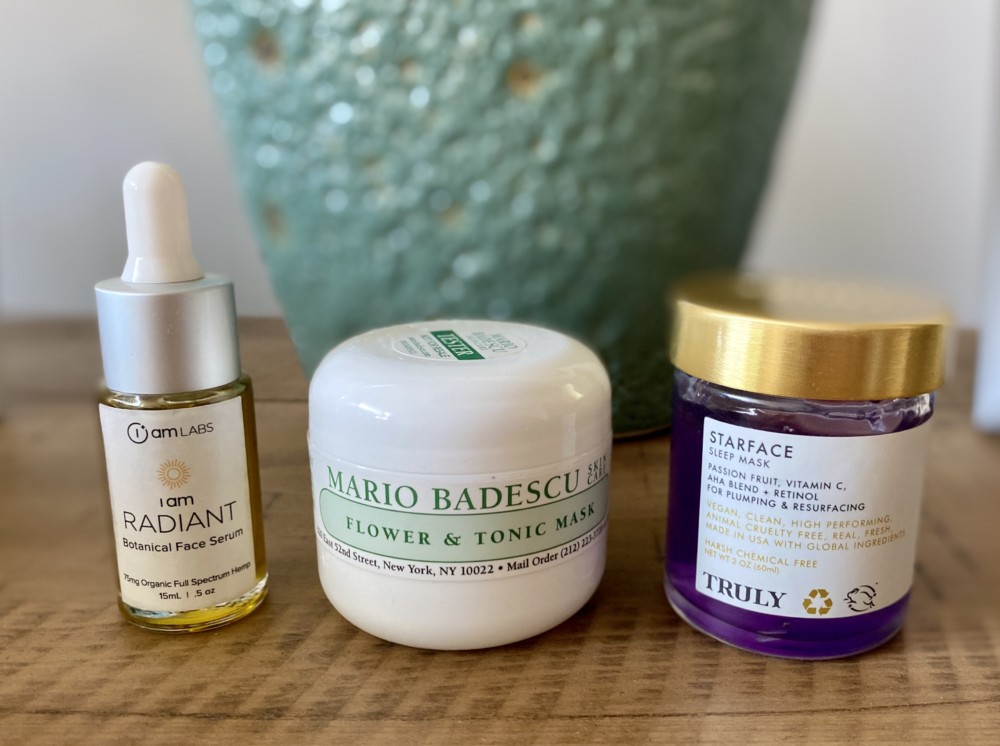 Mario Badescu Flower & Tonic Mask: I was recently introduced to Mario Badescu products and I really like them! This mask feels so refreshing, and it doesn't dry too tight the way some face masks do. Its ingredients are meant to draw out impurities and absorb excess oil, balance the complexion, improve moisture retention, and promote smooth, firm skin.
Truly Starface Jelly Sleep Mask: One thing I absolutely love about this sleep mask is that you can leave it on overnight and don't have to worry about washing it off. The jelly-like texture feels really cool and refreshing on your skin. The ingredients are passionfruit, vitamin C, an AHA-blend and retinol to help plump and renew the skin, exfoliate dead skin cells, reduce the appearance of fine lines and wrinkles, and nourish the skin. The product is vegan and cruelty-free, and free of all harsh chemicals.
I Am Labs I Am Radiant Botanical Face Serum: This serum is 100% plant-based, made with all natural, organic ingredients including whole plant hemp-extract and antioxidant-rich botanicals. It's vegan, cruelty-free, gluten-free, paraben-free, and propylene-free, with no harmful chemicals. It's made to help with balancing and toning the complexion, strengthening elasticity, and reducing fine lines. It glides on super smooth, and makes my skin feel so good. Try it yourself! Use code Grateful15 for 15% off.
Shower Essentials

Advanced Bioderma Hair Vitality Shampoo and Conditioner: Formulated for both men and women of all hair types and colors, these products promote anti-aging for the scalp, root and hair, and are free of sulfates, parabens, and phthalates, color-safe, and have a minimum amount of fragrance. I love how soft and shiny these products make my hair look and feel after using them. Bonus points that it's a local Boca Raton-owned company! Advanced Bioderma also has a skincare line with four different kinds of serums: blemish control, brightening, anti-aging and renewal. Use code BITE20 for 20% off!

Truly Moon Shower Adaptogenic Shower Mist: I spritz this every single time I take a shower and it instantly makes me feel like I'm showering in a spa. It smells good, and is made with adaptogenic herbs like ashwagandha and natural ingredients like eucalyptus and lavender that help to relieve stress and calm the mind and body. The product is vegan and cruelty-free, and free of all harsh chemicals.
Skin & Co. Truffle Therapy Gommage: Exfoliating my face in the shower is my secret to bright, dewey, soft skin. I got a facial once and the aesthetician explained the importance of doing this — I took her advice and have never looked back! I keep this product in the shower so I don't forget to do at least 3 times per week. I like this exfoliator in particular because it smells good, and feels ultra rich and luscious on my skin.
Makeup: Brows/Eyes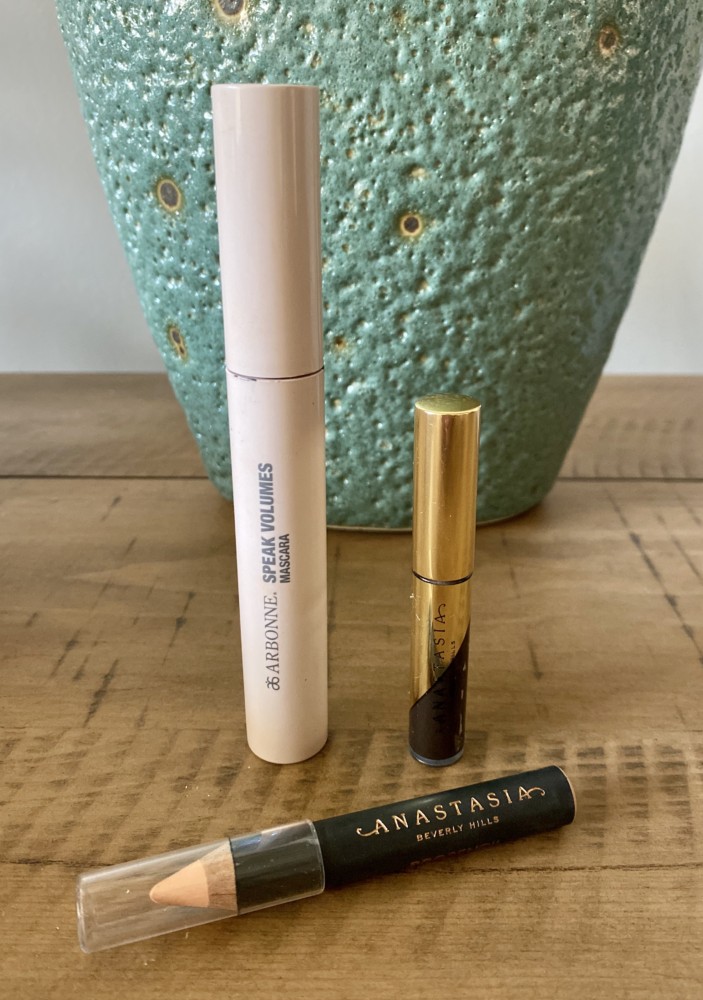 Anastasia Beverly Hills Dipbrow Gel: This is what I've been using to fill in my brows, while also using another product that is helping them grow and balance out. It's pretty easy to apply using the right brow brush. It's waterproof and lasts all day. It's also cruelty-free, paraben-free, noncomedogenic, and dermatologist tested.
Anastasia Beverly Hills Pro Pencil: This stuff is amazing — it's like a makeup eraser! It adds clean definition to the brow, highlights the brow bone, and even covers up stray hairs. It can be used as a concealer to hide blemishes and other flaws, and can be used as an eyeshadow primer or lip liner too!
Arbonne Speaks Volumes Mascara: One of my good friends started selling Arbonne, and after hearing how much she loved the mascara, I had to get it. It's infused with green tea and larch extract which help create the appearance of fuller, longer lashes. It's smudge-resistant, super lightweight, and very long-lasting. It's also vegan and cruelty-free, gluten-free, and ophthalmologist-tested.
Makeup: Face/Lips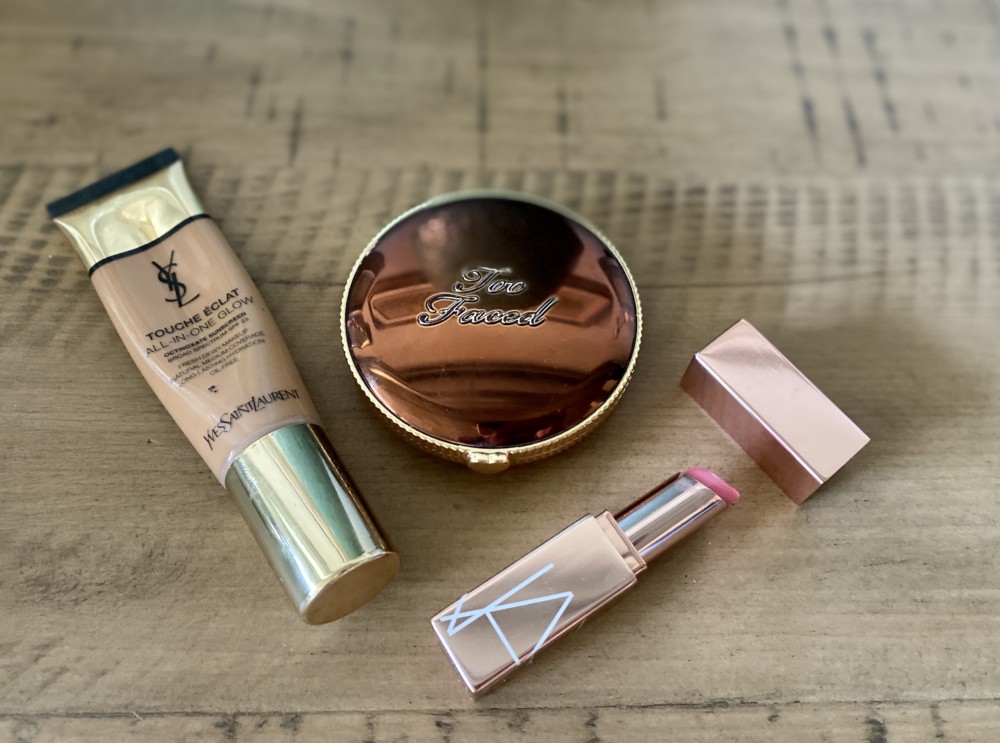 Yves Saint Laurent Touche Eclat All-In-One Glow Tinted Moisturizer: I am absolutely obsessed with this tinted moisturizer. It matches my complexion perfectly and is so lightweight, I don't even feel like I have anything on my face. It's oil-free, non-comedogenic, talc-free and dermatologist tested.
Too Faced Chocolate Soleil Matte Bronzer: This bronzer is made with 100% real cocoa powder and actually does smell like chocolate! It's long-lasting and gives my face a really beautiful glow.
NARS Afterglow Lip Balm: It might seem silly to worry about lip products now while we're wearing masks so often… But if there is one thing to buy for your lips, this is it. It's sheer with just a hint of color, infused with antioxidants, and incredibly moisturizing.
Fragrance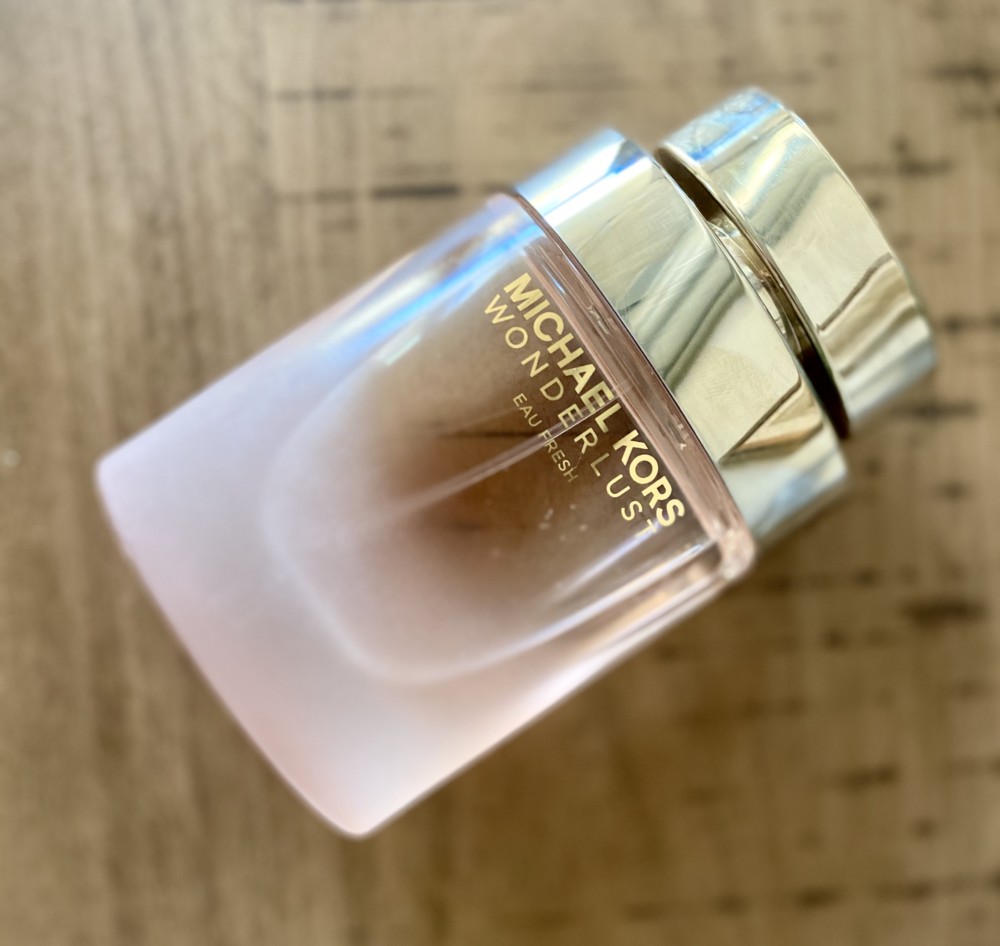 Michael Kors Wonderlust: I received a sample of this perfume when I purchased this Michael Kors belt bag and was instantly hooked. It's bright with citrus and floral notes, and perfect for either day or night.
Gucci Bamboo: This was what I was wearing before I came across MK Wonderlust. Still love it!
Tools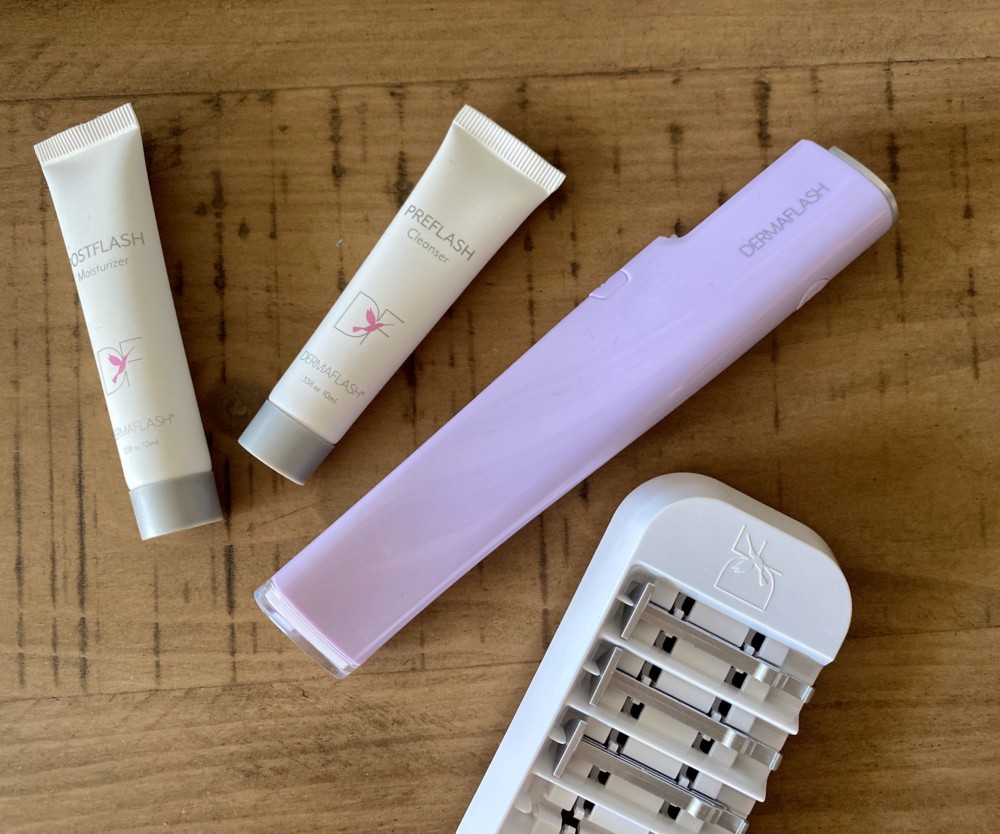 DERMAFLASH One Exfoliation & Peach Fuzz Removal Device: I've been a huge fan of dermaplaning since the first time I tried it a couple years back. I've had it professionally done, and while nothing beats that — having this at-home device is great to have on hand for quick fixes — and it ends up being way less expensive than having it done at a medspa every month. Just a heads up, the blades are one-time use. It comes with four of them, along with a small cleanser and moisturizer, and there are refill packs you can buy.
If you purchase any of these products and end up loving them as much as I do, share them on your social media and make sure to tag @takeabiteoutofboca in your posts!