Never miss a bite! Sign up here to receive new recipes and reviews straight to your inbox.
Skinny Strawberry Margarita is a little taste of summer in a glass. No sugary drink mixers needed — only fresh, simple ingredients and a nod to National Margarita Day!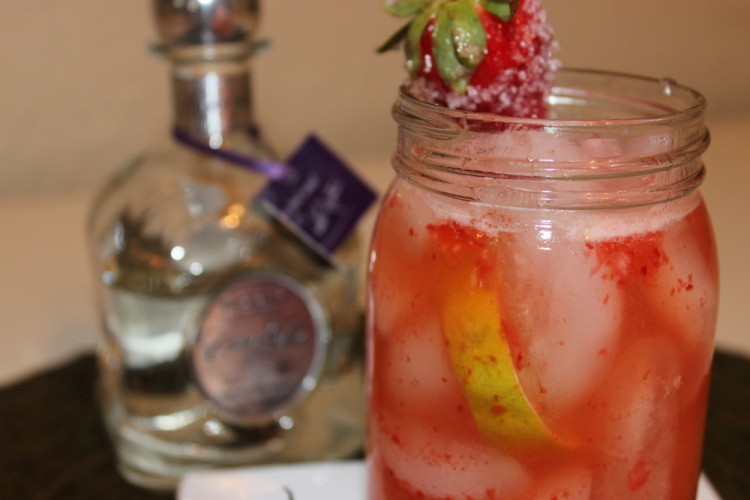 There really is a food holiday for just about everything. Whoever came up with National Margarita Day was totally speaking my kind of language. Gimme a good margarita and I'm your girl! Throw in some chips and guacamole and we're BFFs.
In celebration of this Sunday being National Margarita Day, Casa Noble Tequila invited me to create a margarita using their Crystal — a smooth blanco tequila with aromas and flavors of raw and buttery sweet cooked agave, mango, and a hint of citrus for a long finish. It's buttery, with sweet agave and spices that are soft and elegant on the palate as they are complemented by a hint of citrus. The well-balanced finish is clean, smooth and silky. The sweet, citrusy notes made me want to lean toward something refreshing and even…summery. We're having a little bit of a cold front here in Florida — down to the 40's — and we're all in need of a cocktail that takes us back to those warm Florida temperatures that we know and love.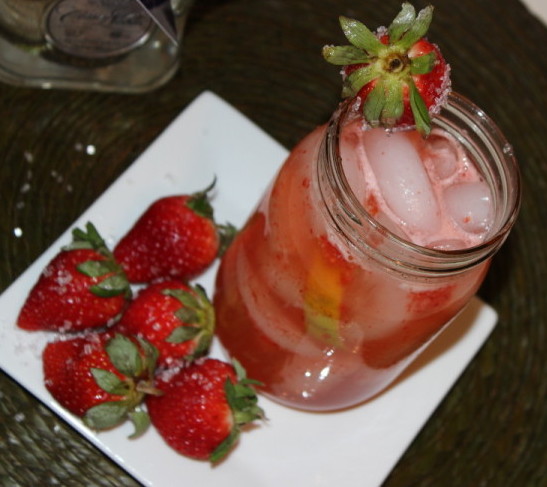 The idea for this Skinny Strawberry Margarita came from my roommate, who is a bartender. She loves helping me come up with cocktail ideas — and she always helps me make 'em too. I can drink a cocktail, but I'm not the best at actually mixing them — ha! Instead of making a frozen drink by blending the margarita with strawberries and ice, we kept it on the rocks. This Skinny Strawberry Margarita isn't overpowered by super sugary and caloric mixers. It's made with simple ingredients and tastes delicious. Fresh strawberries were pureed separate from the drink and poured over top, allowing for a beautiful sight to be seen as the bright pink strawberry puree slowly cascaded down the sides of the glass, swirling among the Casa Noble Crystal Tequila, the lime, the agave… I was having so much fun watching the drink that I almost forgot to drink it.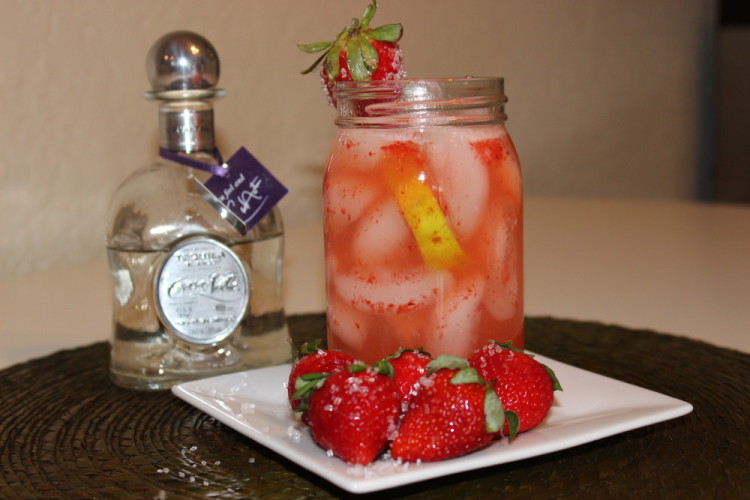 But then I remembered that Sunday is National Margarita Day so I saluted the food-holiday-making-gods and took a sip. Ahhh…refreshing.
Celebrate National Margarita Day with me in mind — grab your Casa Noble Crystal Tequila and make a Skinny Strawberry Margarita. Cheers!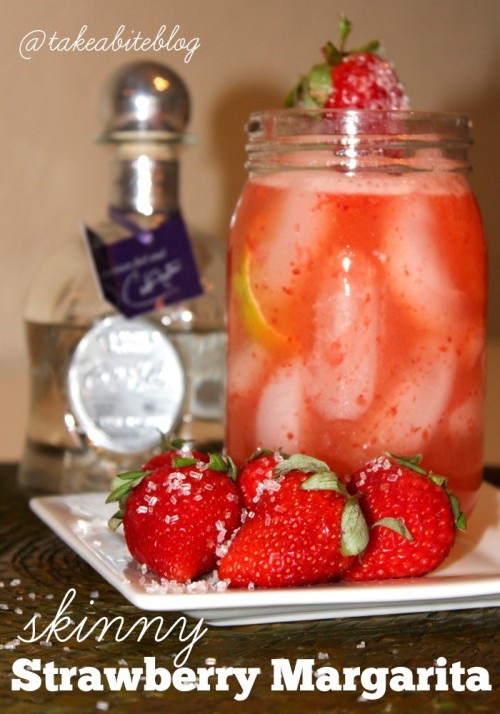 Skinny Strawberry Margarita
Author:
Skinny Strawberry Margarita is a little taste of summer in a glass. No sugary drink mixers needed — only fresh, simple ingredients and a nod to National Margarita Day!
Ingredients
3 fresh strawberries, leaves removed
1 tbsp water
ice
1 oz. fresh lime juice, plus 1 lime wedge
1/2 cup club soda
4 oz Casa Noble Crystal Tequila
2 oz. Triple Sec
Instructions
Place strawberries and water in a cup or shallow bowl and use an immersion blender to puree until smooth. If you don't have an immersion blender, you can use a small food processor instead.
Fill a mason jar with ice and add all remaining ingredients.
Screw on the lid and shake until well combined.
Pour the strawberry puree over top of the well-shaken margarita.
Give the jar a little shake to get the puree moving, or use a straw to stir.
Garnish with a lime wedge and a strawberry.
Disclaimer: This is a sponsored post by Casa Noble Tequila on behalf of The Baddish Group. I have been provided with compensation and product to create a recipe for this post. As always, all opinions are 100% my own.