It has taken me way too long to make my own version of that infamous "puppy chow" you see all over the internet – food blogs and Pinterest are just drowning in different variations. Some call it puppy chow, some call it muddy buddies. I like the sound of puppy chow better since that is what I've always known it as. I keep walking past the Chex Mix Muddy Buddies in Publix and they look so good. The flavors are hard to resist: cookies and cream, fudge brownie, chocolate peanut butter… I mean, come on! Can you get any more tempting?! But I know how easy it is to whip it up yourself, so I refuse to buy a bag of the packaged stuff. Now I just needed an excuse to make it…
Uh…why should I need an excuse to make puppy chow?!?!?
Despite the fact that it's still pretty freaking hot here in Florida, summer is winding down. For some, s'mores remind them of summer. I'm not entirely sure why; sitting outside toasting marshmallows by a bonfire doesn't really sound like a summer activity to me. It actually screams fall. As soon as the temperature drops and the air crisps up, it is absolutely time to chop down some branches, light a fire and duh – make some s'mores. Since we are just about approaching fall, I wanted to get my first s'mores recipe out for you guys. And finally making my own puppy chow just seemed totally appropriate. Good. Now I had my …excuse.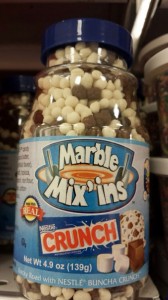 A puppy chow filled with all the flavors you get in a s'more — what could be better than that? Well, I guess an actual s'more might be better. But whatever. This is an extremely close second AND you don't have to sit outside in the cold toasting your marshmallows to make it. My co-worker Jeanette found a perfect ingredient for the chow while she was passing by the ice cream topping shelf…Nestle Crunch Marble Mix-ins, those little crunchy rice pieces in chocolate and marshmallow flavor!
I was inspired by Sally's Baking Addiction's recipe for s'mores puppy chow, but I didn't really follow her recipe, I just loved that us great minds think alike!
Eating puppy chow is kind of like eating Pringles. You know what they say: once you pop, you just can't stop.
S'mores Puppy Chow

1 1/2 cups confectioners' sugar
1/2 cup semi-sweet chocolate chips
6 mini crunch bars
2 cups mini marshmallows, divided
5 cups Rice Chex Cereal
4 graham crackers, crushed
4 graham crackers, broken into small pieces
1 jar Crunch bar Marble Mix-In ice cream topping
Fill a ziplock bag with the powdered sugar and set aside.
Melt chocolate chips and crunch bars together in the microwave, stirring after every 30 seconds until fully melted. Add half of the mini marshmallows and microwave for another 30 seconds. Mix in the Chex cereal and crushed graham crackers with the chocolate and marshmallows and stir until well combined. Dump the mixture into the prepared ziplock bag and shake until everything is completely incorporated. Add the crunch topping, the rest of the marshmallows and the other pieces of graham crackers in the bag and give it another good shake. You can also add more cereal at this point if you'd like.

Posted with Blogsy