You guys know how I feel about snack foods by now. So when #MyBlogSpark contacted me to be part of a Publix campaign all about the new Veggie Snack Chips from Green Giant™, you know I was all over it! Green Giant™ Veggie Snack Chips are a smart snack option because they are made with real vegetables! The Roasted Veggie Tortilla Chips come in Zesty Ranch and Garden Vegetable. Green Giant™ Veggie Chips have a whopping 17 grams of whole grains per serving! They also have Multigrain Sweet Potato Chips, made with real sweet potatoes, in Barbeque and Sea Salt. These sweet potato chips have 40% less fat than regular potato chips and 14 grams of whole grains per serving. Give me a snack with good nutritional facts (I totally didn't mean to rhyme there) and I'm a happy girl.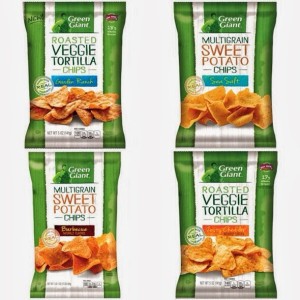 Sometimes when I don't feel like cooking dinner for myself, I scoop some kind of dip or spread on a plate and surround it with cut-up veggies and chips/pretzels and call it a day. That's exactly what I did with my Green Giant™ Veggie Snacks. I tried the Garden Vegetable Tortilla Chips with my favorite red chili pepper spread. It was quite the perfect match. I had to restrain myself from finishing off the entire bag of chips!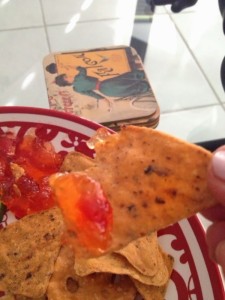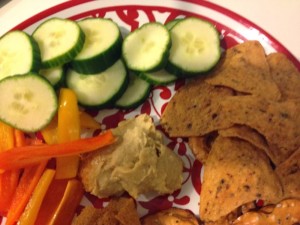 Chips and dip make the perfect quick, easy snack or appetizer. And these veggie chips are a much healthier choice than other potato or tortilla chips! The next time you're at a loss for something to make when you're having guests over, keep it simple. You can put out an array of dips to pair with each of the yummy flavors of Green Giant™ Veggie Snacks! Here are some dip suggestions from my archives:

-Sea Salt Multigrain Sweet Potato Chips with Roasted Garlic and Eggplant Hummus
-Barbeque Multigrain Sweet Potato Chips with Sweet Caramelized Onion Dip
-Garden Vegetable Roasted Veggie Chips with Red Chili Pepper Spread (the brand I use is Something Special, found at Costco) or Spinach and Artichoke Dip
-Zesty Cheddar Roasted Veggie Chips with Black Bean, Corn and Peach Salsa
Follow Publix and Green Giant™ on Facebook and keep an eye out for their new Veggie Snack Chips on Publix shelves!
Disclosure: The information and prize pack have been provided by Publix® and Green Giant™ through MyBlogSpark. I was selected to participate in this campaign and was sent a $25 Publix gift card and samples of Green Giant™ Veggie Snacks. All opinions are my own. This campaign is hosted by MyBlogSpark and has no connection with my employment at Publix in any way whatsoever.

Posted with Blogsy