MERRY CHRISTMAS!
I hope everyone enjoys their holiday. My traditional "Jewish Christmas" is filled with movies and some kind of Asian cuisine, and I wouldn't do it any differently. Whatever your Christmas traditions may be, cherish every last second of them and make the most of your day!

Now for the another holiday recipe!

Holidays really are all about baking, aren't they? Just try counting all the recipes for cookies, brownies, cakes and candies that are out during this time of year. I dare you; I don't think you can do it. There are just so many. And we all want to try every last one, but there aren't enough hours in the day — or days in the week… or weeks in the month — to get them all in before the New Year starts and we put our fat pants away and get back on track. The holiday season is totally an excuse to stuff our faces with every baked good imaginable, so we insist on getting in as many recipes as we can. Then January 1st hits and all of a sudden, every food blog will be brimming with healthy recipes. Yep, you just watch — it will happen.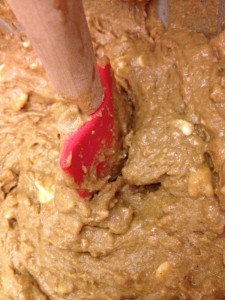 Obviously the world didn't end on December 21st, and we still have a week left in 2012. Who knows what 2013 will bring, but until then, let the baking commence!
My manager's birthday was last week so, naturally, there were treats to be made. One of my co-workers, Bonnie, made her signature mandarin orange and pineapple cake. Apparently this cake was all the rave at her previous job, and it's totally apparent why. A light and fluffy cake with a whipped topping and mandarin orange slices, it was bursting with tropical fruit flavors that really wow your taste buds. All the women in the office are blessed with baking skills; it's freaking awesome. Tyler contributed with some cookies from Publix, which were surprisingly good. Publix actually has a very good bakery. Sugar cookies, chocolate chip, and the best of the bunch: snickerdoodles with white chocolate and butterscotch chips. They were everyone's favorite, so I offered to recreate them… with a twist.
Since we're all probably eating our weight in holiday treats this month, I tried to make the blondies a little on the lighter side by using some healthy ingredients; that way you can indulge without feeling too guilty. On the plus side, you can't tell that I didn't use any butter or oil — the bars are still rich and gooey with tons of flavor.
White Chocolate & Toffee Snickerdoodle Blondies
makes ~2 dozen
2 2/3 white whole wheat flour
1 cup white chocolate chips (I used Ghirardelli)
2/3 cup toffee bits (I used Heath Bits o' Brickle baking bits)
Preheat the oven to 350 degrees. Grease two 7×11 baking pans and set aside.
In a medium bowl, whisk together the flour, baking powder, salt, cinnamon and nutmeg. Set aside.
In the bowl of a stand mixer, beat together the brown sugar and mashed banana at medium speed. Add the eggs and vanilla and continue to beat until well combined. Gradually add in the flour mixture at a low speed. Mix until just combined. Pour in the white chocolate chips and mix well. Add in the toffee bits and continue to mix. Take the bowl off of the mixer and give the dough one last stir to make sure everything is well combined.
Divide the dough between the two pans and spread evenly using a spatula. Combine the sugar and cinnamon in a small bowl and sprinkle over top of the batter.
Bake for ~30 minutes. Let cool completely before cutting into squares. Store in an airtight container or plastic wrap to keep fresh.