NOTE: The Mexican has since closed.
There are so many great little places all over South Florida, it's impossible to go to every single one. But McKenzie and I do get around, that's for sure. Whether he's introducing me to one of his favorite local hidden gems, or I pick a place that's been recommended to me, we always have an awesome time whereever we go. The best part is that he constantly gets me to try different kinds of food and drink that I may not have tried on my own. As a food blogger, it's pretty important to have an open mind and an even more open palette. He has helped to expand mine — especially in the drink category. Who knew I liked gin and bourbon? Well…only when mixed in some kind of crazy cocktail, but still… You get the point. 
Over the past couple months, we've hit up lots of cool spots that I haven't had a chance to blog about yet, so I thought I'd do a little round-up. The first one I'll tell you about is seriously one of the coolest places I've ever been to — this is not an exaggeration. It's called The Riverside Market Cafe in Ft. Lauderdale. Actually, I have no idea where it is exactly; I would never be able to tell you how to get there. You'll just have to Google it. It was on some back road, in what felt like the middle of nowhere. It's literally an old market, with glass sliding doors full of all kinds of beers, ciders, and wine. The variety of flavors and different brands is insane. It's all honor system there; you can just go and grab whatever beers you want throughout your stay and before you leave, bring all of your bottles up to the register to pay. All the drinks are $3-$5 and they have a food menu, too. The best part? GAMES!!!! Board games, dice games, card games… We played Yatzhee the whole time we were there. Inexpensive, good-quality beer and fun games? Sounds like a good time to me. 
One of my all-time favorite restaurants is Max's Grill in Mizner Park, so when I heard that the owner was opening up a Mexican restaurant in Royal Palm Place, I had to check it out. You walk inside and you're instantly transported to an authentic Mexican place to dine; there is awesome, colorful graffiti all over the walls and a big "Food Truck" in the back that serves as their "nacho bar." I really liked how it was decorated. I started with one of their flavored margaritas, the Cabo — pineapple infused tequila, mango, pomegranate, limonata, agave nectar and licor 43. It came with a pretty little flower garnish and was fruity and delicious. The chips and salsa closely followed our drinks and then of course we ordered the guacamole too. For dinner, I had the crab & shrimp tostaditas — plantain chips topped with crab and shrimp ceviche, avocado, red chili and cilantro. It was yummyyyy. I freaking love ceviche. The flavors of seafood and citrus go so well together, and avocado is the perfect creamy complement to it all. The crispy plantain chips were good with the ceviche (and the guac, too!) McKenzie had the chicken burrito, which also was pretty good.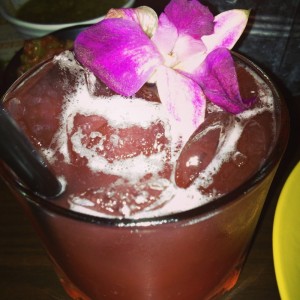 Cabo Margarita 
I recently went back there with my cousin Leah. This time I had the enchiladas del tierra with roasted mushrooms, caramelized onions, spinach and Mexican cheeses. Oh. My. God. Sooooo good. I tried one of their classic house margaritas and it was deeeelish. As I've said many times before, give me a good margarita and guacamole and I'm happy. Needless to say, both of my visits to The Mexican left me very happy.
There are three more restaurants, all located in Boyton Beach, that I cannot wait to share with you guys. Stay tuned 🙂 
How's that for a cliffhanger?? 
Disclaimer: I was not compensated to review these restaurants. I just love sharing my great experiences with all of you. All opinions are my own!