Never miss a bite! Sign up here to receive new recipes and reviews straight to your inbox.
Disclosure: I was given complementary VIP tickets to attend the South Beach Seafood Festival and will receive a portion of the sales made through my unique code in exchange for this post. As always, all opinions are 100% my own. Photos are courtesy of CI Management. Get 20% off tickets with promo code BITE when you click here.
South Beach Seafood Festival returns to the sand for its sixth year on Saturday, October 20th from 12-7 p.m at Lummus Park (12th Street and Ocean Avenue) in Miami.

It's my favorite time of year… Time to start counting down the days until I spend an entire afternoon on the beach in Miami, soaking up the sun, sipping on refreshing wine and cocktails, and enjoying delicious food from 22 of the area's best chefs and restaurants. It's South Beach Seafood Festival time, and I want YOU to join me! This is not an event to be missed, so I've got a discount code — BITE — that'll save you 20% on Festival tickets, as well as any of the additional South Beach Seafood Week events.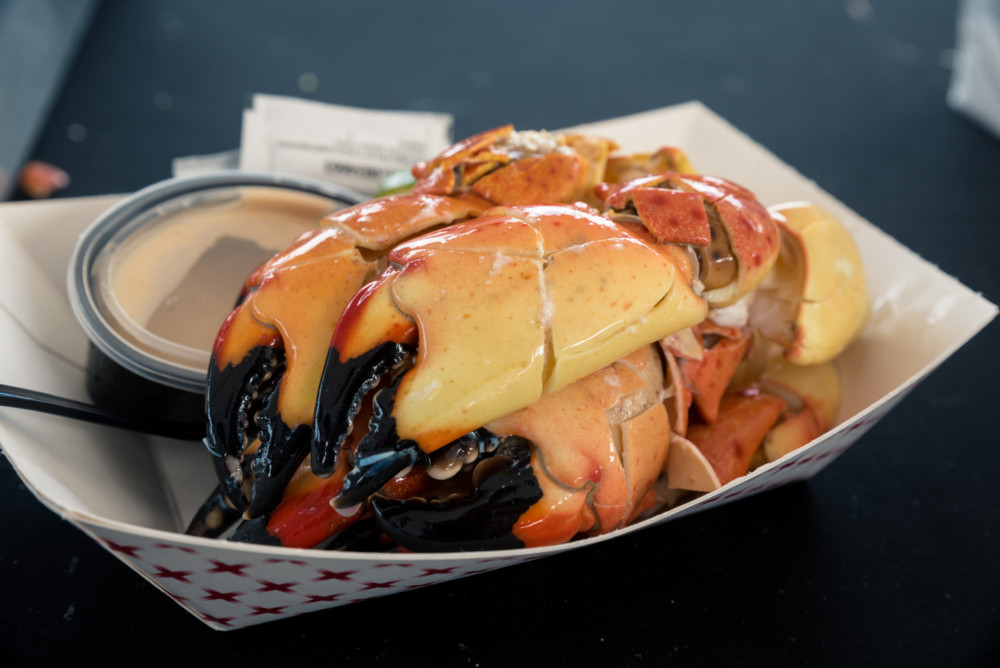 South Beach Seafood Festival brings together leading chefs and culinary masterminds via a diverse group of events where guests can experience the best seafood in Miami, all while benefiting a great cause, the CI Foundation's EAT SMART program, which helps to provide healthy weekend meals and nutritional guidance to Miami Beach youth by creating programs in various schools to promote growth, inspiration, and all around fulfillment of happiness in order to ensure success in their futures.
The week long schedule of events includes the following:
An Evening at Joe's (sold out)

Tuesday, October 16, 6:30-9:30 p.m. at Joe's Stone Crab

Cooking and Cocktails

Wednesday, October 17, 6:30-9:30 p.m. at Meat Market Miami
Admission: $125, includes six courses, each with a Herradura cocktail and GOYA Foods gift bag.
Tickets can be purchased here.

Crabs, Slabs and Cabs

Thursday, October 18, 6:30-9:30 p.m. at the Shelborne South Beach
Admission: $150, includes specialty cocktails, beer and wine available at arrival, plus complete access to the event in the VIP Garden with unlimited dining stations and wine.
Tickets can be purchased here.

VIP Chef Showdown

Friday, October 19 7-11 p.m. at Lummus Park (12th Street and Ocean Ave)
Admission: $150, includes tastings of each Chef's competition dishes available at each of the 14 restaurant battle stations, full bars, additional seafood bites from GOYA and Celebrity Cruises, access to the Seafood World Raw Bar open all night, samplings from Herradura's Bartender Competition and access to the Casa Herradura Experience, access to the Celebrity Cruise private entertainment experience, and an all-night party in the Goya VIP Culinary Pavilion (where all Chefs battle on stage) featuring Miami's hottest DJs.
Tickets can be purchased here.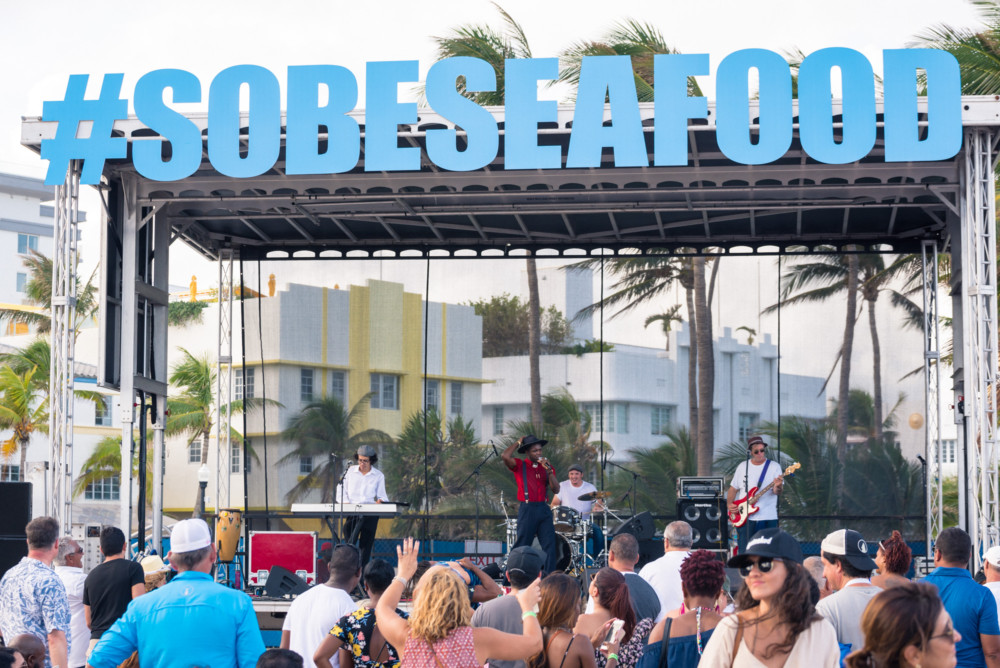 The main event takes place all day long on Saturday, October 20th, also at Lummus Park, and features foodie delights from A Fish Called Avalon, Bodega, Cafe Avanti, Cibo Wine Bar South Beach, CJ's Crab Shack, Coco Bambou Restaurante, Dragonfly Izakaya & Fish Market, Ella's Oyster Bar, Joe's Stone Crab, Lobster Bar Sea Grille Miami Beach, Meat Market Miami, Miami Smokers Urban Smokehouse, Naked Taco Miami, Ooh Raw!, Papa's Raw Bar, Poseidon Greek Restaurant, Red the Steakhouse, Rusty Pelican, Stiltsville Fish Bar, Tanuki, and Truluck's Seafood Steak & Crab House.
General Admission tickets are $45 and include festival entrance and all day open bar at any of the 30+ stations and Beer Garden, 3 live music stages and a variety of interactive experiences, and access to all of the restaurant stations offering 60+ menu items available for purchase at $5-10.
VIP Admission is $150 includes all of General Admission perks, plus $20 in food vouchers and entrance into the VIP Hospitality Village where you'll find premiere VIP samples from GOYA Foods, Celebrity Cruises, Papa's Raw Bar and American Social, as well as access to the GOYA Culinary Pavilion where shade and lounges can be found, along with private bars and DJ entertainment. There's also a private VIP line to order from Joe's Stone Crab and Naked Crab, a Herradura tasting experience, and an exclusive look at Celebrity Cruise's THE EDGE, coming to port in December 2018. After the festival is over, VIP ticket-holders can continue the party in the GOYA Culinary Pavilion where the DJ will keep spinning and and bars will remain open until 9 p.m.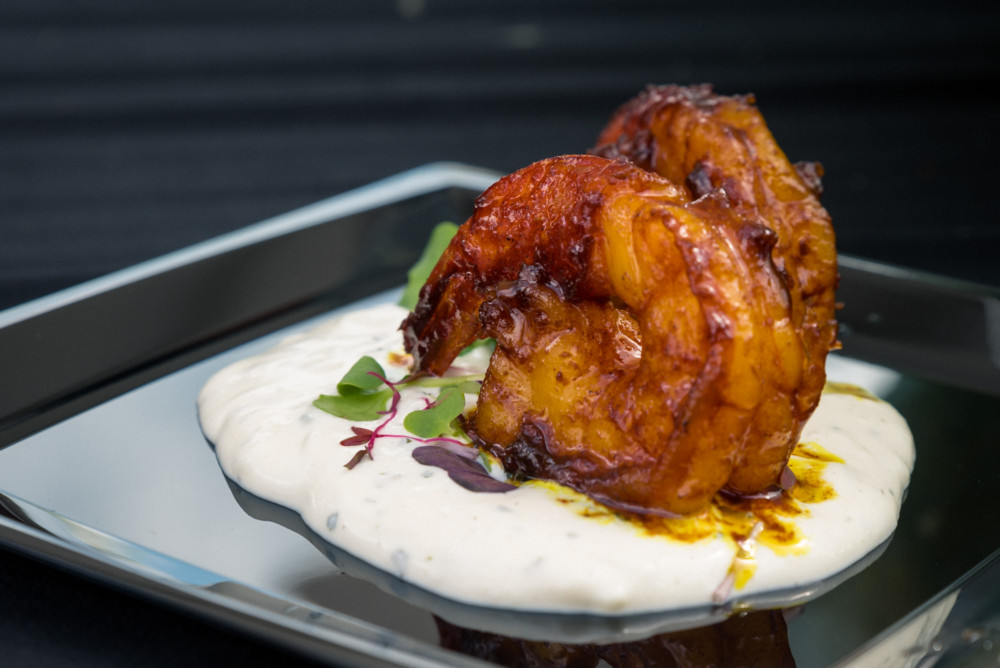 South Beach Seafood Festival WILL sell out, so make sure to get tickets now — and don't forget to use promo code BITE for any of the events! (PS: event is rain or shine and tickets are non-refundable.) Click HERE to purchase.