South Florida Staycation: Ritz-Carlton Fort Lauderdale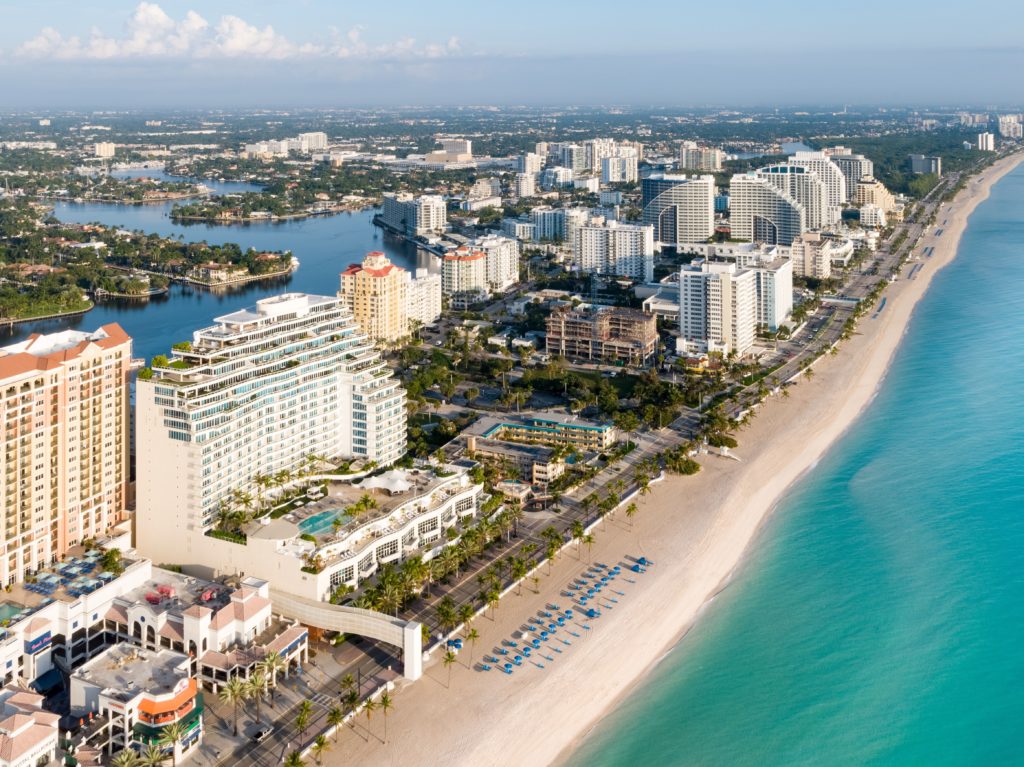 Living in South Florida, we have a lot of beautiful destinations at our fingertips — some even less than an hour drive away. One of those is the Ritz-Carlton Fort Lauderdale, located right across the street from the beach. This beachfront hotel is home to a full-service spa, seafood-centric restaurant, multiple private event areas, and spacious pool deck on the 7th floor with a stunning ocean view.
Roger and I had the best experience during our Ritz staycation, starting with a welcome treat that was generously gifted to us by Director of Culinary and Beverage Paula DaSilva and Chef de Cuisine Adrienne Grenier. In our suite when we arrived was a bottle of champagne and a charcuterie spread. The royal treatment continued as I indulged in total relaxation at the spa, followed by cocktails on the pool deck and on the outside patio, and ending with an incredible dinner at Burlock Coast.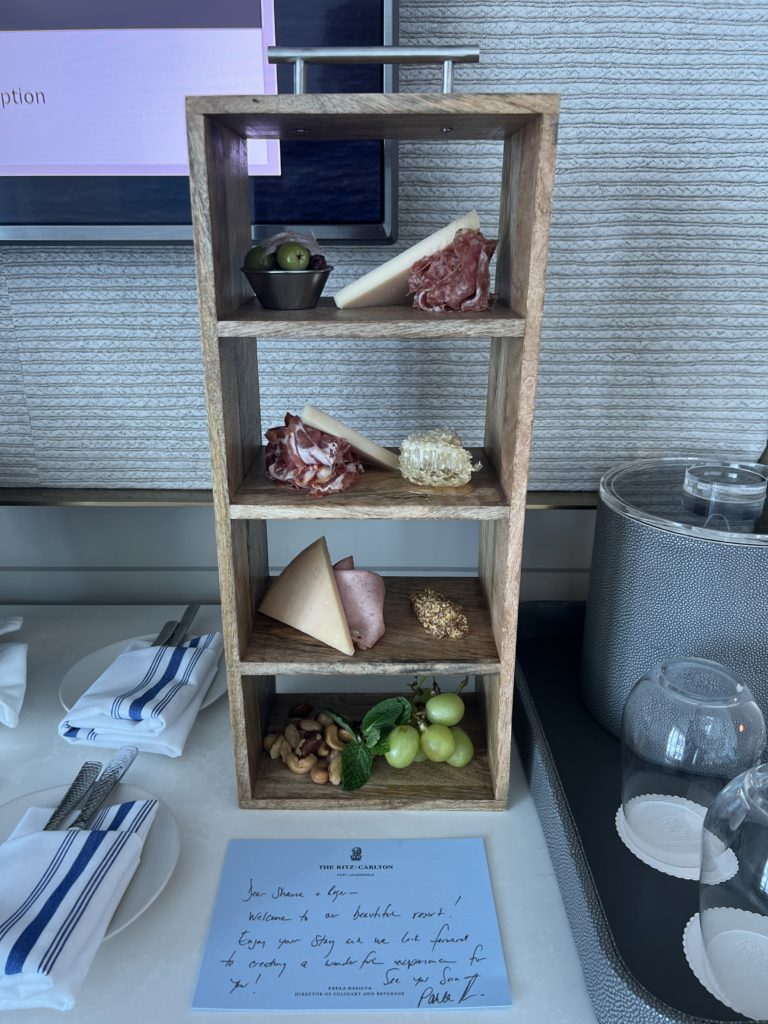 Instant Relaxation at the Ritz-Carlton Fort Lauderdale Spa
I have always heard that the Ritz-Carlton hotels have the best spas — and this one did not disappoint! My favorite part was the Relaxation Room, a quiet oasis where you can calm your body and mind before your treatment, and continue your zen state right after. There were comfortable chaise lounges and couches, a spread of snacks and tea and coffee. The decor was chic and serene, perfect for getting into that spa state of mind.
The spa's ocean-inspired services and experiences highlight products with natural ingredients and healing properties. There are various massages, facials, hair and nail services and more. You can find a full list of available treatments here.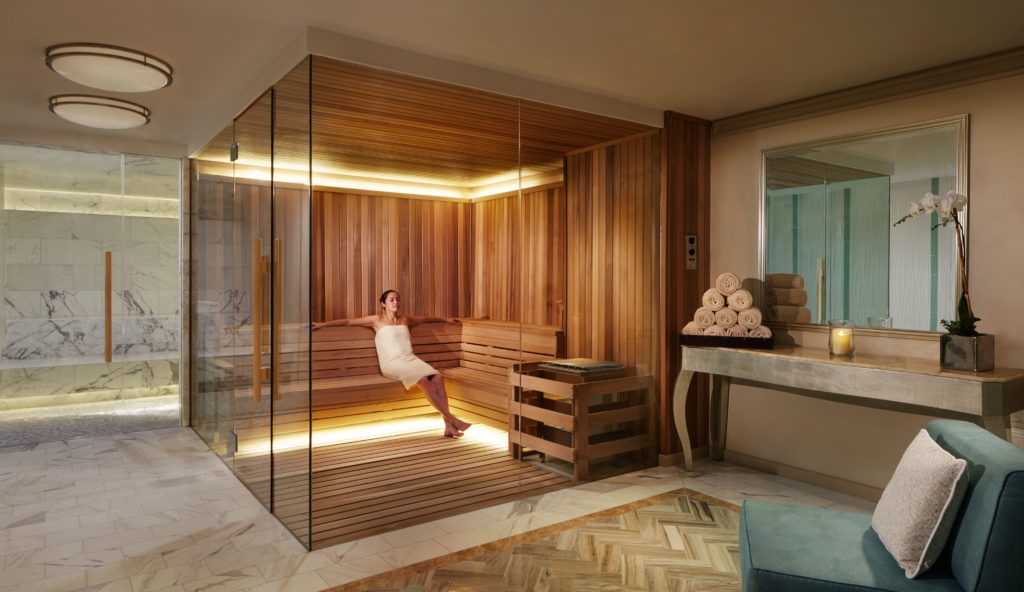 I got the Vitamin C By the Sea HydraFacial, which includes LED light therapy and a scalp massage. The treatment features HydraFacial technology for deep cleansing and extractions and an intense hydration HydraFacial Booster. The aesthetician, Debra, was fantastic. She mentioned this type of facial is good for brightening and balancing skin tone, minimizing the appearance of dark spots/sunspots, and of course, hydrating the skin.
That scalp massage was a great addition! Those always feel so good. I loved the treatment, and walked out of the room with a major glow — not only visible in my skin, but I felt it too.
Modern Coastal Cuisine at Burlock Coast
Burlock Coast offers modern coastal fare, innovative cocktails and a Prohibition-era-themed rum room that is perfect for private events. The restaurant recently welcomed Florida native and celebrated local chef, Adrienne Grenier, as its new Chef de Cuisine. I've known Adrienne for a long time and have always loved her cooking, so I was excited to not only dine at the restaurant but also have her as a guest on my podcast, Take A Bite Out of South Florida! You can listen to the episode here and watch it on YouTube!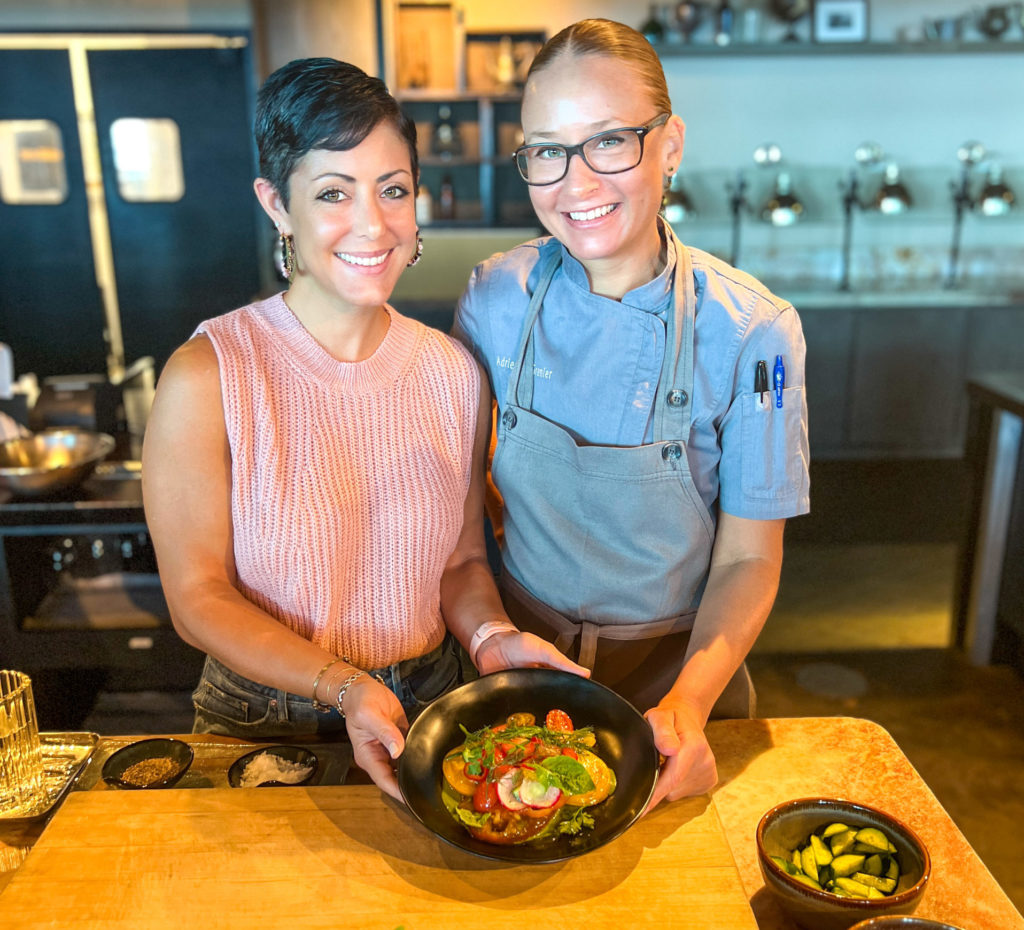 One of Adrienne's favorite dishes on the menu is her Sun Goddess Salad. She's an avid gardener and this salad is very much inspired by what she likes to grow at home. Of course, Roger and I tried it at dinner. It's a beautiful combination of vibrant fresh vegetables and herbs with a light Green Goddess-style dressing, but she keeps it vegan by using sunflower seeds as the base.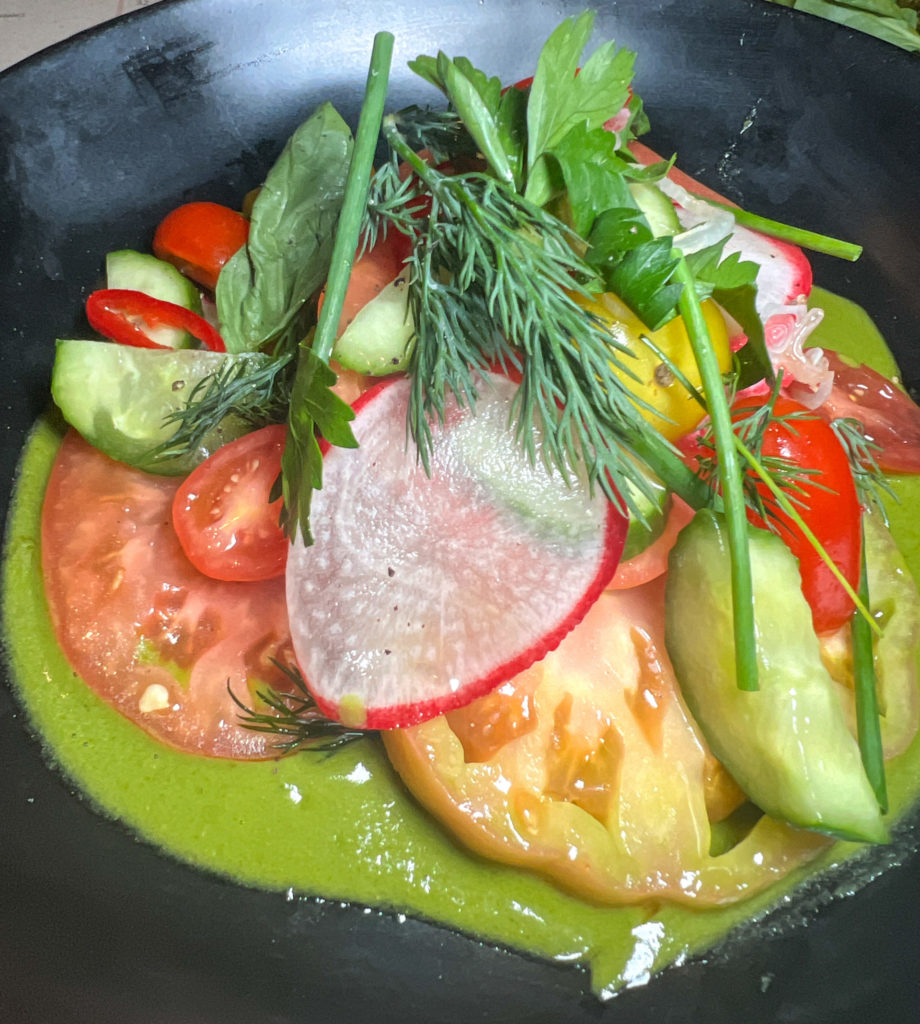 It was a great starter to our meal, as was the grilled octopus and shishito peppers — two items I can rarely turn down when I see them on a menu! Another delicious appetizer was the tuna poke that came with plantain chips. All of these items could be made gluten free, by the way!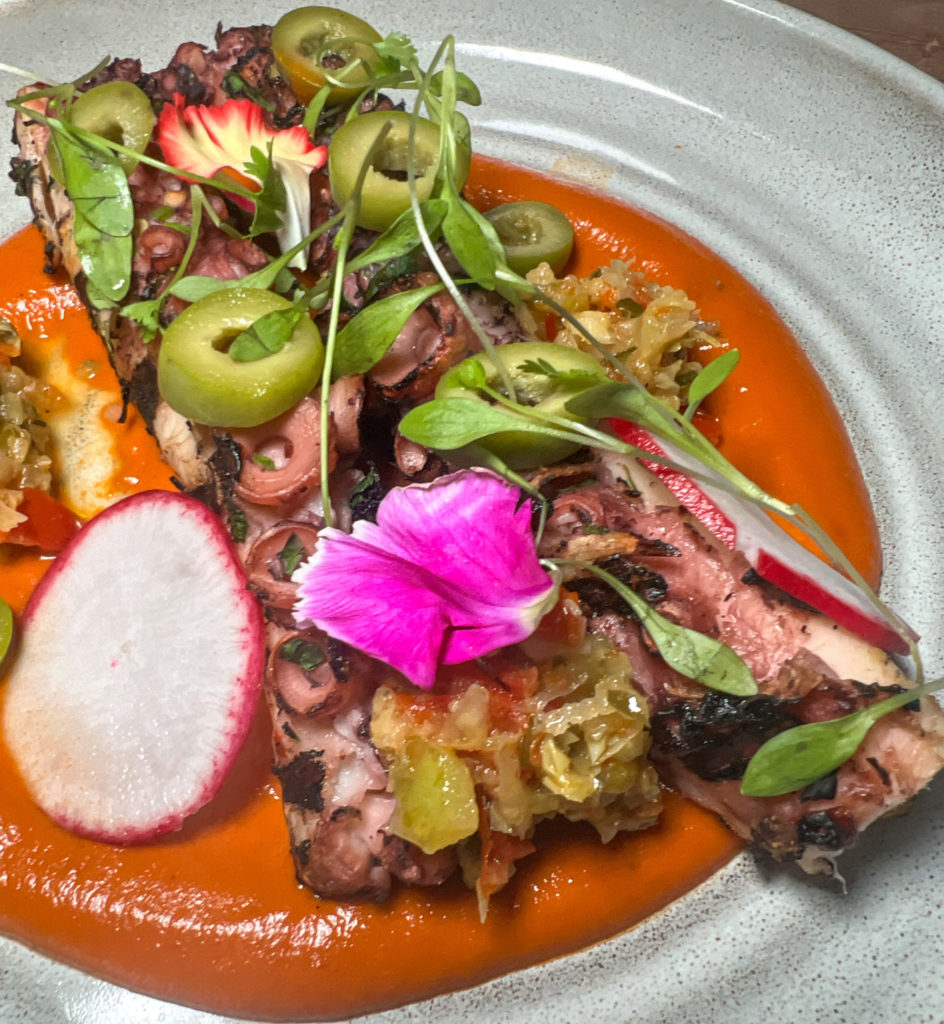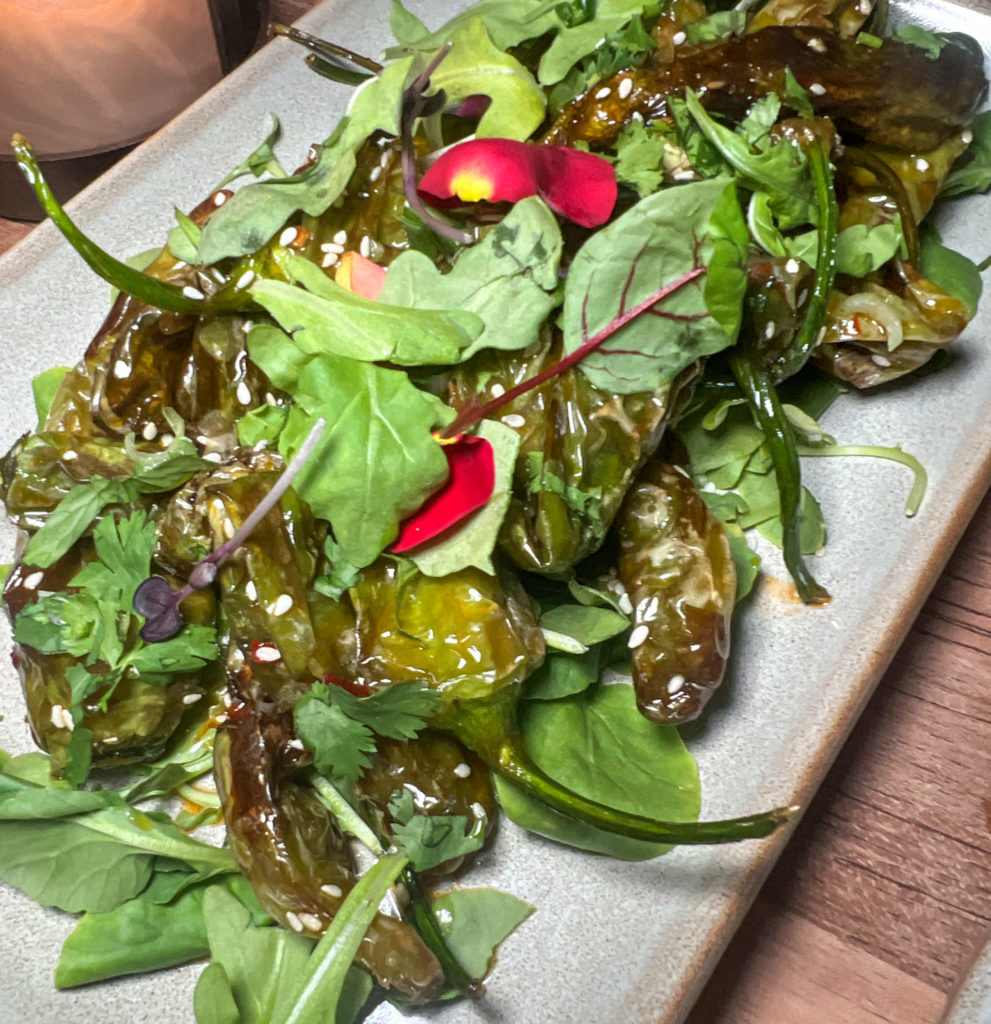 For dinner, Roger and I both went for the fresh fish of the day options. How can you not when you're dining at a restaurant where the ocean is mere footsteps away? He chose the golden tilefish, seared and served with a sweet corn succotash, summer squash, basil, scallion, jalapeño and crispy potatoes. I got the red snapper, served with a Thai chili sauce, baby bok choy, asparagus and tomato. Both dishes were beautiful, and everything was so good!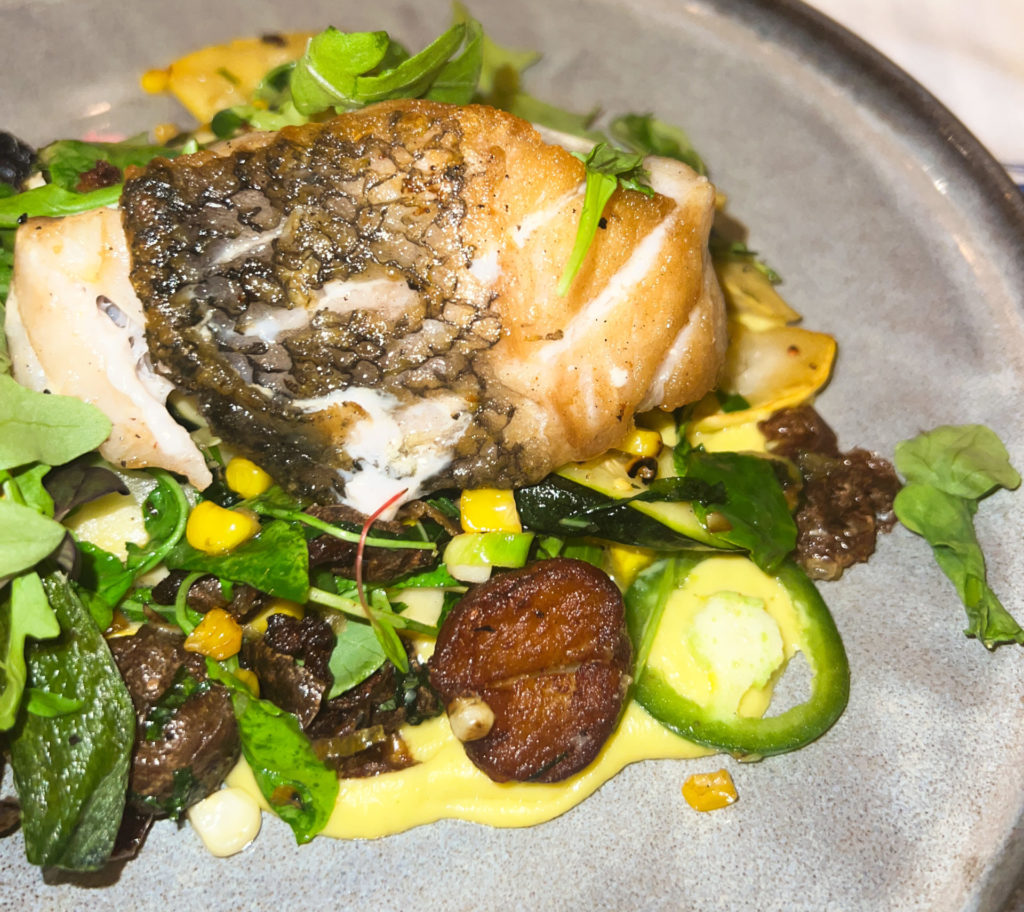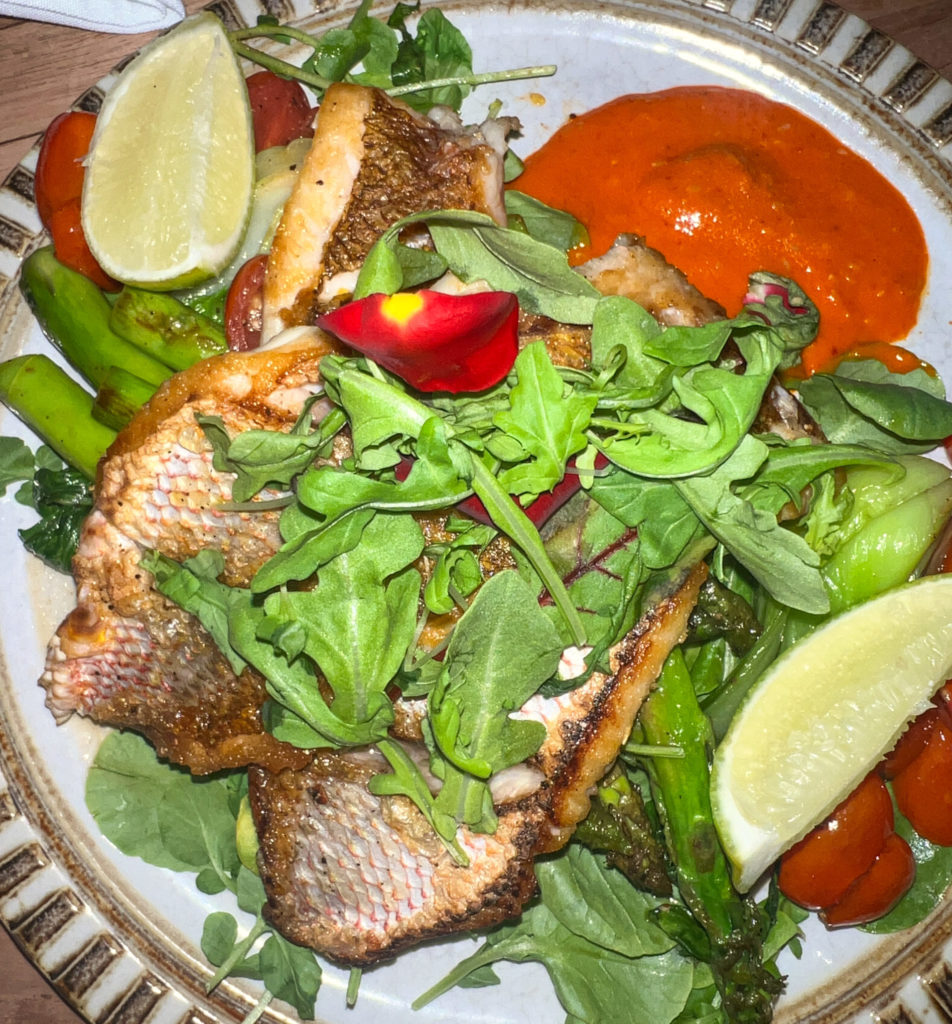 In addition to the restaurant, Burlock Coast also serves as a café and marketplace, highlighting artisanal items with a coastal touch.
Ritz-Carlton Fort Lauderdale Amenities
Aside from treating yourself to a spa day and enjoying a delicious meal, the pool and fitness center are also major highlights of this resort property.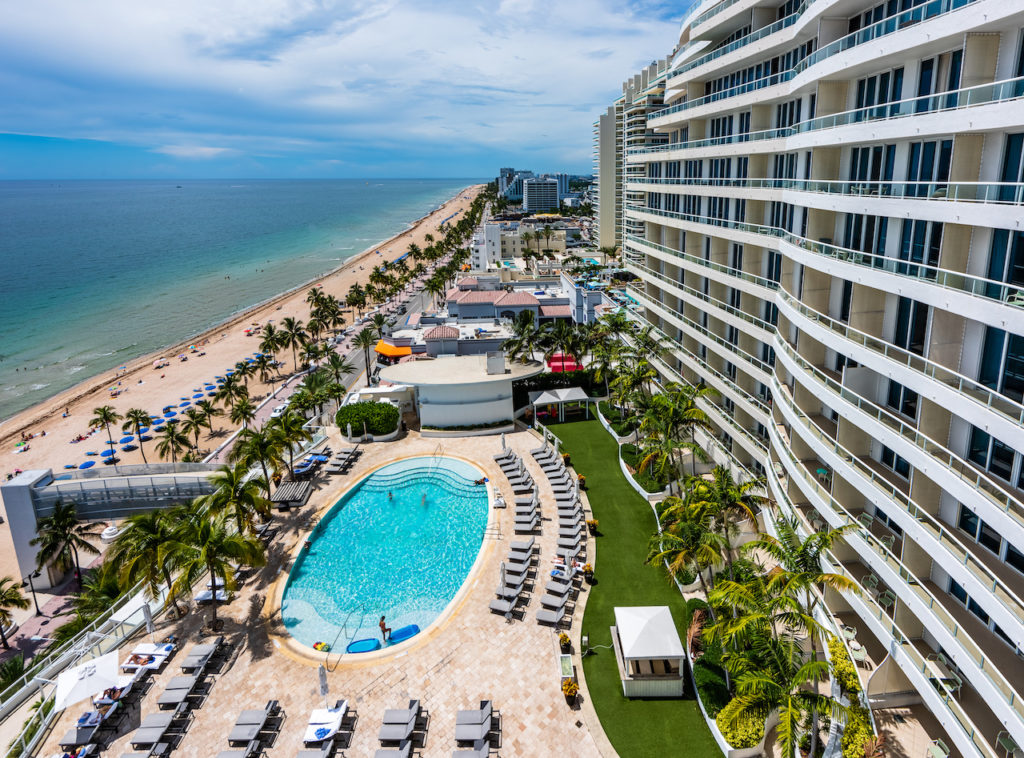 The heated pool is open every day from 8am-6pm and towels are provided. The view is spectacular. Not only can you look out at the ocean, but you can also see how massive the hotel itself is. The Poolside Café is at your service for food and drinks from 11am-5pm, and there are also cabanas available. These are tucked away in a secluded area, just in case you're looking for a more private poolside experience.
The fitness center is open 24/7 — and it has Peloton bikes! I always make sure to get in a ride whenever I visit a hotel that has Peloton bikes in its fitness room. There is also plenty of cardio and strength equipment, including ellipticals, bikes, treadmills, stair climbers and free weights. Private fitness class instruction and personal trainers are also available for hotel guests.
Book Your Stay at the Ritz-Carlton Fort Lauderdale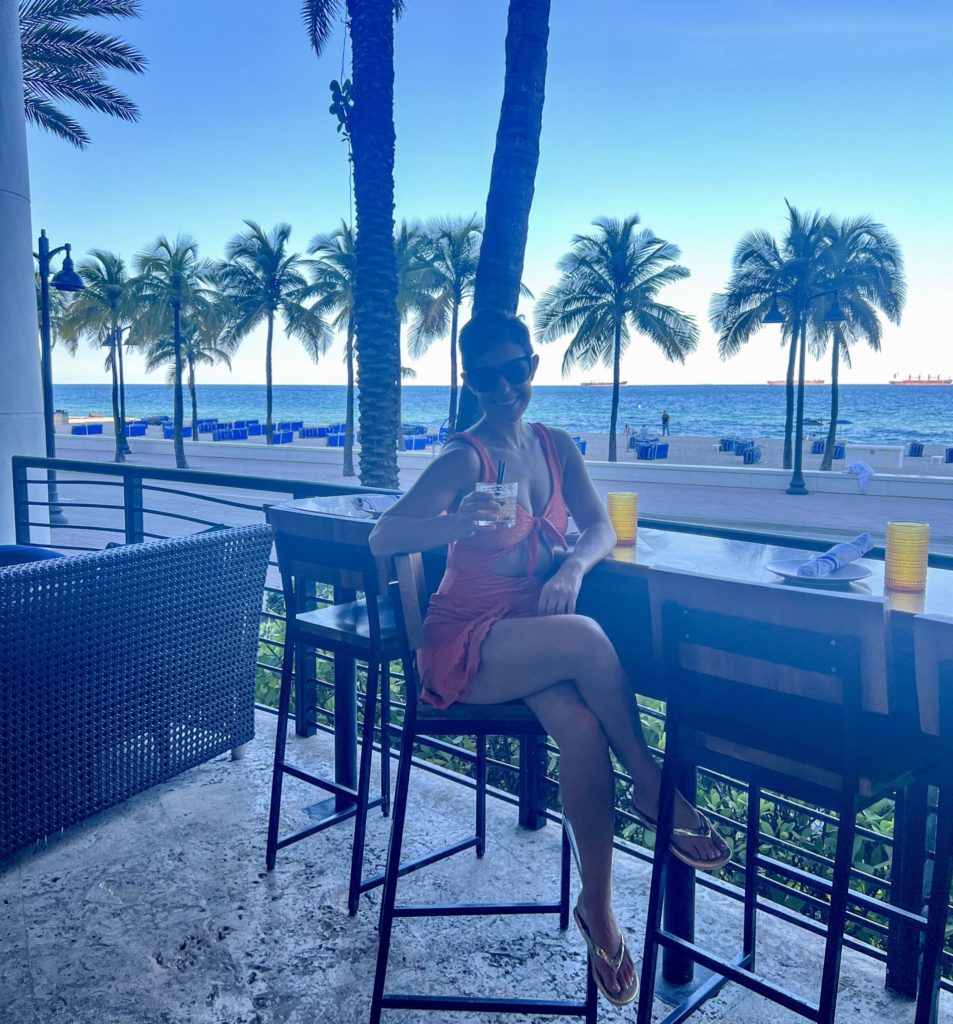 The Ritz Carlton Fort Lauderdale is located at 1 North Fort Lauderdale Beach Blvd. Burlock Coast and the spa are both open to the public. The spa is open daily from 9am-5pm and appointments must be booked in advance. For more information, call 954-302-6490.
Burlock Coast is open for breakfast, lunch and dinner Sunday through Wednesday from 7am-10pm, and Thursday through Saturday from 7am-11pm. On Saturday and Sunday, a special brunch menu is available from 12-4pm.
Weekly specials include Burger N' Brew Monday from 5-9pm featuring the signature BC burger and beer for $20, Taco & Tequila Tuesday from 5-9pm featuring 2 tacos (chef's choice) and margarita for $20, Wine Down Wednesday from 5-9pm featuring select half-priced bottles of wine under $100 and $20 charcuterie boards, and Rum Room Thursdays from 5-7pm featuring $10 speciality rum cocktails and DJ entertainment until 8pm.
Disclosure: I received a complimentary overnight stay, spa treatment and dining experience at the Ritz Carlton Fort Lauderdale. As always, all opinions are 100% my own.