Do you ever wake up in the middle of the night and find yourself lying in bed for hours upon hours, trying and failing to fall back asleep? It happens to me pretty often. I'm not sure what causes it, or how to prevent it, but every so often I find myself lying there staring at the ceiling. Most of the time, it's awful and when I finally do fall asleep, I wake up the next morning groggy and annoyed and just wanting to stay in bed. But sometimes I do my best thinking and recipe planning while I'm lying there, and then I'm not so mad that I didn't sleep that great.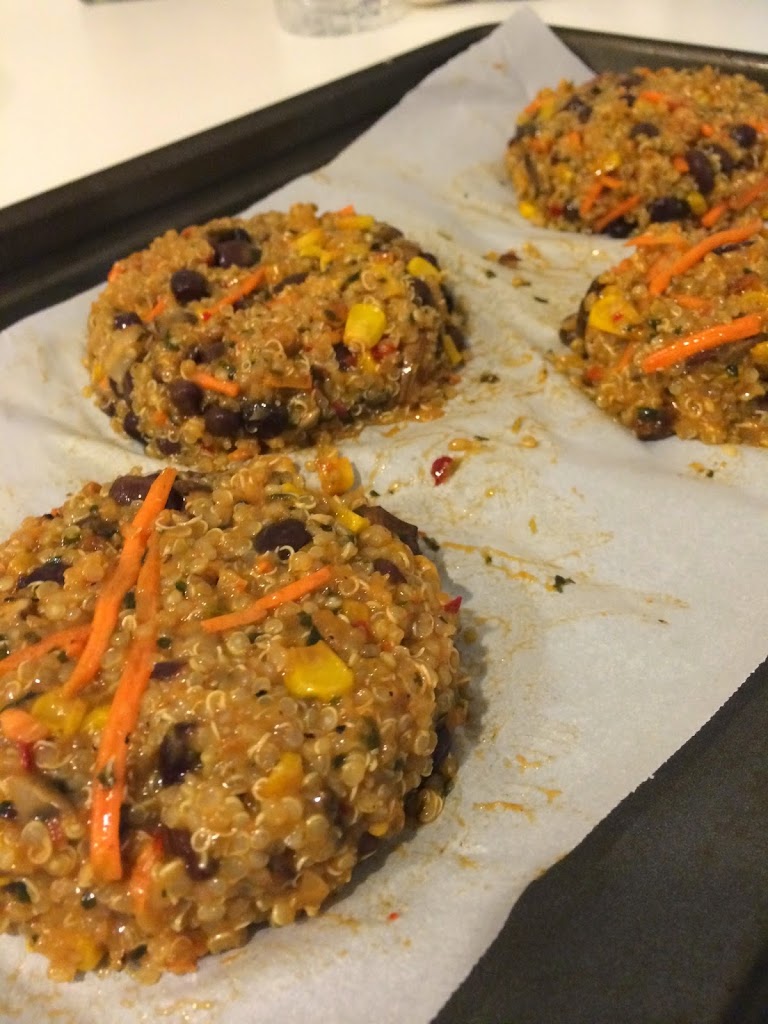 The last time this happened I came up with a new recipe to try — Southwestern Quinoa and Black Bean Patties. Not totally an original idea, as I know plenty of bloggers who have done their own version of this dish, but I haven't. So it may not be entirely new, but it's new for this blog. During my insomniac episode, I imagined I would grill the patties, but once I actually put together the mixture, I realized baking them made much more sense. Especially because they didn't hold together as well as I thought they would and I was afraid I'd lose bits and pieces if I stuck 'em on the grill.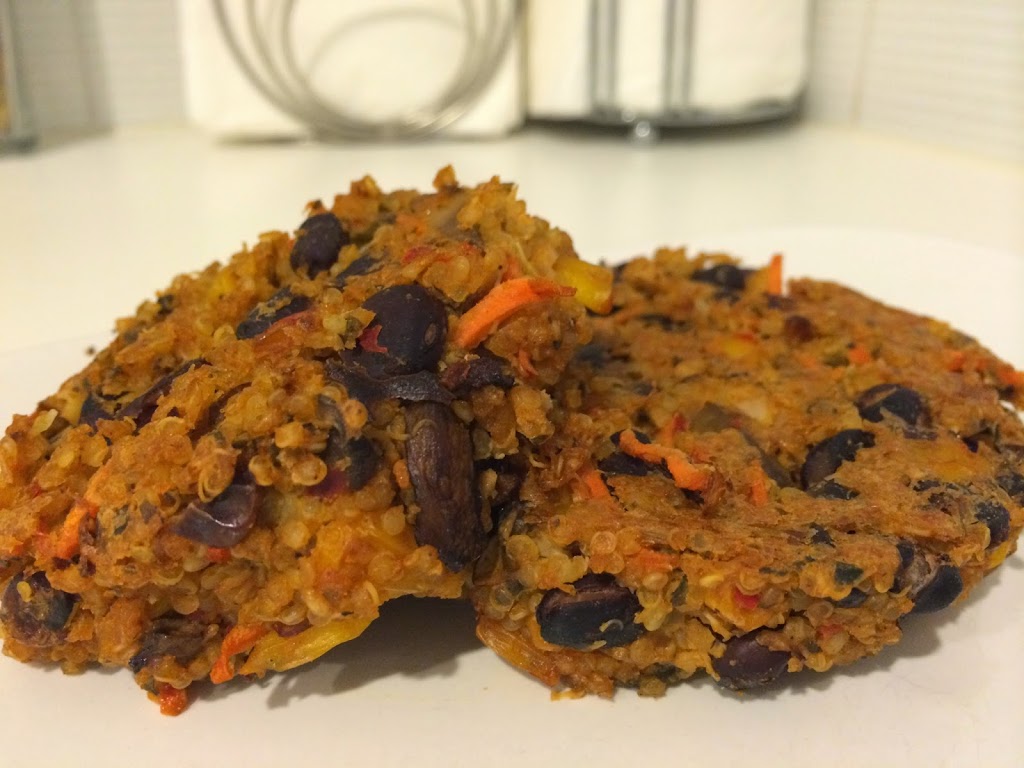 Gourmet Garden recently sent me a few of their newest products — a line of super flavorful seasonings. The taco seasoning, with garlic, cumin, cilantro, and chili pepper, was the perfect accompaniment to my Southwestern Quinoa and Black Bean Patties. Mixed with some quinoa, black beans, corn, sautéed mushrooms, shredded carrots, and a little extra cilantro, these patties had just the right amount of heat and were hearty enough that I didn't even need to slap 'em between a bun. All I did was melt a little bit of shredded fontina cheese on top, serve alongside a simple salad with roasted tomatoes and balsamic, some grilled whole onions, and I was good to go. How's that for a good home cooked meal?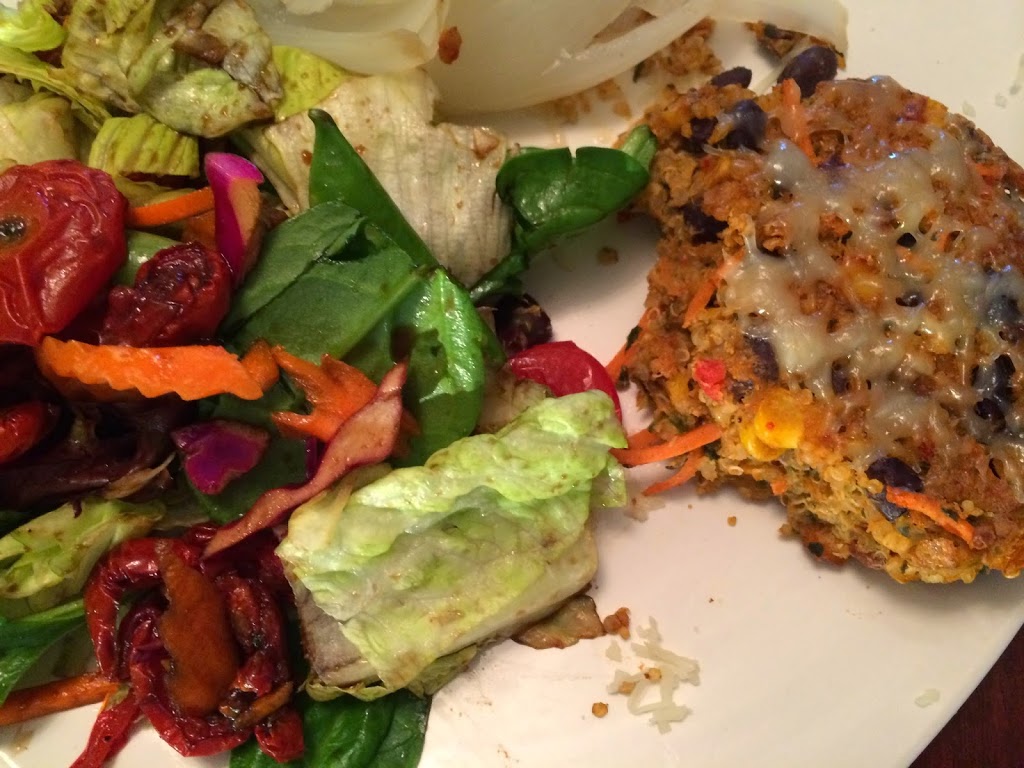 The recipe made four decent sized patties, so I froze the leftovers for the next time I'm in the mood for something with a Southwestern kick.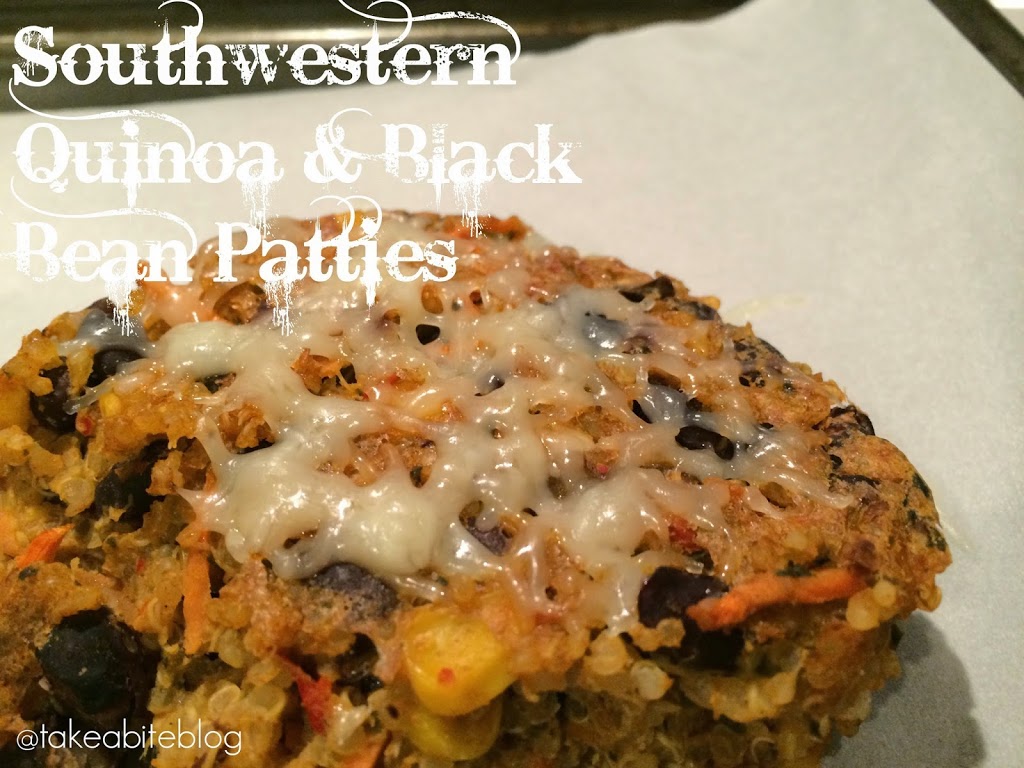 Southwestern Quinoa and Black Bean Patties
1 tsp olive oil
salt and pepper
1/2 cup quinoa, cooked
4-5 garlic cloves, minced
1 cup baby bella mushrooms, small diced
1/2 tbsp olive oil
1 8 oz. can black beans, drained and rinsed
1/2 cup matchstick carrots
3 tbsp Gourmet Garden Taco Seasoning
1 tbsp Gourmet Garden Cilantro
1 egg
Fontina cheese, shredded
Preheat the oven to 300 degrees. In a small bowl. combine frozen corn, olive oil, salt and pepper and mix well.  Arrange corn on a baking sheet lined with parchment paper and roast in the oven for 1 hour.
In a small sautee pan, heat olive oil over medium heat. Add mushrooms and cover. Cook for about 5-6 minutes or until mushrooms are soft.
After the corn is done roasting, raise the oven to 350 degrees. In a medium bowl, combine corn, cooked quinoa, garlic, mushrooms, black beans, carrots, taco seasoning,  cilantro and egg and mix well. Using your hands, form patties and place on a baking sheet lined with parchment paper or a silicone baking mat. Bake for 12 minutes. Flip patties and bake for another 10 minutes. Remove patties and sprinkle shredded fontina cheese over top. Place under the broiler for 1-2 minutes or until cheese has melted.
Be careful when removing from the baking sheet, the edges may crumble. These patties are very delicate so serve with care. But once you're done taking pictures and admiring how pretty they are, dig in and don't worry that they are falling apart all over the place.