Never miss a bite! Sign up here to receive new recipes and reviews straight to your inbox.
Spaghetti Squash Pad Thai is a a low-carb take on a classic Asian dish that can easily be made vegan and gluten-free.
As a single gal living on her own, cooking at home can sometimes be pretty boring — especially when you're only cooking for one. That's why I love getting together with friends to cook. This Spaghetti Squash Pad Thai was a recent creation that Jill and I made for dinner while sobbing over an episode of This Is Us. Don't worry, we were careful not to get any tears in our bowls.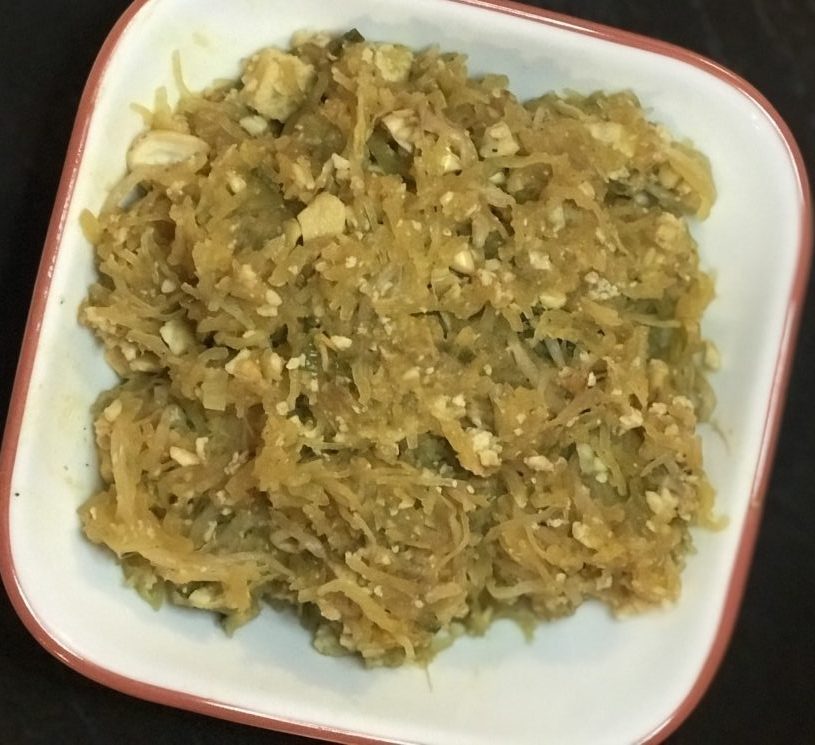 The recipe made just the right amount for the two of us, and left us with full, happy bellies. We used tofu for the protein and omitted the egg that is traditionally added to pad Thai, keeping it vegan, but feel free to customize to your liking! Chicken, shrimp, steak, extra veggies — whatever you want! If you are gluten-free, be sure to use a gluten-free soy sauce like tamari or Braggs liquid aminos. This Spaghetti Squash Pad Thai is a blank canvas just ready and waiting for you to make it your own. This version is not the prettiest — we kept things very simple when it came to the ingredients. The sauce is the real star! Next time I make this, I'm going to add in a lot of colorful veggies. If you don't have a real wok to prepare it in, it's okay! A regular frying pan will work just as well.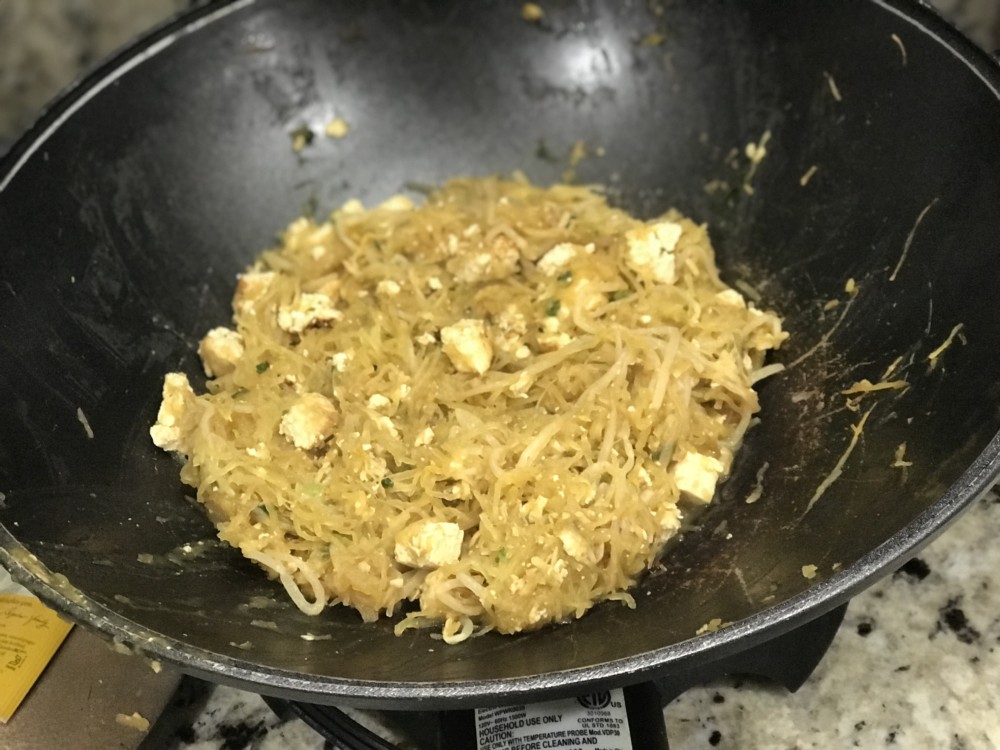 Today I'm joining the Sunday Supper family in sharing simple meals perfectly portioned for two — because no matter how many people sit down at your dinner table, what you eat should always be delicious!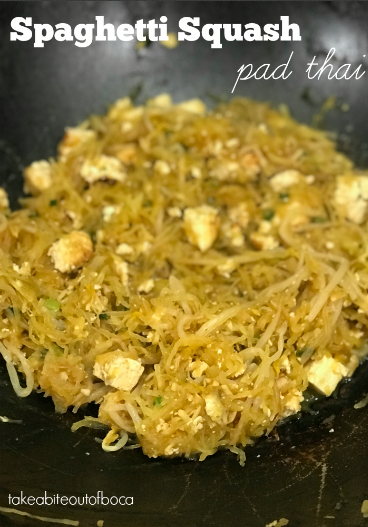 Spaghetti Squash Pad Thai
Author:
Spaghetti Squash Pad Thai is a a low-carb take on a classic Asian dish that can easily be made vegan and gluten-free.
Ingredients
1 medium spaghetti squash
8 oz. firm tofu
1-2 tablespoons Earth Balance buttery spread (vegan)
2 stalks green onions, chopped
1 14.5 oz. can bean sprouts, drained
1/4 cup oy sauce
4-5 squirts Sriracha
1 tsp splenda
2 garlic cloves
1 lime, juiced
Cashews, chopped fine
Instructions
Preheat oven to 375 degrees and prepare a baking sheet with aluminum foil or a silicone baking mat.
Pierce spaghetti squash with a fork and place on the prepared baking sheet.
Roast in the oven for 1 hour.
While the spaghetti squash is cooling, heat buttery spread in a medium pan on the stovetop over medium-high heat.
Cook tofu in skillet until each side is browned and crispy.
Once the spaghetti squash has cooled, cut in half lengthwise, scoop out the seeds and scrape out the flesh of the squash with a fork.
Heat wok (or heat a pan on the stovetop) and add all ingredients, including cooked spaghetti squash and tofu, to the wok.
Mix well and cook until warm throughout.
Simple Dinner Ideas for Two
Entrees for Two
Desserts for Two

The Sunday Supper Movement is committed to bringing our readers delicious recipes that encourage them to gather and eat together around the family table. Search for your favorite ingredients on our Sunday Supper website. Also check out the Sunday Supper Pinterest boards for plenty more ideas and inspiration.