Never miss a bite! Sign up here to receive new recipes and reviews straight to your inbox.
Serve this Spiced Tri-Colored Carrot Salad at your holiday dinners to negate all those calorie-dense foods. A light, healthy side dish is always good to have on hand!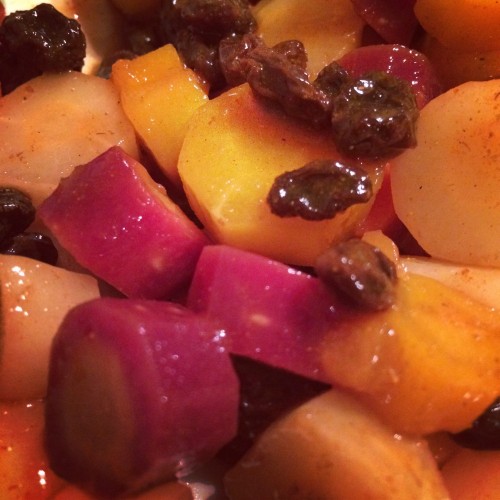 This dish has quite the backstory. In fact, it was originally supposed to be called a Spiralized Sweet Potato and Carrot Salad. I wanted to get out my fancy-schmancy spiralizer and whip up sweet potato and carrot "noodles" to throw together with some raisins and spices and make a nice little side dish for this week's #SundaySupper theme: Lightened Up for the Holidays. Holidays tend to mean lots of rich, hearty comfort food. There are also lots of desserts, and drinking, and more food even after dessert because there are always leftovers and who wants to let them go to waste?! Lighter dishes are definitely needed around these parts once the holidays sneak up on us, and as always, #SundaySupper has you covered. Thanks to this week's host, Kathia of Basic N Delicious.
But, I digress. Back to my story. So yeah, sweet potatoes and carrots. I got a bag of organic colorful carrots from Trader Joe's and was super excited to spiral 'em up. I got out my spiralizer and for some reason, I could not figure it out. You're probably like, uh…you posted a recipe for cucumber noodle salad last month — obviously you know how to use it. Major brain fartage happening over here because I COULD NOT DO IT! I was doing exactly what I did before, and even looked over the directions a zillion and one times to make sure I wasn't missing something, and the damn carrots and sweet potato just would not spiralize. I was baffled. I tried for a good 20 minutes before giving up, though. Then I remembered my roommate had a small mandolin and I figured I'd just grab that (instead of pulling out my massive one) and julienne the carrots with that.
My brain was still farting at this point because something told me it'd be a good idea to include my pinky finger in the salad too…
Note to self: never use a mandolin without a guard. You're not invincible.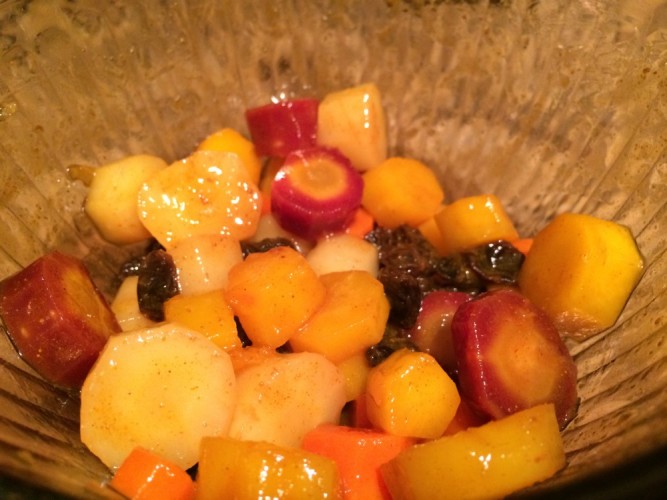 Yep, you guessed it, I sliced the hell out of my pinky as I was cutting the carrots. Blood everywhere, non-stop. It literally bled for 5 minutes before I could get it to calm down enough to put a bandaid on! Talk about painful, and disgusting.
By this point, I'm totally over the idea of spiraling anything, and I had butchered the sweet potato when I was trying to figure out my spiralizer. I did, however, have plenty of carrots left. So after I put on like three bandaids to keep the bleeding at bay, I went back to work and chopped carrots into normal little rounds, tossed 'em with a little cinnamon, cumin, smoked paprika and this super yummy Peach-Apricot sauce my roommate had lying around, threw in some raisins, and had one delicious little salad.
Thankfully it tasted good. Like, really really good. I don't think I could have handled another disaster at this point.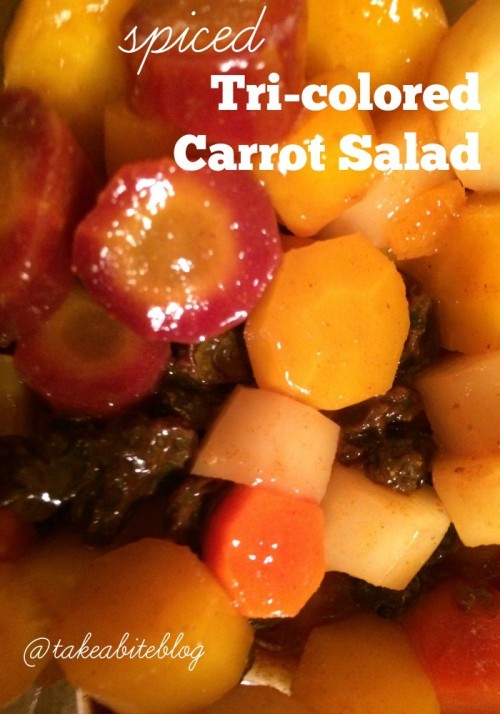 Spiced Tri-Colored Carrot Salad #SundaySupper
Author:
Serve this Spiced Tri-Colored Carrot Salad at your holiday dinners to negate all those calorie-dense foods. A light, healthy side dish is always good to have on hand!
Ingredients
1/4 cup peach-apricot sauce (I used Saucy Susan's
1 tbsp cinnamon
1 tbsp smoked paprika
1/2 tbsp cumin
salt and pepper
4-5 medium purple, yellow, and orange carrots, diced into 1/2 inch rounds
1 cup raisins
Instructions
Whisk the sauce and seasonings together in a small bowl. Season with salt and pepper to taste.
Combine carrots and raisin in a bowl. Add the prepared sauce and mix well.
Serve cold.
Notes
*Adjust measurements of the seasonings to your preferred taste.
#SundaySupper is here to help you as much as possible with all your upcoming holiday dinners. Check out all of our lightened up recipes!
Drinks
Appetizer or starter
Main Dishes
Side Dishes
Desserts
Join the #SundaySupper conversation on twitter on Sunday! We tweet throughout the day and share recipes from all over the world. Our weekly chat starts at 7:00 pm ET. Follow the #SundaySupper hashtag and remember to include it in your tweets to join in the chat. To get more great Sunday Supper Recipes, visit our website or check out our Pinterest board.
Would you like to join the Sunday Supper Movement? It's easy. You can sign up by clicking here: Sunday Supper Movement