Sometimes I get an idea for a recipe and I go back and forth between different ingredients trying to get it just right in my head. For instance, I saw this recipe for a healthy twist on penne alla vodka on Sisterhood of the Shrinking Jeans using Greek yogurt and I thought it sounded pretty good. But I'm not a huge penne alla vodka fan. My sister Rebecca LOVES it. I like it. Maybe I'll have a bite of hers if she lets me. I actually just recently ordered penne alla vodka when I was out to dinner at Two Georges in Deerfield, which was very out of character for me, but the dish had all my favorites: Shrimp, sea scallops and lump crab meat! So I was all in for that medley of seafood. The vodka sauce was just…meh.
Anyway, I racked my brain for a way to use this same Greek yogurt concept for a cream-based sauce to go with pasta. I grabbed a jar of roasted red peppers, some garlic cloves, a little chipotle powder, and my Gourmet Garden garlic paste and red chili pepper. Someone was in a spicy mood…
Got out the food processor and threw everything in there with non-fat Greek yogurt and worked some magic until it turned into a spicy pepper cream sauce. Fat free! I cooked up some whole grain penne, sautéed some spinach and broccoli, and tossed it all together in the cream sauce. Of course I had to top it off with some parmesan cheese and Panko before finishing it in the oven. It turned out to be a pretty decent dish, although it was a little bit spicier than I thought it would be. My tummy was a little angry with me. I'm not sure what possessed me to think I'd like it that spicy; I normally try to stay away from too much spice. I was feeling experimental, I guess… Next time I will be leaving out that chipotle powder and red chili pepper. Maybe I'll go for a little bit of a sweeter sauce and use a little honey or agave. But if you do like spice, this Spicy Pepper Cream Pasta will totally please your palate.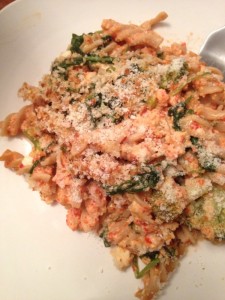 Spicy Pepper Cream Pasta
Serves 3-4

1 ½ cups pasta
6 oz. non-fat plain Greek yogurt
1 jar roasted red peppers
4-5 garlic cloves
½ tsp chipotle powder
1 tsp Gourmet Garden garlic paste
1 tsp Gourmet Garden red chili pepper
1 tbsp olive oil
1 cup frozen broccoli
1 cup fresh baby spinach leaves
Parmesan cheese
Panko bread crumbs

Preheat your oven to 400 degrees.

Cook your pasta on the stove top until al dente. You don't want to cook it completely since it will be finishing in the oven.

While your pasta is cooking, combine yogurt, red peppers, garlic cloves, chipotle powder, garlic paste and red chili pepper in a food processor and puree until everything is blended together.

Heat olive oil in a pan over medium-high heat. Add the broccoli and spinach and cook until the broccoli is softened and spinach is just started to wilt.

Combine the cooked pasta, broccoli and spinach into an 8×8 glass baking dish. Pour the pepper cream sauce over the pasta and stir until the dish is well coated. Sprinkle parmesan cheese and Panko over top. Bake for 20 minutes. After taking out the dish, change your oven setting to broil and place the dish back in the oven for another 5 minutes or until you see the Panko start to brown.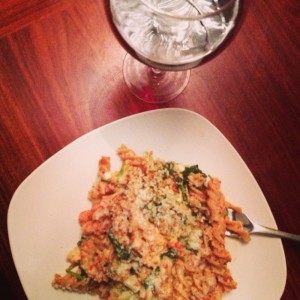 Posted with Blogsy