There are a million and one variations of spinach and artichoke dip recipes all over the Internet. Every food blogger has a basic recipe and then a few different takes on the original with all kinds of ingredients. It's been made into a baked chicken dish, a pasta dish, topping for pizza, a filling for lasagna, and a stuffing for mushrooms. These are just a few variations of spinach and artichoke dips I've found.

After sufficiently making myself hungry for spinach and artichoke dip, I think it's time for me to get up off my blogger behind and make one myself!

I first had the idea to make spinach and artichoke dip a while back when I received samples from Green Giant of their newest product, Veggie Snack Chips. You can read all about it on my post here. I knew I needed to a make a good dip for these Roasted Vegetable Chips and Multigrain Sweet Potato Chips. Since Green Giant prides itself on providing these chips as a healthy snacking alternative, I wanted to make a dip that would also be healthy.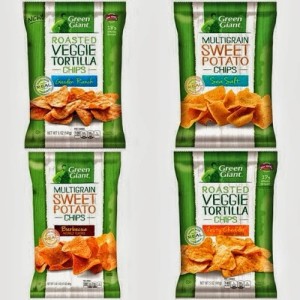 This is a great dish to set out for parties or even when you're just dining at home with friends. It seriously took me less than 10 minutes to put everything together and about a half hour for it to bake. My roommate couldn't believe how quick and easy it was. One minute I'm standing next to her combining the ingredients in a bowl, and the next I was already putting it in the oven. We all enjoyed having this simple, healthy spinach and artichoke dip on the table that evening as an appetizer/side dish to our chicken dinner.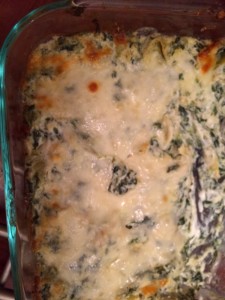 Now I know you want to make this dip immediately, so you're going to need the perfect dipping vessel for it! Green Giant and #MyBlogSpark want you to be able to enjoy these new healthy Veggie Snack Chips just as I did. You'll also be entered to win a $25 gift card to Publix so you can buy more Veggie Snack Chips and the ingredients you need to make this dip! Scroll down to the bottom of the post and fill out the rafflecoptor to win your own Green Giant Veggie Snack Chips! (Note: this giveaway is only open to US citizens.)

Spinach and Artichoke Dip
1 10 oz. package frozen spinach, cooked and drained
1 8 oz. package reduced fat cream cheese
1 6 oz. container plain, non-fat Greek yogurt
1 15 oz. can artichoke heart quarters, drained
1/2 cup Parmesan Reggiano, grated plus more for sprinkling on top
2 cups part-skim shredded mozzarella cheese, divided
1 tbsp garlic powder
salt and pepper

Preheat the oven to 400 degrees. Heat up frozen spinach in the microwave and drain all excess liquid. Make sure you don't skip this or you risk having a watery dip.

Combine cream cheese and yogurt in a bowl. Add the artichoke hearts and spinach and stir to combine. Add the Parmesan and half of the mozzarella cheese, continuing to mix well. Add garlic powder, and salt and pepper to taste.

Pour mixture into an 8×8 glass baking dish and spread evenly. Top with remaining mozzarella cheese. Grate more Parmesan cheese on top. Bake for approximately 30 minutes or until the cheese begins to bubble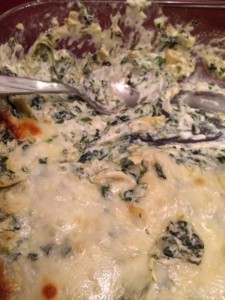 Disclosure: The information and prize pack have been provided by Publix® and Green Giant™ through MyBlogSpark. I was selected to participate in this campaign and was sent a $25 Publix gift card and samples of Green Giant™ Veggie Snacks and a second gift set to giveaway to one of my readers. All opinions are my own. This campaign is hosted by MyBlogSpark and has no connection with my employment at Publix in any way whatsoever.

Posted with Blogsy