Never miss a bite! Sign up here to receive new recipes and reviews straight to your inbox.
Disclosure: Thank you to Reese Specialty Foods for sponsoring this post. As always, all opinions are 100% my own.
This Spinach and Artichoke Parmesan Pasta Bake is so easy to make, you could whip it up in no time for tonight's New Year's Eve festivities!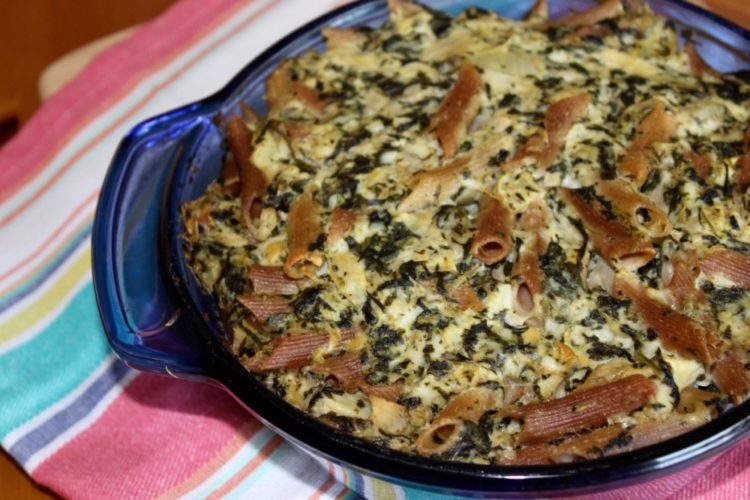 Here we go with the LAST recipe post on Take A Bite Out of Boca for 2016. We're ending the year with a bang — of flavor, that is! If you're in need of a last minute dish for tonight's celebration, you're in luck. Spinach and Artichoke Parmesan Pasta Bake is your answer. With the help of Reese Specialty Foods' new artichoke sauces, you don't need to worry about any extra ingredients — everything is right in the sauce. For my Spinach and Artichoke Parmesan Pasta Bake, we're using the Artichoke Parmesan Sauce. It's a super rich and creamy sauce infused with artichokes, parmesan cheese, garlic, basil, oregano, parsley and black pepper. See what I mean? Since all of those spices are right there in the sauce, I don't need to worry about adding them!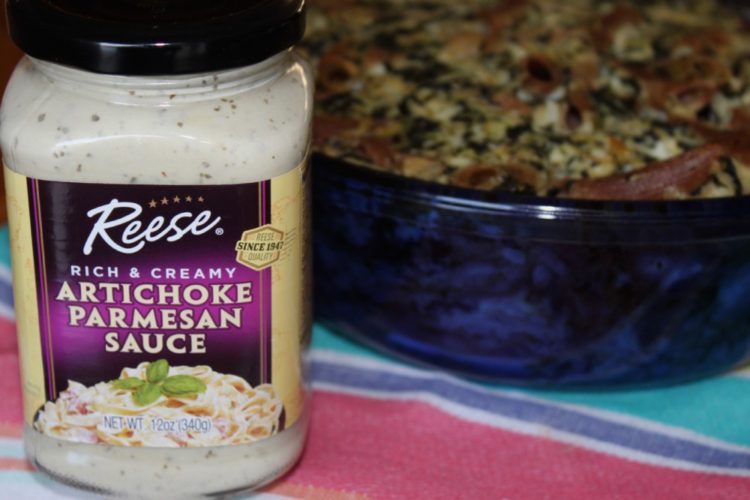 One of my favorite party foods is spinach and artichoke dip. Seriously, put a bowl of that in front of me with some veggies and crackers and you can bet it'll be empty by the end of the night. Since we're in the thick of the holiday season — and I know you all probably love the spinach and artichoke combination as much as I do — we're giving it an upgrade with some penne pasta, mozzarella and Artichoke Parmesan Sauce and making a pasta bake! Or a casserole. What do you like to call it?
I'm going with pasta bake. The title just sounds better that way. Roll with it.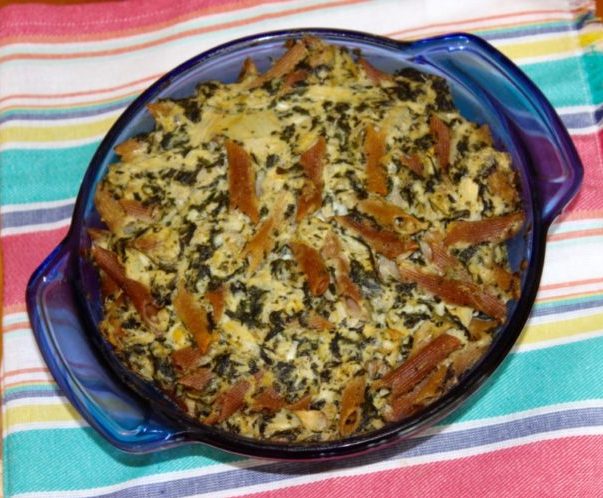 The Artichoke Parmesan Sauce is perfect for pasta. You know what else is perfect for pasta? The holidays. Because we're all about comfort food and indulgence, and this Spinach and Artichoke Parmesan Pasta Bake feels totally comfortable, and totally indulgent. Let's emphasize the word feels, though, because A) I'm using whole wheat penne. You can use whatever kind of pasta you prefer, but I think penne works best for a baked dish. And whole wheat, just because. B) Spinach is like the health food of all health foods, am I right?! And C) according to Reese Specialty Foods' website, artichokes are packed with antioxidants and have NO cholesterol.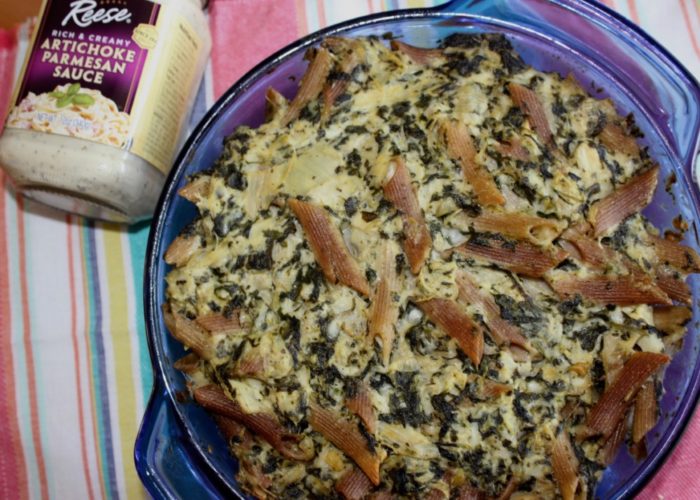 So yes, we're being indulgent and stuffing our face with a super comforting plate full of food — but you can feel better knowing that the ingredients are pretty great. Scratch that, they're really great.
You're going to love Reese Specialty Foods' artichoke sauces. Aside from the Artichoke Parmesan sauce, there is the Artichoke Sauce with tomatoes, onions and green olives, and the Artichoke Piccata with artichokes, capers, garlic and basil. And because it's the holiday season and I love you all as much as I know you'll love the sauces, I'm giving away TWO Reese Specialty Foods prize packages, including all three varieties plus a Reese Kitchen utensil kit and cutting board. Enter below. Contest is open through Friday, January 6th, 2017. Winner must reside in the United States.
But just in case you can't wait to see if you've won or not, head over to Publix to purchase Reese Specialty Foods artichoke sauces now and make my Spinach and Artichoke Parmesan Pasta Bake, ASAP — or check out ReeseSpecialtyFoods.com for recipe inspiration and ideas as well as more information about all of their products. And be sure to follow them on Facebook, Instagram and Pinterest.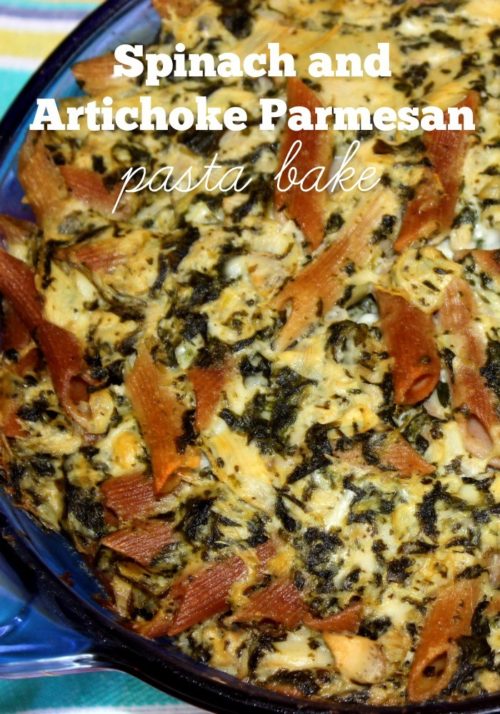 Spinach and Artichoke Parmesan Pasta Bake
Author:
If you are a fan of the spinach and artichoke combination, you will love this upgrade with penne pasta, mozzarella and Reese Specialty Foods Artichoke Parmesan Sauce!
Ingredients
2 cups whole wheat penne pasta, cooked al dente
1 10 oz. package of frozen spinach, cooked and drained
1 14 oz. can of Reese Specialty Foods artichoke hearts, drained and chopped
1 12 oz. jar of Reese Specialty Foods Artichoke Parmesan sauce
1 cup part-skim shredded mozzarella cheese
Instructions
Preheat the oven to 350 degrees.
In a large bowl, mix together the cooked pasta with the cooked spinach, chopped artichoke hearts, Artichoke Parmesan sauce and mozzarella and stir until very well combined.
Pour mixture into a 2 quart baking dish.
Bake for 45 minutes.
Cover and keep warm in the oven before serving.