One time I left chicken in the oven too long and it came out a little bit tough. But it didn't matter to my roommates and me because it was filled with goat cheese and goat cheese makes everything better. That's like the number one belief in our kitchen. We love goat cheese. There was spinach stuffed in the chicken too, but the goat cheese was the real star of the dish. Like I said, it totally made the chicken perfectly fine to eat.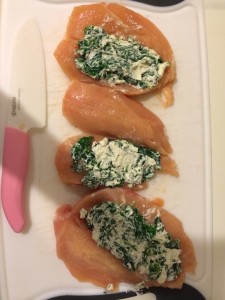 What's the one ingredient you can use in a dish that will make it taste delicious no matter what? You have to have an ingredient like this on hand at all times, just in case you do what I did — walk away from the kitchen for a few minutes too long, and return to find the potatoes are cooked abso-freaking-lutely perfect, crisped to perfection, but the chicken could have used a couple minutes less time in the oven. Tough chicken. Ugh.

But I'm telling you, the creaminess of the goat cheese lent some of its amazingness to the chicken and did moisten it up a bit. So thankfully, there were no complaints and there wasn't a bite of chicken left on anyone's plate.


Today I'm sharing my first ever post for #WeekdaySupper, a group of us bloggers here to give you ideas for meals you can whip up any night of the week with easy-to-find ingredients. So now that I've got you covered for Monday, here's what the rest of the week looks like!
Tuesday
Friday

'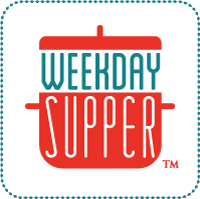 Spinach and Goat Cheese Stuffed Chicken
Serves 3

3 boneless, skinless chicken breasts
1 8 oz. package fresh spinach leaves
½ cup goat cheese
2 tbsp garlic powder
1 tbsp dried basil
1½ tbsp dried sage
salt and pepper

Preheat the oven to 400 degrees.

Cut a slit into each chicken breast without cutting all the way through. In a small sauce pan, cook the spinach on high on the stove for about 2-3 minutes or until just wilted.

In a small bowl, combine the goat cheese, cooked spinach, garlic powder, dried basil and dried sage and mix well. Place a generous amount of the mixture into the pockets of each chicken breast. Season both sides of the chicken with salt and pepper. Bake for 20-25 minutes.

Posted with Blogsy