Never miss a bite! Sign up here to receive new recipes and reviews straight to your inbox.
Disclosure: This post has been sponsored and compensated for by Stonyfield Organic. As always, all opinions are 100% my own. #StonyfieldBlogger
Thicken up your favorite pesto sauce with Stonyfield Organic Greek Yogurt and turn it into a dip for your favorite veggies!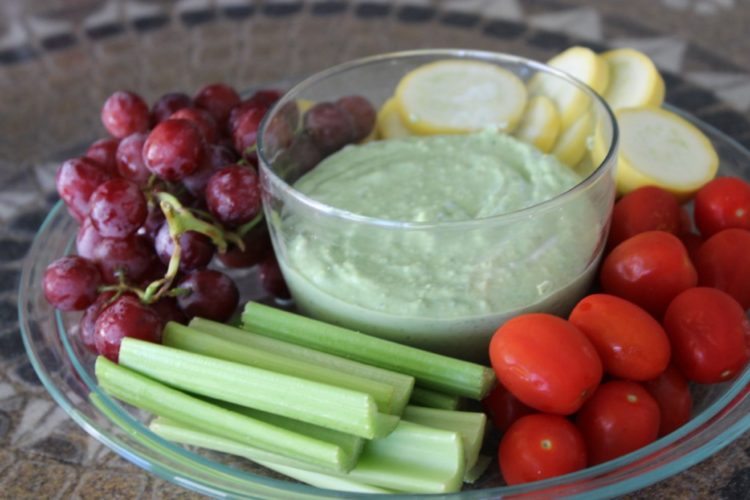 Have you heard of the Dirty Dozen? You know, the 12 kinds of produce that have the highest pesticide residue and should be purchased organic whenever possible. According to organic.org, the list includes peaches, apples, sweet bell peppers, celery, nectarines, strawberries, cherries, pears, imported grapes, spinach, lettuce and potatoes. While it's important to purchase organic, it can get pretty pricey. Stonyfield believes that organic products should be accessible to everyone, which is why they've partnered with Walmart this month to promote their affordable line of organic produce, including, of course, their delicious yogurt.
You'll find the main ingredients for this Spinach Pesto Greek Yogurt Dip, as well as the veggies to serve with it, in Walmart's organic produce section. I'm all about being able to conveniently shop for everything I need in one store. One-stop shopping is the way to go! There is a pretty great organic selection available at Walmart. I stocked up on my favorites and pondered a bit over what to make.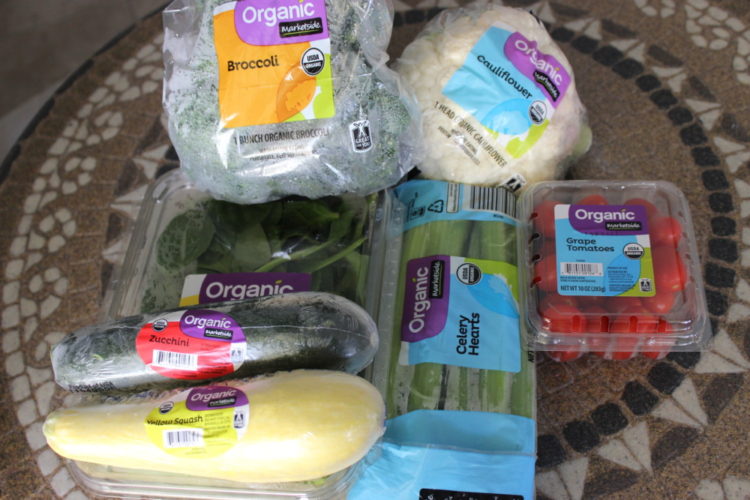 I settled on a simple yet delicious dish — one that is perfect for summertime gatherings, healthy snacking at the beach or pool, and would make a really great addition to this weekend's Memorial Day Weekend spread. I switched things up from the traditional basil-pine-nut-parmesan-garlic-extra-virgin-olive-oil combination for pesto and instead used Walmart's organic spinach (a dirty dozen culprit!) along with lemon-flavored almonds (another yummy Stonyfield partner product, also organic), grana padana cheese, and extra virgin olive oil for a flavor-packed pesto that burst with bright citrus flavor from the almonds and just the right balance of saltiness from the cheese. The pesto then gets stirred into some plain, non-fat Stonyfield Organic Greek yogurt, which thickens it up and gives it the most perfect consistency. I like my dips nice and thick, so that whatever you're using as your dipping vessel, the dip doesn't fall right off.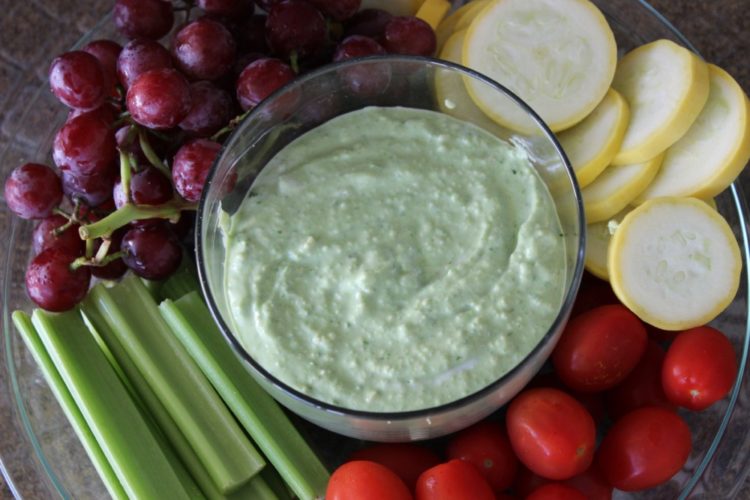 I served my Spinach Pesto Greek Yogurt Dip with Walmart's organic celery (another one from the dirty dozen list), organic grape tomatoes and organic yellow squash. Add in some organic red grapes and you've got a colorful snack plate ready for any party!
Want to learn more about Walmart's organic selections and other products? Follow them on Facebook, Instagram, and Twitter. For more on Stonyfield, follow them on Facebook, Instagram, Pinterest and Twitter.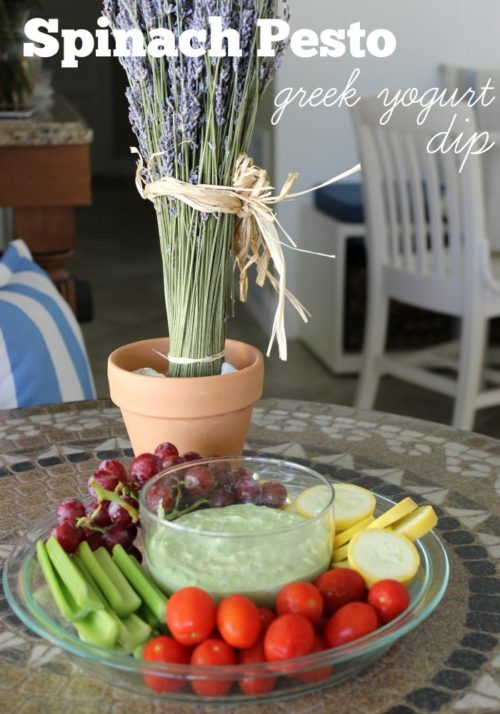 Spinach Pesto Greek Yogurt Dip
Author:
Thicken up your favorite pesto sauce with Stonyfield Organic Greek Yogurt and turn it into a dip for your favorite veggies!
Ingredients
~8 oz. fresh baby spinach leaves
~4 oz. grana padana cheese, grated
1/4 cup lemon-flavored almonds (or your nut of choice)
~2-3 tbsp extra virgin olive oil (use as much as needed to reach a smooth consistency)
1 6 oz. container Stonyfield Organic plain non-fat Greek yogurt
Instructions
Add spinach, cheese and almonds to a food processor and begin to pulse.
Drizzle in the extra virgin olive oil until pesto reaches a smooth consistency. It should be somewhere in between runny and thick.
Add the Greek yogurt and pulse until smooth and creamy.
Serve with your favorite organic veggies, chips, pretzels, etc.