Never miss a bite! Sign up here to receive new recipes and reviews straight to your inbox.
Disclosure: I was provided with gift certificates to cover meals for me and my guests at Bonefish Grill. No monetary compensation has been received for this post. As always, all opinions are 100% my own.
Bonefish Grill is well known for its menu of fresh fish and variety of signature sauces — but as the seasons change, so do the specials, giving guests a little something extra to whet their palates. The spring menu launched last month and features drool-worthy entrees like the fresh, hand-cut Norwegian Salmon with your choice of Jim Beam Bacon Butter Jam or Fresh Tomato Pesto Salsa, wood-grilled Rockefeller Cobia topped with creamy spinach and lump crab, and a garlic crumb-dusted, wood-grilled Wild North Atlantic Haddock topped with feta, artichokes, and a lemon-basil butter sauce. I don't know about you, but all three of these dishes totally have my mouth watering over here. Is it dinnertime yet?!
I recently had the opportunity to try one of these delicious specials at the Boca Raton location of Bonefish Grill, along with a couple other choice options on the menu. Each time I've visited this restaurant, I've found the initial service to be on the slower side, but once things get going, it gets better. My friends and I each started with one of Bonefish Grill's signature martinis, all of which were perfectly tasty, light and refreshing.
Two of these martinis are seasonal — the Fresh Grapefruit Martini with house-made fresh grapefruit, basil, vodka infusion, and finished with fresh-pressed ruby red grapefruit juice and a hint of basil, and the Wild Orchid Hawaiian Martini made with Cruzan Guava rum, pineapple juice, Zico coconut water, pear and coconut. I don't usually jump at anything grapefruit-flavored, as it is not one of my favorites, the basil in this cocktail is what made it stand out… And you know what? I may have been converted into a grapefruit…liker (not quite a lover yet). The Wild Orchid Hawaiian Martini tastes exactly how you would imagine — like a tropical vacation. It definitely made me wish I was sipping it somewhere in a bikini on the beach.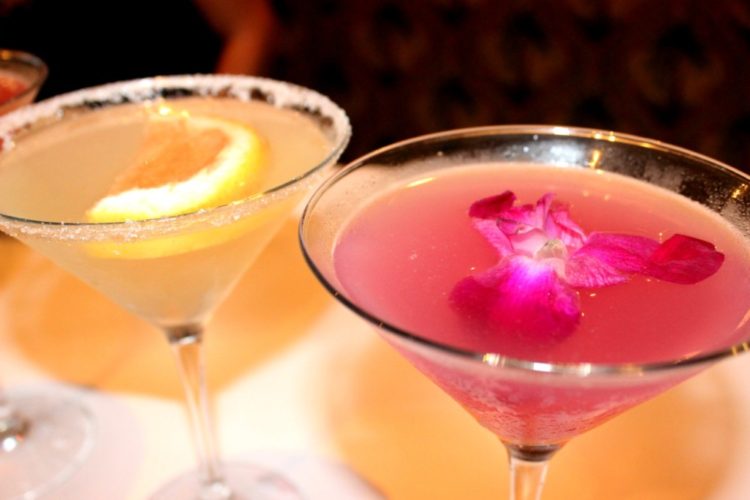 I couldn't pass up ordering the Mussels Josephine for our appetizer. P.E.I. mussels swim in a savory-sweet combination of tomatoes, red onion, garlic, basil, and a lemon wine sauce. That sauce was super flavorful, and the bread we were served was hearty enough to soak up all that deliciousness — we couldn't let any of it go to waste!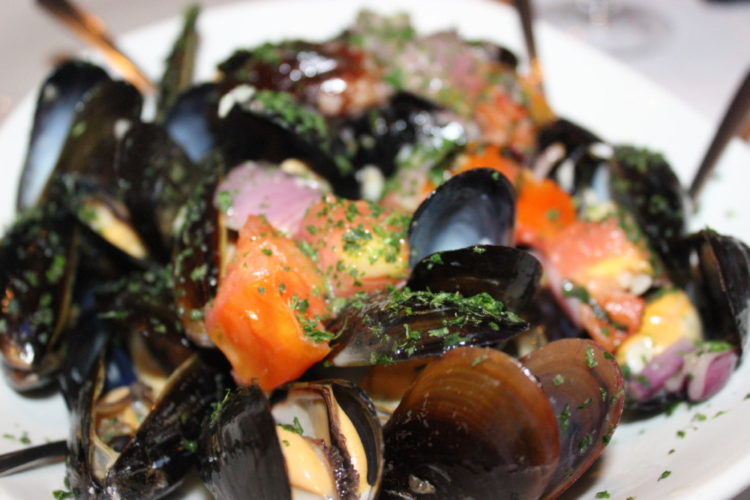 If you want to stick to ordering all of the specials during your visit to Bonefish Grill, you'll want to try the Bacon-Wrapped Scallops or Lobster-Stuffed Shrimp. Me? I was itching for mussels that night and just had to have them!
I had a hard time choosing between all three of the seafood specials for dinner. Each of them had at least one ingredient I absolutely love. I wish I could have combined them all into one dish! Alas, I decided to go with the haddock. Believe it or not, I've never had this sweet, white, firm fish before, so it was time to give it a try! Not to mention, I love me some artichokes and feta! The fish itself was prepared perfectly — the garlic-crumb crust gave it a really nice added flavor without being too garlicky. I honestly didn't get too much flavor from the feta, which is surprising, and I would have liked more artichokes — but I still really enjoyed it. I loved the char on the fish from the wood-grilled preparation, and even without my desired amount of feta and artichokes, it still hit the spot.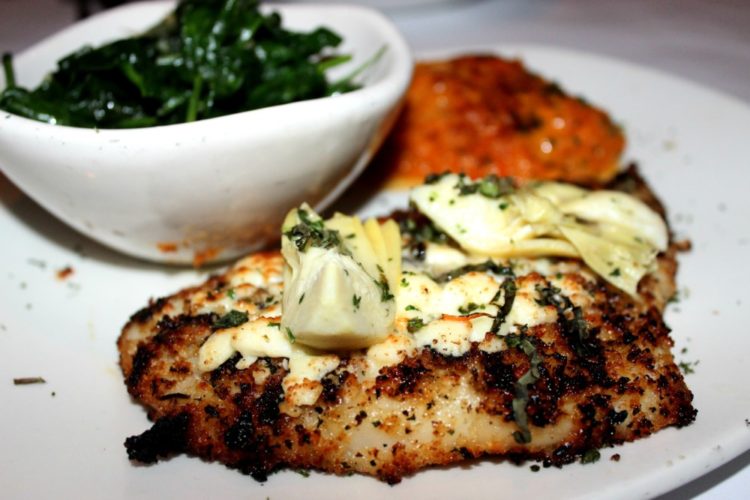 Also on the table was one of Bonefish's most popular items for those looking for something other than seafood, Lily's Chicken with goat cheese, spinach, artichoke hearts, and a lemon basil sauce. Always a favorite. Even I remember enjoying this dish a while back when I was still eating chicken. With such a great list of ingredients, how can you go wrong?! To add some more green to the table, we tried the Cilantro Lime Shrimp Salad, a flavorful mixture of roasted corn, black beans, feta, grape tomatoes, and red onion, all tossed in a yummy cilantro lime vinaigrette.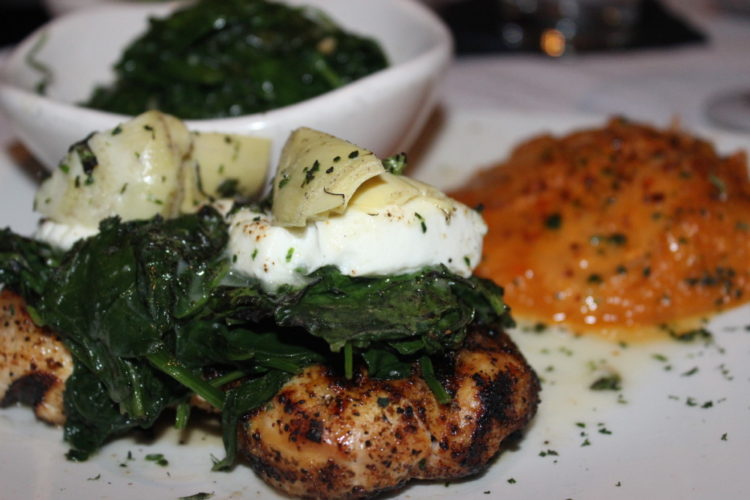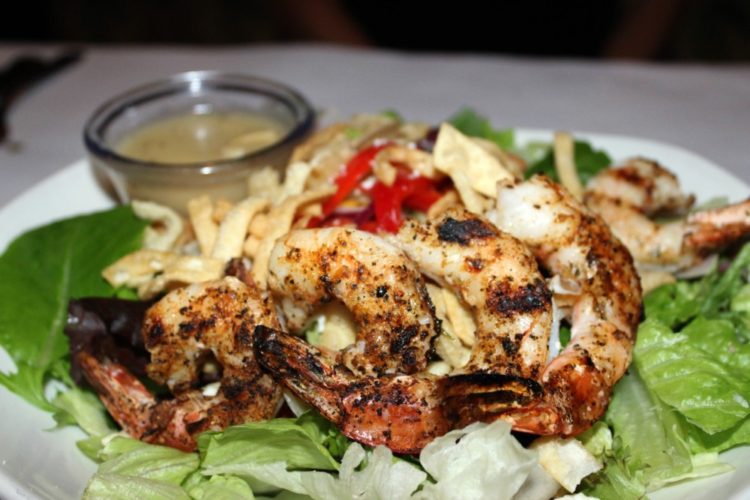 I loved my first Haddock experience, but I'd still love to get my hands on that Norwegian Salmon with the salsa or the Rockfeller Cobia. If you head over to Bonefish Grill and check out one of these seasonal specials, let me know what you think!
Bonefish Grill is located at 21065 Powerline Road in Boca Raton. By the way, Bonefish Grill recently debuted their first-ever TV commerical. Check it out here!