Never miss a bite! Sign up here to receive new recipes and reviews straight to your inbox.
NOTE: This restaurant has since closed.
Disclosure: I was invited to dine as a guest of Square One Restaurant. No monetary compensation has been received for this post. As always, all opinions are 100% my own. 
When looking to start a new venture, sometimes it's best to go back to square one. That was the inspiration behind the name and concept of Square One Restaurant, co-owned by Executive Chef Jon Greening and restaurateur Eric Clark. With a combined 30 years of experience in the hospitality industry, these two not only meet the mark when it comes to providing a favorable dining experience, but they ultimately surpass it.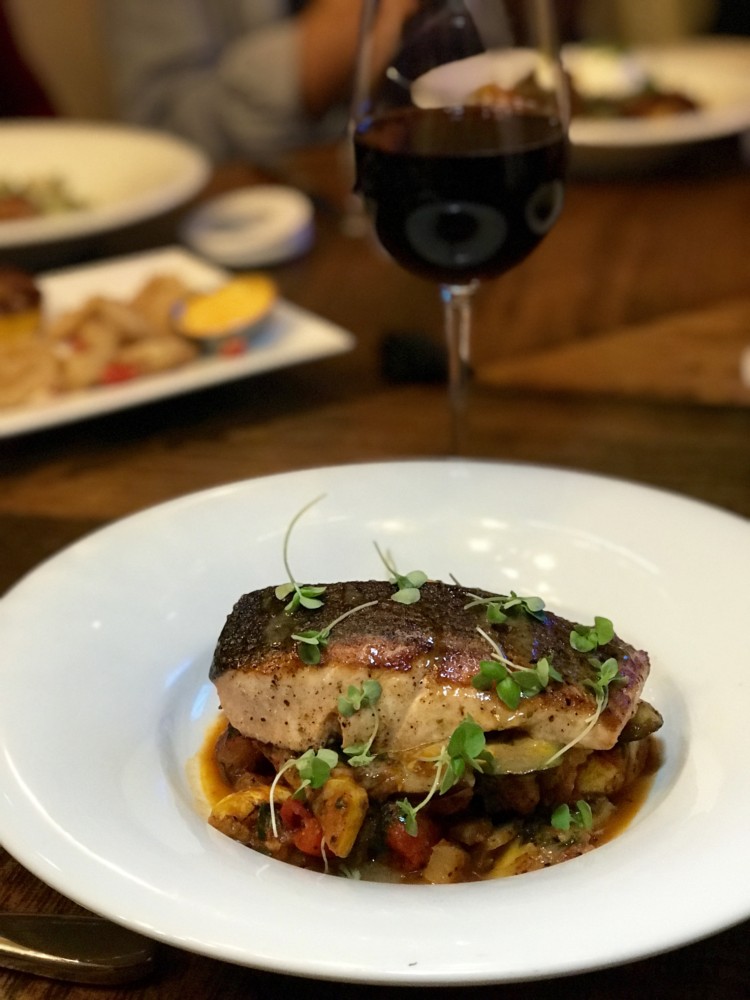 Square One resides in the former location of Brewzzi's in Glades Plaza across the street from Town Center Mall. This central Boca location is ideal as there are tons of nearby businesses with employees looking for good lunch spots and bars to hit up for an after-work happy hour. There's a spacious indoor-outdoor bar, an open kitchen where diners can watch as their meal is prepared, and a closed, intimate dining room available for parties and private events. PS: make sure to take note of the gorgeous, velvet chairs at the table in this private room. Eric certainly did not skimp when deciding on decor for the restaurant!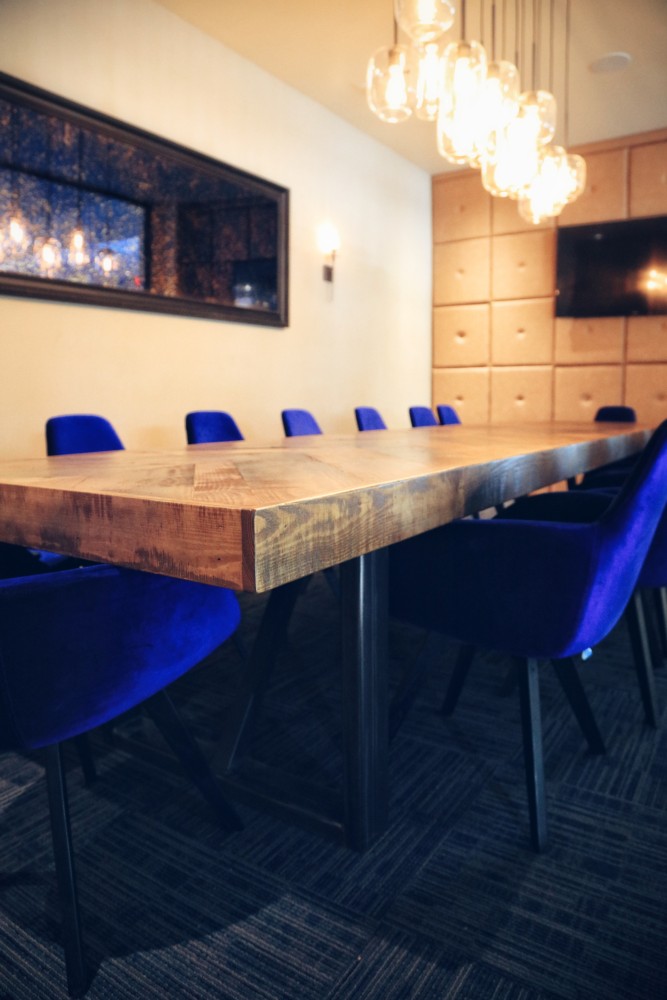 Some of you may remember Chef Jon from another local establishment in Delray Beach, and if so, you know just how creative he gets in the kitchen, not only with his ingredients but also with presentation. His dream of owning his own restaurant has come to life through Square One, where he highlights flavor-dominant, locally sourced ingredients in his menu full of brick-oven pizza fired to order, fresh fish and dry-aged steaks, house-made pastas and a rotating list of weekly lunch specials. I've known Jon for quite some time now, and one thing I love about him is that he is never intimidated by a challenge — a.k.a. all of my food restrictions. He and Eric went above and beyond to ensure that I had just as delicious an experience as the rest of his guests during a recent private media tasting, and I can assure you that I did.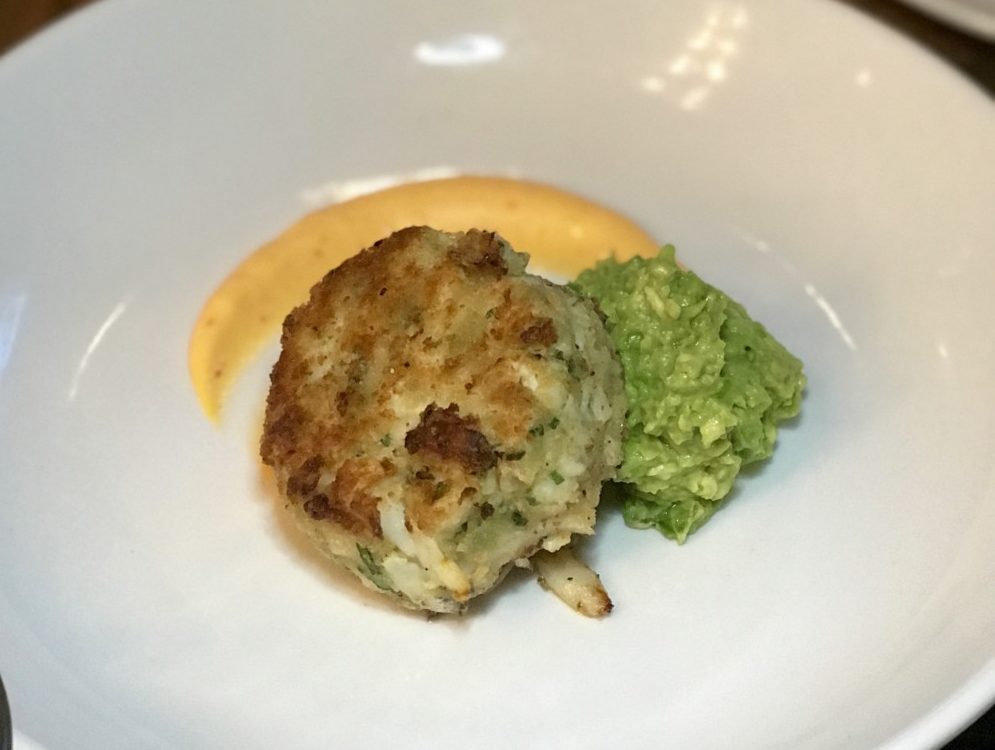 We started with an assortment of appetizers, including shrimp cocktail, mussels, crab cakes and buttermilk fried calamari. The jumbo shrimp cocktail comes with a generous portion of plump, juicy shrimp and a satisfying spicy horseradish cocktail sauce. I honestly could eat shrimp cocktail every day without complaint. It's light and refreshing, and pairs perfectly with a crisp glass of white wine from Square One's impressive wine list — that combo right there sounds like the perfect happy hour to me.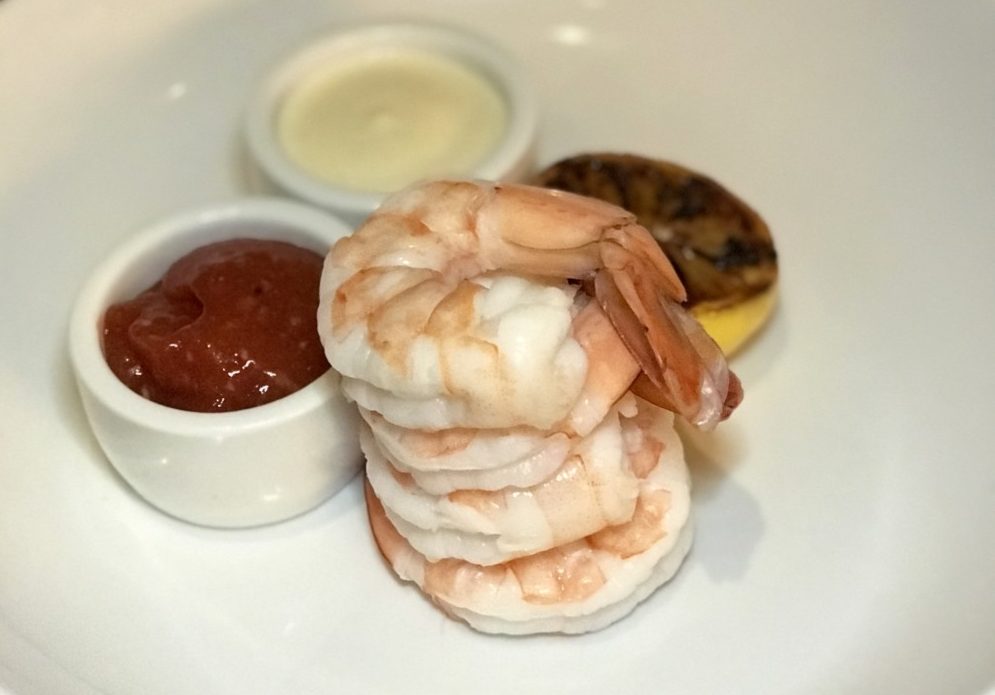 Prince Edward Island mussels are another classic American seafood dish seen on most restaurant menus. Square One's mussels are served in a white wine and tomato broth with caramelized fennel and herbs. The fennel and herbs make this particular dish stand out from other restaurants' as these two ingredients impart so much flavor into the broth. I'm not a fan of raw fennel, but when it's roasted or sautéed, it brings out an intense sweetness that nearly negates that licorice-y flavor you get from its raw state. I only wish I could have had the grilled bread to soak up the rest of that broth. But no worries — my spoon did the trick!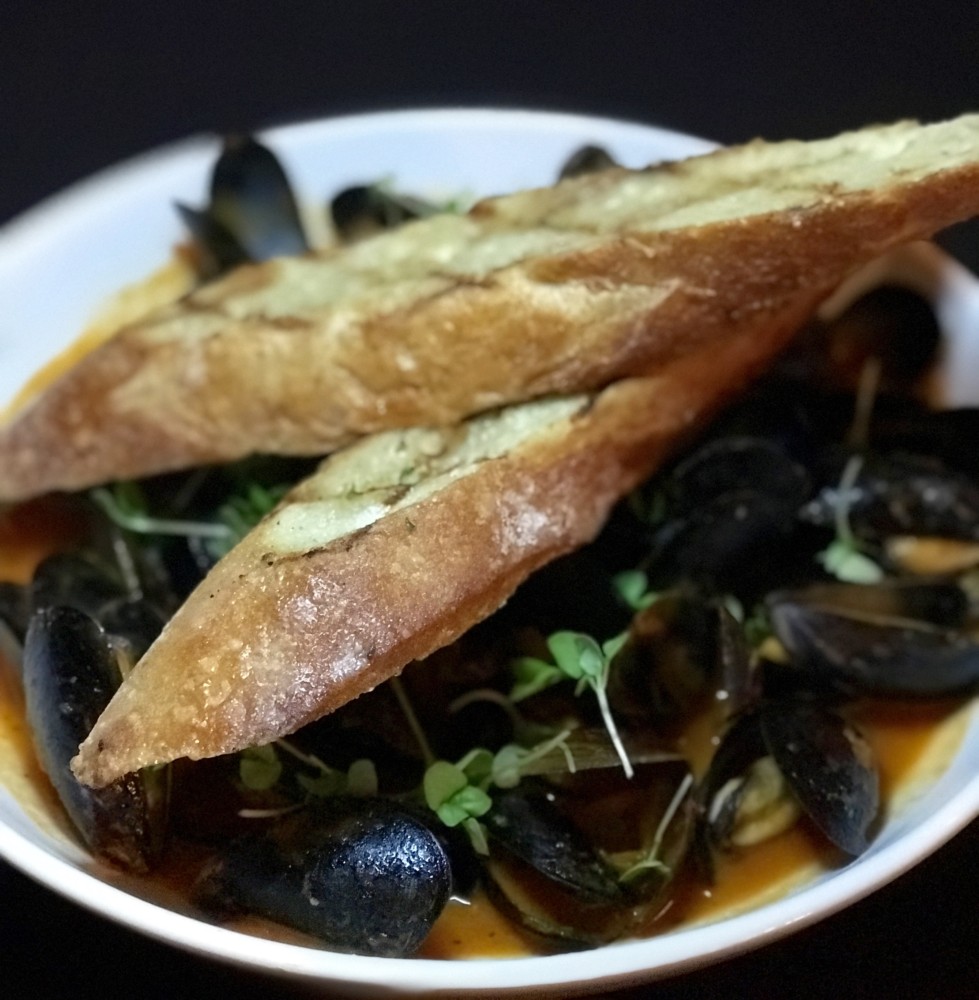 We were each able to choose an entrée for dinner — however, I left mine in the hands of Chef Jon. He created an off-menu fish special with pan-roasted Sixty South salmon and a ragout of tomatoes, zucchini and yellow squash. It could not have been a more perfect dish for me. The salmon was cooked with such care and precision, its crisp exterior rich with flavor and its flaky interior tender to perfection. The ragout was incredibly tasty, with each vegetable cooked down enough to create an almost stew-like texture but with enough firmness that they weren't mushy.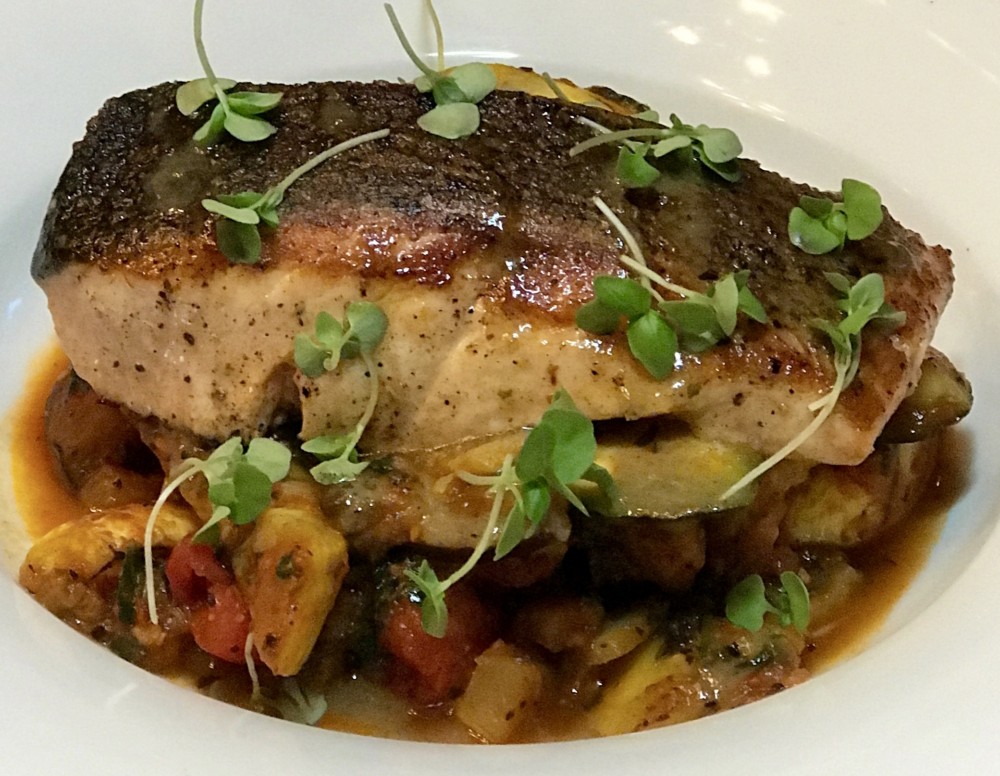 According to Eric, Sixty South salmon is one of the top varieties you can get. For those salmon lovers, the usual salmon dish on the menu comes with fregola risotto, English pea, leek confit, and horseradish and white wine sauce. Another seafood entrée that caught my eye was the blacked mahi-mahi with forbidden black rice pilaf, and heart of palm and papaya salad. Thankfully, Jill was totally on the same page, and ordered it. I love a good blackening seasoning and this was on point. For as long as I've known him, Chef Jon always excels at his seafood preparations and these were no exception.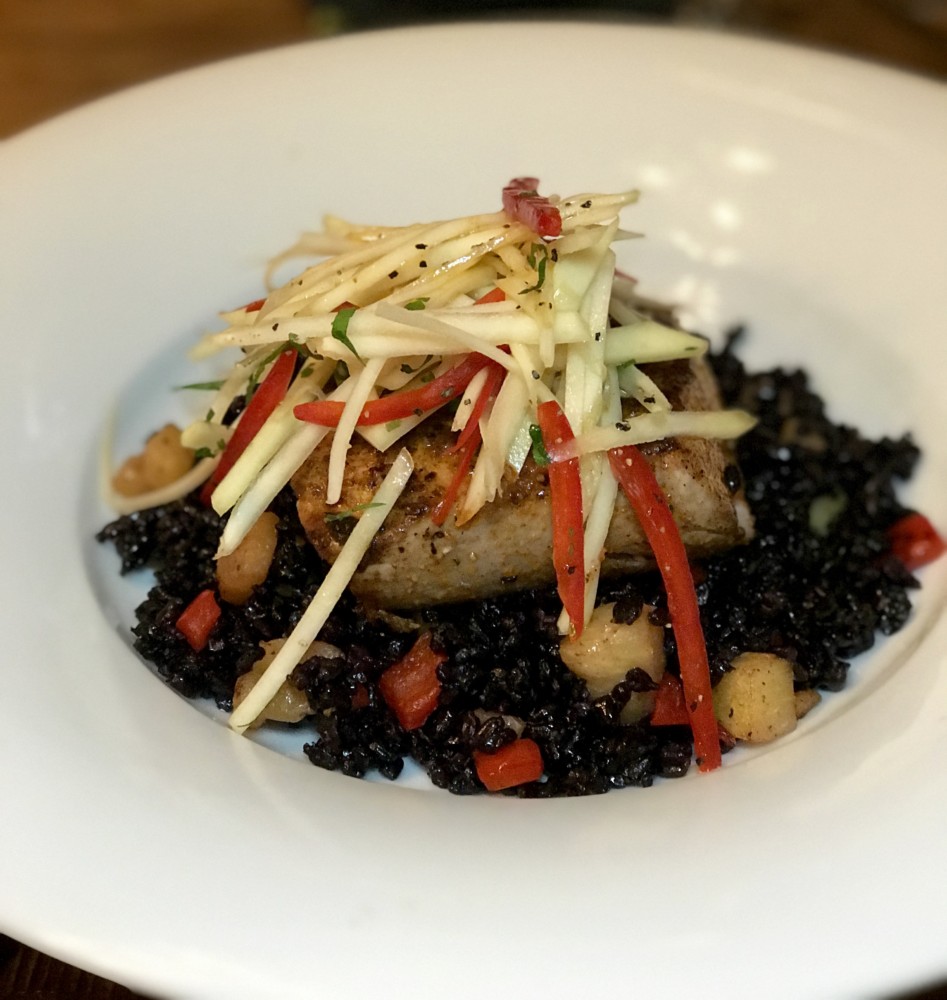 As a side to our entrées, we were served the brick-oven Brussels sprouts tossed in a sweet and sour glaze with cashews, cilantro and pancetta — minus the pancetta for me. I love the flavor that the brick-oven provides, and the texture of the cashews. Brussels sprouts were a hot trend for a while, and I sort of felt a little Brusseled-out, but these brought me back into the game. The pop of freshness from the cilantro, the smokiness from the oven, and the sweetness of the glaze all worked well together to make for an incredibly well-balanced dish.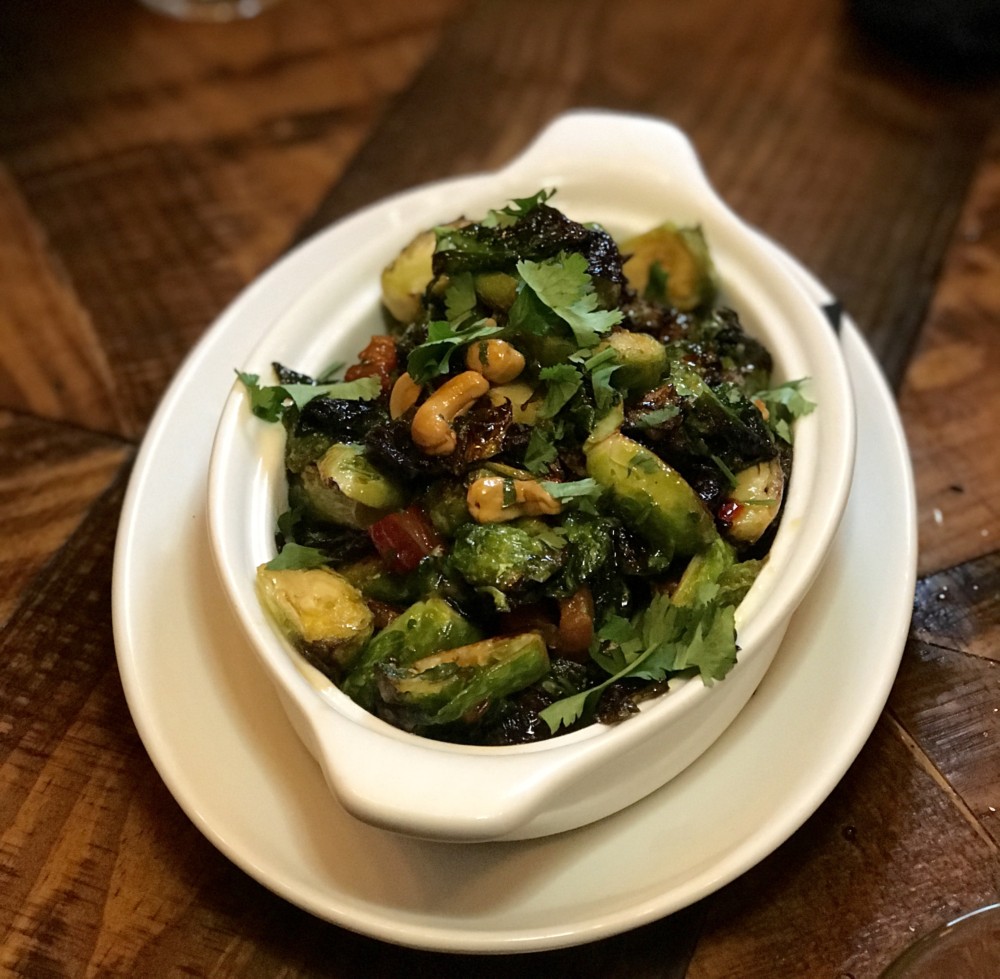 Dessert arrived, and all I could do was marvel at the beauty of those sweets in front of me. There was an interesting presentation of chocolate cake, with chocolate "walls" standing tall around the square piece of cake enveloped in fudge icing, topped with whipped cream, and drizzled with chocolate sauce — clearly a chocolate lovers' dessert.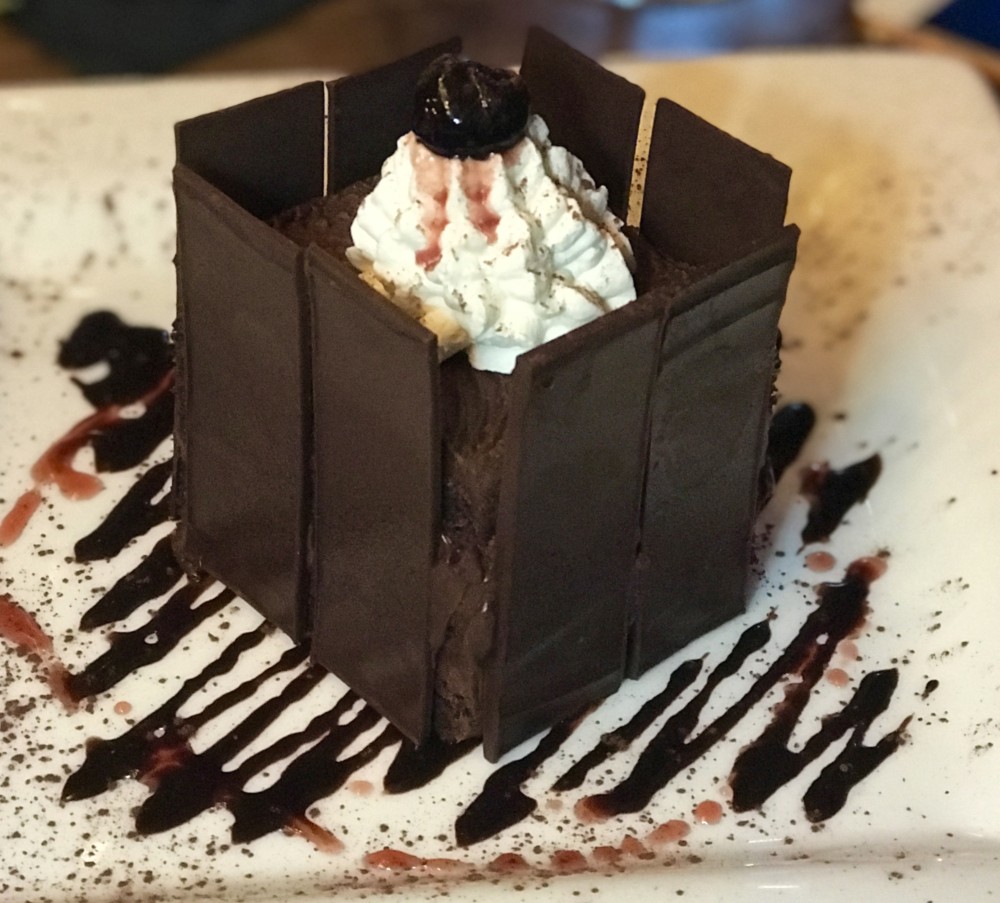 Vanilla lovers will most likely opt for the crème brûlée with vanilla bean custard and caramelized sugar crust, or the apple cobbler with oatmeal streusel, butterscotch sauce and vanilla ice cream.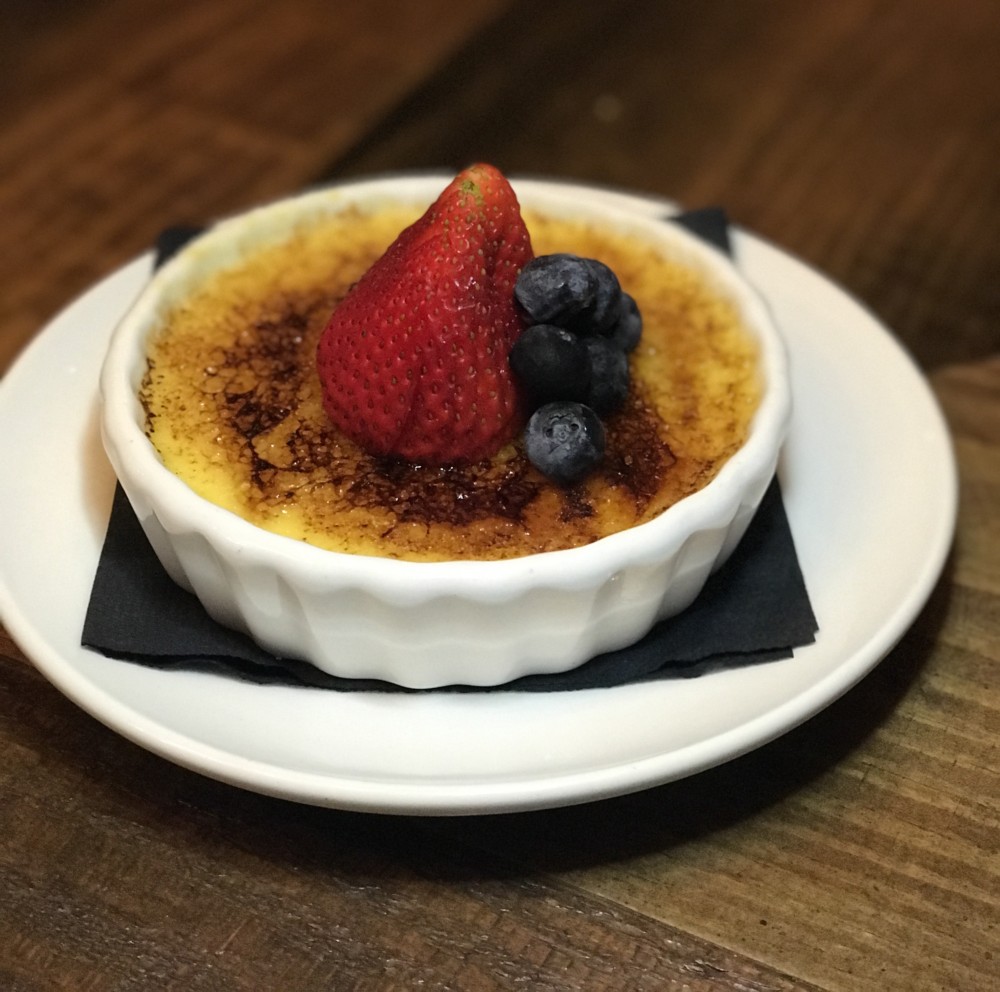 There is a lot going on behind the brick walls of Square One, and I suggest you take the time to check it out.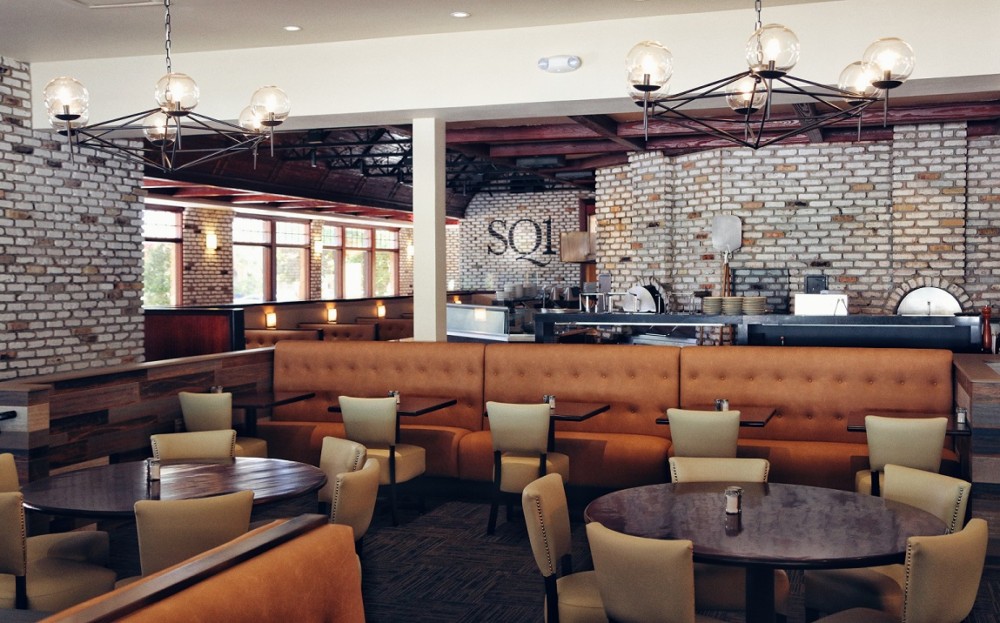 Square One Restaurant is located in Glades Plaza at 2222 Glades Road in Boca Raton. The restaurant is open for lunch and dinner Monday through Thursday from 11:30am-10pm, Friday and Saturday from 11:30am-11pm, and Sunday from 11am-10pm. Brunch is served on Sunday from 11am-3pm and features $14 bottomless mimosas and bloody marys, and a specialty prosecco punch. Happy Hour is an all-day affair, with 50% select drinks at the bar, high tops and lounge area from 11:30am-7pm Monday through Saturday. A special bar bites menu is also available from 3:30-7pm.