Never miss a bite! Sign up here to receive new recipes and reviews straight to your inbox.
Disclosure: This is not a sponsored post; however, it does contain affiliate links.
Inspired by a recent dinner at one of my favorite location restaurants, this Squash and Mushroom Gratin with Granola Topping is the perfect buffet-style side dish.
When it comes to the holidays, menu planning for a sit-down dinner can be tough — especially when people have so many different tastes and eating styles. That's why we at Sunday Supper suggest serving dinner buffet style! I'm all for a good buffet dinner with lots of variety. It gives me the chance to try a little bit of everything and I'll never get bored with whatever's on my plate. That's what this weekend's Sunday Supper theme is all about. Make sure you scroll all the way down to see what the rest of the Sunday Supper Tastemakers are sharing today!
Whenever my family gets together for dinner, it's always buffet-style. I made this Squash and Mushroom Gratin with Granola Topping for Thanksgiving and it was a total hit. Thank God, because I was super nervous. It required me to make a mother sauce, which I've never done completely on my own before. The Five French Mother Sauces refers to any one of five basic sauces, which are the starting points for making various secondary sauces, and includes Béchamel (milk, flour and butter), Velouté (white stock such as chicken or vegetable, flour and butter), Espagnole (brown stock such as beef, flour and butter), Hollandaise (clarified butter and egg yolks), and the classic Tomato. For this particular gratin, you'll need to make a mushroom Velouté sauce, using mushroom stock (I used this.). I was convinced I had screwed it up when I couldn't seem to get it to thicken up after cooking for quite some time. But the trick is to turn the stove way down, let it slightly simmer while covered, and stir occasionally. Eventually it became this beautiful, velvetty smooth sauce, and I was on my way to creating the perfect Squash and Mushroom Gratin!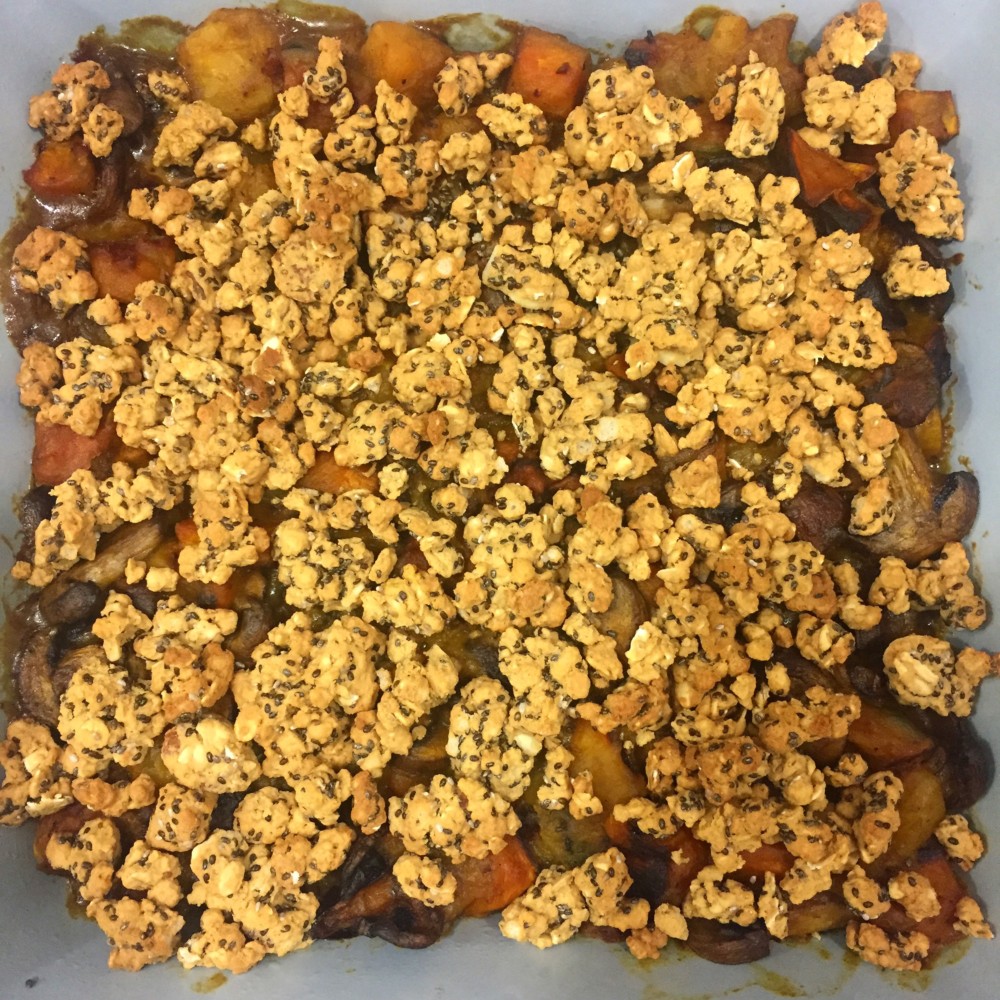 I cannot take full credit for this recipe, although I did make a few changes along the way. The inspiration came from my recent dining experience at my favorite Boca restaurant, The Rebel House. I mentioned in my post how much I loved the kabocha squash and mushroom gratin and wanted to make it for Thanksgiving. Thanks to their General Manager, Silvana, I had the guidelines to making this insanely delicious recipe and couldn't wait to share it with my family for the holiday — and now I can't wait to share it with all of YOU!
After you get over the initial fear of making your own Velouté sauce, the dish comes together quite easily. I used a mixture of butternut and kabocha squash and white button mushrooms. If you want to use a different kind of squash or veggie, go for it. But don't leave out the 'shrooms, and I highly recommended not subbing anything for the mushroom stock. It gives the Velouté sauce a really rich, earthy depth of flavor that I don't think could be replicated by any other stock. The sauce completely coats the roasted vegetables, seeping through each and every crevice, providing a mouthfeel and taste that keeps you wanting more and more. I honestly could make a full meal out of this side dish. This is what it looks like before the yummy topping…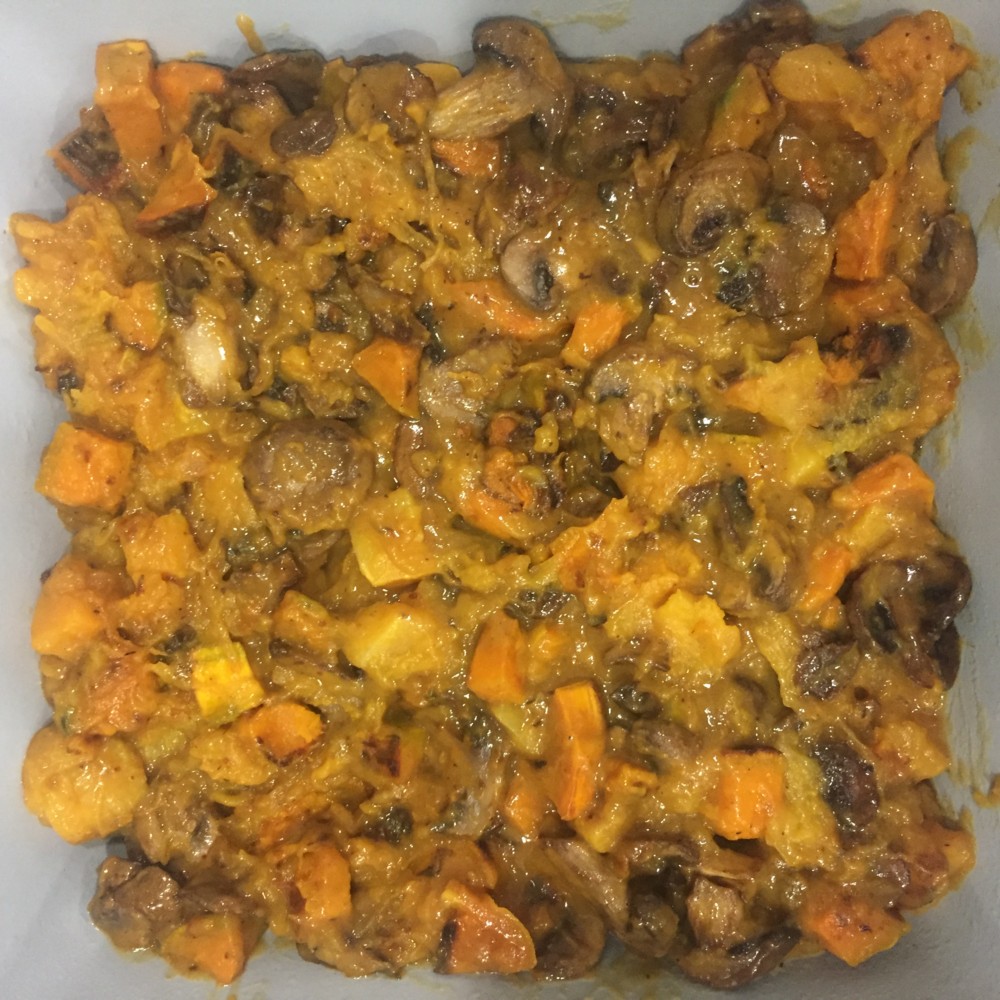 Speaking of the topping, while most gratins I've had before are topped with lots of cheese, this particular recipe is cheese-free. GASP. I know — me, the ultimate cheese lover forgoing cheese?! Yep, it happened. Instead, we're giving this gratin a topping of crunchy vanilla almond clusters of granola. I chose to use this granola because the vanilla went well with the cinnamon and nutmeg seasoning I gave my Velouté sauce, but feel free to use whatever brand and flavor granola you prefer. I'll be honest — I didn't even miss the cheese!
Make sure to add this Squash and Mushroom Gratin with Granola Topping to your buffet menu this holiday season —  or any time of year!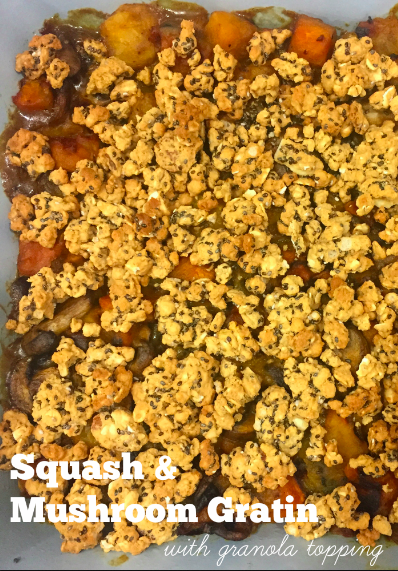 Squash and Mushroom Gratin with Granola Topping
Author:
Inspired by a recent dinner at one of my favorite location restaurants, this Squash and Mushroom Gratin with Granola Topping is the perfect buffet-style side dish.
Ingredients
1 medium kabocha squash, peeled and cut into small cubes
1 16 oz. bag of pre-cut butternut squash cubes
2 pints white button mushrooms
olive oil
1 1/2 cup mushroom stock
2 tablespoons butter
2 tablespoons all-purpose flour
1/4 teaspoon nutmeg
1/8 teaspoon clove
Your preferred granola
salt and pepper, to taste
Instructions
Preheat the oven to 425 degrees.
Prepare 2 sheet trays with cooking spray and arrange squash on one tray and mushrooms on the other.
Drizzle with olive oil and season with salt and pepper.
Toss to coat.
Bake for 20-25 minutes or until tender. (Note: mushrooms may need to come out sooner than the squash).
Remove from oven and mix together in a large bowl. Set aside.
Reduce oven to 350 degrees and coat an 8×8 baking dish with cooking spray.
Melt butter in a saucepan over low heat and add the flour.
Stir until it becomes light in color, creating a blonde roux.
Add the stock to the roux in batches and whisk until smooth.
Stir in the nutmeg and clove.
Cook gently for about 5 minutes, stirring regularly.
Reduce heat to a simmer and cook, covered, until the mixture has become smooth and thick.
Season with salt and pepper to taste.
Fold the sauce into the vegetables and mix until evenly combined.
Pour into the prepared dish and top with your preferred granola.
Bake for 25-30 minutes.
If not serving right away, cover with aluminum foil and keep in a warm oven.
Notes
Inspired by the Kabocha Squash and Mushroom Gratin from The Rebel House in Boca Raton, FL.
Buffet Menu Ideas #SundaySupper
Abundance of Appetizers
Sundry of Savory Dishes
Desserts by the Dozen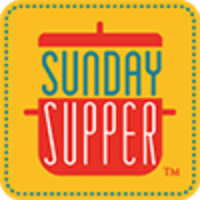 The Sunday Supper Movement is committed to bringing our readers delicious recipes that encourage them to gather and eat together around the family table. Search for your favorite ingredients on our Sunday Supper website. Also check out the Sunday Supper Pinterest boards for plenty more ideas and inspiration.